Europe girls soccer - Day 2
Big-school favorites move on through to semis
by
Dan Stoutamire
May 22, 2018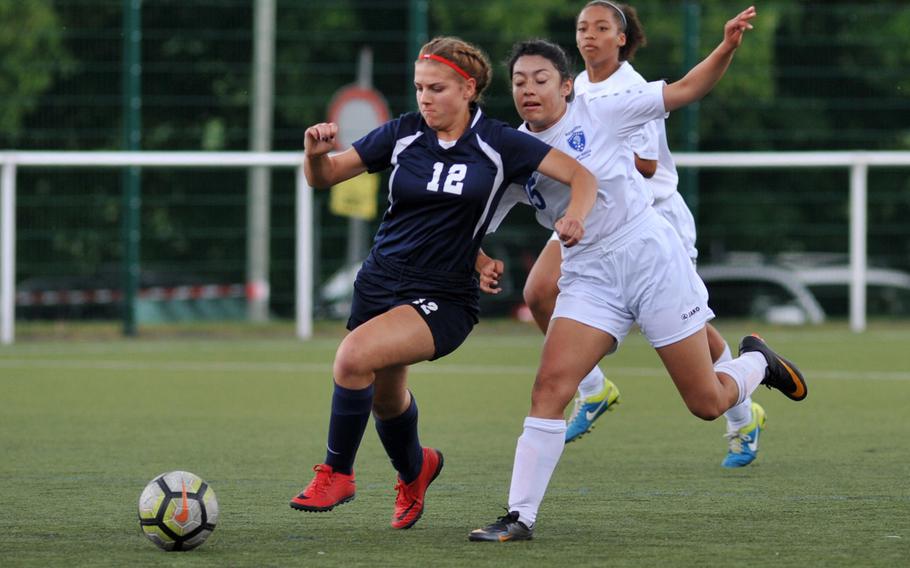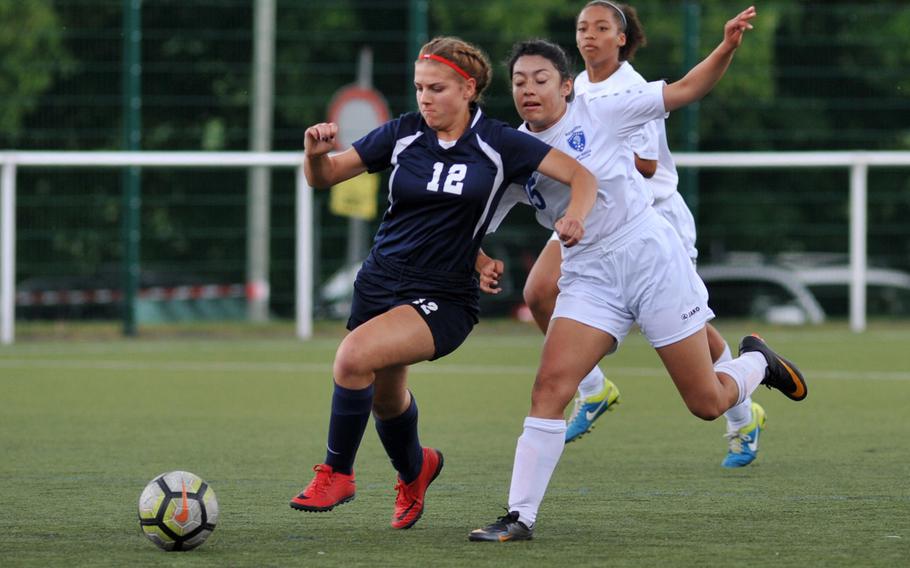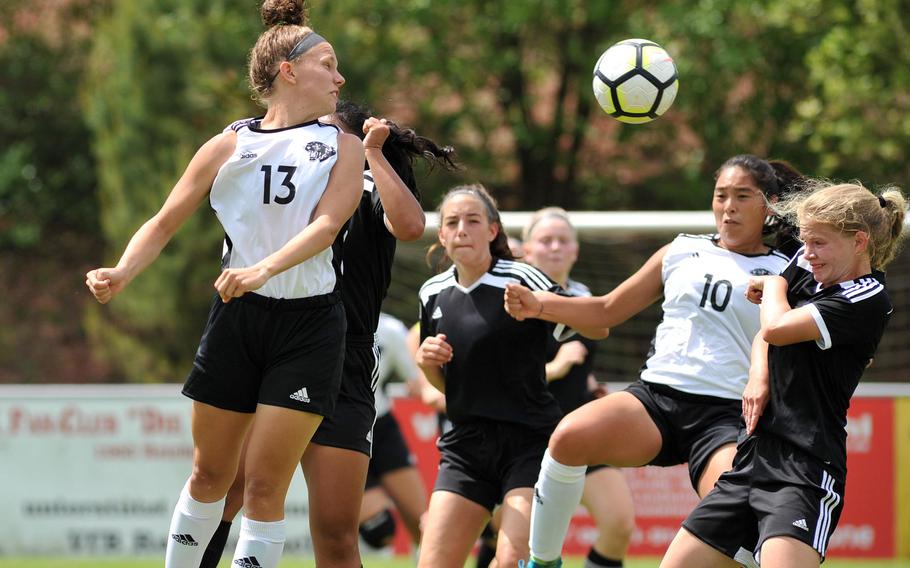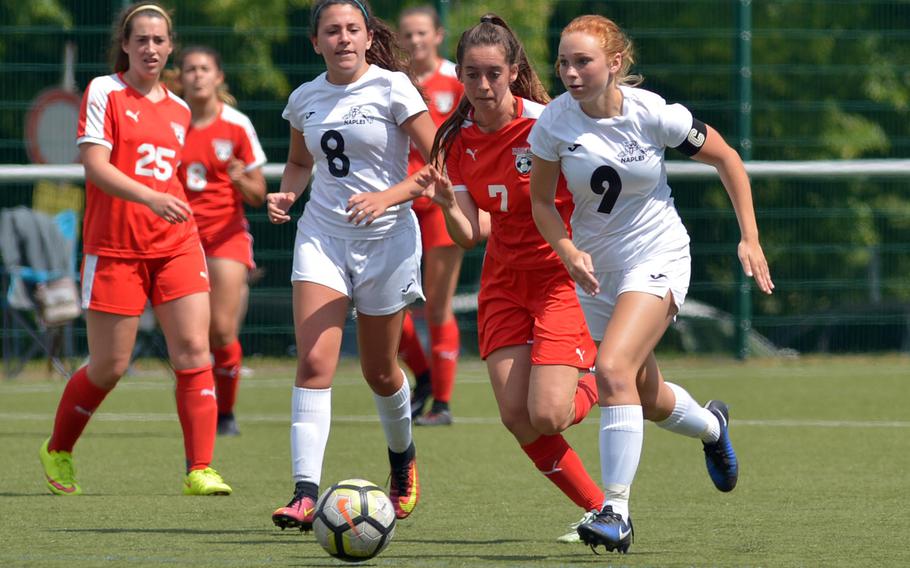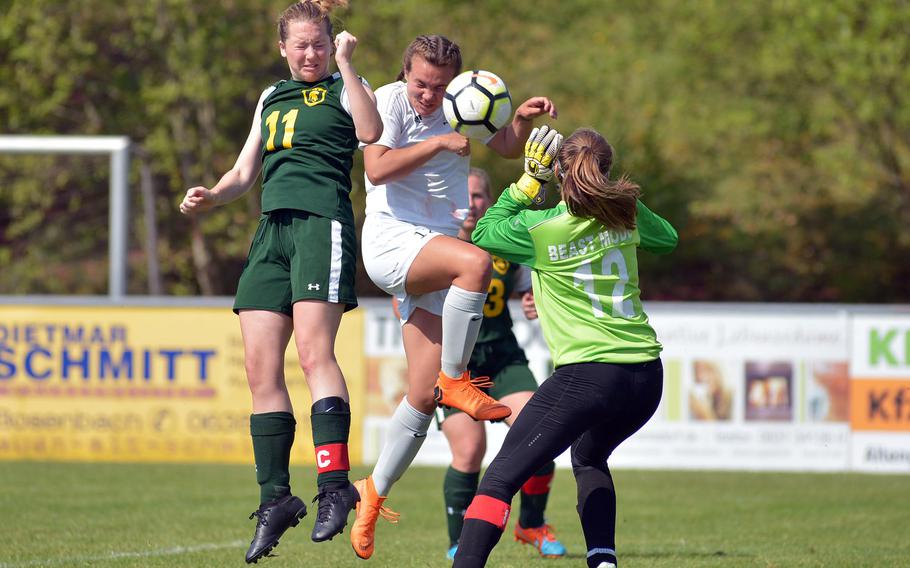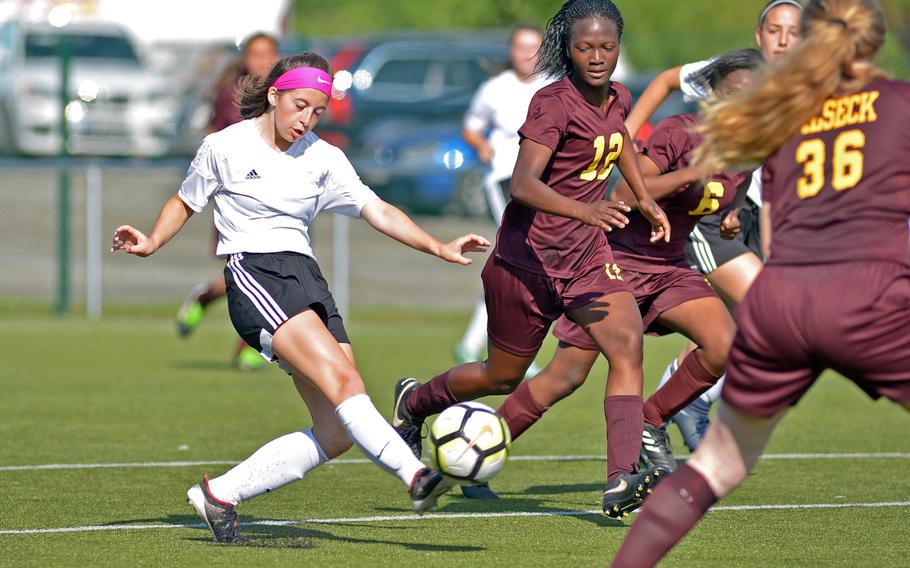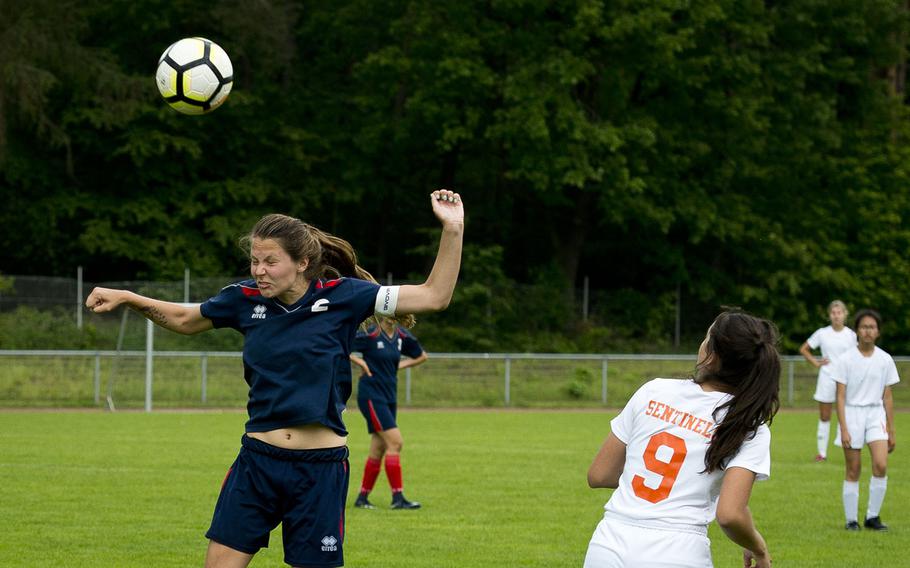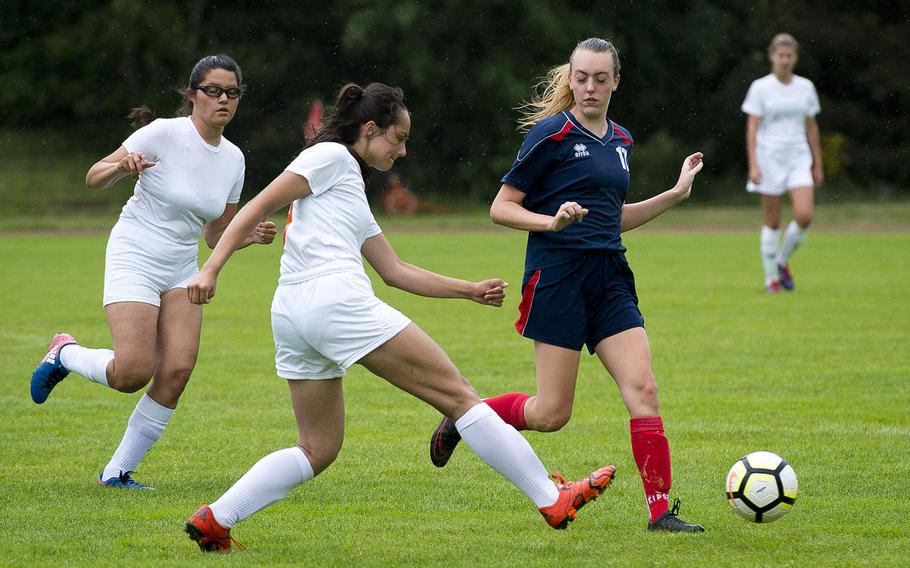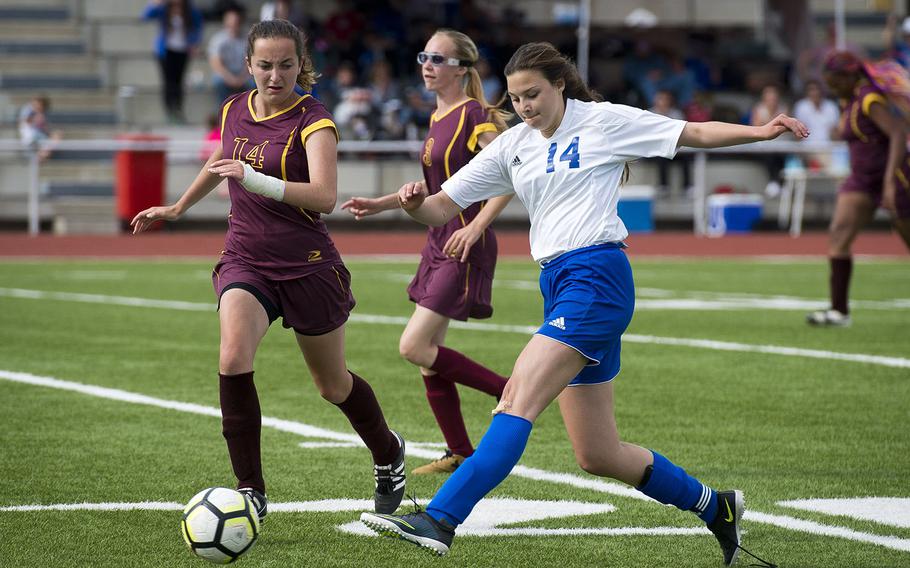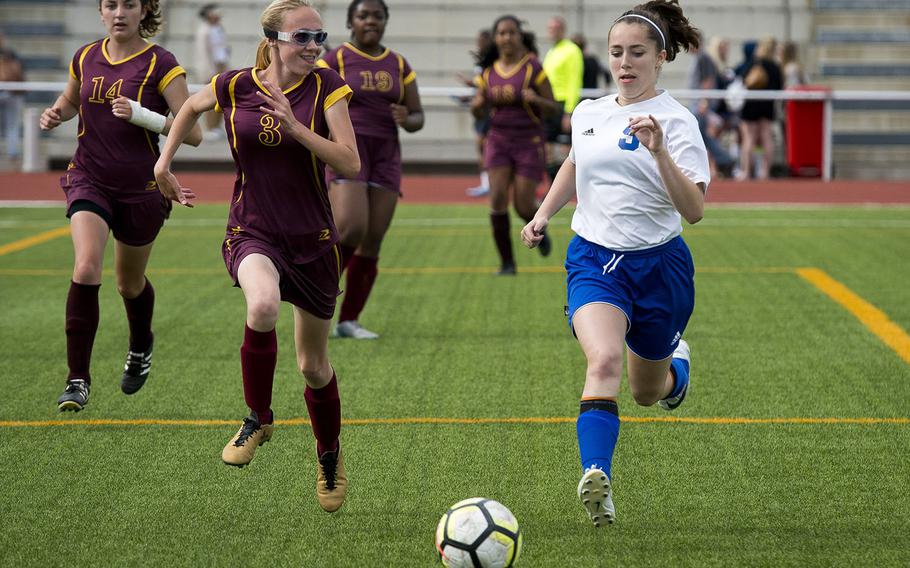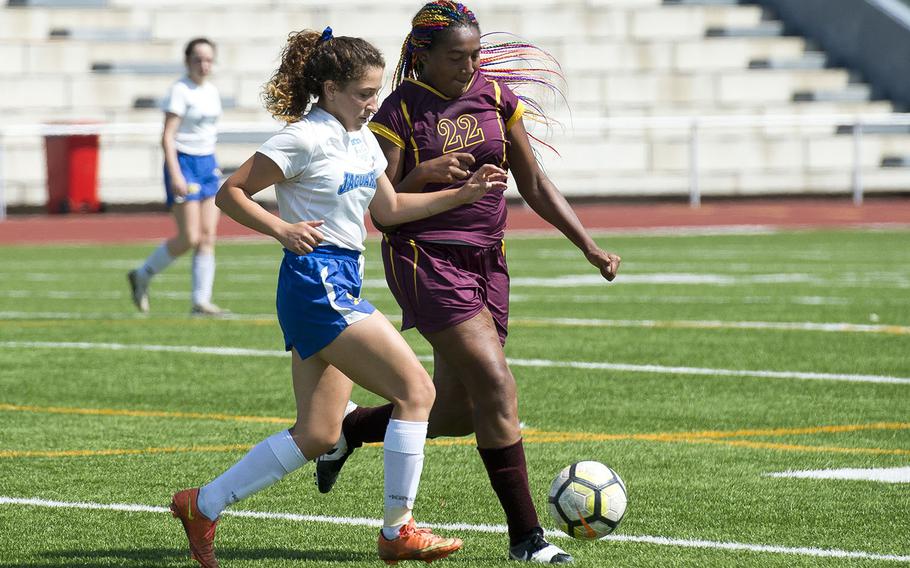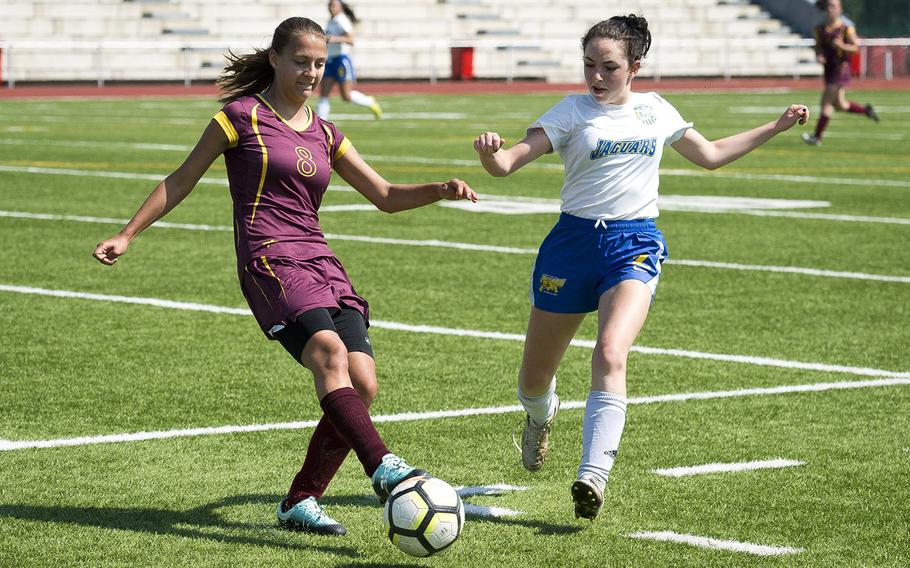 LANDSTUHL, Germany — Semifinals for the 2018 DODEA-Europe girls' soccer championships are set and it's a familiar group, with top seeds Ramstein and Stuttgart winning their groups in undefeated fashion in Division I and Rota doing the same as top seed in Division II.
The Royals and Panthers are joined by fellow top regular-season performers Naples and Wiesbaden in Wednesday's semifinal matchups, with Stuttgart taking on Naples and Ramstein facing fellow German power Wiesbaden, last year's champion.
In Division II, Rota has been a cut above the competition, the only team to make it through group play unscathed. The Admirals will face AFNORTH in the first of Wednesday's matchups, with Black Forest Academy taking on Spangdahlem – defending Division II champion – in the other semifinal.
There's still much to play for in the round-robin Division III tournament, with Sigonella, sitting at 3-1 and Alconbury at 2-1, in the driver's seat for finals berths on Thursday. Alconbury will need to beat Baumholder Wednesday to ensure a spot.
Black Forest Academy 2, Marymount 0: In an early game Tuesday, BFA got an unexpected gift from the Royals when a defensive mix-up in the game's first minutes resulted in an own goal. BFA captain and central defender Sarah Campos said her team was still determined to extend the lead after that.
"I thought it was a bit of a miscommunication with them, and we didn't really count that as our goal, and we wanted to keep going and get one of our own," she said.
Junior midfielder Bianca Liberti provided that goal just before halftime with a good weaving run and finish in the box, giving the Falcons some extra breathing room. Campos and her defensive partners had their hands full with the speedy Lucia Loyola – playing without injured strike partner Arna Mathiesen – but saw it through to advance to the semifinals with a game to spare.
"That was our goal that we set for the season, we really wanted to make it to the semifinals because last year we didn't," Campos said. "We gave it all on the field today, but we're still going to play our game next time and have our heads in it."
Sigonella 1, Baumholder 0: In Divison III action, Sigonella strengthened its grip on a finals berth with a narrow win over a stubborn Baumholder side, with junior midfielder Alex Garcia's powerful finish in the second half the difference. Baumholder goalie Ariana Edwards was able to get a hand to it, but the ball had enough power behind it that it still hit the back of the net.
It was the culmination of a long spell of pressure by the Jaguars.
"All of us tried really hard all season," Garcia said. "We practiced the same things, always passing, one-twos and wall passes and we just had this feeling before the goal."
Sigonella's defense, marshalled by goalie Samantha Sanders, saw the rest of the game out despite the Bucs carving out a few good chances in the game's final minutes.
"They did a really good job of recovering, stepping back and every single ball attacked with such passion," Garcia said of her team's defense. "We've been working all year for this moment."
Ramstein 4, Naples 0: In a matchup of teams virtually assured of places in the semifinals ahead of the game – Naples would only have missed out if it gave up double-digit goals – Ramstein's pace on the wings and the lethal finishing of striker Haley Deome assured an easy Royals win.
Deome, who finished with a hat trick, said it was her team's plan to attack down the flanks and exploit Naples' high defensive line with wingers Aurora Davis and Rocio Fernandez.
"We knew about their offside trap and we knew about our speed on the wings so we told them to stay wide and passed into their lane," Deome said.
It's been part of the Royals' undefeated tournament run to adapt to their opposition.
"This tournament we've adapted to every team well, because they all have different plans and I'm proud of us for that," Deome said.
The Royals will face last year's champion, Wiesbaden, in Wednesday's first Division I semifinal.
"We want to keep pushing and push through," Deome said.
Stuttgart 2, Wiesbaden 1: In another heavyweight matchup, Stuttgart edged past Wiesbaden in a match that decided who would face top-seeded Ramstein and who would play Naples on Wednesday. The game's first two minutes were incredible – first Stuttgart scored within the first 30 seconds, courtesy of an Emily Smith cross to fellow winger Mara Bartell, before Wiesbaden equalized within a minute.
The game slowed down after that, but both teams were creating good chances and had several corner kicks apiece, before Stuttgart's Erin Taylor scored after good wing play from Bartell. It would prove to be the difference, and Stuttgart avenged last year's final defeat to the Warriors. There's still a chance of a rematch this year if both teams can win their semifinal matches.
Wiesbaden captain Missy Thomas is confident her team can bounce back. The Warriors were playing their second of two games within three hours.
"We're just proud of how our team played," she said. "We stayed together, we didn't get hot headed or anything and whether or not it was a loss we knew that we were going into the semifinals. It's nice to know that even when we're tired we'll still sick together and play well."
Twitter: @DKS_Stripes