Girls basketball roundup
BFA gives Ramstein a scare, but Royals prevail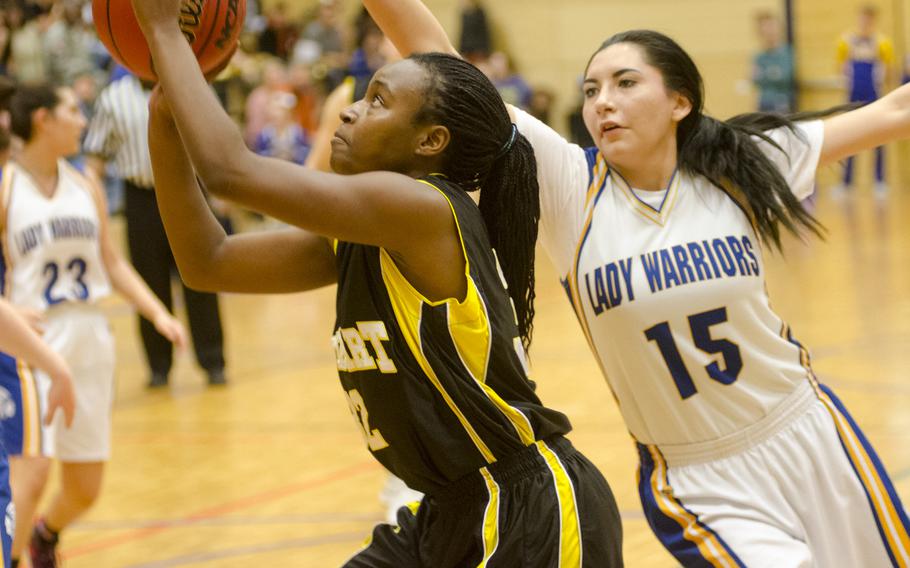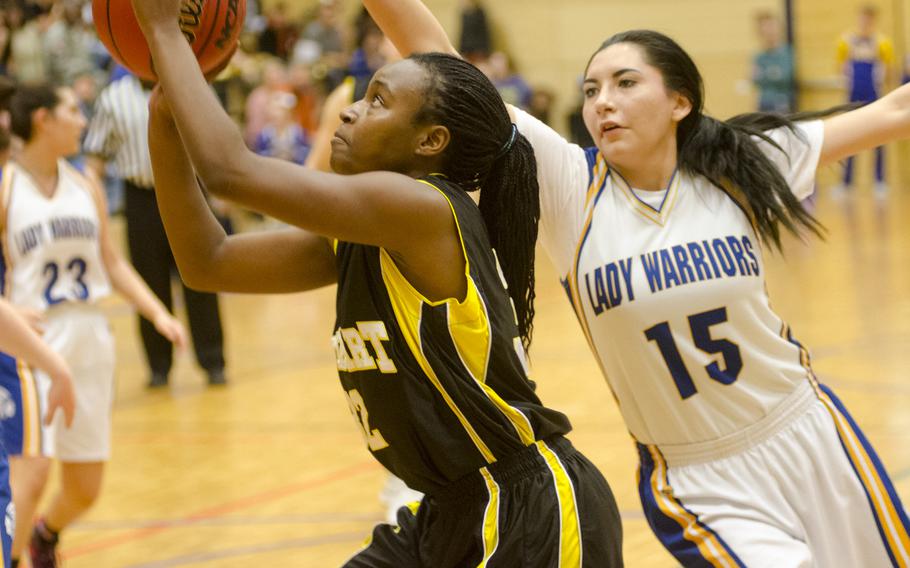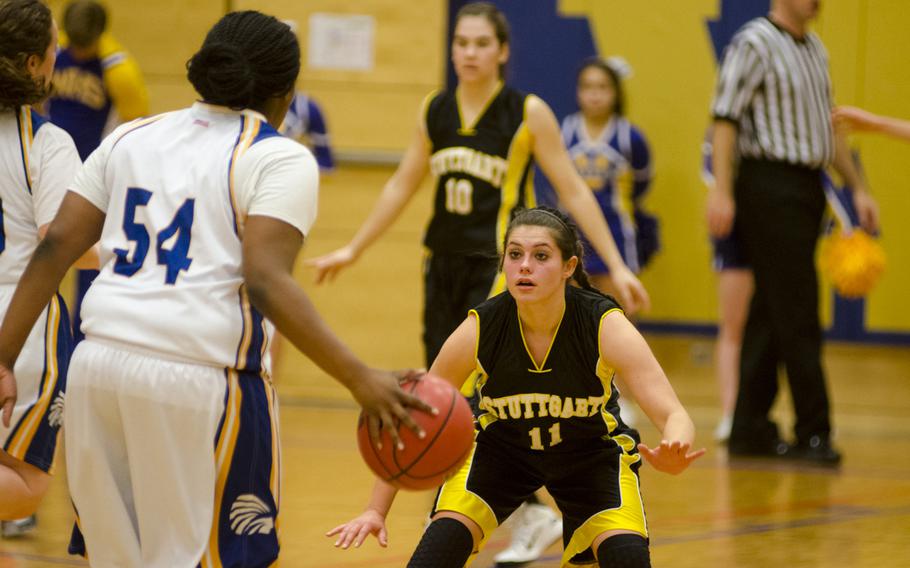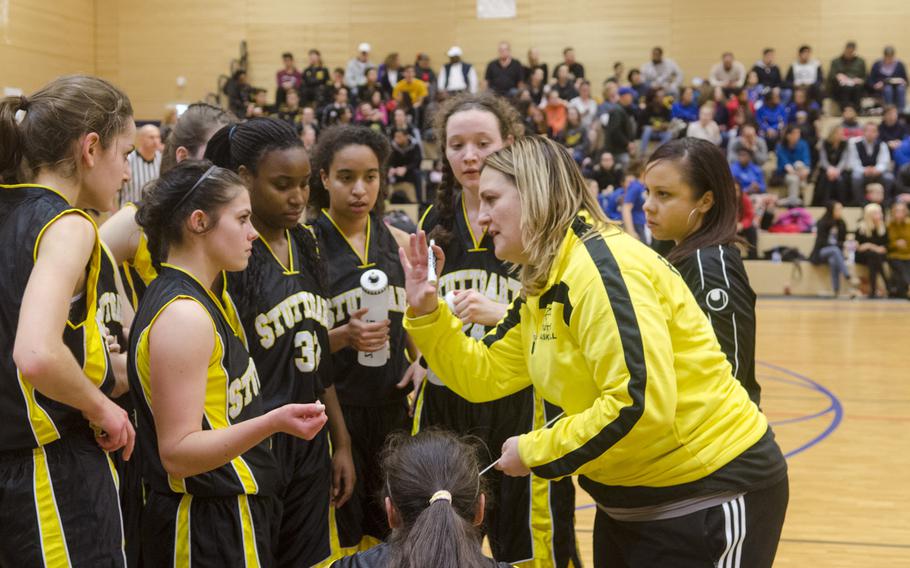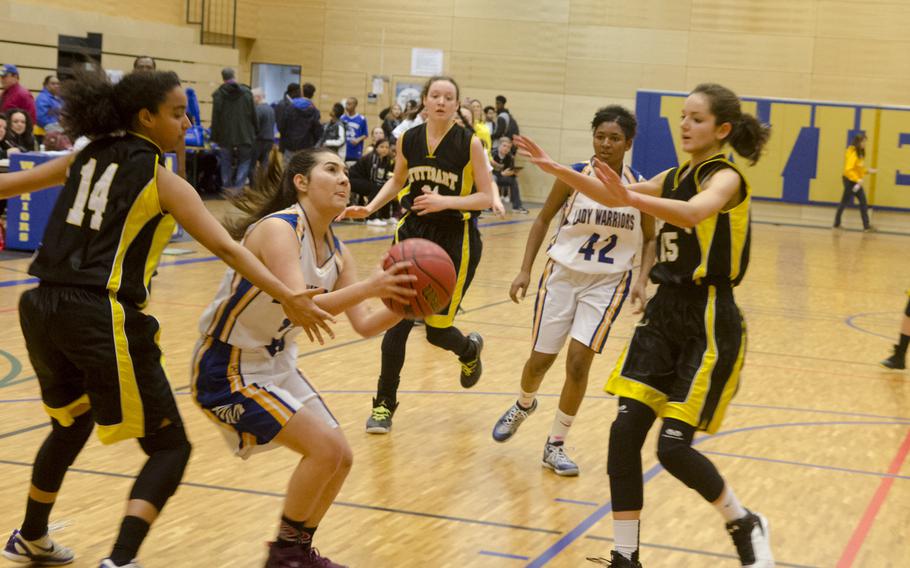 The first significant challenge of the Ramstein Royals girls basketball season came from a team they, perhaps thankfully, won't have to see again.
The Division II Black Forest Academy Falcons pushed the Division I frontrunner before taking a 30-29 loss Saturday, nearly pulling off a stunning upset of DODDS-Europe's largest school. The hard-fought game came just a day after Ramstein recorded another in a string of blowout wins, beating the Falcons 49-19.
The weekend started off inauspiciously as Ramstein built a 27-point halftime lead and coasted to its 10th straight win Friday.
Lindsey Breton led the Royals with a 12-point, 11-rebound double-double, while Ashley Mateo stuffed the stat sheet with six points, seven steals and five assists.
BFA sharpshooter Cailynn Campbell led a Saturday resurgence, draining five three-pointers as part of a game-high 19-point performance. But the effort fell just short as the Royals scored 15 points in the fourth quarter, matching their output from the first three quarters, to complete the comeback and preserve their undefeated record.
Stuttgart 45/49, Wiesbaden 10/10: The Panthers dominated the defending Division I champions in both halves of a home-and-home series, cruising Friday on the road and Saturday at home.
Abby Zipperer carried the offensive load in both games, posting game-high totals of 13 points Friday and and 21 on Saturday. Teammate Jaxen Godfrey contributed 19 combined points, while Morgan Whitten had seven rebounds in each game.
The Panthers also excelled defensively, holding the Warriors to single-digit points in all eight quarters.
Korizmah Colston grabbed 22 total rebounds for Wiesbaden, including 16 on Saturday.
The wins improve Stuttgart to 5-3 in Division I play this season, with only a final weekend set with Vilseck remaining on its divisional slate.
Naples 36/36, Sigonella 34/32: At Sigonella, the Division I Wildcats escaped with a pair of close-call victories over the tough Division III host team.
The Wildcats need overtime to finish off Friday's win after the Jaguars outscored them 13-5 in the fourth quarter. Charity Hollingsworth scored 14 and Angelica Sheils added 13 to lead the way.
It was Naples that finished strong Saturday to record the sweep, outscoring Sigonella 14-5 in the fourth for the comeback win. Wildcat Jillian Thurston led all scorers with 11 points.
Marika Wojtal scored a combined 17 points for Sigonella.
Bitburg 51/48, AFNORTH 11/19: The undefeated Division II champs continued to cruise with a dominant sweep of the visiting Lions.
Elise Rasmussen posted a Friday double-double and missed a second one by a single Saturday rebound. The center had 10 points and 14 rebounds along with six steals Friday, then notched 10 points, nine rebounds and three blocked shots Saturday.
The Barons got plenty of contributions elsewhere as well. Point guard Alexa Landenberger totaled 26 points, 10 assists and nine steals over the two games, Victoria Porras grabbed 21 combined rebounds with 13 steals and Audrey Simmons poured in a game-high 12 points Saturday.
Bitburg takes a week off before facing reigning Division III champion Baumholder to wrap up its regular season.
Kaiserslautern 49/52, Lakenheath 32/32: At Lakenheath, the rolling Raiders picked up a Division I sweep for the second weekend in a row.
Althea Honan and Byanca Powell handled the bulk of the scoring burden for the victorious visitors. Honan went for 18 on Friday and 11 on Saturday; Powell mirrored that output with 11 on Friday and 18 on Saturday. Le'Jhanique Brown worked the boards for 23 combined rebounds over the two games.
Reese Estus totaled 21 points on the doubleheader for the Lancers.
The four-game winning streak puts Kaiserslautern back at .500 in Division I play, fully recovering from a 1-5 start. The Raiders face Ramstein and Wiesbaden down the regular-season stretch.
Baumholder 30/16, Brussels 10/25: At Brussels, the host Brigands played the defending Division III champions to an encouraging draw.
Brussels, one of Baumholder's primary obstacles to a potential repeat, faltered Friday in taking a 20-point loss. Reigning Stars and Stripes girls basketball Athlete of the Year Eliyah Tillman poured in 14 points and the Brigands went scoreless in two quarters as the defending champs rolled.
The Brigands turned things around Saturday, holding the Bucs scoreless in the first quarter and steadily building to their final nine-point margin of victory. Lisa Luchford scored nine points and Maria Vahrenhorst added six to offset Tillman's game-high 12 points.
The loss was the first divisional setback of the year for Baumholder, who will face another Division III foe in Ansbach next weekend. Brussels snapped a three-game losing streak with the win.
Aviano 44/63, Florence 14/8: At Florence, the visiting Saints cruised to a pair of Division II victories.
Viyanni Johnson posted consecutive double-doubles of 14 points and 12 rebounds and 18 and 13 rebounds to lead an overpowering Aviano effort. Ashley Mills totaled 14 points, 15 assists and six steals over the two games.
The wins extend Aviano's win streak to four games and complete the squad's regular season divisional slate at 7-1. The Saints face Division I foes Naples and Vicenza ahead of the European tournament.
Ansbach 41/44, Hohenfels 33/24: The Cougars took both halves of a home-and-home series from their former divisional foe.
Division III squad Ansbach claimed a solid home win Friday and then ramped it up Saturday for a 20-point win on Division II Hohenfels' turf.
Two different Cougar standouts posted double-doubles to earn the sweep. Khiya Coats had 10 points and 12 rebounds Friday, while Liena Tatum totaled 15 points and 12 rebounds on Saturday. Tytianna Martinez scored a combined 22 points on the weekend.
The wins were Ansbach's first of the season. The team remains a Division III mystery without any in-division games so far, but the veil lifts next weekend as it takes on reigning DIII champ Baumholder.
---
---
---