Europe softball
Aviano, Stuttgart awarded titles as rain washes away games
---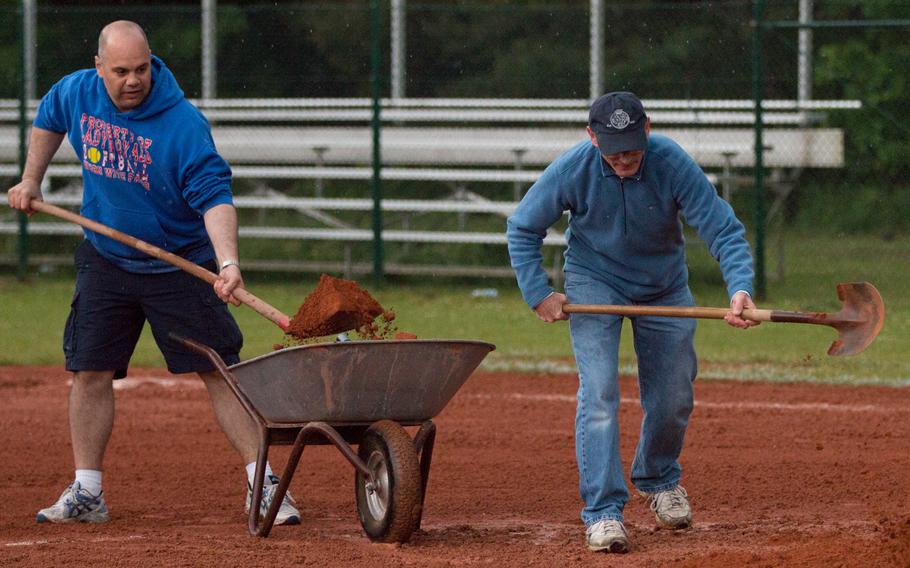 RAMSTEIN AIR BASE, Germany - The 2016 DODEA-Europe softball season ended Saturday not with a roar or ringing of a bat, but with a torrential downpour.
Halfway into the twin games that would have decided the third-place finishers in both Division I and Division II/III, a thunderstorm rolled over the Kaiserslautern fields, complete with game-halting lightning.
That was only the start of the troubles to come. The real storm was one of controversy that ensued when championships were awarded to Aviano and Stuttgart when it was decided the title games couldn't be played.
Players and fans from Hohenfels and Ramstein were among the most dissatisfied with that decision, though it wasn't a popular choice with just about anyone – including the officials who made it.
But it was probably more popular than an earlier decision that would have the four teams in the two championship games each named co-champion.
"We really wanted to go in and play the team, I mean they came up number two and we felt like this was something we wanted to do," Aviano head coach Sherry Milligan said at the time of the decision. "Being co-champions is sort of disappointing since we did beat them in pool play and went undefeated for the whole tournament."
Stuttgart head coach Rachel Makle flatly refused a co-championship. Aviano's coaching staff clearly wasn't too happy about it either. Eventually, DODEA officials changed course.
Based on the fact that Aviano had already beaten Hohenfels and Stuttgart had already beaten Ramstein in pool play, they would go into the record books as the 2016 DODEA-Europe champions.
"They couldn't agree to be co-champions. We want to be consistent," DODEA-Europe athletic director Karen Seadore said. "The beauty of it is they had head-to-head competition in the tournament. That makes it simple."
Simple, perhaps, but most certainly unpopular.
"Bottom line, this stuff is about the kids, the focus should be on the kids, I believe this decision wasn't about the kids," Ramstein coach Todd Faber said. "You don't give this kids who have worked hard all year to play in a tournament and not give them an opportunity to play a championship game."
Faber said he believes that absent any other solution, the titles should have been shared. This was a sentiment obviously shared by his players. Especially the seniors who had already steeled themselves for the emotional impact of playing in the last game of their high school careers.
"It just sucks, we're all crying, obviously we're all emotional," said Ramstein's Maleece Wallace. "We were ready to play them. It just isn't fair, I think."
Obviously, the emotional vibe among the Aviano and Stuttgart players was a bit different.
"It sucks that we didn't get to play, I did want to play [Hohenfels], but it's the right thing to do," Aviano's De'Ja Knight said.
The Panthers shared that sentiment. After the decision was handed down, the team celebrated sole ownership of the Division I championship inside a nearby gym, as the rain continued to pour down outside.
"We would rather play, because we know we can beat Ramstein," Stuttgart's Tenley Getschman said. "We don't need to share that championship. There is no reason to."
The third-place games were never finished.
DODEA regulations state that all play must stop until 30 minutes has passed since the last nearby lightning sighting. So those games were postponed multiple times. When it became clear there wouldn't be enough daylight left for both the third-place games and the championship matches to be played, Vilseck and Kaiserslautern both agreed to end their game prematurely.
Thus the only results recorded on the field Saturday were in the morning's semifinals, where Aviano routed Bitburg 26-1 and Hohenfels edged Sigonella 15-14 in DII/III and Ramstein topped Kaiserslautern 7-6 and Stuttgart overcame Vilseck 13-12.
Reporter Gregory Broome contributed to this article.
---
---
---
---