Athlete of the Year Scott ranked first even in his secondary sport
by
Gregory Broome
June 5, 2017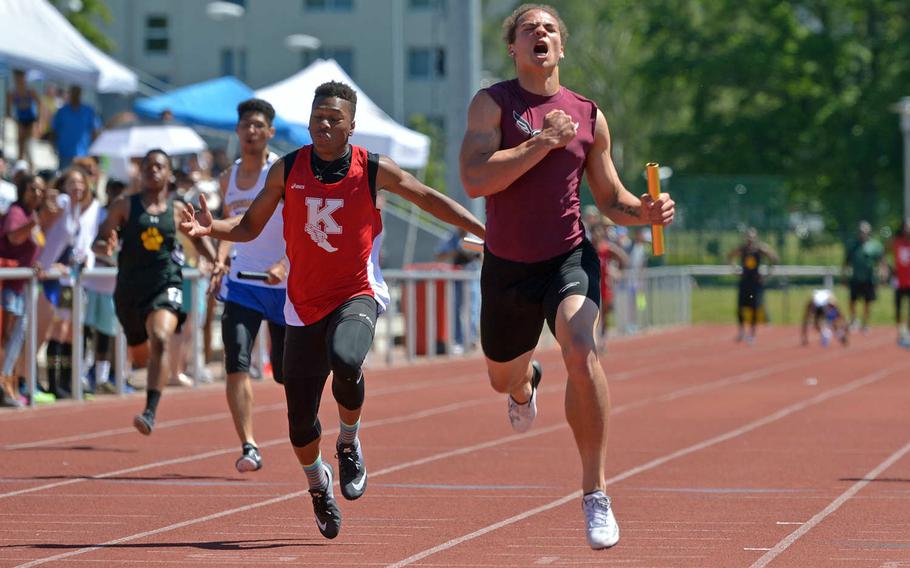 Vilseck senior Zavier Scott started running track to supplement his burgeoning football career. He accomplished that, and a whole lot more.
Scott swept the speed events at the 2017 DODEA-Europe track and field championship meet, placing first at 100, 200 and 400 meters. As a result, he is the 2017 Stars and Stripes boys track and field Athlete of the Year.
Despite the considerable collection of gold he claimed this spring, Scott's focus remains on the fall. The All-Europe wide receiver plans to meet with college coaches this summer to launch his collegiate football career. If he's successful, his secondary sport will be among the reasons. The lessons learned on the track are applicable to football, Scott explained, both psychologically and physically. Scott said running track "helped me mentally" by imparting the simple but inarguable lesson that preparation and hard work leads to results.
"Just go through the finish line," Scott said. "Practice hard and it pays off in the meets."
There were also more tangible effects on his performance, as Scott exhibited improved breakaway speed with the ball in his hands and faster closing ability on defense. He certainly noticed the change.
"I definitely could tell," Scott said. "My speed really helped me beat people to the edge."
Scott must be accustomed to beating people to places by now. He finished the 100-meter dash in 11.11 seconds, edged teammate Hayden Swan with a time of 22.47 seconds in the 200 meters, posted a winning time of 50.62 seconds in the 400 and anchored Vilseck's victorious 400-meter relay squad.
That gold rush came a year after he fell tantalizingly short across the board; he finished second in the 400 and fourth in the 100 and 200 at the 2016 European finals.
"Loss helps you...want to become better," Scott said.
But once again, success on the track was incidental to a larger goal. In this case, Scott wanted to finish first to further the Falcons' goal of contending for a team championship. Vilseck ultimately finished a strong second place among 17 schools.
The performance represented a triumphant end to a fascinating prep athletic career. After playing baseball as a freshman, Scott took up track as a sophomore in Virginia. The decision was inspired in part by then-classmate Josh McGrigg, a gridiron standout who moonlighted as a district sprinting champion and is now a Division I football player at Villanova.
Scott hopes to follow a similar path; though it sounds counterintuitive, Scott said running track as a secondary sport helps "keep me focused" on his larger goal of playing college football.
Given his track record, that's a goal Scott is fast approaching.
broome.gregory@stripes.com Twitter: @broomestripes