Athlete of the Year Glenn kept Royal machine running
by
Gregory Broome
June 5, 2017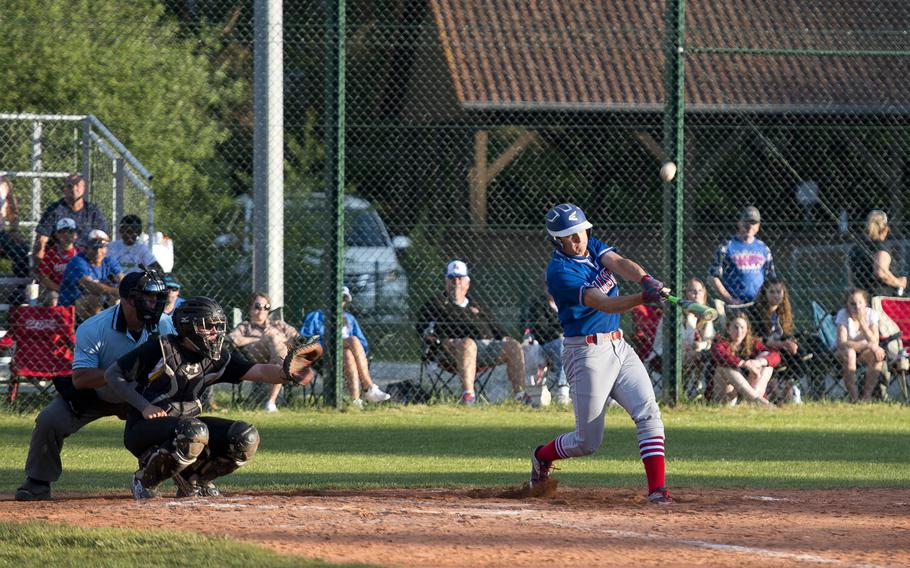 Being a standout baseball player for the Ramstein Royals comes with as much responsibility as opportunity. Senior Kyle Glenn experienced both this spring, and handled both extremely well.
So well, in fact, that he is the Stars and Stripes baseball Athlete of the Year. Glenn has been a part of the Royal program throughout high school, and has steadily expanded his role, from a young contributor following the lead of established upperclassmen to the senior setting that same example for the fresh talent coming up behind him.
"When I started, I was a freshman, and I looked up to the guys in front of me," Glenn said. "They really instilled the work ethic."
Even in his early years with Ramstein, Glenn grasped what would eventually be required of him.
"I knew, since I was going to be there for four years, I had to be that guy that the younger kids looked up to. I had to make the people around me better," Glenn said. "That's how you win championships. You bring everyone else up."
As he grew up in the system, Glenn executed that plan and steadily took on the mantle himself. This year he and his senior teammates ensured that the lessons they'd absorbed were effectively transferred to their younger teammates.
"We took it as our duty to stay after and make sure that we're getting our reps in, we're getting our swings in, we're getting field work," Glenn said. "It doesn't just take the minimum."
The payoff for those efforts was a fifth straight DODEA-Europe Division I championship for Ramstein, and the completion of a four-year run of such titles for Glenn. Ramstein kept its dynasty intact despite an unusually difficult season that included the end of its years-long winning streak and sturdy challenges from hungry contenders like Wiesbaden, Stuttgart and eventual runner-up Lakenheath.
"We took some tough losses, but I don't think any of us really got down," Glenn said. "We knew what the end goal was, and we knew that we had that target on our backs. We were going to wear it with pride, and we always did."
It's that kind of attitude that made Ramstein head coach Tom Yost confident in Glenn's assumption of a primary leadership role for the proud program.
"He understands, believes in, and is very aware of team chemistry and the brotherhood that must develop for a championship team to occur," Yost said. As vital as his leadership has been, Glenn is also very accomplished in terms of on-field production. Including both the regular season and tournament, the Royal leadoff man hit .451 this spring with 19 stolen bases, 33 runs scored, 18 RBI, nine doubles and a pair of home runs.
In short, like the Ramstein stars that preceded him, Glenn did everything that was asked of him and more.
"He is relentless in his pursuit of doing things right," Yost said. "It is impressive to watch him work."
broome.gregory@stripes.com Twitter: @broomestripes