Division III basketball
Ansbach thriving as a lower-division school
by
Gregory Broome
February 25, 2016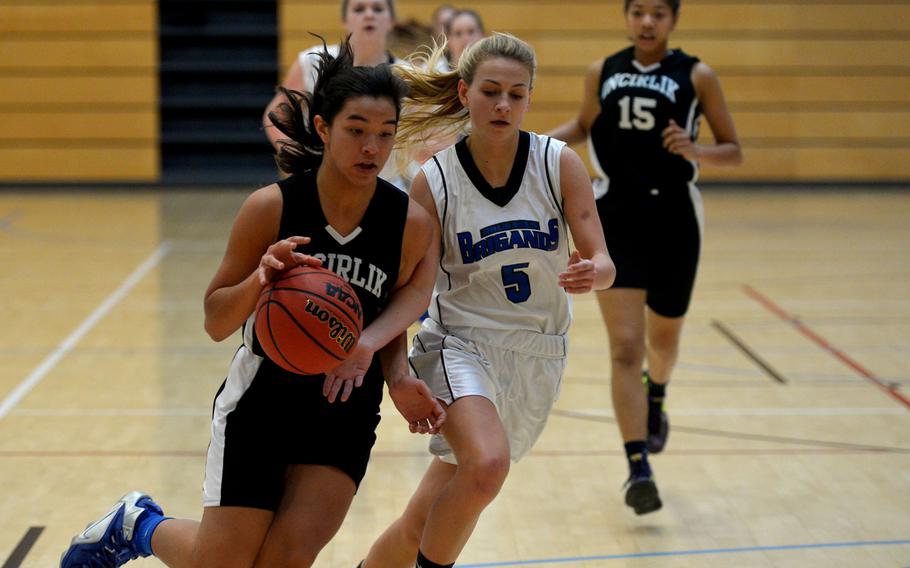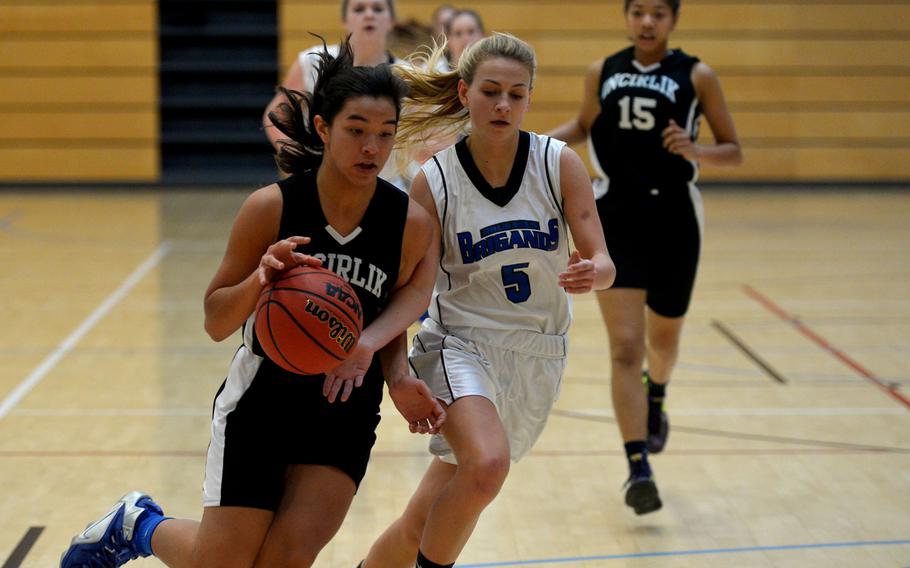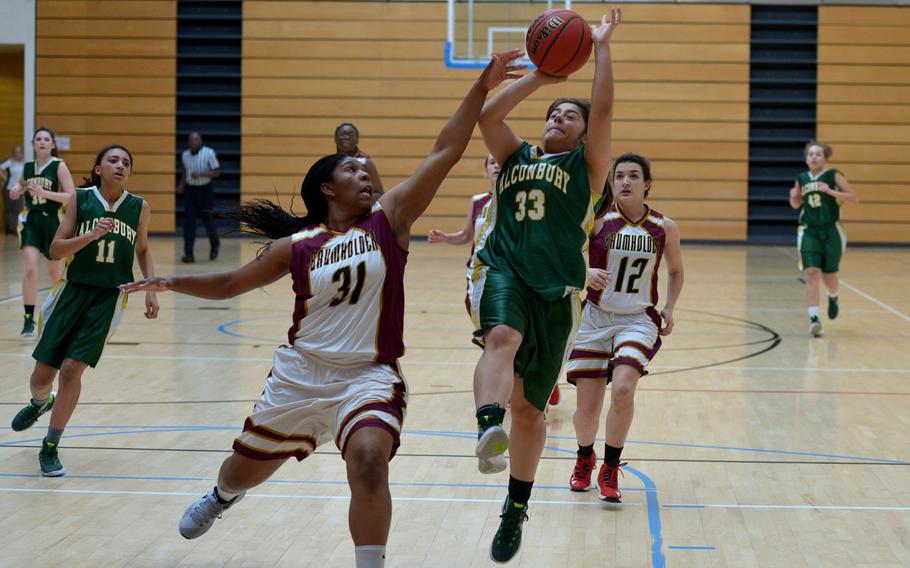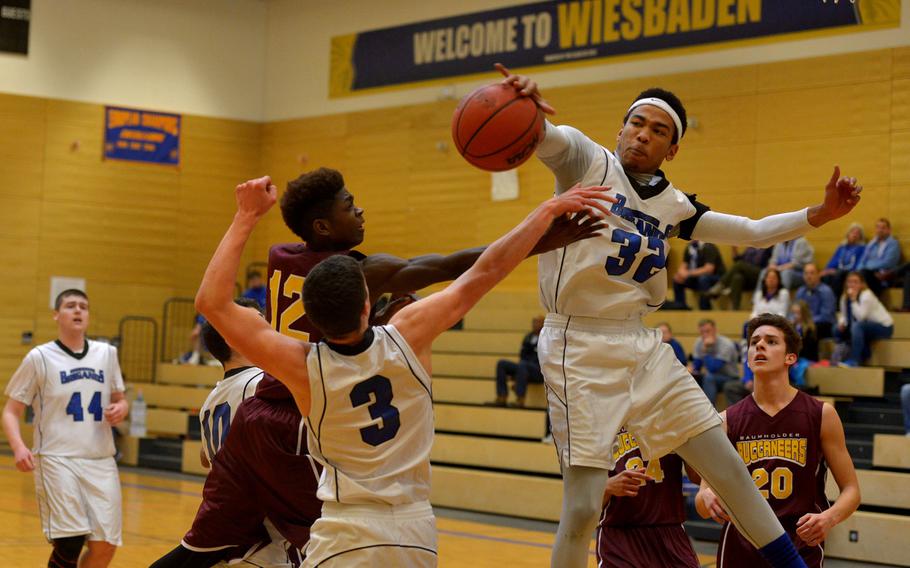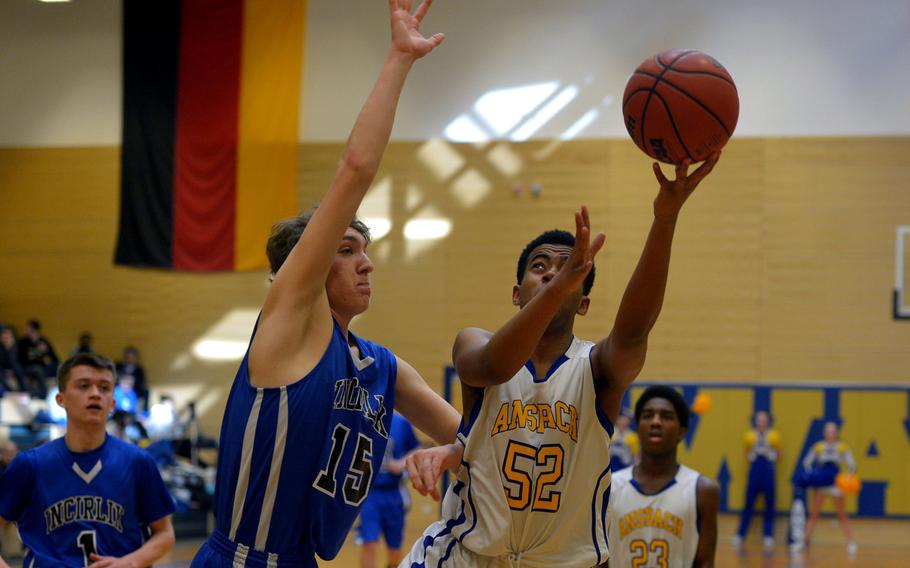 WIESBADEN, Germany -- DODDS-Europe's smallest schools know better than anyone the many effects of the ongoing drawdown of American forces on the continent. This week, they're experiencing yet another one.
A dwindling student population at Ansbach forced the school's accomplished athletics program to drop down from Division II to Division III last fall. But even an emaciated version of the Cougars has proven plenty fierce among their new small-school peers.
Both the Ansbach boys and girls continued to excel Thursday as the second day of the DODDS-Europe Division III basketball tournament. Both Cougar squads posted two wins in as many tries and will enter Friday with unbeaten records and very manageable paths to Saturday's title games.
BoysAnsbach 69, Incirlik 46: The Cougar boys have found their way, and may soon find themselves in a European championship game.
Ansbach continued its February surge Thursday with a convincing win over a solid Incirlik squad. The Cougars' key tournament win follows a late regular-season doubleheader split with fellow contender Baumholder and a 2-0 start to the postseason on Wednesday. Taken in total, it's clear that the Cougars are hitting their peak at precisely the right time.
Junior guard Lamar Finley poured in 25 points along with five steals and four assists. Yadiel Rodriguez added 15 points and six rebounds for the Cougars.
A fall transfer, Finley made a timely addition to an Ansbach program that reached the Division II semifinals in 2015 but was watching its overall talent base erode. He said the team has been coalescing ever since, and is now seeing the rewards of that process.
"We're playing more as a team than we did in the season," Finley said. "So I think we'll do pretty good while we're here."
The Cougars did just fine in their Thursday finale, a 63-21 defeat of Ankara.
Brussels 29, Baumholder 24: The Brigands completed their second day of work in the tournament with a narrow defeat of the Bucs. The win followed an early 24-16 decision over Alconbury and improved Brussels to 4-0 in the bracket with two preliminary games yet to play Friday.
Sophomore center Callum Proulx paced the Brigands with 10 points against Baumholder after posting eight points against Alconbury. Nathaniel Horton scored a game-high 13 points in the loss.
Ansbach will take on Brussels first thing Friday in a possible preview of Saturday's championship game.
GirlsAnsbach 23, Sigonella 17: The Cougar coup d'etat is progressing nicely in the girls bracket.
Ansbach, a former Division II power, has spent its tournament serving notice to the existing power structure of Division III.
The Cougars started Wednesday morning by knocking off reigning champion Baumholder 27-21. Then they blasted both Brussels and Incirlik by double digits. Late Thursday, they added another victim in 2015 runner-up Sigonella.
Both teams started off sluggishly, but the Cougars settled into an effective full-court press on defense and found just enough offense to take a 13-7 halftime lead. The Jaguars couldn't muster a comeback in the second half, and the Cougars escaped with a gritty win over an opponent they held in high regard.
"We were coming in and we were dreading it, pretty much," said sophomore post Khiya Coats, who scored 10 points in the game. "We knew they were a pretty good team."
And the Jaguars made them earn it with ruggedly physical play under the basket, making Coats and her teammates fight for every two points.
"I tried to keep my composure, because under there, it's grimy," Coats said.
The Cougars might not have seen the last of their hard-nosed opponents. Despite the loss, the Jaguars remain very much in play for a championship at 3-1 on the tournament. Friday games against Brussels and Incirlik will determine their fate.
Alconbury 21, Baumholder 20: The Dragons stayed in championship contention with a comeback win over the defending champion Bucs.
Alconbury trailed 15-10 at halftime and was still down by four entering the final quarter. But Ashley Kjorness scored half of the Dragons' eight fourth-quarter points and the Alconbury defense held Baumholder to three points over the last seven minutes to swipe the victory.
Alconbury has won three straight tournament games since dropping its Wednesday morning opener to Sigonella, including a 23-6 rout of Ankara on Thursday morning.
Meanwhile, the loss signaled an end to the title reign of Baumholder. The Bucs took a similarly hearbreaking 17-15 loss to Sigonella earlier Thursday and now stand at 1-3 on the tournament.
Top contenders Alconbury, Ansbach and Sigonella will all be in action late Friday in potentially crucial preliminary-round finales. Sigonella takes on Brussels while Ansbach and Alconbury fight it out directly.
Twitter: @broomestripes