Ansbach no match for Wiesbaden teams on the court
---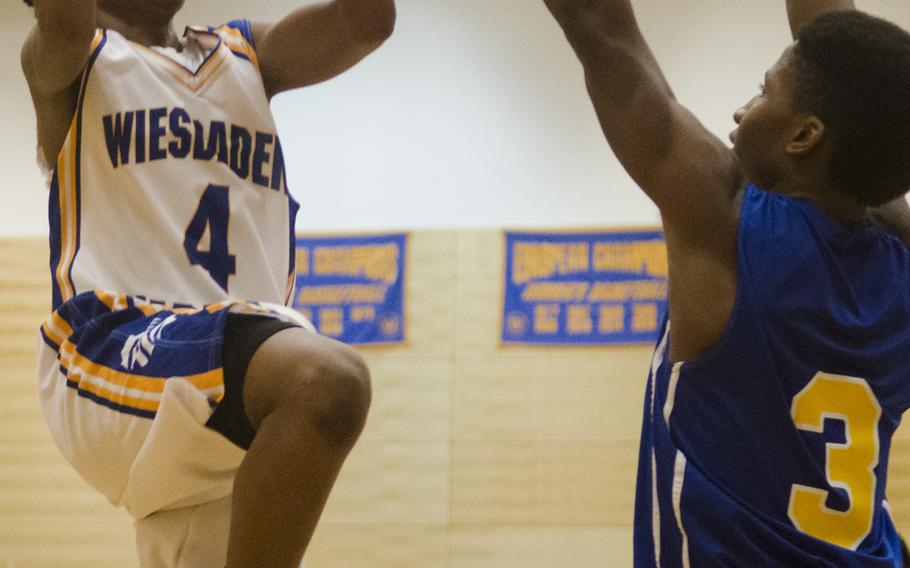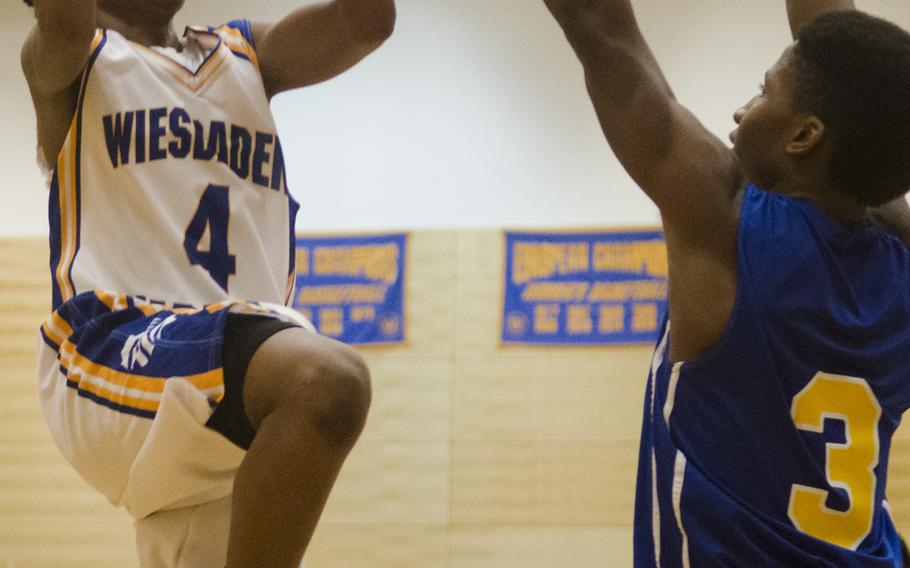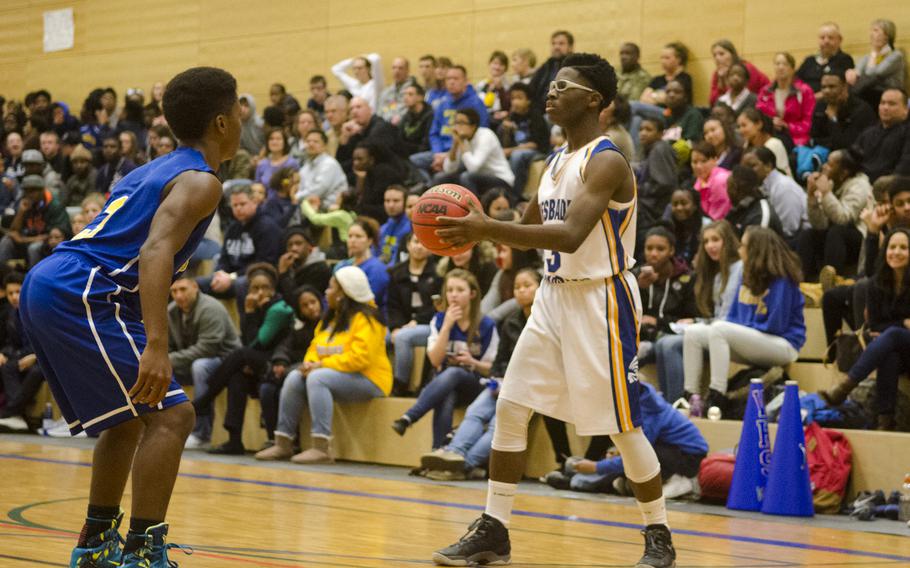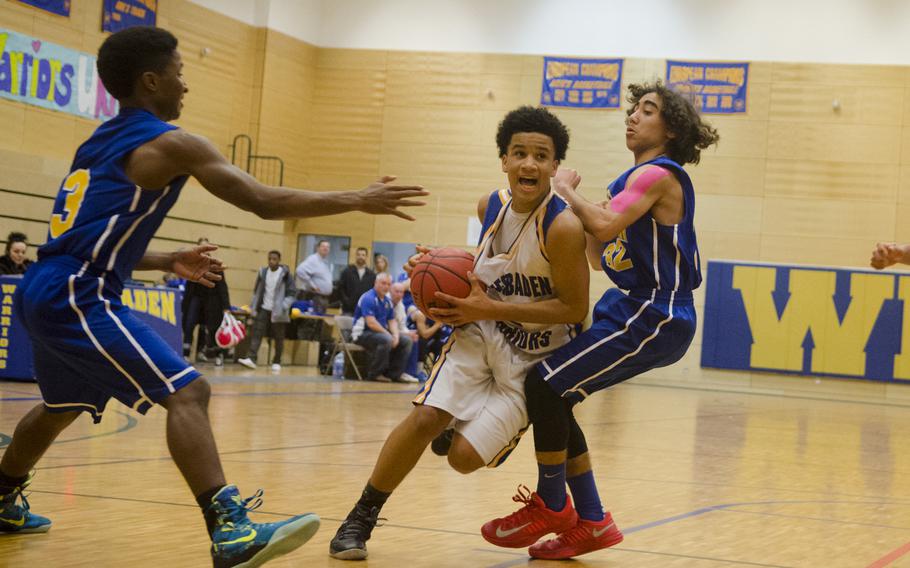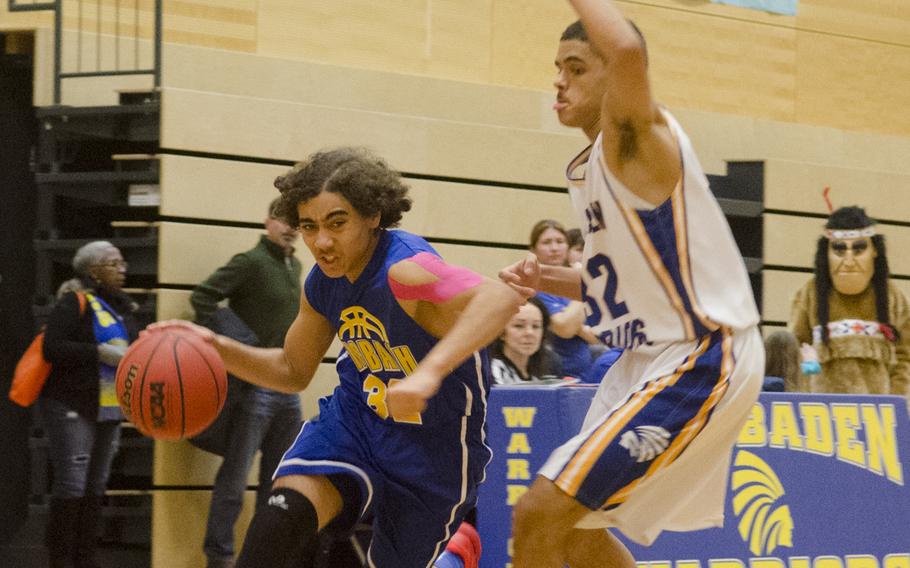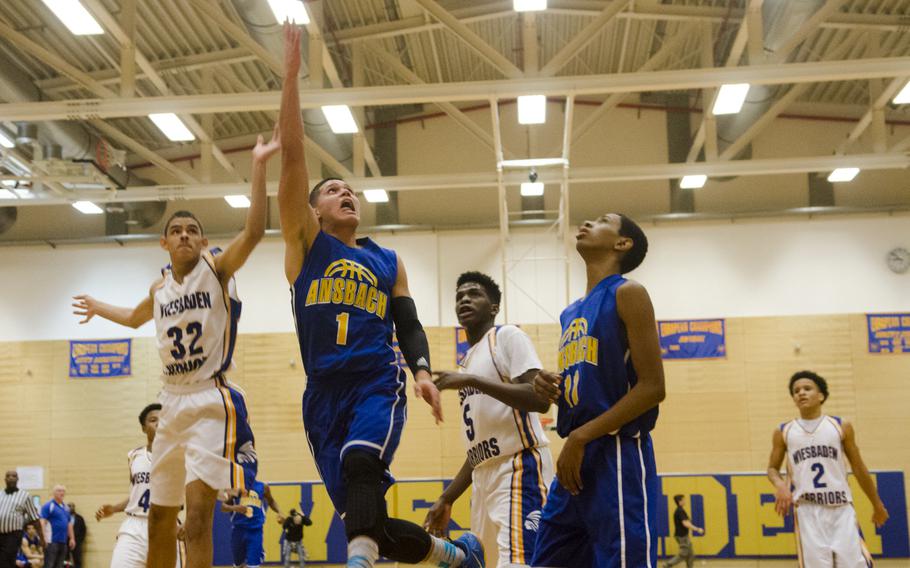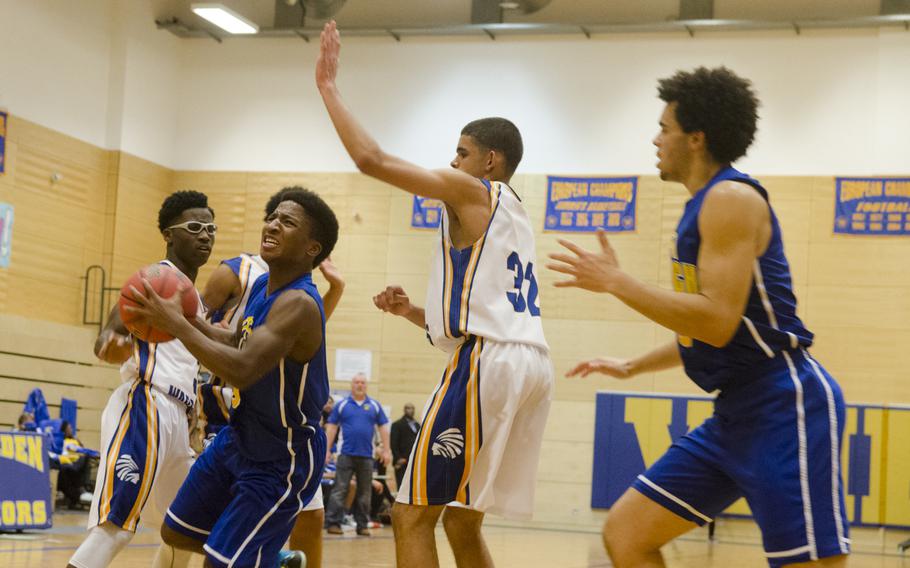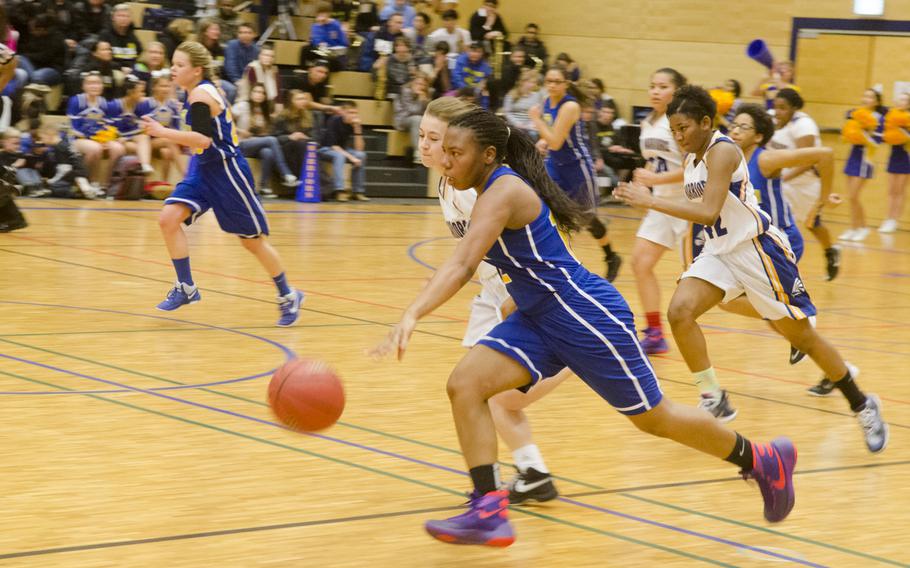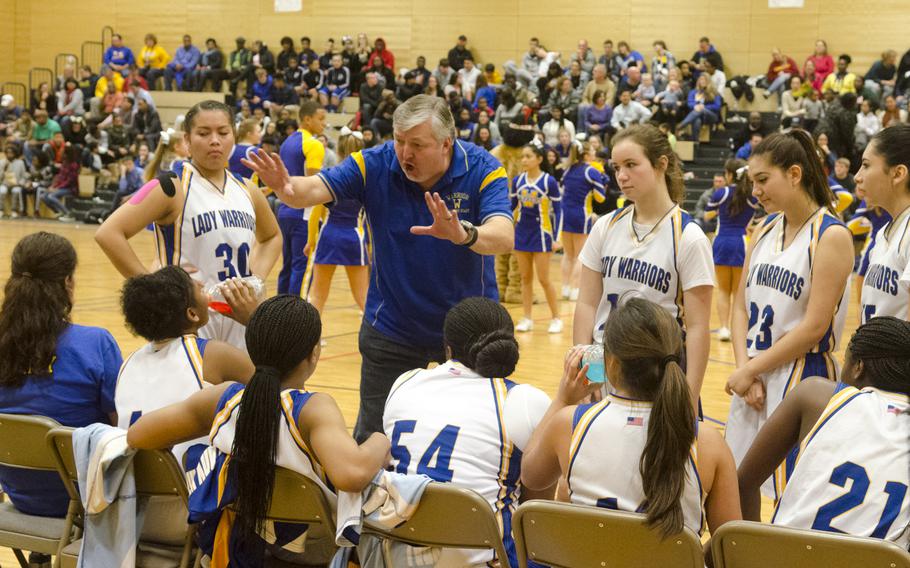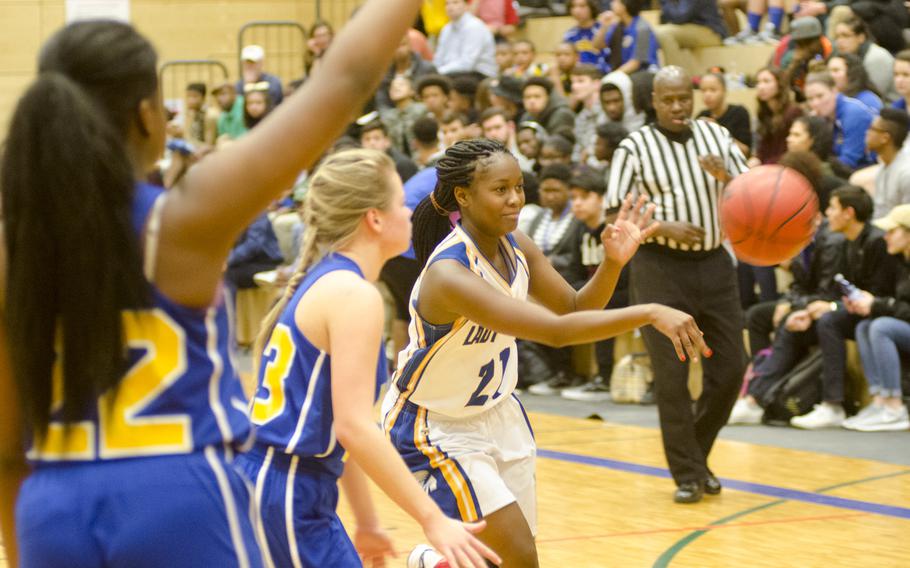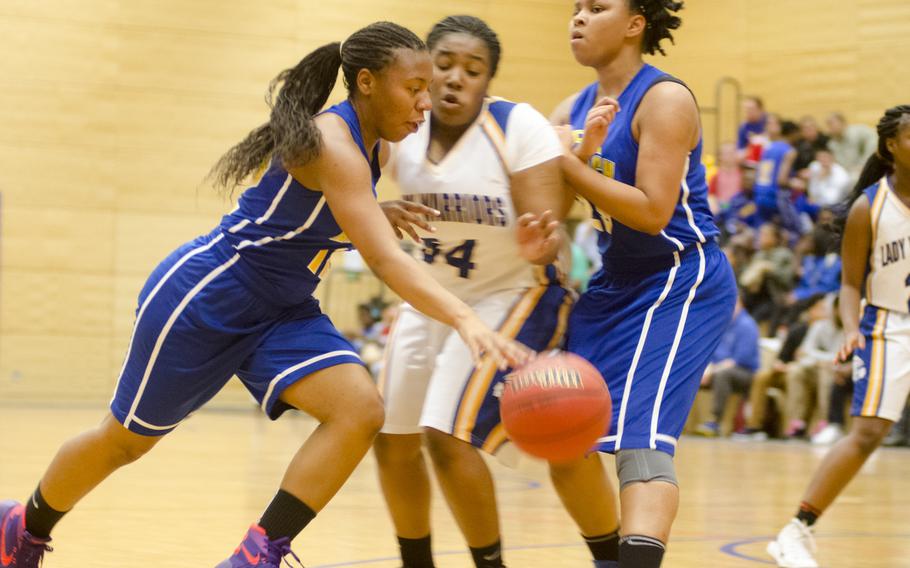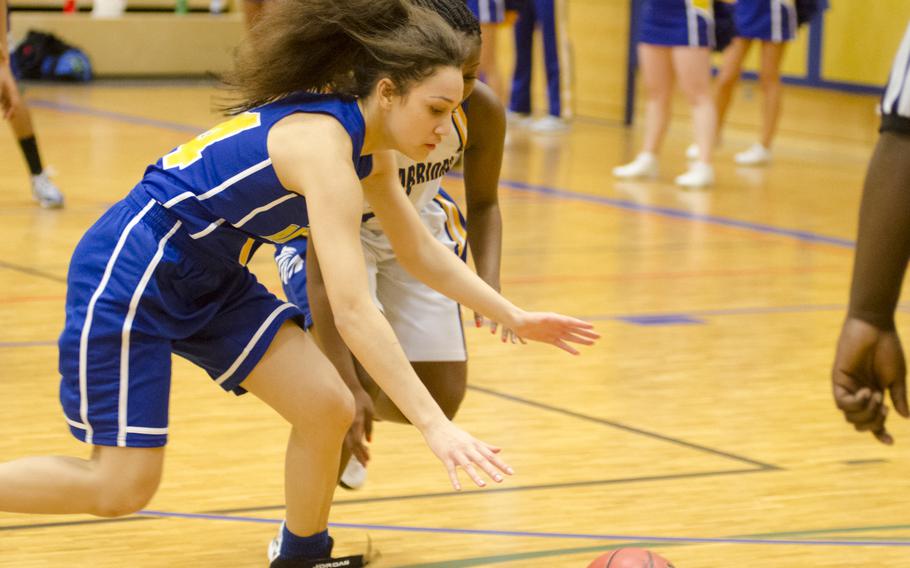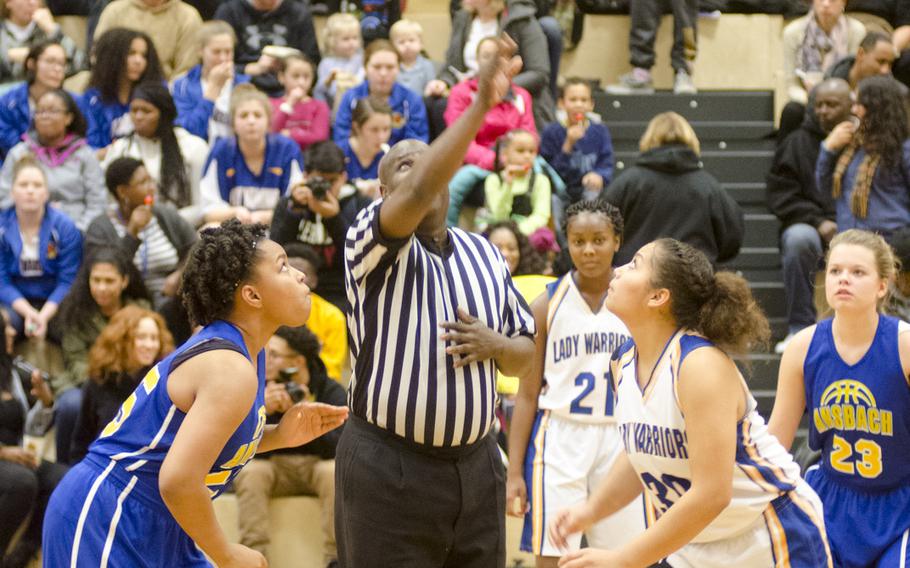 WIESBADEN, Germany – Wiesbaden was in no mood to be gracious to its guests Friday as both girls and boys varsity teams ran roughshod over their counterparts from Ansbach.
In the earlier girls game, Wiesbaden triumphed 42-20, and in the boys game the Warriors won 76-37.
In a way, it was to be expected, as Ansbach, dropped to Division III this year, cannot call on the Division I Warriors' depth, which enables them to stifle opposition with swarming defense.
In the girls game, the two-time defending European champions rode juniors Rosette Gray, a forward, and Tonika Williams, a guard, for a combined 24 points, more than Ansbach managed altogether.
A fast start by the hosts left the Cougars shell-shocked as they went into the break after the first quarter down 11-1, and did not get their first field goal until early in the second quarter.
It's the third weekend in succession they've faced Division I opposition. "From the beginning of the season, we've known it would be a tough start, and we need to keep our heads up and keep competing," said coach Michael Lee Hunt, in his sixth season at Ansbach. "We have not been scoring well, so we need to learn to get the ball in the hole a bit better and learn to run our offense."
The Cougars look like they will need to rely on their frontcourt to perform if they want to be competitive. Forwards Tytianna Martinez and Liena Tatum, along with center Khiya Coats, impressed.
Wiesbaden, on the other hand, looked to have a strong rotation and ran a variety of offensive sets well. The Warriors also managed to take advantage of turnovers and score in transition, despite a mostly untested group of players.
"I was happy with our execution and defense, specifically our defense," coach Jim Campbell said. "It's a rebuilding year – it's basically a whole new group is moving up from JV. We just need to keep improving every game and we're going to be a tough out in the tournament."
On the boys side, the story was similar. After a relatively closely fought first half, where the teams were separated 38-23, Wiesbaden reeled off a 20-3 run in the opening three minutes of the second half, effectively ending the game and enabling coach David Brown to rotate in some of his younger players. The surge came on the back of a swarming full-court press that led to turnover after turnover, resulting in easy baskets.
"Before practice, we always run fast break drills and drills where we have to beat the press, and we run a lot so we're in shape to always do it if we need it ," Wiesbaden junior center Jalan Glover said. "As a team, our strength is our teamwork and always staying positive."
Sophomore guards Charles Cobbs, with 21 points, and Isiah Washington, with 19, led the way for the hosts.
Coach David Brown said the goal for his young team at this time of the season is not necessarily to win big or even win, but to improve in a set of measurable metrics that will be vital come tournament time, such as turnovers and foul shooting.
"We focus on our standard achievement goals, and I think we did a much better job in those particular areas tonight," he said.
Despite the loss, the Cougars - who after coming fourth in Division II last year will like their chances in Division III – stayed positive, saying the experience will help them later.
"We're always looking to play (Division I) competition during the season because it really helps us out at the end in the tournament," said Nick Duplessie, a senior. "Our offense is looking a lot better, we shaped it up, scored a lot tonight, we just need to get better on defense."
---
---
---
---