Europe track
Another record falls before officials pull plug
---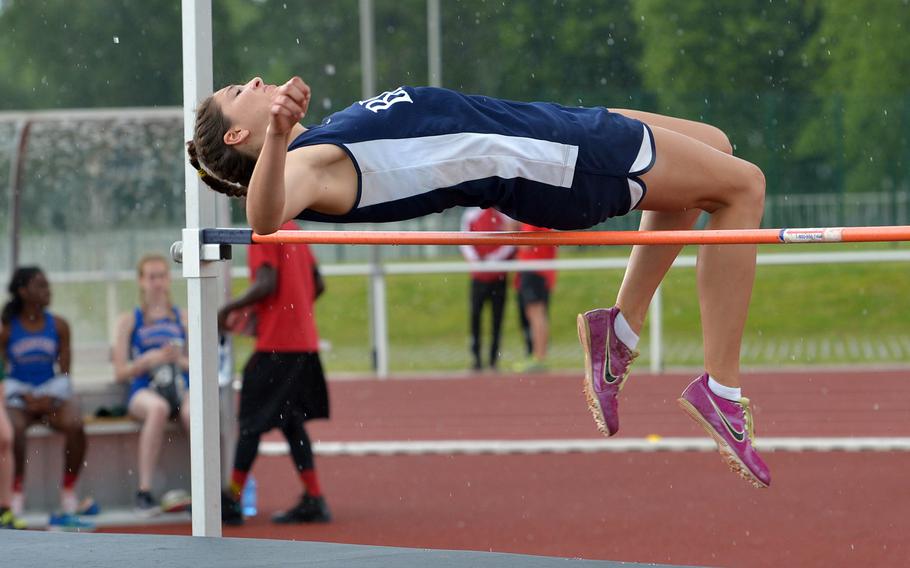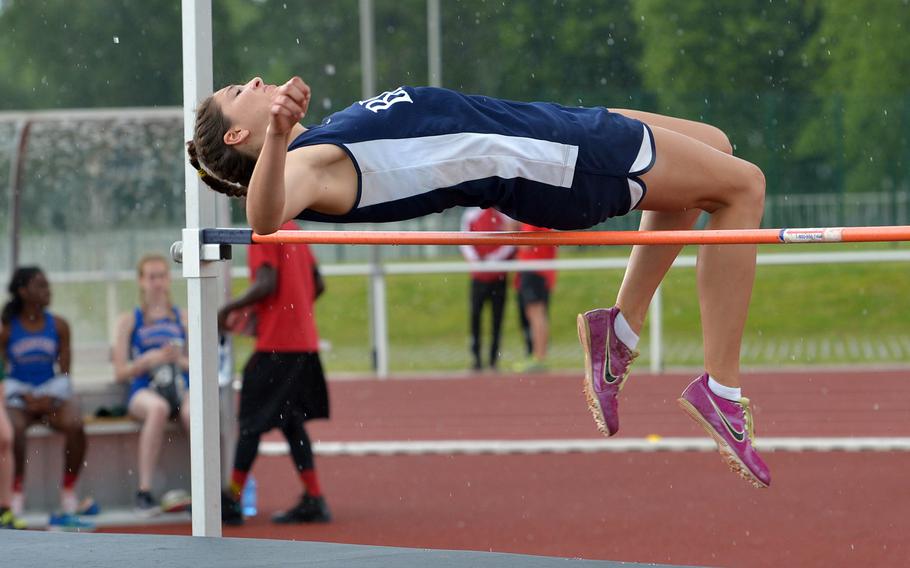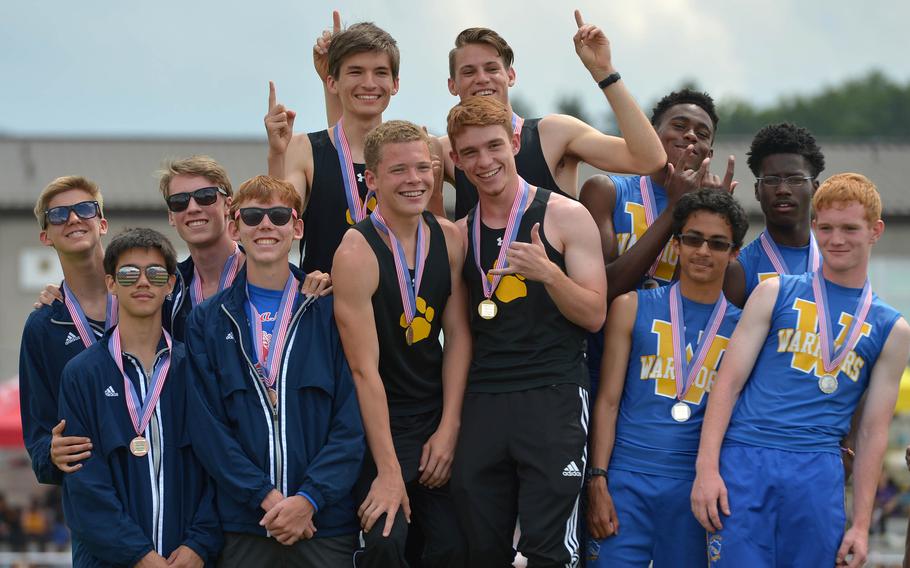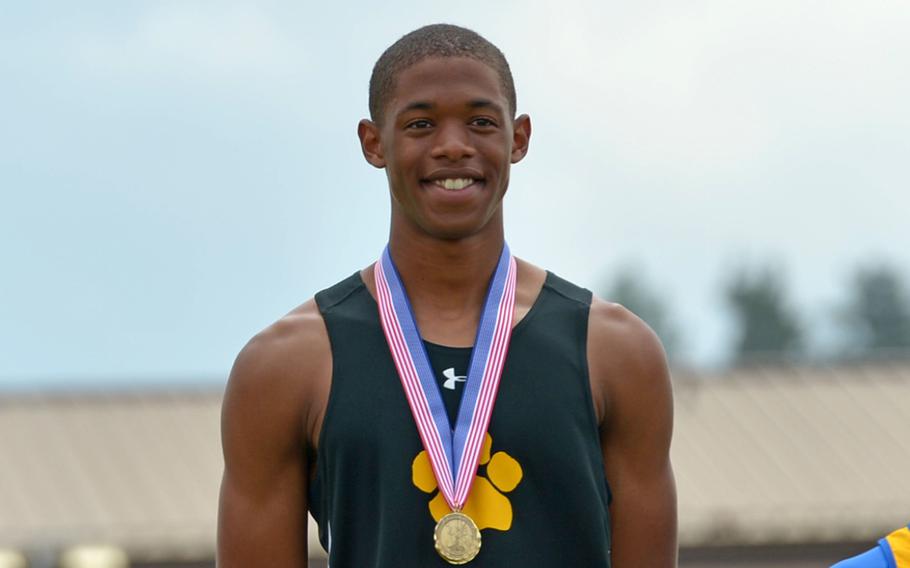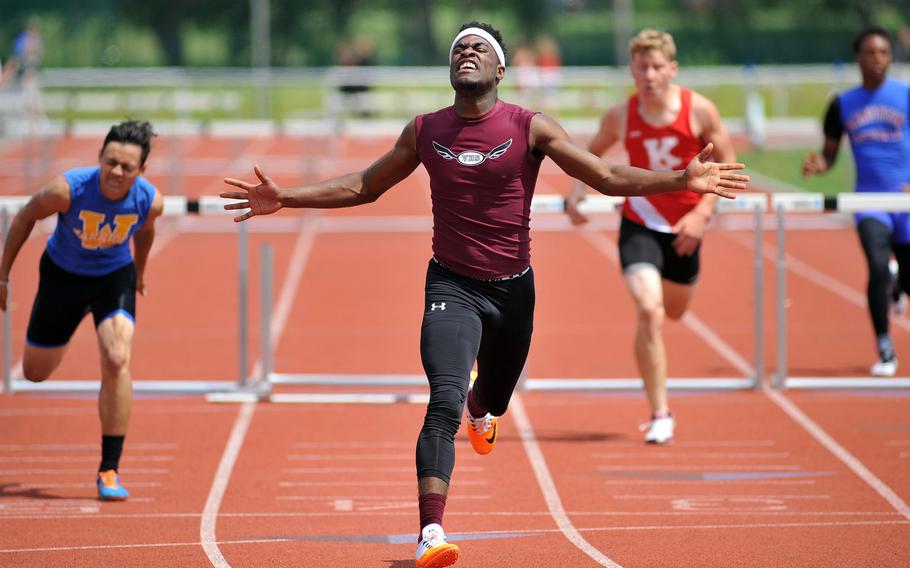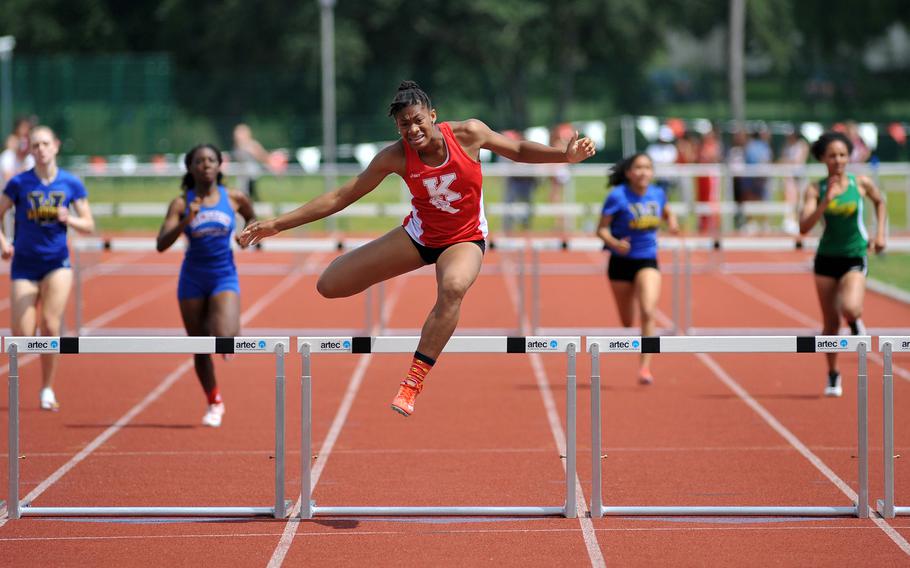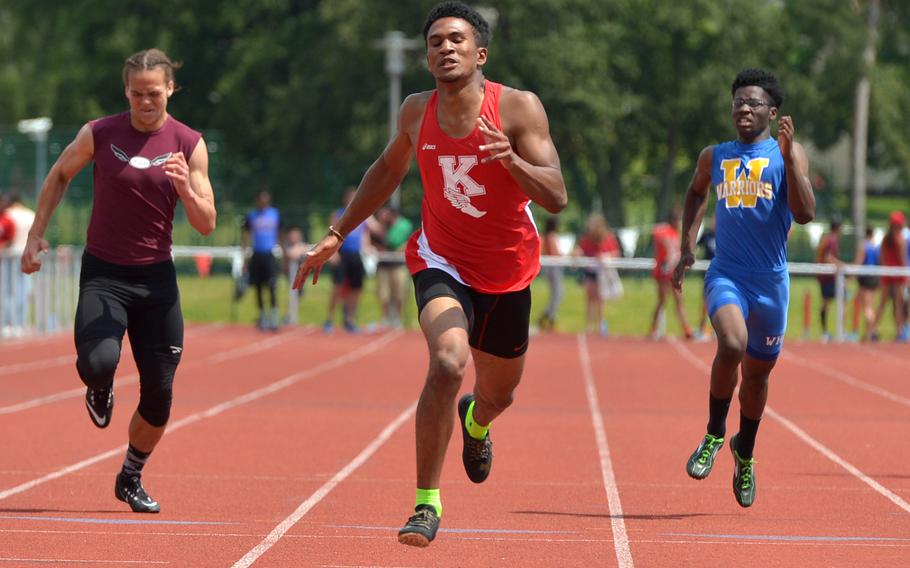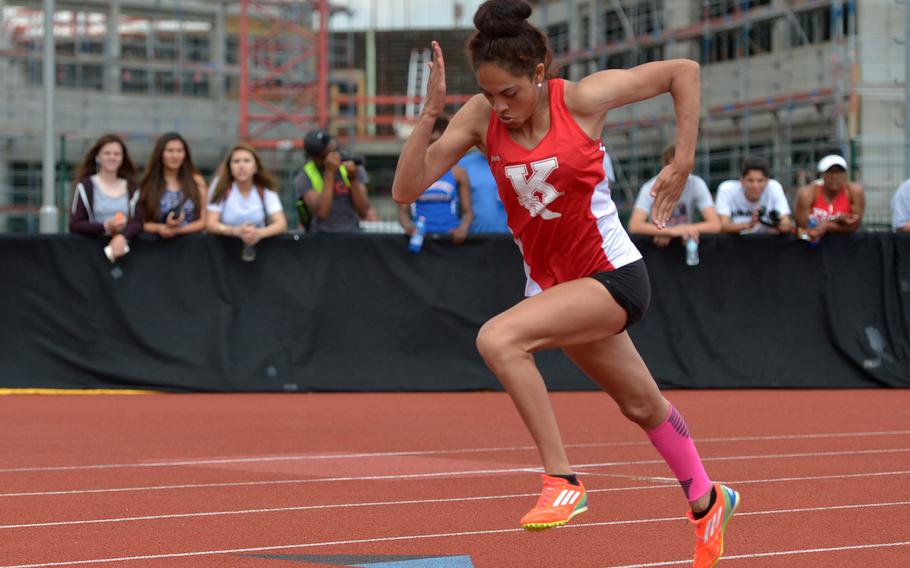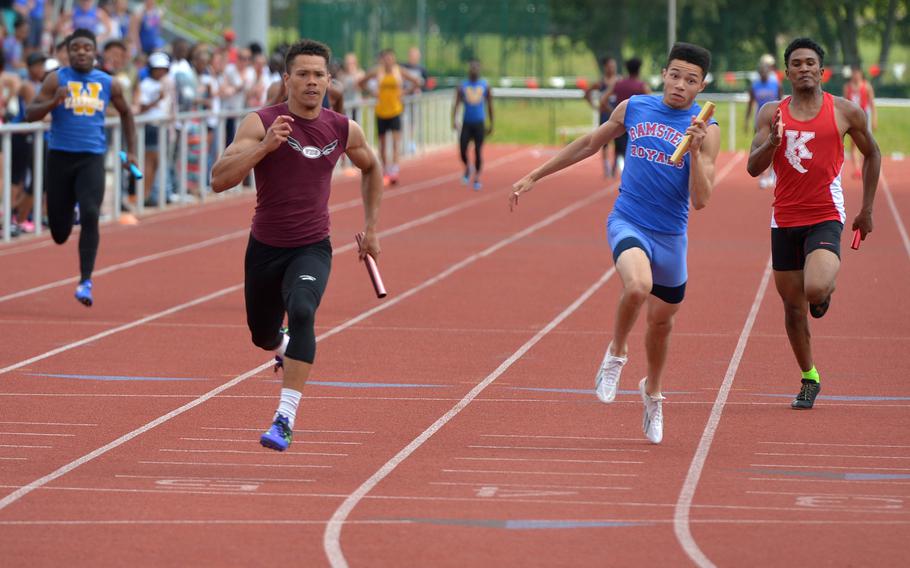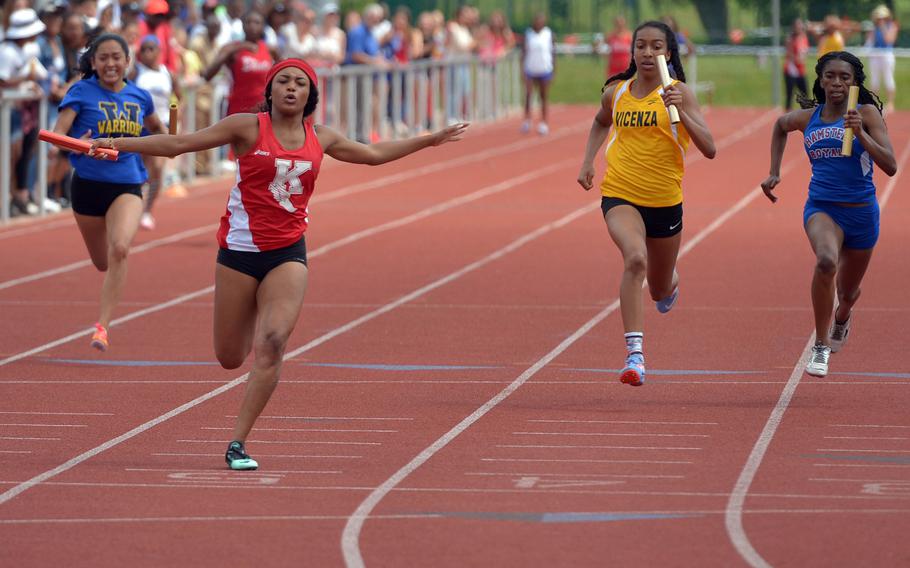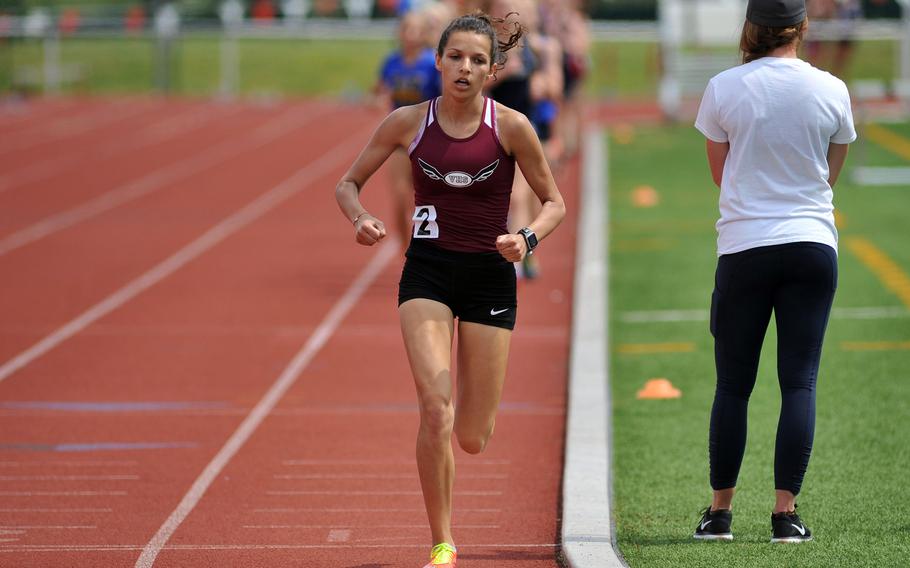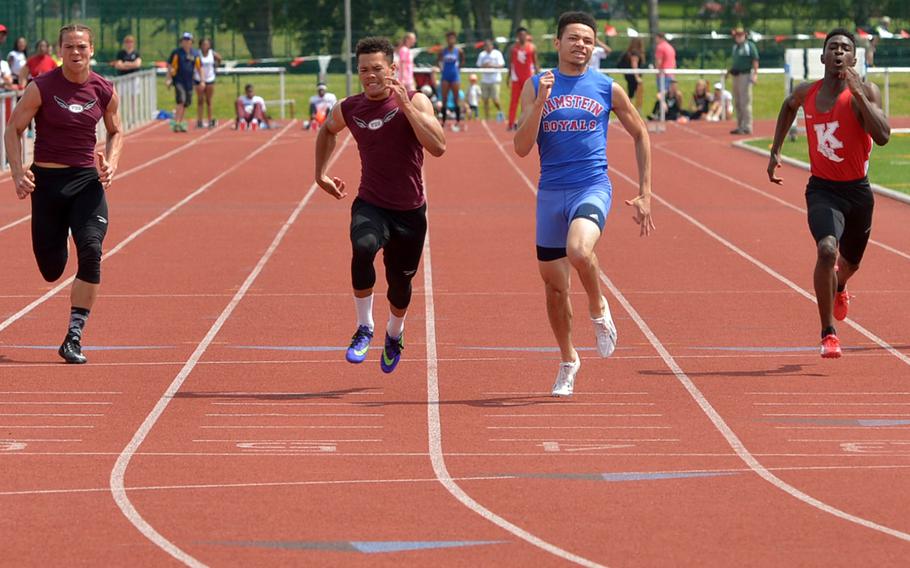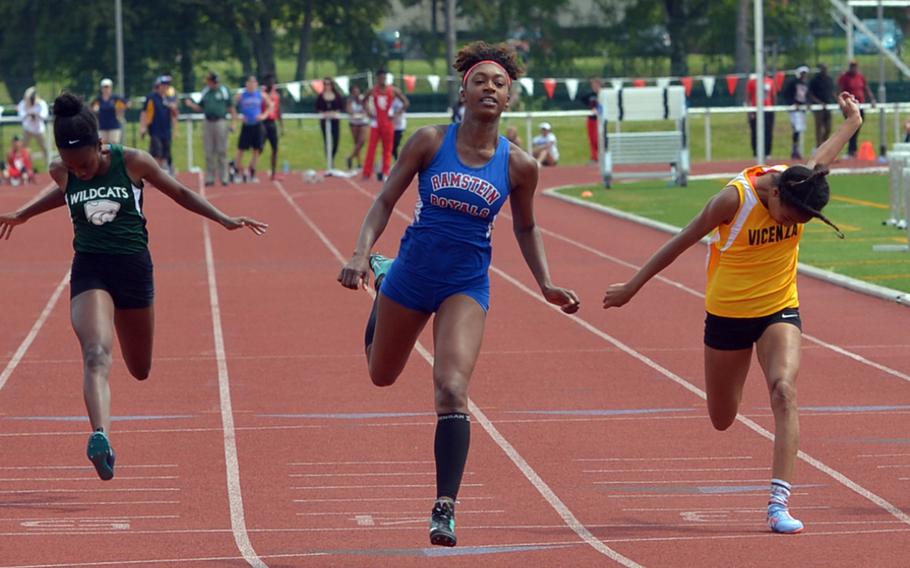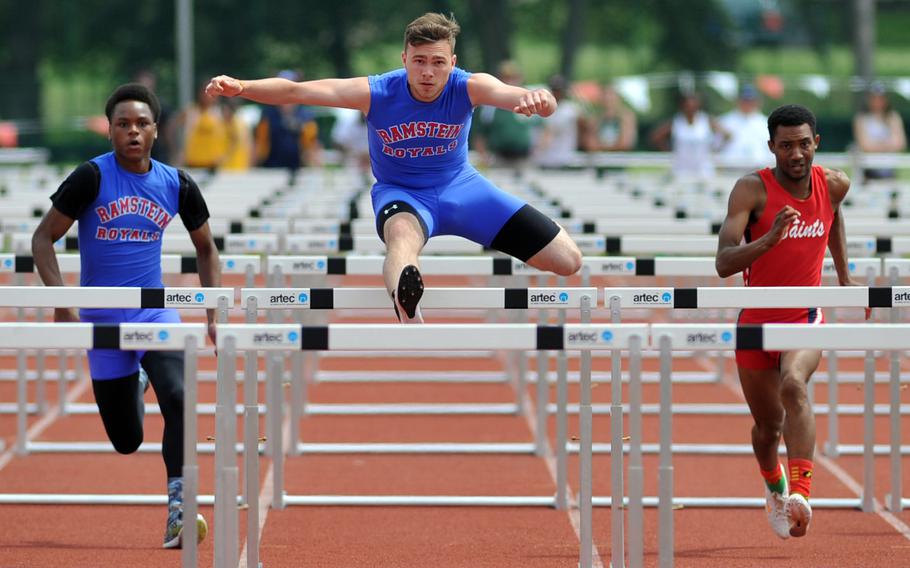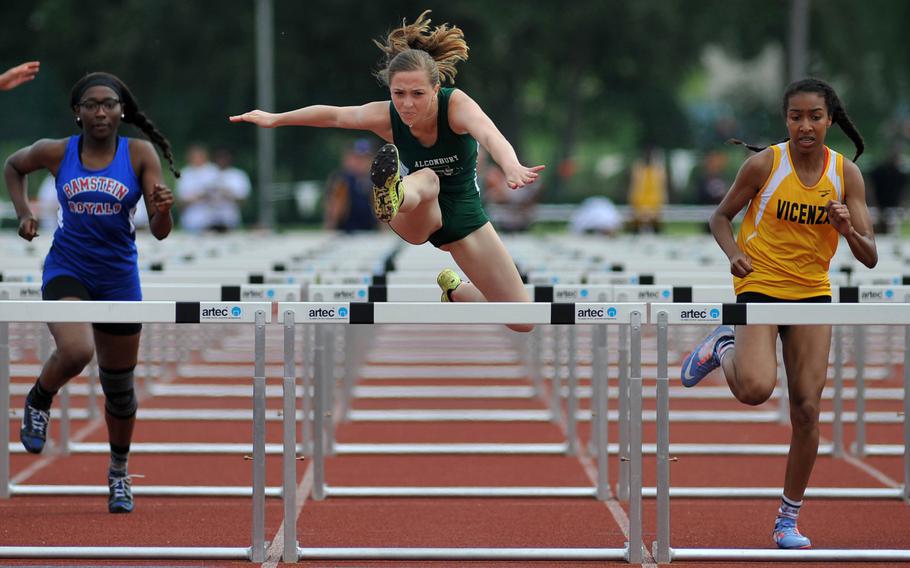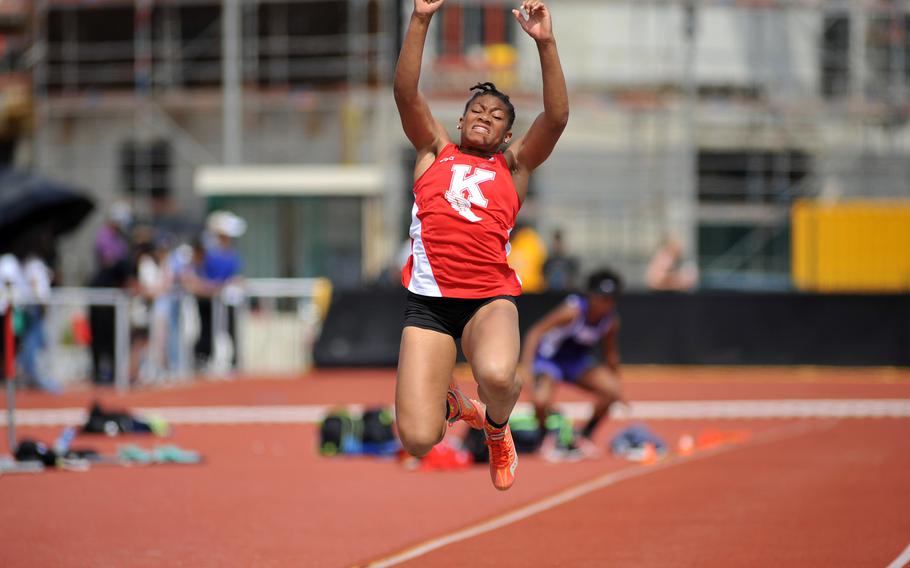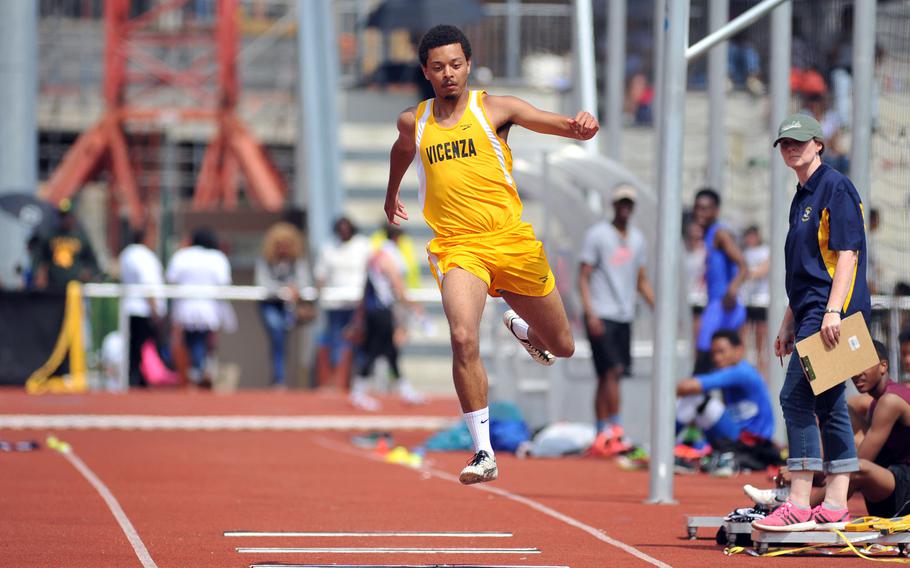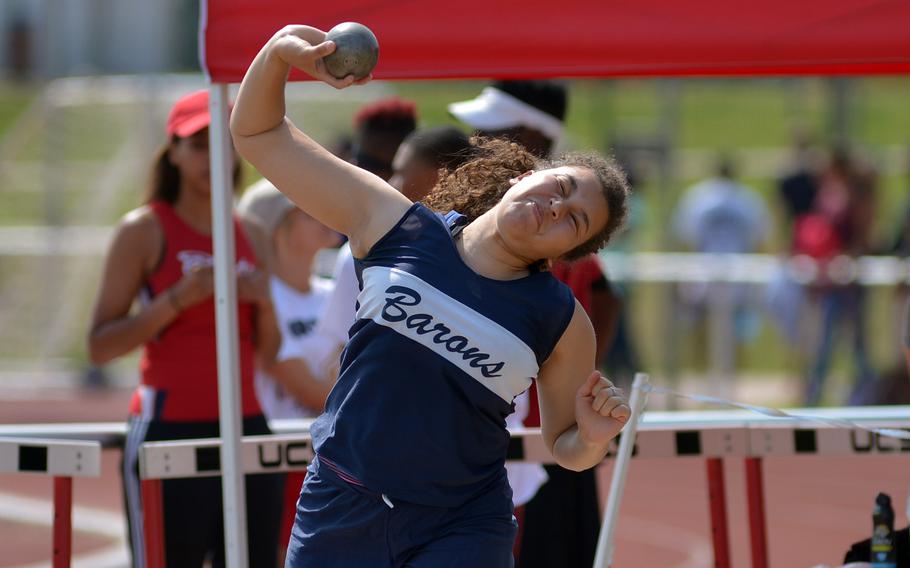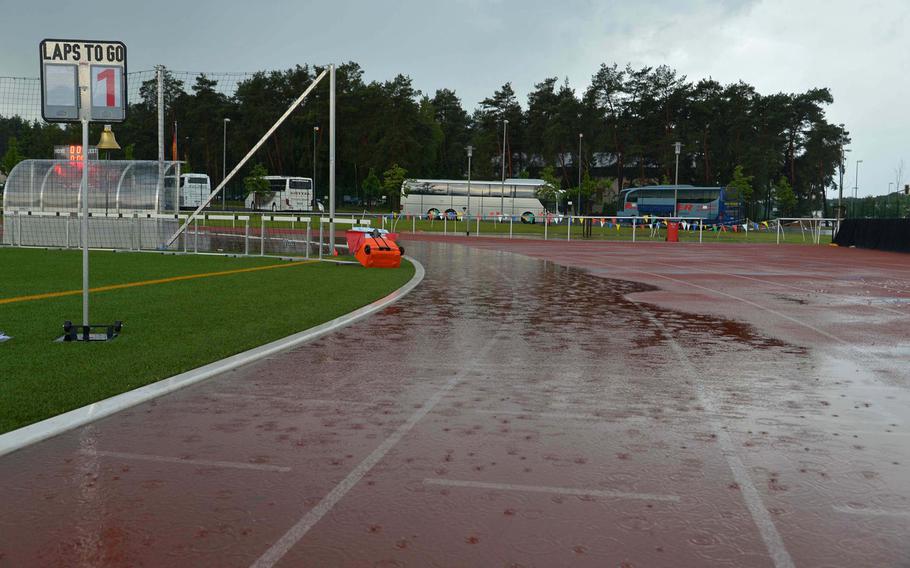 KAISERSLAUTERN, Germany - Another record fell Saturday at the DODEA-Europe Track and Field Championships and there were a handful of dazzling and gutty performances that kept fans on their feet.
But the meet will likely be remembered more for the performances that didn't happen after a dangerous, mid-afternoon thunderstorm rolled in and drenched the stadium, forcing officials to make the unprecedented decision to cancel the meet with nine events left uncontested.
The storm hit just before the girls' 800-meter race at 2:45 p.m. when it began to hail. The girls kept warming up even as the hail turned into a downpour. The sound of approaching thunderstorms, however, forced athletes inside for what turned into a more than two-hour wait as thunder and lightning continued throughout the afternoon and heavy rains flooded the track and infield.
Meet officials and coaches agreed to cut the meet short at about 5 p.m. There were still eight races to go: the girls' 800, the boys' 3,200, and the 200, the sprint medley and the 1,600-meter relay for both boys and girls. The girls' high jump was suspended mid-competition.
The decision to cancel the rest of the meet wasn't popular with some athletes, particularly those still slated to compete.
"I'm very mad," Stuttgart senior Hunter Ficenec said of not getting to run the 3,200. "It's a bummer. It would have been a great race, too. It was the main event I was focused on all week."
Ficenec was vying for a fourth title. He had already run one second faster than the DODEA-Europe record of 9 minutes, 53.19 seconds and was looking to go even faster. He likely would have been pushed by Ramstein junior Colin McLaren, who was seeded three seconds slower.
DODEA track and field old-timers said they could not recall a championship meet ever being canceled because of weather.
"I've never seen a rain storm like this, never," said John Sullivan, who coached for 30 years at Würzburg and helps at the championship meet since retiring.
The storm flooded some local roads and a few parking lots on Vogelweh were underwater. At a nearby German youth soccer match in the town of Hoppstaedten, one of the team managers had to be revived after a lighting strike out of a cloudless sky that also seriously injured a second man, Kaiserslautern police reported. The referee, another manager and an 11-year-old were lightly injured.
Athletes and coaches huddled in Kaiserslautern's gymnasium during the storm.
Meet officials ended up awarding the remaining medals based on either times from Friday's preliminary rounds or, in the case of the 800 and 3,200, on seed times coming into the meet.
The meet started out with much promise.
In the first running event of the day, held under sunny skies, the Stuttgart boys' 3,200-meter relay team clocked 8:06.72 to shave nearly three seconds off the Europe record set in 2012 by Black Forest Academy.
Helping the Panthers chase down the record was a closely-contested race with runner-up Wiesbaden.
After leadoff John Bowman handed the baton to Domin Sweet, Wiesbaden began reeling the Panthers in, catching Sweet and running even with third runner Boo Fullwood.
But shoring up the anchor for Stuttgart was Ficenec, the European 800 champ. Ficenec broke open the race, churning out a 1:55 split to put the race away and nip Black Forest Academy's record of 8:09.56.
"It feels amazing," Bowman said of getting the record. "We broke our school record by more than 20 seconds, so that will stay there for a while."
Kaiserslautern sophomore Jada Branch continued her winning ways in the pit and on the track.
In the long jump, she knocked out a winner on her final attempt, though judging by her groan, it didn't sound like it.
"I sat back and got a lower mark," she said, explaining her exasperation. Luckily, Branch could spare the inches. The tape measure stretched to 17 feet, 5.25 inches, a personal best for Branch and more than a foot longer than silver medalist Vicenza senior DeAsia Fairley's best jump.
Branch showed her versatility with a second gold Saturday in the 300-meter hurdles, an event with which she's still getting comfortable.
"Oh, I was really nervous," she said of her first attempt of the long-hurdle event in Europeans. Branch won the event by nearly three seconds with a time of 45.38, less than a second shy of the European record set in 2014 by Ansbach's Mykala Bazen of 44.71.
"I just wanted to prove to myself that I could push myself and go out of my comfort zone."
Branch was also the top seed in the girls' 200 meters. Her teammates dazzled in some of the other sprints held before the meet was called.
The team of senior Autumn Collins, sophomore Ayana Cox and freshmen Teagan Musselman and Faye Humphrey-Griffith won the 400 relay in 50.05.
"We kind of thought Vicenza would crawl up on us, but I knew I had it," said Collins, who anchored the winning team.
Stuttgart junior Jacob Milton took first in the discus with a toss of 131 feet, to add to his gold Friday in the high jump.
Kaiserslautern junior Sapphire Gutierrez won her first title in the girls' 400, despite dealing with some knee issues. She beat Black Forest's Erin Fortune, who half dove, half collapsed, across the finish line by .4 seconds, 1:00.85 to 1:00.89.
"It was a rough race," she said. "I just pushed through it, all the pain and everything." Her mantra: "'Results, not excuses.' I always repeat it," she said.
Vilseck beat top-seed Ramstein in the boys' 400 relay. Armando Pinckney, Zavier Scott, Terron Sizemore and Jacolby Hull-Town said their handoffs went perfectly. "It feels surreal," Scott said of winning Europeans.
Several returning champions successfully defended their titles.
Vicenza's Early Wheeler kept his triple jump crown, though by the slightest of margins.
On his first jump in the preliminaries, "I just gave everything I got," he said. In return, Wheeler beat his best jump of the season with a 41-10.25. But he aggravated his hamstring and never regained his strong early form. He hung on by 2 inches. Kaiserslautern senior Omar Plaisime turned in a 41-8.25 to get his second silver medal in the jumps.
Alconbury junior Olivia Sealey won the 100-meter hurdles for the second consecutive year. She set a personal best with a time of 15.96.
Despite coming off a foot injury, Ramstein senior Denee Lawrence repeated in the 100 meters.
Teammate Yson Hogan took first for the Royals in the boys' 100 in a time of 10.94.
Kaiserslautern's David Zaryczny was the only runner to break 50 seconds in the 400 meters. The effort assured the senior of another gold in the one-lap sprint.
Elise Rasmussen of Bitburg defended her title in the shot put, nabbing her second gold in the throws at Europeans this year after winning the discus for the first time Friday.
Ramstein's Chandler Henderson repeated in the 110-meter hurdles. He and teammate and training partner Tyrese Loveday, a freshman, finished one-two. Henderson was in striking distance of a second gold in the 300 hurdles but tripped on the last hurdle.
Henderson said seeing how close the race was, he tried to reach for the hurdle instead of slowing down to take one more step and "ended up clipping the hurdle."
Vilseck junior Aamaree Harrington took first in 42.44.
The day saw a new middle distance champion in the girls' 1,600 meters, an event dominated this year by Ramstein junior Katelyn Schultz, the top seed and Friday's 3,200 winner.
Vilseck senior Kaili Markley jumped out to an early lead and nobody could catch her. She won in 5:29.88. Schultz, who ran the race with an injured foot, ended up third, picking off several runners after moving up from seventh in the race.
She couldn't hold off Stuttgart sophomore Rachael Dickenson, who nipped her near the finish.
Markley, who finished third last year in the 1,600 at Europeans, said her goal was to win but "I didn't expect to" with Schultz in the race.
Schultz said her foot began bothering her after Friday's 3,200 and during the 1,600 it "felt like something was stabbing me." She didn't drop out because "once you commit, you can't back out of it."
In team scoring Ramstein finished first among Division I schools in the girls' events. Black Forest Academy was tops in Division II and Alconbury won among the smallest schools of Division III.
On the boys' side, Stuttgart took the Division I team title. Hohenfels was the best Division II team and Ansbach and Baumholder tied for the Division III team crown.
---
---
---
---