Andrew packed a season's worth of highlights into a single game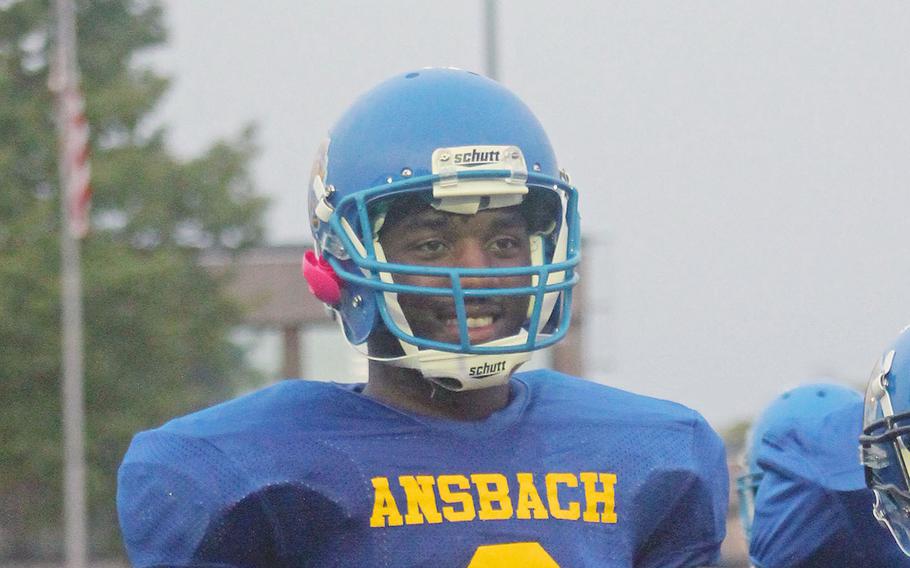 Considering the alternative, Ogden Andrew would have been happy with any football season. But he's not just having any football season.
The Ansbach Cougars senior is the breakout star of DODEA-Europe Division III football, setting a high individual standard for the fledgling six-man league while helping restore one of Europe's most historic football programs to its accustomed level of gridiron prominence.
In Saturday's 75-46 Ansbach win over AFNORTH, Andrew produced numbers that would make more sense as a season total rather than a single game. He carried 12 times for 226 yards and four touchdowns, returned three kickoffs for touchdowns totaling 230 yards and returned an interception 55 yards for another touchdown.
"The end zone was the only thing that stopped" Andrew, AFNORTH coach Greg Blankenship said. "He was a one-man wrecking crew."
Andrew deflects such individual praise like a stiff arm to an overmatched tackler. Asked to talk about his eight-touchdown performance, Andrew reflexively cites his teammates, whose blocks arranged "open cuts which led me into the end zone." Pressed on the issue, he allows only that "my speed is a helpful thing" when it comes to completing those touchdown runs.
Ansbach coach Stephen Choate, however, is happy to detail the mix of physical and psychological characteristics that make Andrew an unstoppable force on the football field.
"His size and strength have served him well in football from the beginning, but his breakaway speed has really set him apart in the six-man game," Choate said. "Ogden is an easygoing, highly respectful young man who can flip the switch at a moment's notice to become a fierce competitor."
There was a time not long ago when Andrew thought that switch had been flipped off for the last time of his high school football career.
Ansbach was forced to fold its football program after its loss in the 2016 Division II championship game as its gradually shrinking school population couldn't produce a workable roster for the 2017 season. While DODEA-Europe football proceeded without the Cougars, Andrew spent the season on the basketball court preparing for the winter season.
"I was thinking that was it," Andrew said.
Andrew is an accomplished basketball player as well, and the next sport is always just a few weeks away in DODEA-Europe's athletics schedule. But Choate said Andrew "felt lost like the rest of us" when the proud Cougar football squad was sidelined last fall.
"Our football program has always been the heart that pumped life into each new school year," Choate said.
That heart is beating again this fall. The Cougars were among the beneficiaries of DODEA-Europe's debuting Division III league, playing a six-man brand of football that made it possible for even the organization's smallest schools to get on the gridiron.
Ansbach has been the best of the lot, owning the division's last remaining undefeated record after its win over AFNORTH.
In his fourth year as an Ansbach student-athlete, Andrew is taking a fitting role as a centerpiece of the Cougars' rebirth.
"Very seldom in DODEA does a coach get the privilege to coach an exceptional athlete through their entire high school career," Choate said.
This fall, that career is getting the ending it deserves.
Twitter: @broomestripes