D-III girls final
Alconbury rallies in second half for 2-1 win
---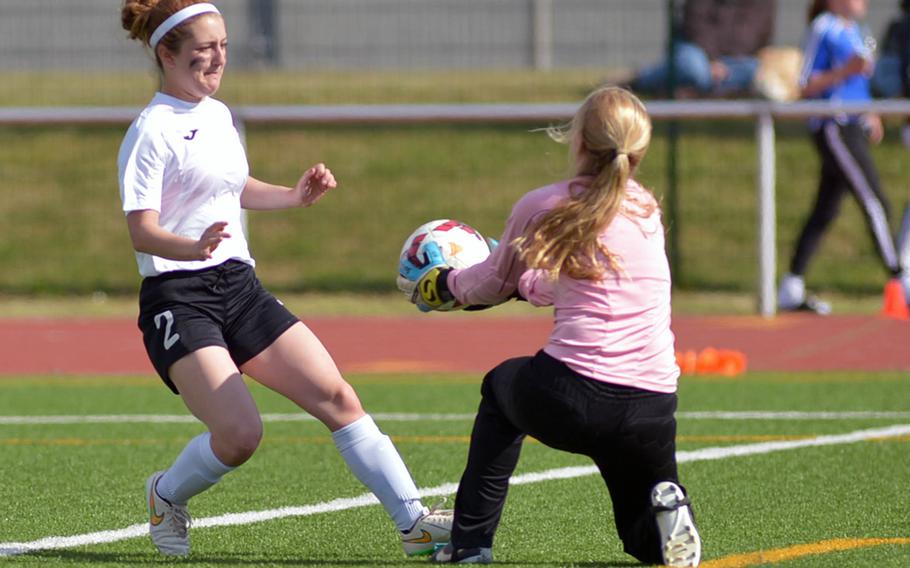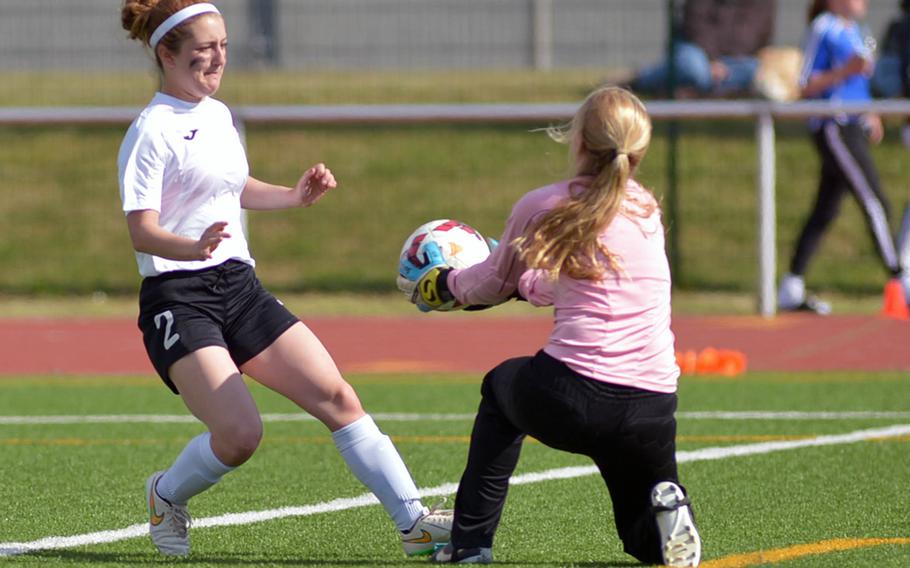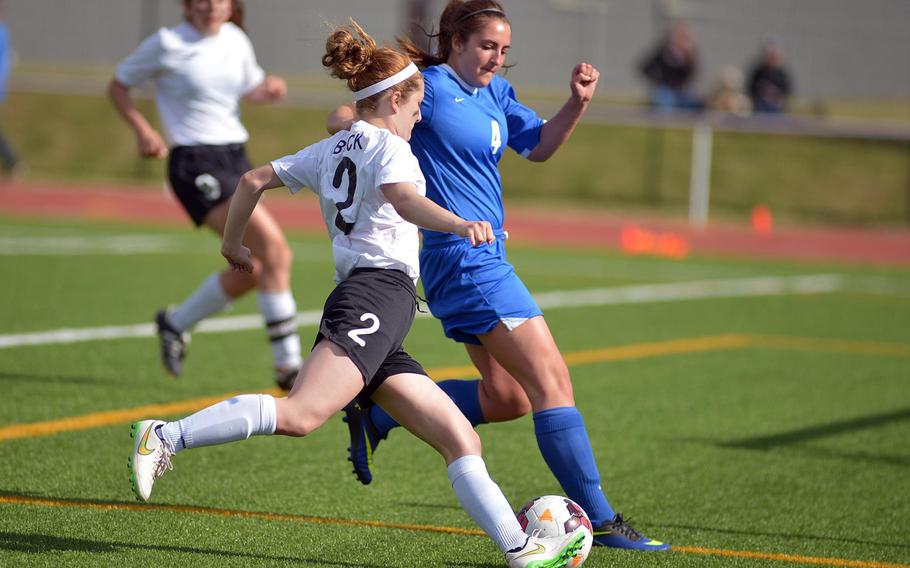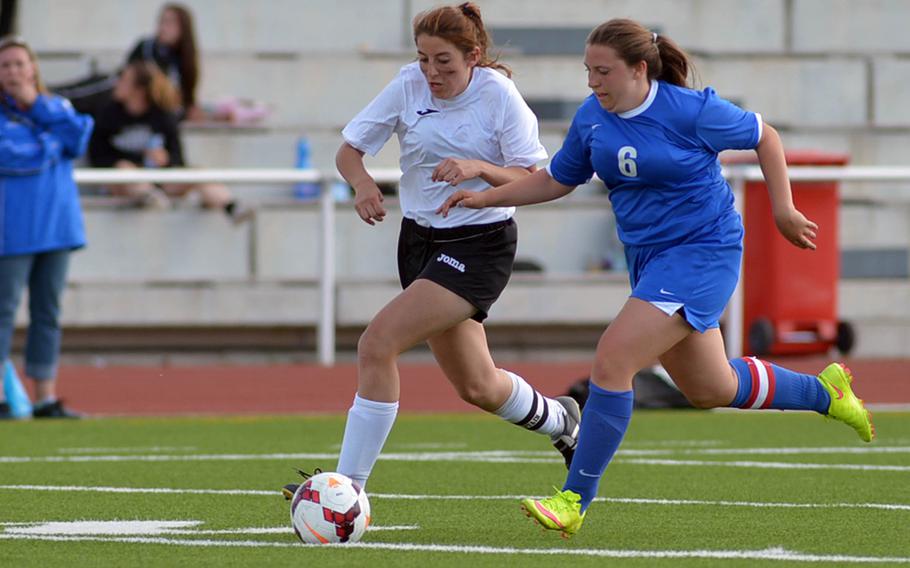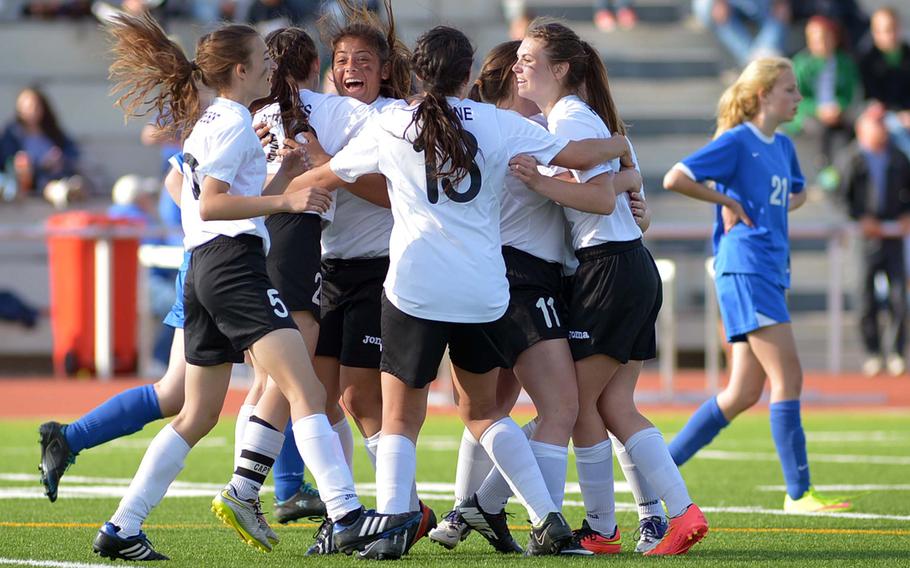 KAISERSLAUTERN, Germany – The Alconbury Dragons won a marathon with a sprint.
Two sprints, in fact.
Alconbury beat the defending champion Brussels Brigands 2-1 in the DODDS-Europe Division III girls soccer championship game Thursday at Kaiserslautern High School, scoring a pair of lightning-fast second half goals that erased a 1-0 halftime deficit.
Freshman Isabel Black said a halftime deficit didn't discourage the Dragons.
"This team is nothing like I've ever seen before. Nothing like that could have ever stopped us," Black said. "Our team has such a big heart."
The two goals developed so quickly that even the participants were blurry on the details.
Dragon senior Adele Teti laced a pass through the backpedaling Brussels defense just three minutes into the second half, and Black put it through the net.
"I don't even remember. It happened in a second," Black said. "I just saw the goal, saw it open, and I took my shot and heard the swoosh of the net. Everything else all blanked out. All I heard was that swoosh, and I knew that we were going to pull through."
Black's goal only evened the score, matching a first-half goal by Brussels' Morgan Maloney. But the successful run switched the momentum, and Teti delivered the unassisted game-winner with 10 minutes to spare in regulation.
"I was running as fast as I can and I saw a (Brussels defender) coming," Teti said. "I was like, 'I need to take this shot or we're going to overtime.'
"And I did not want to go to overtime."
That's understandable given the epic journey both teams took Thursday. The title game capped a long and arduous day for the small school teams that included a semifinal game in the morning and the evening championship game with an extended wait in between.
Travel delays pushed the first of six championship games 30 minutes past its scheduled 10 a.m. CET start time. Then the game preceding the Division III girls game ran long as Bahrain and Marymount went to penalty kicks to decide the Division II boys title. Once the Brussels-Alconbury game started, it stopped frequently as exhausted players fell with a variety of injuries.
"That shook our lineup up a bit," Brussels coach Sue Wilkinson said. "I think we got blown back on our heels by the other team's speed and physicality."
Still, Wilkinson was proud of the way her third-seeded team battled to retain its championship.
"They hung in there," Wilkinson said. "They fought hard."
The win completed an undefeated season for Alconbury, the division's overall top seed. The Dragons went 6-0-1 on the regular season, with the tie coming against Division I Lakenheath. Three preliminary wins in the tournament and a Thursday morning victory over Incirlik put Alconbury in the title match.
"This is a solid group," Alconbury coach Jeff Black said. "They just played great team soccer all year long."
Both goalkeepers performed admirably. Maria Vahrenhorst made 14 saves for Brussels; counterpart Regan Sweeney made five saves in goal for Alconbury, including a crucial penalty-kick save.
Twitter: @broomestripes
---
---
---
---