Division II boys semifinals
Admirals return to title game, take on Falcons
by
Gregory Broome
February 26, 2016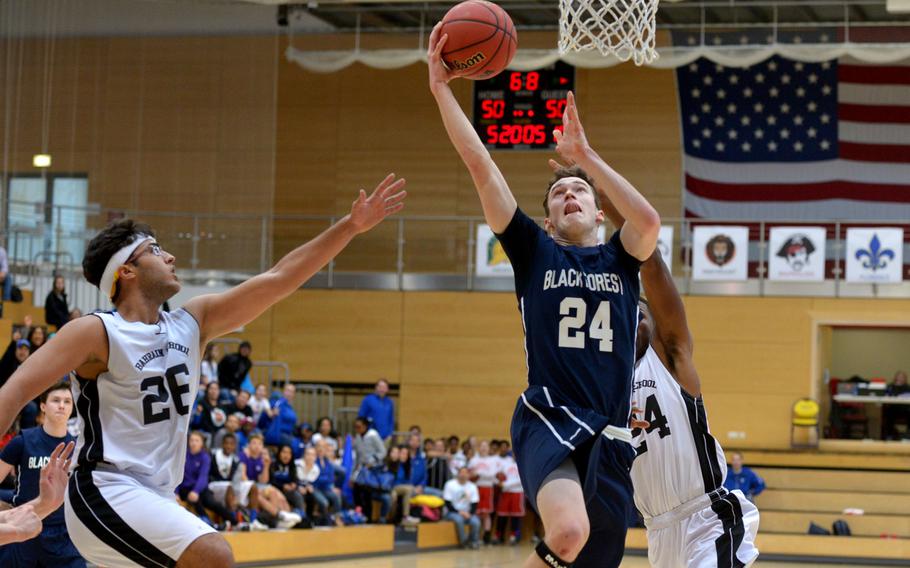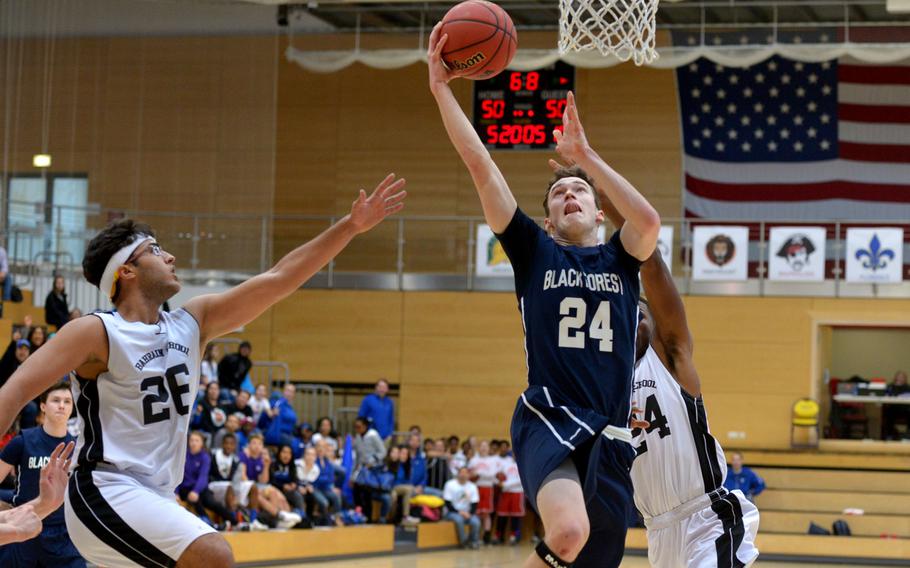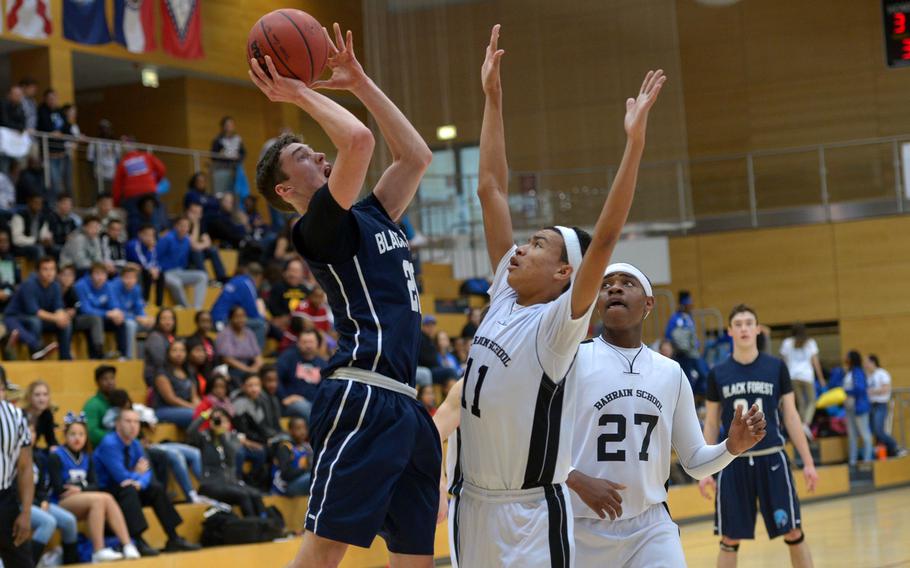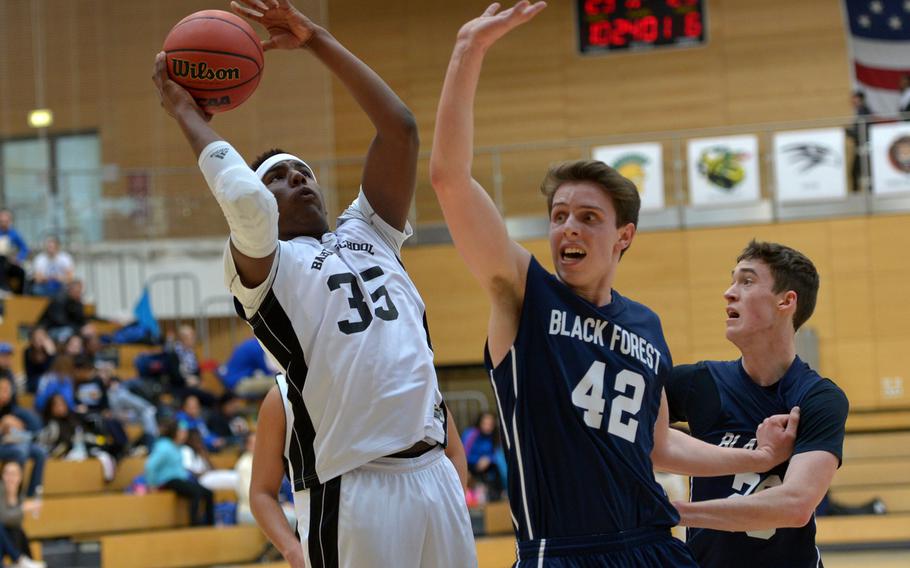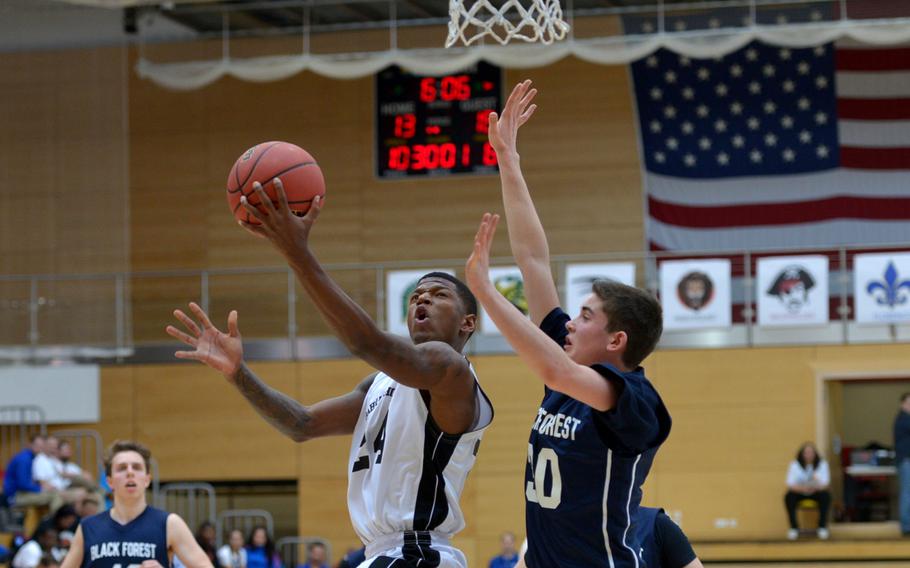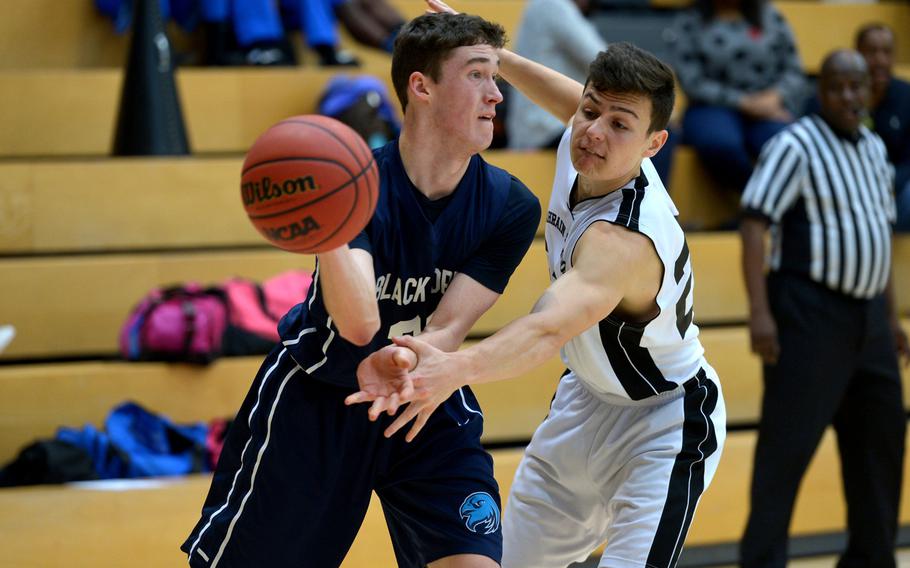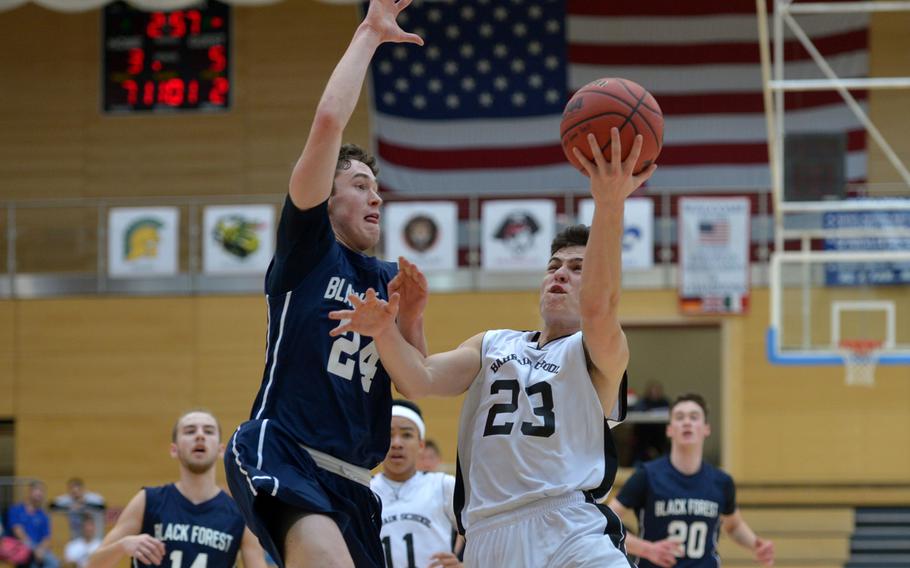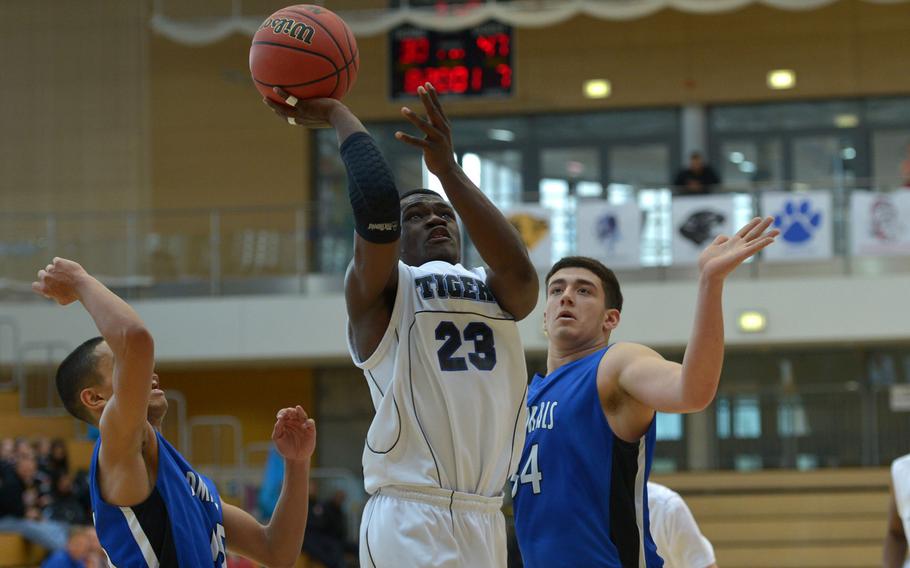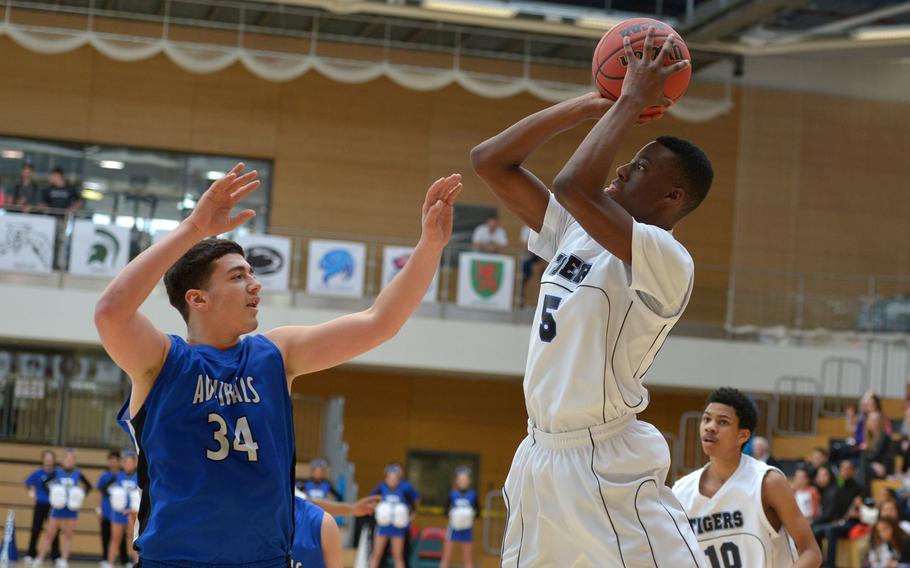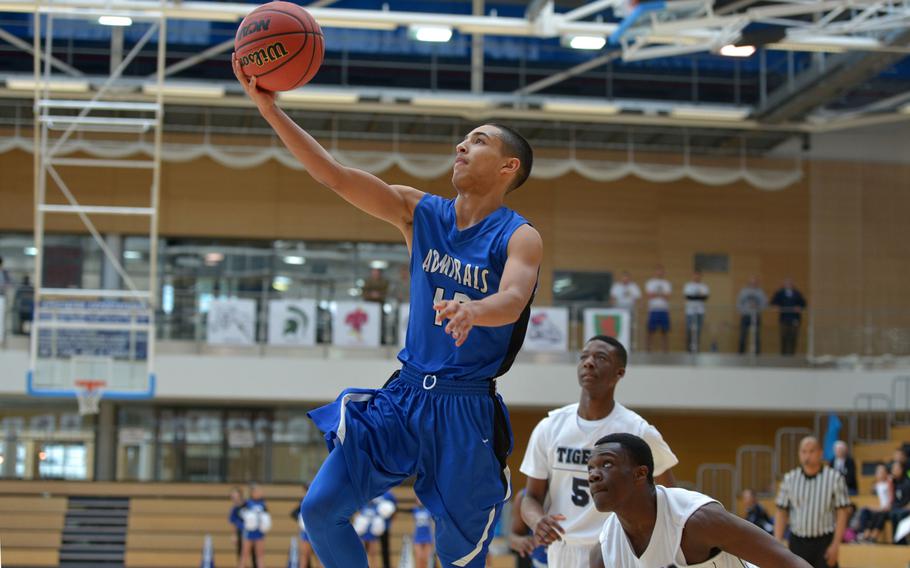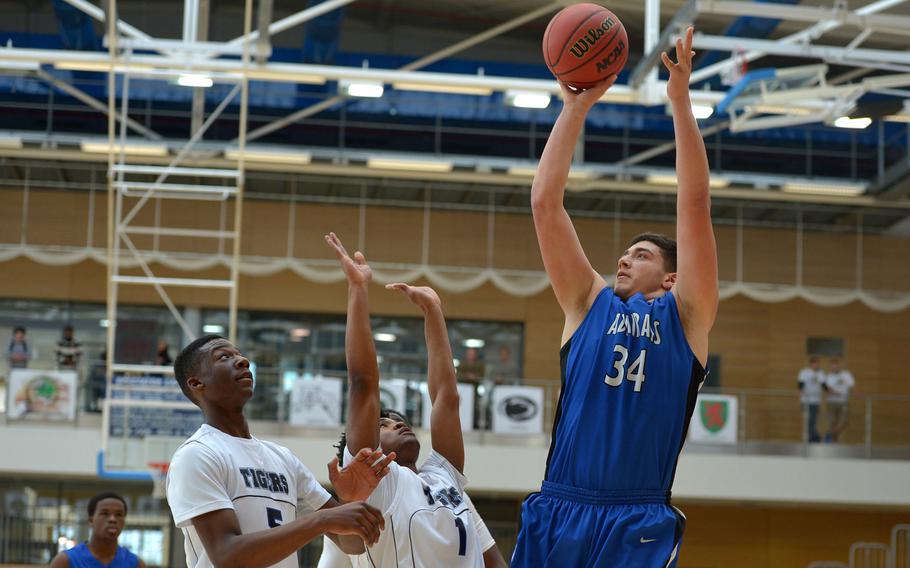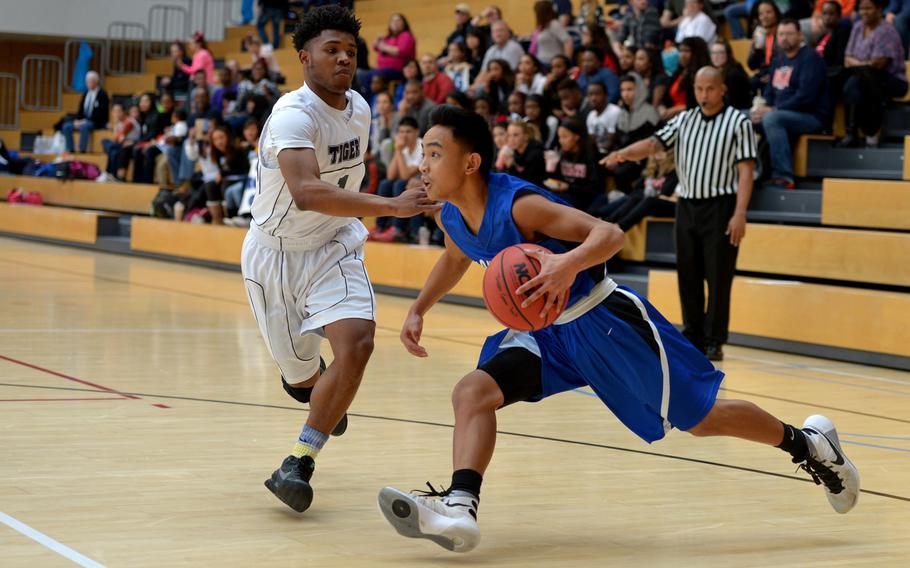 WIESBADEN, Germany – A new DODDS-Europe Division II boys basketball champion will be crowned Saturday as the Black Forest Academy Falcons and Rota Admirals face off for the title.
Rota, last year's runner-up, cruised past Hohenfels in one divisional semifinal, while 2015 semifinalist BFA ousted Bahrain with a dramatic game-winner in the other.
BFA 52, Bahrain 50: The BFA Falcons have won two elimination games in as many days. Their reward is yet another one.
Jason Kragt threw a precision sideline inbounds pass to a cutting Jonah Greathouse for a game-winning layup in the final seconds of an intense, physical semifinal clash as the Falcon boys joined the BFA girls in the European finals.
"I don't know what to say. It was bucket after bucket, fight after fight," BFA coach Chris Greathouse said. "The last play worked for us at the last minute."
BFA inbounded in a literal 50-50 game with just over seven seconds to play, its seemingly sufficient lead erased by a stunning burst of offense from Bahrain freshman Jaelin Wright.
After a Bahrain foul gave him the opportunity, Falcons coach Chris Greathouse, following a pattern of drawing up successful out-of-bounds sets, scripted a screen at the top of the key to set in motion a cascading set of options for a final regulation shot.
As it turned out, the first option was all that was necessary. Jonah Greathouse sensed his defender follow him over and around the screen, giving him an unfettered lane to the hoop.
He caught Kragt's sharp pass in stride and dropped in a game-winning layup that, save for the momentous stakes, was among the easiest shots either team saw in the game.
"Jason threw a perfect pass to me," Jonah Greathouse said. "And I just laid it in."
The play wrested the hero's mantle away from Wright, who smashed out of a previously scoreless effort with a 14-point fourth-quarter outburst headlined by a pair of high-arcing three-pointers and a series of drives into the paint and resulting free throws.
It was a fittingly audacious exit for the tournament's breakout contender. Fourth-seeded Bahrain blasted through its side of the bracket with ease, including a 36-21 win over the Rota team BFA will now face for the title. The run of four straight tournament wins was the best in the history of the program, representing the first time the Bahrain boys had won more than once.
"We fought all the way to the end," Bahrain coach Emiliano Herrera said. "I'm very proud of my student-athletes. I'm hoping that we'll come back next year for better results."
Second seed BFA has spent the entire week in the primal postseason state of survival and advancement. The Falcons, after losing to Hohenfels on Wednesday, needed a 68-41 win Thursday over third-seeded Marymount to avoid elimination in the preliminary round.
With that experience, BFA responded well to Friday's extreme pressure, as the decisive Kragt-Greathouse connection was just the last of a number of key plays required to secure the BFA win.
Center Kaden Proctor scored nine of his 13 points in the second quarter to help the Falcons take a 29-25 halftime lead. Micah Isaac hit a three-pointer to beat the third-quarter buzzer and nudge that advantage up to five points. Noah Greathouse scored eight of his 14 points in the fourth quarter to offset Wright's heroics on the other end.
"It was tough. Bahrain's a great team," Jonah Greathouse said. "We just happened to come out on top."
Rota 54, Hohenfels 36: The Admirals advanced to their second straight European championship game with a sound defeat of the seventh-seeded Tigers.
Once a slow start was out of its system, top-seeded Rota put its uniquely effective system to work in building a 19-14 halftime lead.
Center Andrew Drake was all but unguardable, scoring on post moves, mid-range jumpers and free throws. Playmakers Marc Magwood, D'Angelo Gallardo and Luis Fuertes darted productively to all corners of the court, and junior wing Jashaun Garrison chipped in an early three-pointer and a streaking layup.
Only the timely long-range marksmanship of Hohenfels guard Marshall Eddie kept the Admirals from building a prohibitive first-half lead. Instead, that waited until just the other side of the break, as Gallardo scored 10 points in quick succession to put the Admirals up by 14 midway through the third quarter.
Drake, a 6-foot-5 sophomore, fully appreciates his role as the lone big man on a team full of capable perimeter players.
"I love it. Always open opportunities," Drake said, describing his straightforward mandate to "get the points when we need them and distribute the ball."
Rota has most of its key players back from the squad that lost to American Overseas School of Rome in the 2015 championship game, a core group comprised mostly of underclassmen. Now presented with another opportunity, the Admirals are hoping to seize the title that eluded them a year ago.
"They're all a bit older," Rota coach Ben Anderson said of his Admiral team. "I think they've matured some and grew from last year."
Meanwhile, the loss brings to an end the Tigers' upstart title hopes. Hohenfels pulled off upsets over higher-seeded squads Bitburg, BFA and Marymount in sweeping through a difficult pool, a remarkable achievement considering its 1-5 regular-season divisional record.
Gallardo scored 16 points, Drake added 15 and Garrison contributed 13 for the balanced Admirals.
Twitter: @broomestripes