2017 All-Europe Baseball and Softball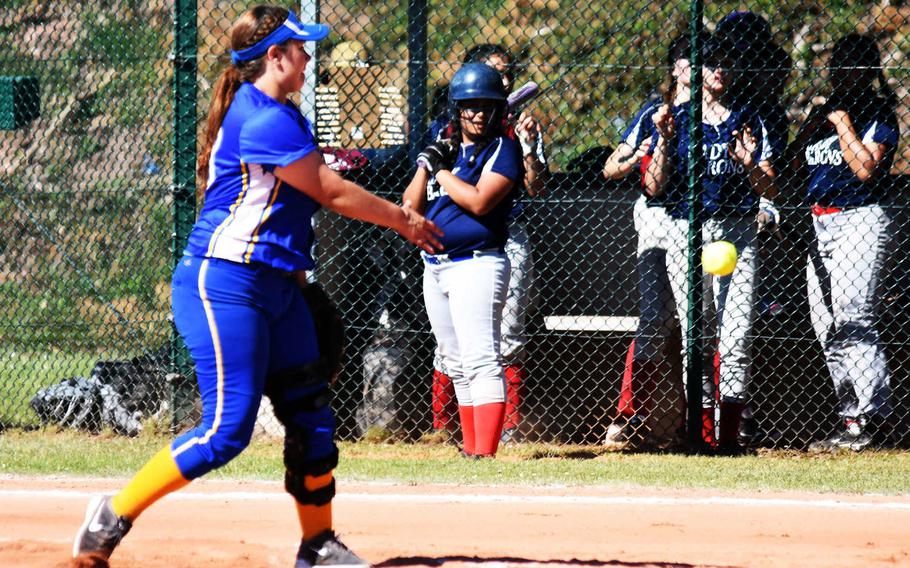 The Ramstein Royals and Sigonella Jaguars dominated the 2017 European baseball and softball tournaments. Now they're doing the same in the postseason awards.
The Royals, Division I champions on both diamonds, contributed five players apiece to the 2017 All-Europe baseball and softball teams, announced this week by DODEA-Europe. That list includes three first-team selections for each Ramstein squad, including Stars and Stripes baseball Athlete of the Year Kyle Glenn and Stars and Stripes softball Athlete of the Year Abby Walker. Sigonella, which pulled off a sweep of the Division II/III diamond championships, was rewarded with a combined five All-Europe nods. Seniors Kisiah Chandler and Hanna Barnes made the first team in softball, while ace pitcher Alex Ogletree took his spot on the baseball first team.
Softball First team 1B Kisiah Chandler, Sigonella (Sr.) P Avery Hicks, Vilseck (Soph.) P Hanna Barnes, Sigonella (Sr.) P Abby Walker, Ramstein (Jr.) SS Isabella Brasi, Vilseck (Sr.) 1B Sierra Nelson, Ramstein (Sr.) OF Sarah Wilhite, Ramstein (Sr.) P/INF Ally Alamos, Kaiserslautern (Jr.) P/1B Anika Loverink, Naples (Soph.) P Kira Wright, Stuttgart (Jr.) SS/P Alicia Paul, Bitburg (Sr.) C Rozalyn Eilenberger, Stuttgart (Jr.)Second team 2B Brea Mangham, Ramstein (Sr.) UTIL Phoenix Whisennand, Kaiserslautern (Jr.) SS/P Lyric Arce, Lakenheath (Soph.) OF Secilya Williams, Rota (Fr.) C Justine Tila, Bitburg (Soph.) C/P Hannah Davis, Sigonella (Soph.) C/OF Mia Rawlins, Naples (Fr.) UTIL Chloe Whisennand, Kaiserslautern (Jr.) SS Savannah Sparrow, Ramstein (Jr.) 2B Kayla Silden, Vilseck (Jr.) P Hailee Mezzacapo, Hohenfels (Soph.) 3B Grace Laggar, Rota (Jr.)Baseball First team OF Kyle Glenn, Ramstein (Sr.) P/3B Stanley Cruz, Ramstein (Sr.) OF/1B Eli Lashley, Stuttgart (Jr.) C/P Kale Hynes, Stuttgart (Sr.) SS/P Reed Marshall, Ramstein (Sr.) P/UTIL Alex Ogletree, Sigonella (Jr.) P/INF Max Little, Bitburg SS/P Dradon Ingle, Naples (Sr.) C/P Jaxon Tomchesson, Lakenheath (Jr.) P/UTIL Gunner Yingling, Wiesbaden (Soph.) SS/P Nolan Sherman, Kaiserslautern (Jr.) P/OF Trevor Kelly, Lakenheath (Sr.)Second team C/P Aaron Schlosser, Ramstein (Jr.) SS/P Michael Nighbert, Lakenheath (Jr.) UTIL Mason Carter, Sigonella (Fr.) UTIL Tim McDaniel, AFNORTH (Soph.) P/3B Chris Cheadle, Stuttgart (Sr.) UTIL Tyriq Zvijer, Bitburg (Jr.) SS/P Matt McKeag, Kaiserslautern (Fr.) OF Brendan Hicks, Ramstein (Sr.) 1B/P Will Green, Stuttgart (Jr.) UTIL John Nelson, Vicenza (Sr.) SS Damian Pinion, Wiesbaden (Sr.) UTIL Lisle Babcock, Stuttgart (Jr.)