Europe sports 2006: Ramstein, Kaiserslautern's Smith were constants in a year of change
by
Rusty Bryan
December 29, 2006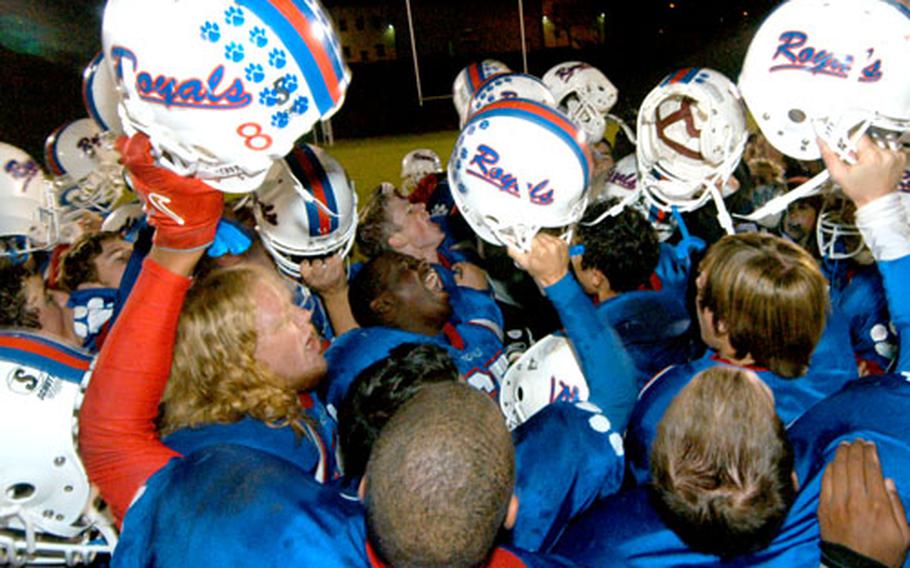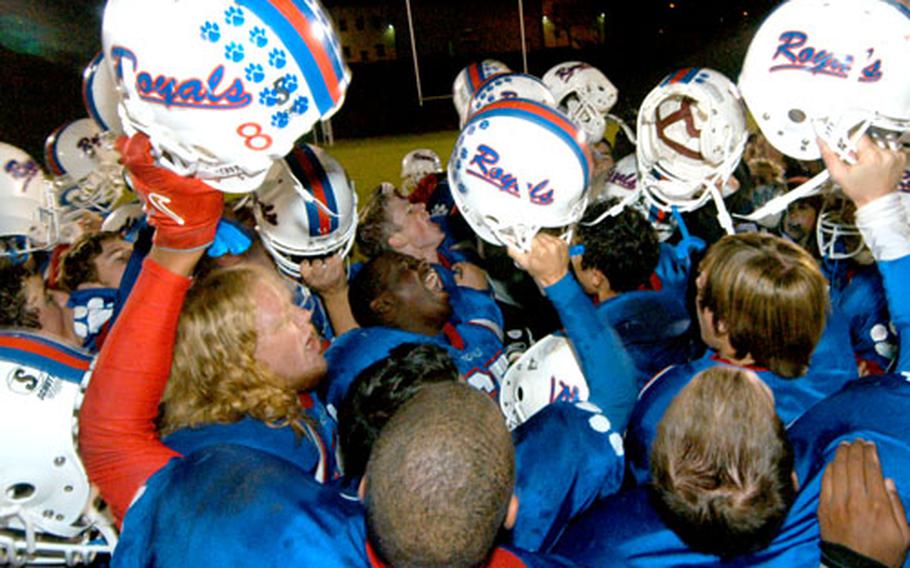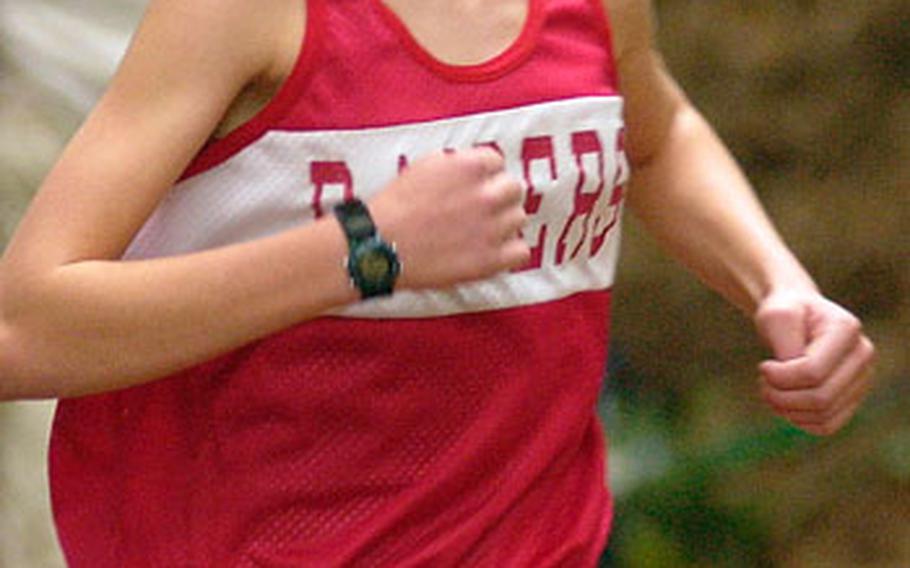 Nobody knows better than DODDS-Europe athletic director Karen Seadore what the big story in high school sports was in 2006.
"This year was all about change, shifting schools around to make equitable divisions," she said.
That's likely to be a major story for years to come.
"Change is going to continue for several more years," she predicted.
The biggest winners during 2006's year of change — when 47 titles were up for grabs — were the Division I Ramstein Royals.
Ramstein capped its year Nov. 4 with its record-tying eighth European D-I football crown. That plaque slid into the Royals' trophy case alongside their other 2006 titles — wrestling, softball, boys cross country, girls volleyball and boys and girls golf.
Brussels, from Division IV, was second with six European titles. They came in first in wrestling, girls basketball, girls soccer, boys track and field, boys cross country and volleyball.
Individually, the year's top winner was Kaiserslautern sophomore Colleen Smith, who earned three gold medals in May's European track and field championships and a fourth in the European cross country championships in October. It was Smith's second straight cross country title.
Here's a month-by-month rundown of what DODDS athletes accomplished in 2006:
January: Würzburg, which earlier in the month fired a DODDS-Europe record team score of 1,408 out of a possible 1,500, won the European marksmanship championship Jan. 28.
February: Winter sports closed in style on consecutive Saturdays.
On Feb. 18, Ramstein crowned four individual champions and ran off with the Division I wrestling crown, 226½-155 over Wiesbaden.
Patch, with two individual champions, claimed the Division II title over runner-up Naples, while London Central edged Hohenfels for the Division III crown and Brussels left Alconbury far back in Division IV.
Individually, Heidelberg senior Elliott Boltz, the 152-pound champion, was voted MVP, and London Central's Johnathan Scott won his third straight European championship, this one at 140 pounds.
One week later, Würzburg won its second straight Division I boys basketball crown, 62-58 over Wiesbaden. Kaiserslautern's girls, paced by three first-team All-Europeans, routed Ramstein 45-20 to cap an unbeaten season and launch the school to the first of its four 2006 European titles.
In Division II, Hanau's boys repeated as champions, while Bitburg dethroned Hanau in the girls Division II finale. Bamberg's boys and Sigonella's girls grabbed the Division III titles, while the Giessen boys and Brussels girls topped Division IV.
March: Bamberg's Marvin Gholston and Giessen's C.J. Battle, each of whom led his team to a European title, were selected as the DODDS-Europe representatives on the U.S. team in the biennial Albert Schweitzer International Youth Basketball tournament in Mannheim, Germany.
April: Despite the presence of several players committed to NCAA Division I programs, the U.S. Schweitzer team posted its worst finish since 10 members of the 12-player team began coming over from the States in 1971. The Americans defeated Germany 106-82 April 22 in the seventh-place game.
May: The spring season closed May 20 with Heidelberg's boys winning their ninth Division I soccer crown in 10 seasons with a 4-1 victory over Ramstein. Freshman Vince Crapeau scored three goals in the final, but the big winner in the boys field was Hohenfels, which downed four-time defending champion American Overseas School of Rome 4-0 in the title game. Anthony Marshall was chosen as MVP as his Tigers became the first DODDS-Europe school to win the Division III title in the 10 years of the event. AOSR had won eight times and Milan once.
The SHAPE boys defeated two-time Division II champ Black Forest Academy 1-0 in overtime, and Milan blanked Brussels 7-0 for the boys Division IV title.
In the girls games, Heidelberg dethroned Ramstein 5-4 in a Division I shootout, Patch won its second straight title in Division II, Sigonella claimed the Division III crown and Brussels triumphed in Division IV.
In softball, Ramstein won its fourth straight Division I crown in a rain-plagued tournament. Bitburg claimed the Division II title, and Baumholder edged Rota for the Division III crown.
Kaiserslautern's Smith and her senior teammate Lynndsey Hyter were triple gold-medalists in the track and field championships May 20, where the K-town boys and girls won the D-I team titles.
Aaron Ellison of Hanau, Brandon Simmons of Heidelberg, Greg Billington of Lakenheath and Tiffini Thomas of Wiesbaden each won two gold medals.
Hanau's boys and AFNORTH's girls won the D-II team titles; the Hohenfels boys and Ansbach girls topped D-III, and the Brussels boys ruled D-IV. There was no girls D-IV champion.
June: Simmons, a Heidelberg senior, and Kyrie Bye-Nagel, a senior at Hanau, were voted athletes of the year by a panel of DODDS-Europe coaches. Each starred in three sports.
July: Lakenheath's Billington qualified for the U.S. National Junior Triathlon team at a competition in the States.
August: Despite declining enrollment systemwide, Ansbach welcomed 400 players to a three-day, DODDs-Europe Football Camp led by volunteer coaches from across the continent.
September: DODDS-Europe opened its transformation-induced year of change with several schools shifting divisions. Würzburg dropped to D-II, and was replaced by Patch in D-I; Hanau dropped to D-III and Baumholder joined D-II.
October: Ben Antonik (84-79-163) of Kaiserslautern and Allysen Vance of Ramstein (37 total Stableford points) won the two-day, 36-hole European golf championships Oct. 13. Ramstein took both team titles.
In the tennis tournament two weeks later, Heidelberg's Nick Garcia toppled defending champ Claudio Giraldi of SHAPE for the boys singles title; Krista Citkovska of SHAPE repeated as girls champ. Sam Pohl and Blair Martin of Heidelberg took boys doubles to propel Heidelberg to the team title.
That same day, K-town's Smith and Lakenheath's Billington repeated as cross country champions. Ramstein's boys and K-town's girls won the Big Schools team titles; the boys of Brussels and girls of Milan topped the Small Schools field.
November: In Super Six III, the third edition of the annual championship football tripleheader held Nov. 4, Anbsbach topped previously unbeaten AFNORTH 34-6 for its fourth European Division III crown in five years and handed coach Marcus George his record eighth European football title. Josh Collett ran 80 yards for a TD in the game's final four minutes to lift Bitburg over Naples 27-24 in the D-II finale, and Ramstein stifled Heidelberg 26-7 for the D-I crown.
In volleyball, Ramstein, Vilseck, Rota and Brussels grabbed crowns Nov. 4.
December: Würzburg marksman Brenna Goodman, a junior, fired a DODDS-record 291 out of 300 Dec. 16.