Europe sports 2006: Military sports organizers met personnel, budget challenges
by
Rusty Bryan
December 29, 2006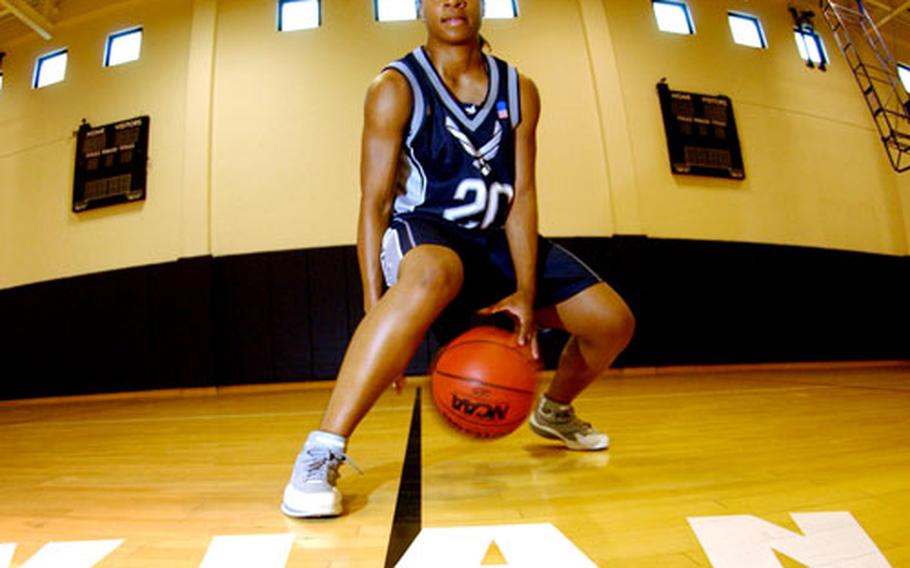 With military population levels and sports budgets in Europe drained by deployments and transformation, the outlook for military sports looked bleak as 2006 began.
But Jim Mattingly of Army-Europe sports and Steve Lowe of USAFE sports cobbled together schedules that satisfied almost everyone, working together to save everything except Final Four events in soccer and volleyball.
"We knew that basketball and softball have the biggest participation," Mattingly said, "and we held on to them."
In all, there were 12 U.S. Forces-Europe events held in 2006. Ten were individual events: skiing, boxing, wrestling, road and mountain biking, tennis, golf, track and field, powerlifting and the Army 10-miler.
Individually, 2006's military athletic stars were USAFE athletes of the year Lorenzo Peterson of Ramstein, a repeat choice who again qualified for the Air Force wrestling team, and Nicole Bowman of Aviano, who captained the 2006 Air Force women's basketball team. And although the Army doesn't formally name athletes of the year, the outstanding soldier-athlete of 2006 clearly was cyclist James Sharp of Hanau, who, in his mid-40s won every mountain bike and road race, 13 in all, he entered during the year.
Here are the sport-by-sport highlights of the local scene in 2006:
Basketball: The longest season on the military calendar crowned its winners April 2 as Army men's champ Wiesbaden beat USAFE champion Mildenhall 84-79, and Army women's runner-up Kitzingen beat USAFE champion Ramstein 56-46 in the U.S. Forces tournaments.
Bowling: Christopher Olson and Kirsten Elmore won the USAFE singles titles Sept. 28. Their Army equivalents were Jerry Alumbaugh of Schinnen, Netherlands, who rolled a 704 series en route to his crown, and Kris Butz of Stuttgart. The Army event took place April 21.
Boxing: Wiesbaden-Dexheim won the team title June 18 behind four champs: Christopher Benjumea, Cedric Redus, Scott Hanshew and Christopher Davidson.
Cycling: Hanau's Sharp, riding most of the time as a 40-and-older masters competitor, dominated the year, winning the 10-stop U.S. Forces Europe Mountain Bike Championship Series and the four road cycling races.
Other military mountain-bike champs were Rosendo Henriquez of Illisheim, Leslie Handy of Ramstein and Christine Gritzke of Vilseck.
Joining Sharp as road-cycle winners were Christopher Fritsche, Shawn Deal, Nikolas Kinder and Michael Slotten in the open category; Merle Richard, Trent Hornus, Thomas Essick and Pater Callamari in the 30-39 seniors group, and JoDeen Brown and Urusla Cuneen in the women's open. Cuneen won all three stops in Germany.
Flag football: Heidelberg topped this Army-only sport, downing Wiesbaden 21-20 Nov. 18 for the title.
Golf: Eric Smith, Joe Pineda, Brett McHaney and Andrea Birkland won USAFE titles June 17, while Jeff Hanauer of Heidelberg made it three Army-Europe open titles in a row with a 17-stroke victory July 14. Dwight McKinney of Wiesbaden took the masters crown.
Hockey: Bitburg claimed the USAFE title Feb. 10 with a 4-2 victory over the Baden Bruins of Heidelberg.
Powerlifiting: Robin Riley of Ramstein was the heavy-hitter in the U.S. Forces championships Feb. 11. Riley, who won the 110-kilogram (242.5 pounds) class, totaled 770 kilograms (1,697.56 pounds) for his squat, bench press and deadlifts in leading Ramstein to the men's title.
The top women's lifter was Celesta Hicks-Williams of women's champ Vilseck. At 75 kilograms (165 pounds) she handled 317.5 kilograms (700 pounds) of iron.
Racquetball: U.S. Forces championships were won June 24 by Curtis Morgan of Ramstein in open play, Brian Cornell of Hanau in the "B's" and Andres Garcia of Ramstein in the "C's."
Running: The Army 10-Miler got under way at Grafenwöhr[/BODY] in May, a change from the event's normal summertime slot, and Baumholder's Edmund Chapa won for the second straight year. The open runner from Texas clocked 53 minutes, 12.75 seconds, in winning by a margin of 5:38.39. Other military winners were seniors runner Bradley Glosser of Vicenza in 58:50, masters champ Michael Buley of Heidelberg in 60:05, women's open runner Amanda Newsome of Bamberg in 66:35.55, women's seniors champ Wendy Cooper of Kaiserslautern in 71:34.63, and masters winner Jacqueline Chen of Landstuhl in 67:14.39.
In the U.S. Forces Europe track and field championships July 29, four athletes — Jamie Eckford of Bamberg, Anita Fairweather of Kaiserslautern, Michael Williams of Ramstein and Byron Grays of Spangdahlem — won two individual gold medals each.
USAFE conducted regional cross country events in November, with Paul Graddon, Joe Campbell, Jadon Fromm, Donnie Gray, Antonio Giraud, Vanessa Varoskovic, Robyn Chumley and Robet Burnett topping the various age and distance categories at Ramstein, and Kyle Gibson, Christopher Stewart, Bryan Reid, Mike Stough, Jana Allen, Jan Shirley and Pauline McConnell prevailing in Mildenhall.
Skiing: Masters skier Mark Marchant won slalom and giant slalom gold to headline the U.S. Forces championships March 12. Other military skiers claiming gold were open racer Kyle Staples and seniors performers Mark Duran and Eric Magnell; Bryan Schulte won the snowboard GS event.
Soccer: Heidelberg topped Wiesbaden for the Army-Europe title Oct. 16 at Schwetzingen; Lakenheath's men and Spangdahlem's women claimed the USAFE titles Oct. 21 at Sembach.
Softball: Ramstein's USAFE champion men made it four straight U.S. Forces titles for the Air Force with a 45-6 victory over Spangdahlem on a rainy Aug. 27 in Grafenwöhr. In an all-Army women's final, Heidelberg reversed the results of the previous week's Army-Europe title game by downing SHAPE 15-8.
Tennis: Eric Latson of Stuttgart, Caedron Frost of Sigonella, Chuck Gardin of Ramstein and Pia Sanchez of Hanau took singles gold July 29.
Volleyball: Ramstein swept the Air Force crowns May 20; the Army trophies went to Schweinfurt's men and Hanau's women.
Wrestling: Kaiserslautern's Tracy Walker at 145 pounds and Ansbach's Charles Daniels at 211 won freestyle and Greco-Roman gold in Army championships, won by Kaiserslautern.
The winners don't have long to rest on their laurels. The first U.S. Forces event of 2007, the wrestling championship, is Jan. 6-7 at Patch Barracks in Vaihingen, Germany.