Europe Scoreboard: Sept. 25, 2010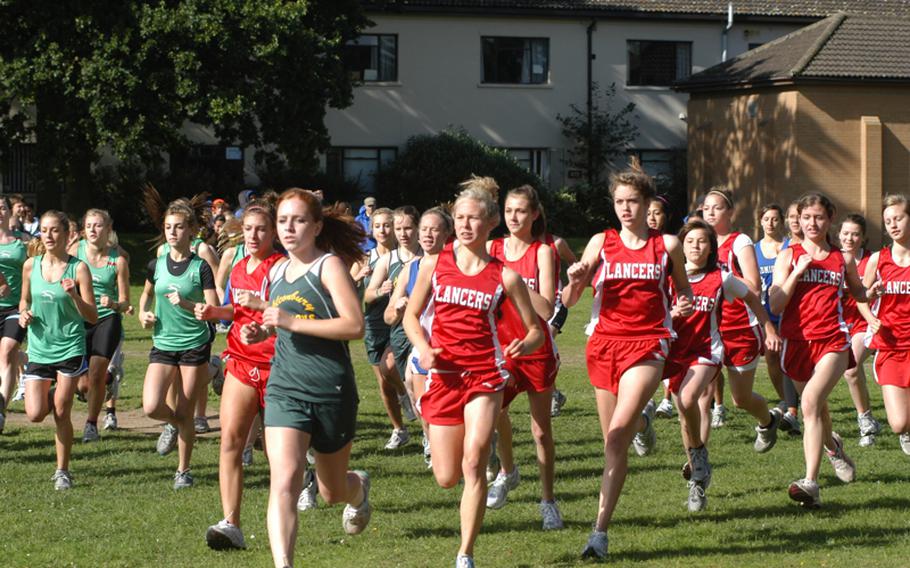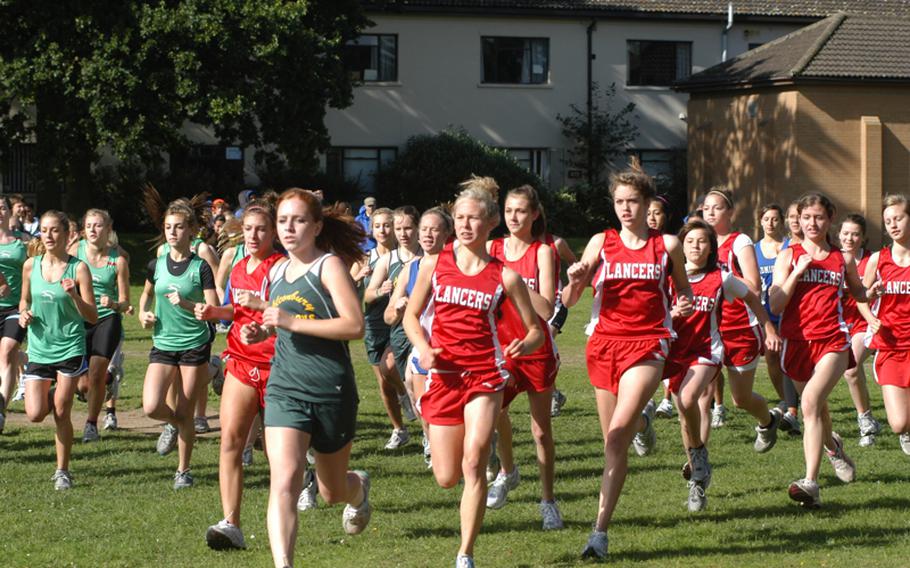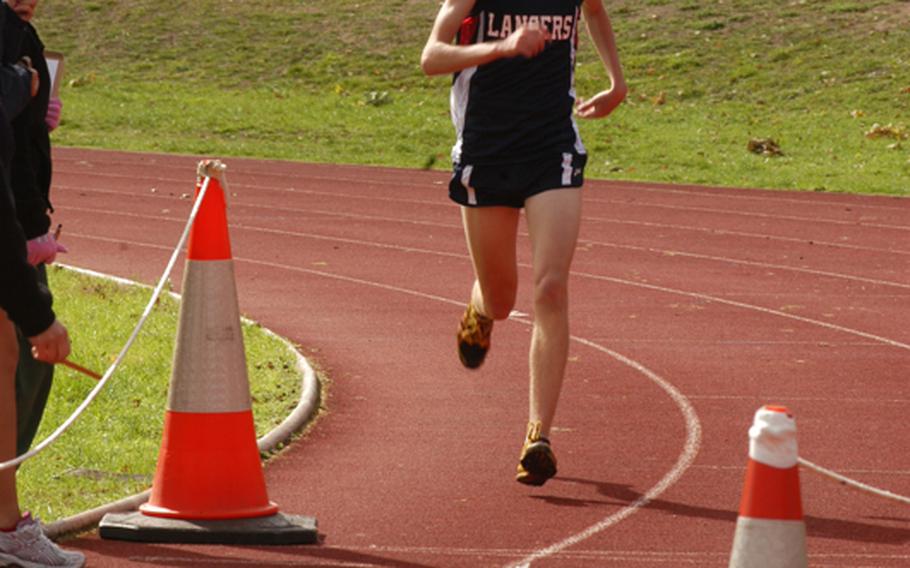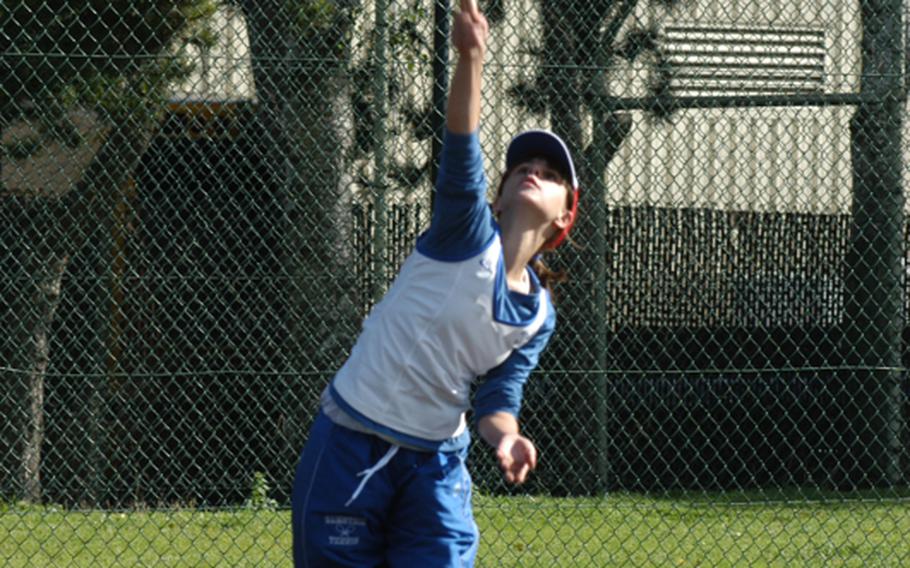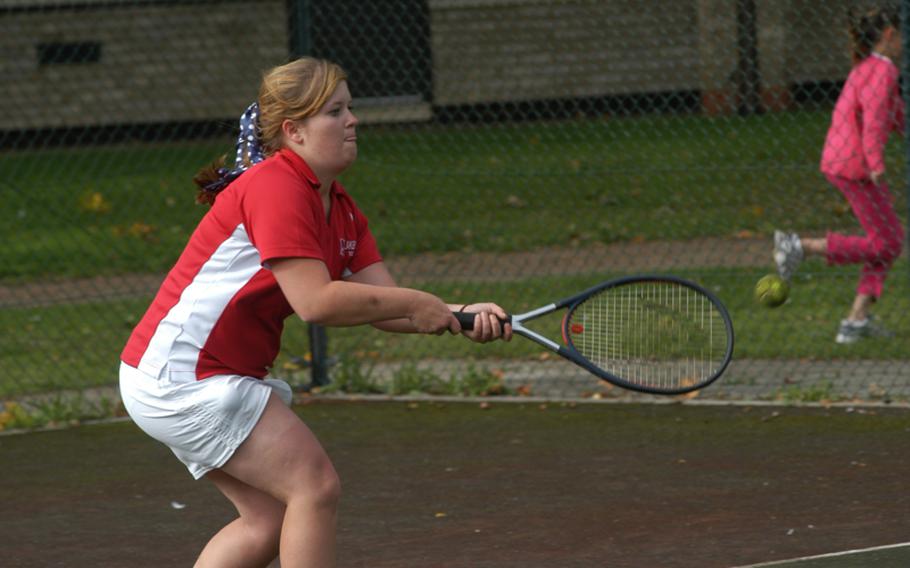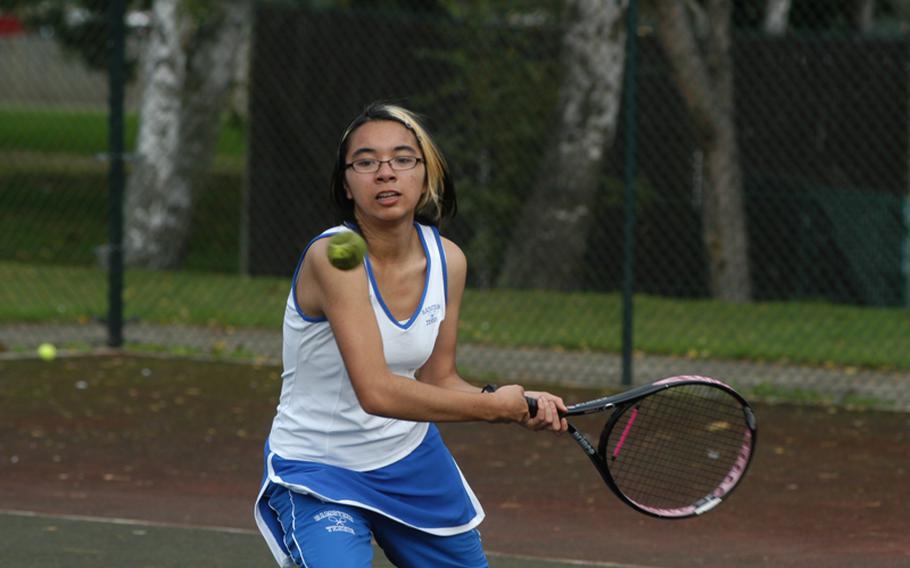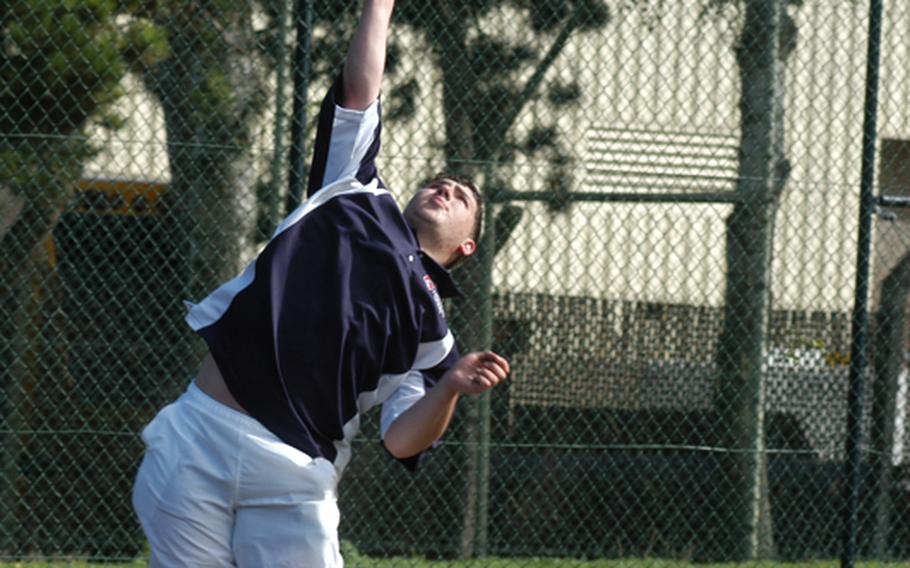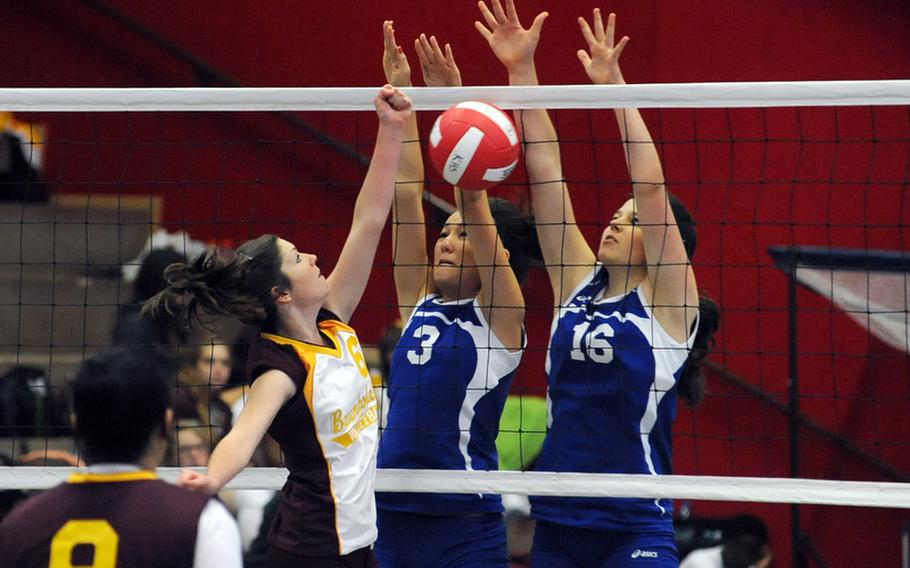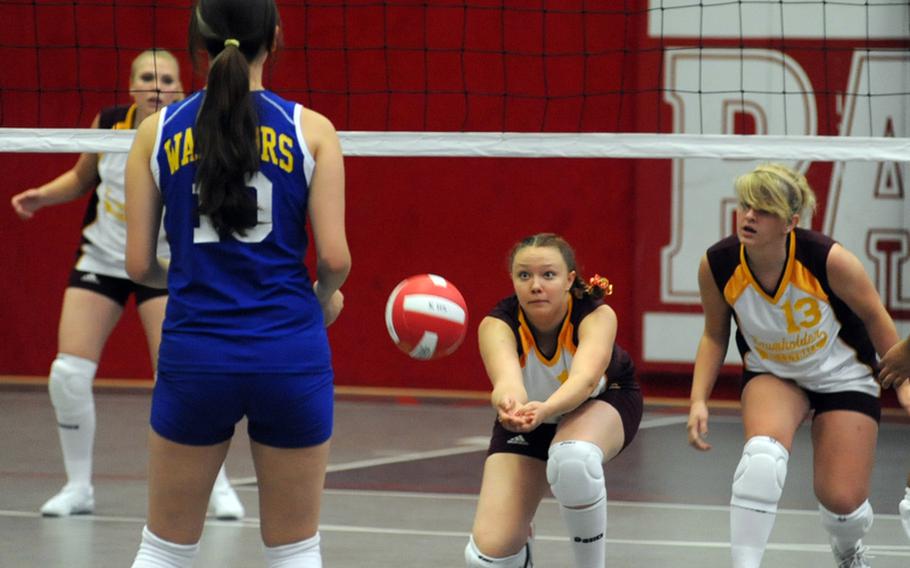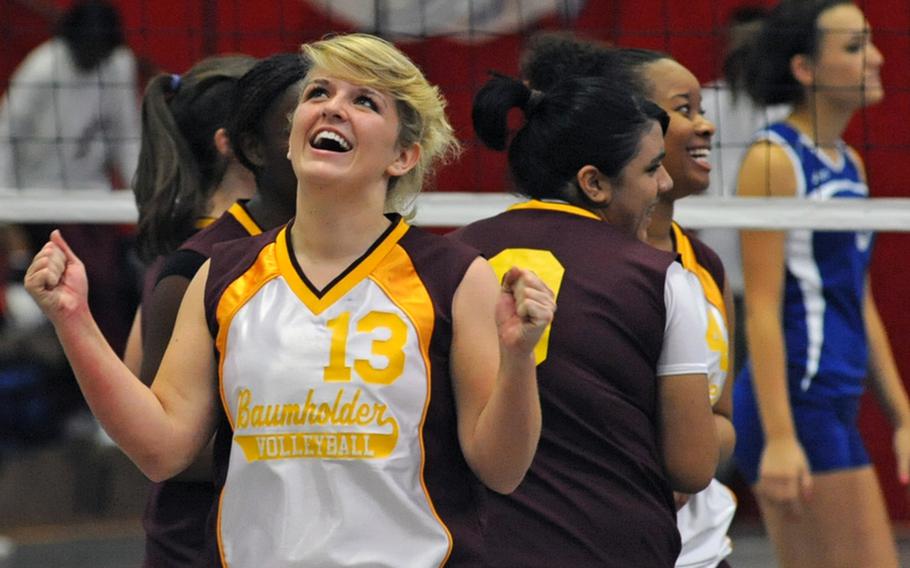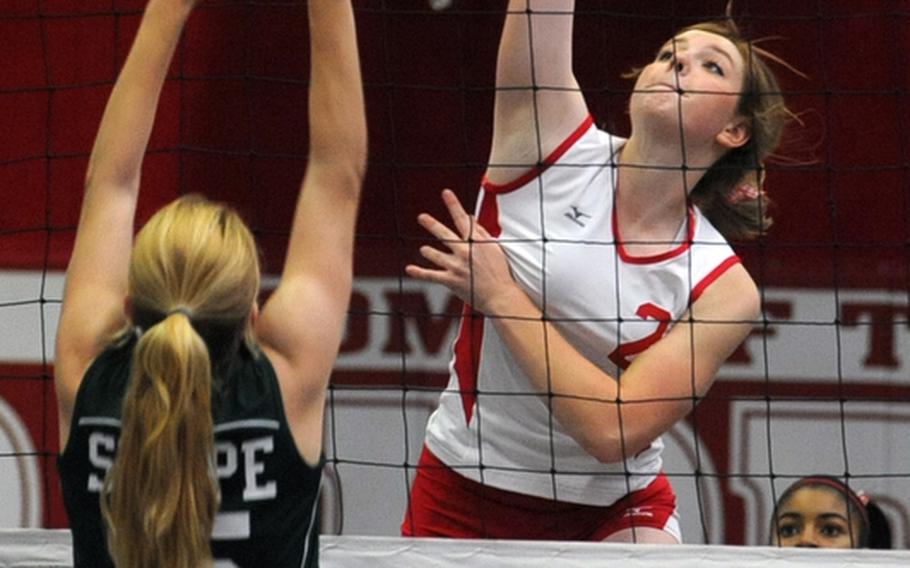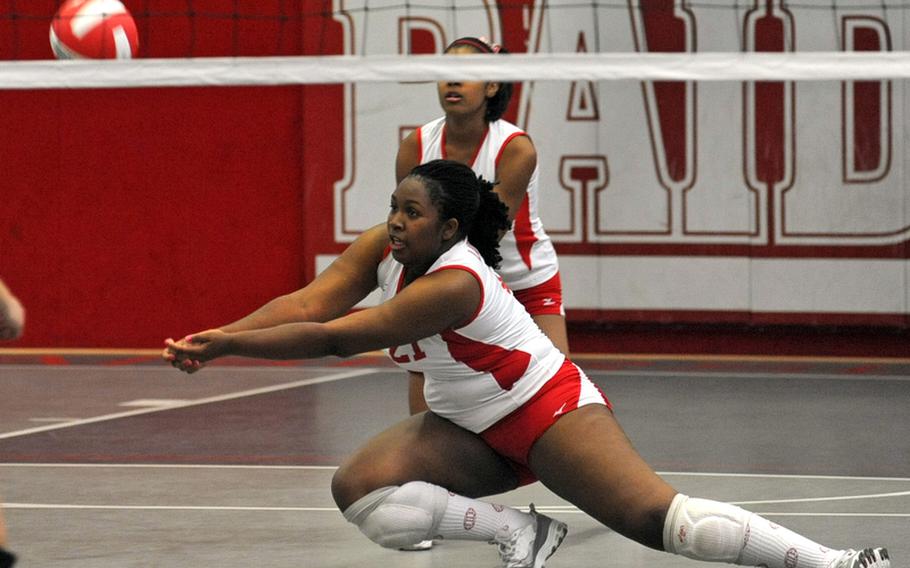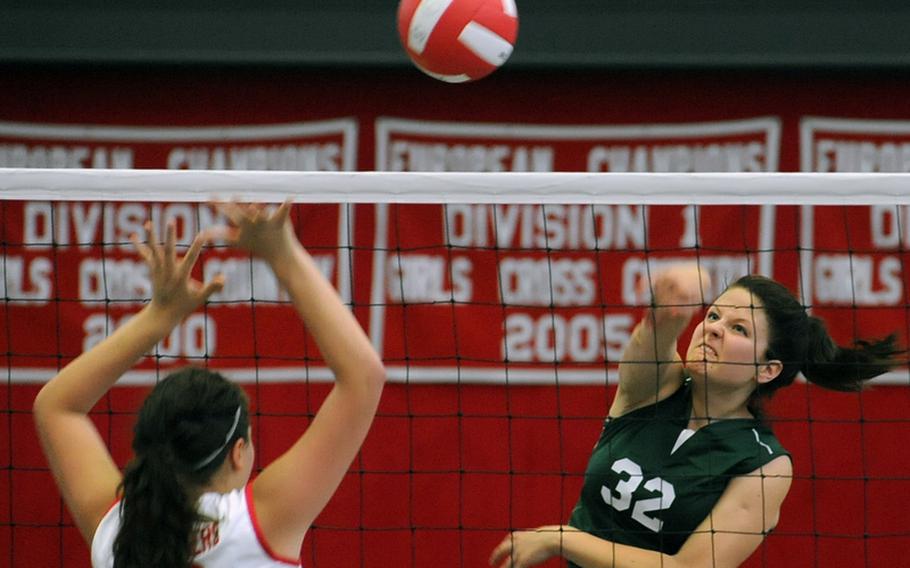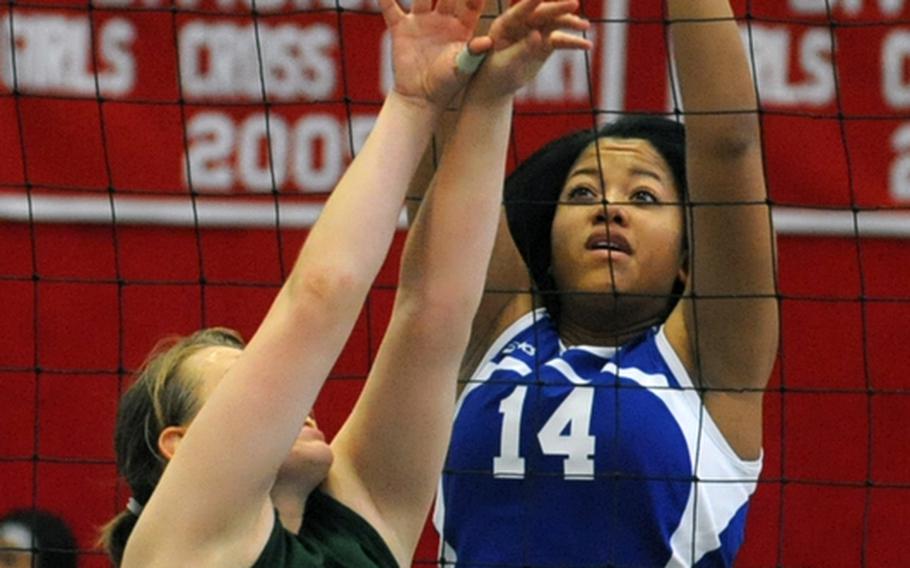 All information used to compile high school reports is provided by home-team coaches and staffs at each event.
Volleyball(Matches use rally-point scoring; varsity matches are best-of-5; JV best-of-3)
BoysSaturday's resultsAt VicenzaAviano def. Vicenza 27-25, 25-11, 25-23
At NaplesNaples def. Milan 25-20, 25-10, 25-20Noteworthy — According to Naples coach Peter Nagafuchi, Zach Zimmerman made 6 kills, Regan Campbell 3 and Sam Arrigun 2 as the Med champion Wildcats extended 2009's unbeaten streak into 2010.
Marymount def. Milan 25-22, 25-16, 25-23
Friday's resultAt RomeSigonella def. American Overseas School of Rome 25-27, 25-18, 16-25, 25-13, 15-11Noteworthy — Sigonella coach Ross Brand credited Chris McKissick with 13 kills, 4 blocks and 2 aces and his teammate Jack Wegman with 6 kills, 3 aces and 2 blocks.
GirlsSaturday's resultsAt VicenzaVicenza def. Aviano 25-14, 25-13, 25-21Noteworthy — According to Vicenza coach Chance Wilson, All-European Milan Juliano handed out 15 assists and served 3 aces for the Lady Cougars, who got 6 kills and 8 aces from Erika Valek. Megan Newbell-Wright contributed 3 aces to a Vicenza service game which committed just one service error in the first two sets. Danielle Ellis added 5 kills, and Brandy Somera and Selia Pauling made 4 kills each as Vicenza posted 23 total kills.
At BambergMannheim def. Bamberg 14-25, 25-21, 25-20Vilseck def. Mannheim 25-16, 21-25, 25-17, 25-12Vilseck def. Bamberg 25-18, 25-20, 25-12Bamberg JV def. Mannheim JV 2-0Vilseck JV def. Mannheim JV 2-0Vilseck JV def, Bamberg JV 2-0
At RomeSigonella def. International School of Florence 25-16, 25-14, 25-16Noteworthy—Valentine and Alexis Palmer each served 4 aces; Ewart handed out 4 assists
At Brunssum, NetherlandsAFNORTH def. Brussels 25-12, 25-16, 25-11Noteworthy — According to AFNORTH coach Kevin Padron, Brenda Broadwater served 8 points and Ashley Hughes delivered 7 straight service points, 4 of them aces.
AFNORTH def. Bitburg 25-11, 25-21, 25-19Noteworthy — Padron credited Jessanna August with 3 kills and 5 straight service points and her AFNORTH teammate Carolina Sughrue with 3 aces, a block and 6 service points. For Bitburg, Jayde Robbins was 12-of-13 serving with 5 kills, and Taylor Briggs handed out 6 assists.
Bitburg def. Brussels 25-18, 26-24, 25-22Noteworthy — Robbins was 11-of-13 serving with an assist and 6 kills. Her teammate Dalash Bizzell was 7-of-8 serving with 6 kills. Brussels got 6 kills and 3 digs from Dominique Poitier, 5 kills from Sarah Preciado and 6 assits frin Maddie Smith.
AFNORTH JV def. Bitburg JV 25-11, 25-18
At HeidelbergHeidelberg def. Hohenfels 25-16, 25-12, 25-20Hohenfels def. Ansbach 25-10, 25-16, 25-17Heidelberg def. Ansbach 25-8, 25-7, 25-14Heidelberg JV def. Hohenfels JV 25-10, 15-25, 15-3Hohenfels JV def. Ansbach JV 25-8, 25-19Heidelberg JV def. Ansbach JV 25-3, 23-25, 15-8
At KaiserslauternWiesbaden def. Baumholder 25-13, 25-10, 19-25, 25-17Noteworthy — Baumholder got 3 blocks from Alexandra Bower an ace from Laura Bailes and a block, a kill and an assist from Brianna Mitchell.
SHAPE def. Kaiserslautern 25-18, 25-8, 25-16Notworthy — Liz Scher posted 4 blocks and 2 kills for K-town, which got 2 blocks and an ace each from Jordan Albers and Courtney Woods. Rio Harris also served an ace for Kaiserslautern, according to coach Dennis Decker.
SHAPE def. Wiesbaden 25-17, 25-6, 25-22
Kaiserslautern def. Baumholder 25-21, 25-15, 25-18Noteworthy — Decker credited Karah Helm with 6 kills and Scher, who made 2 blocks, and Woods with 4 kills each. Scher and Tonie Lund each served 4 aces 4 aces. Baumholder got 2 digs and 2 assists from Bailes, and 2 assists each from Joella Milledge and Wendy Bryan
At LakenheathLakenheath def. Alconbury 3-0Lakenheath def. Menwith Hill 3-0Menwith Hill def. Alconbury 3-2Lakenheath JV def. Alconbury JV 2-1Lakenheath JV def. Menwith Hill JV 2-0Noteworthy — Accoring to Lakenheath coach Michael Mickenberg, the following were the standouts in Saturday's play: Lakenheath — Kelli Fleming, 15 kills, 6 aces, 7 stuff blocks; Jenna Potter , 12 kills, 3 aces, 5 stuff blocks; Kaitlyn Mergil 6 kills, 6 aces; Melissa Enriquez, 2 kills, 3 aces; Christine San Augustine, 12 aces. Offense was led, Mickenberg reported, by two "outstanding "setters — San Augustine and Kaelan Rasmussen. Alconbury — Maddy Zitka, 10 kills, 8 aces, 1 stuff block; Ashley Steele, 5 kills, 9 aces; Riley Sorensen, 6 kills
At Kandern, GermanyRamstein def. Black Forest Academy 25-22, 25-22, 20-25, 25-22Ramstein JV def. BFA JV 25-9, 25-15Noteworthy — According to BFA coach Pat Woodward, D-I champion Ramstein was led by Cayla Twain with 7 kills and 22 digs; Bianca Jensen with 4 aces and 5 kills; Danielle Alvey with 5 kills; Becca Diaz with 17 digs; Megan Hawkins with 5 block kills, and Audrey Rasmussen with 73 assists. Two-time defending European D-II champion BFA was led by Kate Woodward with 4 aces and 6 kills; Eliza Garrity with 4 aces, 2 block kills and 6 kills; Jenny Ellis with 3 aces; Meghan Young with 18 assists and 4 digs; Steph Friehe with 13 digs and Natalie Bertrand with 6 kills.Ramstein def. Patch 25-15, 25-19, 25-22Ramstein JV def. Patch JV 22-25, 25-23, 15-13Noteworthy — Ramstein was led by Twain with 9 kills; Jensen with an ace, 4 blocks and 18 digs; Rasmussen with 44 assists, and Alvey with 14 digs and 2 kills.
BFA def. Patch 26-24, 25-27, 25-19, 25-23Patch JV def. BFA JV 25-16, 18-25, 15-13Noteworthy — BFA was led by Woodward with 3 aces, 2 block kills and 7 kills; Garrity with 2 aces; Meredith Powell with 5 kills, Young with 17 assists; Friehe with 6 digs and Jenny Ellis with 3 digs
Friday's resultAt RomeSigonella def. American Overseas School of Rome 25-9, 25-16, 25-21Noteworthy — According to Sigonella coach Shawn McCarthy, Tracy Ewart posted 4 kills and 8 assists. Her teammates Mekayla Valentine and Aubrey Simmons served 5 and 4 aces, respectively.
Cross country(All races covered 5,000 meters and were run Saturday. Results of middle-school runners not listed nor included in team scoring)
At LakenheathBoysTeam scoresAmerican Community School-Cobham 38, Alconbury 126, Rota 147, Lakenheath 183, Menwith Hill incompleteIndividual results1, Archie Robertson (Lake) 16:382, Chris Cobham (Cobh) 18:083, Yuki Tamura (Cobh) 18:154, Conner James (Cobh) 18:295, Jon Volcheck (Alc) 18:326, Lukas Parker (Cobh) 18:567, Ernestas Tyminas (Alc) 19:128, Brendan Miner (Cobh) 19:139, Tim Yandell (Cobh) 19:3910, Zach Jimenez (Cobh) 19:48GirlsTeam scoresLakenheath 40, American Community School-Cobham 59, Rota 169. Alconbury and Menwith Hill were incomplete.Individual results1, Elizabeth Doe (Lake) 20:17 (Course record. Old record 21:33 by Veronica Siverston (SHP) 2008)2, Shanni Wilkins (Lake) 22:173, Gabby Jordan (Cobh) 22:284, Alexis Castellanos (Lake) 22:425, Emma Montgomery (Cobh) 22:586, Laura Brannon (Lake) 23:207, Michaela Aikins (Cobh) 23:288, Soleil McGhee (Cobh) 23:469, Katie Coogan (Lake) 23:4710, Katie Claunch (Lake) 23:58
At St. John'sBoysTeam scoresSt. John's 45, Brussels 53, International School of Brussels 60, SHAPE 88Individual results1,Ben Bigelow (Brus) 17:372, Tim Barny (Brus) 17:513, Pat Tucker (ISB) 18:184, Curtis Engel (SHP) 18:255, Tim Silcock (StJ) 18:266, Alfie Salsby (StJ) 18:307, David Westland (Brus) 18:458, Louis Couture (ISB) 19:109, Jackson Smith (StJ) 19:3910, Dylan Cassell (ISB) 19:46GirlsTeam scoresSt. John's 24, Brussels 55, SHAPE 69, International School of Brussels 71Individual leaders1, Allie de Fazin (Brus) 21:462, Hannah McKenney (StJ) 22:103, Mackenzie Lowery (StJ) 22:144, Jessie Renshaw (StJ) 22:325, Ebba Eastrom (StJ) 22:576, Yuiko Salamme (ISB) 22:577, Gabby Overine (ISB) 23:028, Julie Mendenhall (SHP) 23159, Andrea Darjie (SHP) 23:2910, Anna-Brooke Lowery (StJ) 23:40.
At NaplesBoysTeam scoresNaples 15, Sigonella incompleteIndividual results1, Ian Eversman (Napl) 16:572, Jason Black (Sig) 17:383, Troy Reeves (Napl) 17:594, John Fain (Napl) 18:365, Ryan Knapp (Napl) 20:036, Bradley Bonnema (Napl) 20:117, Zachary Schmidt (Napl) 20:22 8, Dylan Kincanon (Napl) 21:219. Jose Serna (Sig) 21:5210. Josh Masters (Napl) 23:38GirlsTeam scoresNaples 15, Sigonella incompleteIndividual results1, Amber Sheline (Nap) 23:392, Katey Chartier (Napl) 23:503, Ryan Murphy (Napl) 24:504, Kelsey Lynch (Napl) 25:145, Isabella Lucy (Napl) 26:126, Abigail Waller (Napl) 26:447, Milena Franchier (Sig) 27:228, Alexis Elliot (Sig) 27:239, Hailey Caton (Napl) 29:5810, Nicolette Freeberg (Napl) 33:15
At HohenfelsBoysTeam scoresVilseck 15, Ansbach 76. Hoehenfels and Bamberg were incompleteIndividual results1, Zane Kennedy (Vils) 18:16 (Course record, new course)2, Daniel Cocharan (Hoh) 20:143, Zack Rogers (Vils) 20:234, Ben Nelson (Vils) 20:375, Michale Nelson (Vils) 20:486, Drew Martin (Hoh) 21:247, Scott Hammel (Vils) 21:278, Sam Jones (Vils) 21:329, Remington Edwards (Vils) 21:4910, Brendan Hingginbottom (Vils) 22:15GirlsTeam scoresVilseck 15. Ansbach, Bamberg and Hohefels were incompleteIndividual resuls1, Amanda Elliott (Hoh) 22:222, Payton Bodecker (Vils) 22:583, Malia Carson (Vils) 24:064, Kaitlyn Taylor (Hoh) 25:065, Zoey Viera (Vils) 25:246, Johanna Kassler (Vils) 25:567, Madeline Knudsvig (Vils) 26:058, Jessica Pinyan (Bamb) 26:149, Alexandra Huestis (Vils) 27:2110, Elisabeth Roth (Bamb) 29:37
At KaiserslauternBoysTeam scoresKaiserslautern 35, Wiesbaden 36, Frankfurt International School 70, Baumholder 95Individual results1, Ryan Fisico (Wies) 17:122, Skyler Clements (Baum) 17:543, Chris Morton (Wies) 14:544, Barry Metheney (Kais) 17:565, Stephen Hook (Kaisa) 17:576, John Gerber (Wies) 18:007, Matt Finley (Kais) 18:048, Chris Haywood (FIS) 18:059, Matthew Harvey (Kais) 18:0810, Justin Sestan (Kais) 18:13GirlsTeam scoresKaiserslautern 27, Frankfurt International School 47, Wiesbaden 56, Baumholder incompleteIndividual results1, Ashley Santos (Kais) 20:232, Natalie Pecoraro (FIS) 20:323, Marisa Menzel (FIS) 20:374, Colleen Davis (Kais) 20:535, Brianna Riffe (Kais) 21:006, Emily Ciocca (Kais) 21:107, Pryia Kannan (FIS) 21:318, Sheena Cousens (Wies) 21:469, Anna Anderson (Wies) 22:2010, Celina Ponte (Wies) 22:22
At RomeBoysTeam scoresAmerican Overseas School of Rome 27, Aviano 28. Marymount International School of Rome and International School of Florence were incompleteIndividual results1, Sean Wilson (Avi) 17:062, Pietro Dinmore (AOSR) 17:553, Zach Garcia (ISF) 19:094, Matthew O'Brien (Avi) 20:115, Levi Freeman (AOSR) 20:306, Josh Stevens (Avi) 20:457, Lucas Miller (AOSR) 20:538, Francesco Dinmore (AOSR) 20:559, Brian Barbierra (AOSR) 21:1710, Andy Kunis (AOSR) 21:44GirlsTeam scoresAviano 17, American Overseas School of Rome 74, Marymount International School of Rome 74, International School of Florence incompleteIndividual results1, Madeline O'Brien (Avi) 22:182, Shelby McHugh (Avi) 22:353, Victoria Lake (Avi) 23:384, Caroline Wiley (Mmt) 23:485, Adrienne Bryant (Avi) 23:526, Brighten Reyes (Avi) 23:567, Victoria Newbill (Avi) 24:198, Ashley Ackett (Avi) 24:249, Raquel Stevens (Avi) 24:2610, Alex Oster (Avi) 24:35At Kandern, GermanyBoysTeam scoresRamstein 33, Patch 44, Heidelberg 71, Black Forest Academy 84, AFNORTH 147Individual results1, Carl Lewenhaupt (Rams) 17:332, Jack Scranton (Rams) 17:563, Tyler Gamble (Pat) 18:014, Trevor Hope (BFA) 18:035, David Grano (BFA) 18:046, Nick Pugh (Pat) 18:237, Thomas Lambert (Rams) 18:268, Joseph Gould (Rams) 18:309, Kyle Swords (Heid) 18:3310, Bradon Lockridge (Pat) 18:36GirlsTeam scoresRamstein 27, Patch 35, Heidelberg 88, AFNORTH 131, Black Forest Academy incompleteIndividual results1, Morgan Mahlock (Pat) 19:562, Jessica Kafer (Rams) 20:213, Katherine Castro (Pat) 21:354, Laura Welch (Rams) 21:375, Meagan Rummage (Rams) 21:446, Tallie Elbert (Rams) 21:477, Olivia Darrow (Heid) 22:028, Christina Hamilton (Pat) 22.129, Terryl Fritz (AFN) 22:4010, Jordan Thompson (Rams) 22:45
At MilanBoysTeam scoringMilan 15, Vicenza incompleteIndividual results1, Tyler Holderby (Vicz) 17:462, Jacoby Dooley (Vicz) 19:443, Shusuke Katayama (Mil) 19:454, Giacomo Grechi (Mil) 20:595, Rafael Hidrowoh (Mil) 21:596, Atul Menon (Mil) 22:067, Nathan Schwartz (Vicz) 22:298, Anthony Capasa (Mil) 23:599, Ian Hooley (Mil) 24:0610, Kyle Wood (Vicz) 24:45GirlsTeam scoringMilan incomplete, Vicenza incompleteIndividual results1, Sarah Canada (Vicz) 26:432, Elena Spera (Mil) 28:343, Jordan Larson (Vicz) 29:144, Francesca Prata (Mil) 30:465, Anna Aufiero (Mil) 31:226, Selena Echeverria (Vicz) 36:07
Tennis(Individual forfeits not listed but included in team scoring. Time permitting, No. 1s played best-of-3 sets; others single 8-game pro sets)
Friday's resultsAt LakenheathBoysBrussels 7, Lakenheath 2SinglesRyan Bottesini (Brus) def. Andrew Cates 8-0Tristan Fitch (Brus) def. Ben Cates 8-0Danny Helbling (Brus) def. Greg Holmes 8-6Jeremiah High (Brus) def. Geoff Holmes 8-0Max Hale (Brus) def. Mitch Leonard 8-5DoublesFitch and Helbling def. A.Cates and B.Cates 8-0GirlsLakenheath 8, Brussels 1SinglesClaire Rummery (Brus) def. Rebekah Gamble 8-2Erica Ripley (Lake) def. Callie Steffenhagen 8-3Meagan Adams (Lake) def. Patricia Rudy 8-1Kathleen Keenan def. Jane Rudy 8-1DoublesGamble and Ripley def. Rummery and Steffenhagen 8-5Dominee Roehm and Kelsey Rodriguez def. P.Rudy and J.Rudy 8-1Noteworthy — Rain shortened schedule to pro sets only
Saturday's resultsAt LakenheathBoysRamstein 9, Lakenheath 0SinglesForrest Kampermann def. A.Cates 7-5, 6-0Nathan Priddy def. B.Cates 8-1Taylor Stewart def. Holmes 8-1Bryan Caldwell def. Caleb Wilson 8-0Matt Bolan def. Geo.Holmes 8-0Josh Seawell def. Josh Pottichen 8-1DoublesKampermann and Priddy def. A,Cates and B.Cates 6-3, 6-3Stewart and Caldwell def. Greg Holmes and Wilson 8-3Bolan and Seawell def. Goe.Holmes and Jonnie Torres 8-0GirlsRamstein 9, Lakenheath 0SinglesMichaela Corral def. Gamble 6-2, 6-0Megan Augsburger def. Ripley 8-0Elena Fritz def. M.Adams 8-5Olivia Rockwell def. Keenan 8-0Anna Claire Cabbiness def. Roehm 8-5Allison Adams def. Rodriguez 8-3DoublesAugsburger and Rockwell def. Gamble and Ripley 6-3, 6-0Fritz and Corral def. Roehm and Rodriguez 8-0A. Adams and Cabiness def. Katelyn Williamsd and Yu-Sing Miller 8-0
BoysBrussels 1, Ramstein 0SinglesBottesini def. Kampermann 6-3, 6-2GirlsRamstein 1, Brussels 0SinglesAugsburger def. Rummery 6-0, 6-0
At BitburgBoysBitburg 9, Mannheim 0SinglesTyler Jakobs def. Samuel Nevinger 6-0, 6-0Erik Liebig def. Andrew Sutton 8-0John McCrea def. Benjamin Little 8-0Sven Livingston def. Zachary Trout 8-0Joshua Olson-Gross def. Elliott Beltran 8-0DoublesLiebig and McCrea def. Nevinger and Sutton 6-0, 6-1Livingston and Olson-Gross def. Little and Trout 8-3GirlsBitburg 8, Mannheim 1SinglesKaitlyn Miller (Bitb) def, Amber Veranen 5-7, 7-5, 6-2Katelyn White def. Alexis Pineiro 8-0Megan Mein (Bitb) def. Estephany Picazo 8-3DoublesVeranen and Pineiro def. White and Clark, 5-7, 7-5, 6-2
At AFNORTHBoysInt. School of Brussels 9, AFNORTH 0SinglesPatrick Tan def. Westin McKinney 6-0, 6-0Jake Myers def Saverio Young 8-0Brice Tanner def. Matt Kinnear 8-0Mehmet Erimcag def. Marcus Bauer 8-2Victor Pierson def. Zach Woodbury 8-3Victor Ruelle def. Tyler Beauter 8-2DoublesTanner and Kristoff Viranyi def. McKinney and Young 6-1, 6-4Oliver Hacking and Shotaro Shobu def. Kinnear and Bauer 8-4Peter Viranyi and Asgeir Hallgrimsson def. Woodbury and Beauter 8-0
At VilseckBoysWiesbaden 9, Vilseck 0SinglesEvin Alarilla def. Miguel Cordero 8-0Arman Alarilla def. Ben Huff 8-1Jeff Holt def. Nathan Peterson 8-0Mario De La Guardia def. Caleb Pettitt 8-0Vince Matsayko def. Patrick Zonneveld 8-0Alfred Johnson def. Ben Villalon 6-0DoublesA.Alarilla and Holt def. Cirdero and Huff 8-0E.Alarilla and De La Guardia def. Petersen and Pettitt 6-0Devon Tisdale and Stephan Corey def. Zonneveld abd Villalon 6-1GirlsWiesbaden 8, Vilseck 1SinglesSara Carriker (Vils) def. Kelsey Smith 9-7Taylor Dore (Wies) def. Tekeha Turner 9-7Heather Boehme (Wies) def. Melissa Camara 9-7Apryl Jackson (Wies) def. Christy Chanin 8-2Ashley Acevedo (Wies) def. India Pinkney 6-2Cate Boradman (Wies) def. Amy Mainter 6-1DoublesDore and Boehme def. Carriker and Turner 8-5Smith and Jackson def. Camara and Chanin 6-3Acevedo and Boardman def. Pinkney and Carolyn Pippin 6-1
At StuttgartBoysPatch 9, Hohenfels 0SinglesAjdin Tahirovic def. Rene Bourgeois 6-0, 6-2Jon Lightner def. Andy Mulvihill 8-0Josh Lightner def. Stephen Schaffer 8-1Charlie Schoonover def. Mathew Fisher 6-0Eric Stuber def. Ian Sellars 6-0Phil Yambrick def. Tony Williams 6-0DoublesJosh Lightner and Schoonover def. Bourgeois and Mulvihill 5-7, 6-0, 6-2Jon Lightner and Tahirovic def. Fisher and Schaffer 8-1Yambrik and Stuger def. Sellers and Rivera 6-0GirlsPatch 6, Hohenfels 3SinglesMica Aguliar (Pat) def. Casey Leon 6-3, 7-5Carolyne Bourgeois (Hoh) def. Ellie Welton 6-5Mallory Flynn (Pat) def. Erin Redden 6-5Stephanie Shiffert (Pat) def. Kat Harp 8-3Peyton Smith (Pat) def. Allison Moczynski 6-4Keelia Taylor (Hoh) def. Tori Gilster 6-3DoublesWelton and Flynn def. Keon and Harp 3-6, 6-3, 6-1C. Bourgeois and Redden def. Shiffert and Aguilar 8-3Smith and Gilster def. Moczynski and (first name unavailable) Lehfeld 6-2
At RomeBoysMarymount 2, Aviano 0SinglesFilippo Manchinella def. Joshua Campfield 6-4, 7-5DoublesGiacomo Benassi and Mattias Verbist def. Taylor Ostler and Grant Wong 7-6 (tiebreaker score unavailable) 6-1GirlsMarymount 1, Aviano 1SinglesGinevra Bolla (Mmt) def. Brooke Brandley 6-1, 6-1Gabi Colon (Avi) def. Gopika Namblar 4-6, 6-1, 6-1
At KaiserslauternBoysKaiserslautern 9, Baumholder 0SinglesChris Jimenez def. Cameron Kocj 6-1, 6-0Chris Jastrab def. Alexander Shadrin 8-0Erik Langholz def. Van Phillips 8-2Alex Helm def. Justin Owens 8-1Patrick Tremaglio def. Robert King 8-0DoublesJastrab and Langholz def. Phillips and Sgadrin 6-0, 6-1Jimenez and Helm def. Koch and Owens 8-5GirlsKaiserslautern 9, Baumholder 0SinglesMehgan Eakers def. Victoria Williams 6-0, 6-0Alexandra Albers def. Elvia Salazar 8-0Rebekkah Bingham def. Ashley Collins 8-0DoublesAlbers and Bingham def. Williams and Salazar 6-0, 6-1
At SHAPEBoysSHAPE 9, Alconbury 0SinglesNikolay Gospodinov def. Ronnie Behr 6-0, 6-0Alvaro Sanchez def. Matt Thrasher 8-0Aaron Yip def. Joel Fourhman 8-2Brian Yip def. Francis O'Connell 8-1Travis Phelan def. Cameron Perdomo 8-5Thomas Muldoon def. Adam Jimmo 8-2DoublesSanchez and A.Yip def. Thrasher and Fourhman 6-0, 6-0Gospodinov and B.Yip def. Behr and O'Connell 8-2Phelan and Muldoon def. Perdomo and Jimmo 6-4GirlsSHAPE 8, Alconbury 1SinglesSvenja Jansen (SHP) def. Ashley Hand 6-1, 6-1Ellen Campany (SHP) def. Nichole Pisierra 8-0Selena Suparman (SHP) def. Lia Caverly 8-0Serina Somaratna (SHP) def. Allison Cavin 8-2Ashley Srikoon (SHP) def. Caitlin Cash 8-4Mikayla Walker (SHP) def. Macy Caverly 8-3DoublesCampany and Suparman def. Hand and Pisierra 6-4, 6-2L.Caverly and Cavin def. Molly Kisner and Somaratna 6-3Srikoon and Walker def. Cash and M,Caverly 6-5
At American Overseas School of RomeBoysAOSR 3, Aviano 0SinglesGabriele Boccaccini def. Joshua Campfield 6-0, 6-0Daniel Roman Cohen def. Taylor Ostler 6-1, 6-0DoublesCohen and Trevor Page def. Ostler and Grant Wong 6-0, 6-2GirlsAOSR 4, Aviano 0SinglesCarli Arza def. Brooke Brandley 7-6 (tiebreaker score unavailable), 6-1Ginevra Di Gagno def. Gabriela Colon 8-5DoublesDi Cagno and Taylor Roman Cohen def. Anna Sloan and Jennifwer Zufelt 6-4, 6-2Arza and Sheridan Gardner def. Aliyah Carouthers and Samantha Ridgway 8-2
At HeidelbergBoysHeidelberg 9, Bamberg 0SinglesCameron Meeker def. T.J. Difiore 6-0, 6-0James Chase def. Trent Harvey 5-0 (retired)Jack Kolodziejski def. Wyatt Hamilton 8-0Darion Ward def. Theo McCray 6-0DoublesWard and Kolodziejski def. Difiore and Harvey 6-1, 6-1Ryan Gill and Wylder Raney def. Hamilton and McCray 8-0GirlsHeidelberg 7, Bamberg 2SinglesPaige Chase (Heid) def. Charlotte Woods 6-0, 6-0Emily Hall (Heid) def. Lauren Sink 8-1Laura Jackson (Heid) def. Christine Ibanez 8-1Katie Connors (Heid) def. Brittany Tiller 6-0Rebeccah Steil (Heid) def. Melanie Rivers 6-0Abbie Farmer (Heid) def. Chealsy Martinez 6-0DoublesWoods and Sink def. Hall and Jackson 7-6, 7-6 (tiebreaker scores unavailable)Ibanez and Tiller def. (first names unavailable) Brooks and Calvetti 6-1
At HeidelbergBoysHeidelberg 9, Ansbach 0SinglesMeeker def. Damon Adler 6-0, 6-0J.Chase def. Tony Rumon 8-0DoublesWard and Kolodziejski def. Adler and Rumon 6-2, 6-0GirlsHeidelberg 9, Ansbach 0SinglesP.Chase def. Lauren Finley 6-2, 6-2Hall def. Naomi Traylor 8-2Jackson def. Alexander Essertaize 8-0Connors def. Jordan Callahan 6-0Steil def. Soleil Vaughn 6-2Bunty Drewitt def. Val Mayorga 6-1Doubles(first names unavailable)Hall and Jackson def. Traylor and Essertaize 6-1, 6-2Atkins and Atkins def. Vaughn and Callahan 6-1Gorshenin and Burrel def. Thomas and Abella 6-1
At HeidelbergBamberg vs. AnsbachBoysBamberg 4, Ansbach 2SinglesAdler def. Difiore 6-1, 6-1Harvey def. Rumon 9-7DoublesAdler and Rumon def. Difiore and Harvey 6-3, 4-6, 12-7
Golf(Scoring is modified Stableford allowing 1 point for double bogey, 2 for bogey, three for par, 4 for birdie and 6 for eagle or ace. Team scoring is combined points for top four scorers)
Thursday's resultsAt RamsteinBoysTeam scoresKaiserslautern 167, Ramstein 147, Heidelberg 129. Scores for Baumholder, Bitburg and SHAPE unavailableIndividual resultsMackenzie Bradley (Kais) 49Mike Baltich (Heid) 43Jordan Linder (Rams) 41Stephen Lewis (Kais) 41Caleb Hayes (Kais) 39Brennan Dickerson (Kais) 38James Cho (Rams) 38Longest drive —J oseph Patrick (Heid)Closest to the pin — None reportedGirlsTeam scoresRamstein 60, Heidelberg 38, Baumholder 8. Scores for Bitburg,. Kaiserlautern and SHAPE unavailableIndividual resultsElizabeth Ward (Rams) 36Aileen Donnely (Heid) 16Michelle Turner (Rams) 10Celina Frye (Heid) 10Katarina Adriano (Baum) 8Ashley Kranz (Rams), 7Jaclyn Falleria (Rams) 7Micaela Young (Rams) 7Rachel Vandenlos (Heid) 7Longest drive — WardClosest to the pin — Ward
Youth swimmingEuropean Forces Swim League
Saturday at AvianoTeam scoring—Naples 646, Vicenza 511, Aviano 497, Brussels 340, Hohenfels 200Triple individual winners—Mattison Boveri, Emily Patterson, Maura Patterson, Timothy Smith, Kim Srun, Tidawee Srun (Naples); Elizabeth Bonney, Matteo Borsi (Vicenza); Zachary Mock (Aviano); Tessa Basso (Brussels)
Saturday at SHAPETeam scoring—SHAPE 604, Wiesbaden 551, Geilenkirchen 417, NATO 199Triple individual winners—Gregor Heim, David Koch, Heidi Northshield (SHAPE); Emma Brent, Carl Ravensbergen, Chantel Wynn (Wiesbaden); Lauren Klassen (Geilenkirchen); Adela Stepankova, Joseph Turi, Olav Van den Brink (NATO)Noteworthy—According to SHAPE statistian Attlila Balla, Northshield and Karri-Ann Allan swam team records. Northshield set SHAPE bests in the 200-meter freestyle, 100-meter backstroke, and 400-meter individual medley, and Allan set records in the 200-meter freestyle and 400-meter individual medley. None of those times was available at presstime Sunday.
---
---
---
---