Europe Scoreboard: Sept. 18, 2010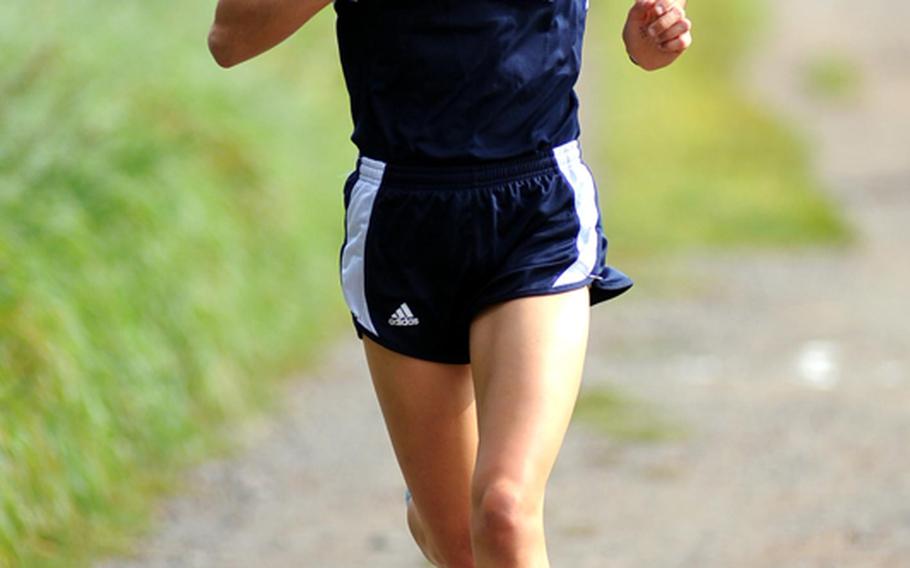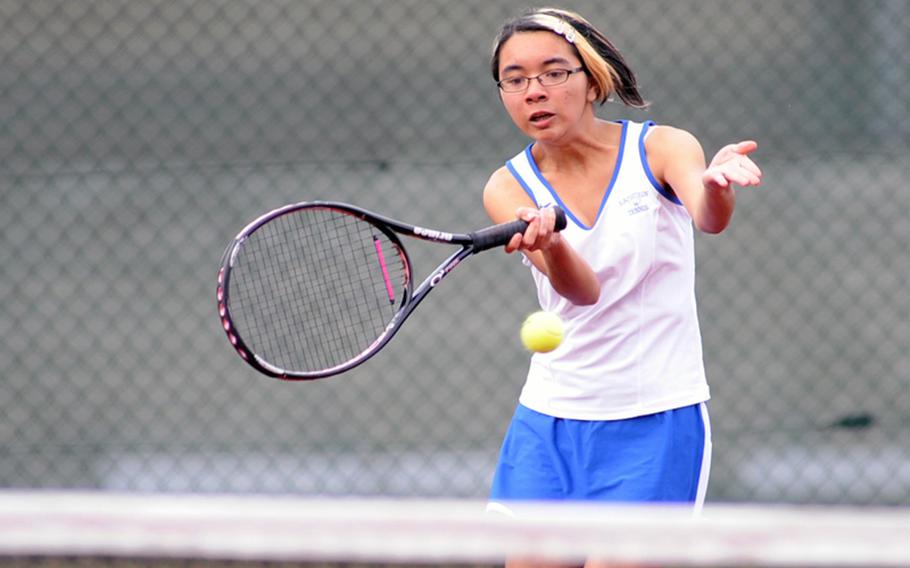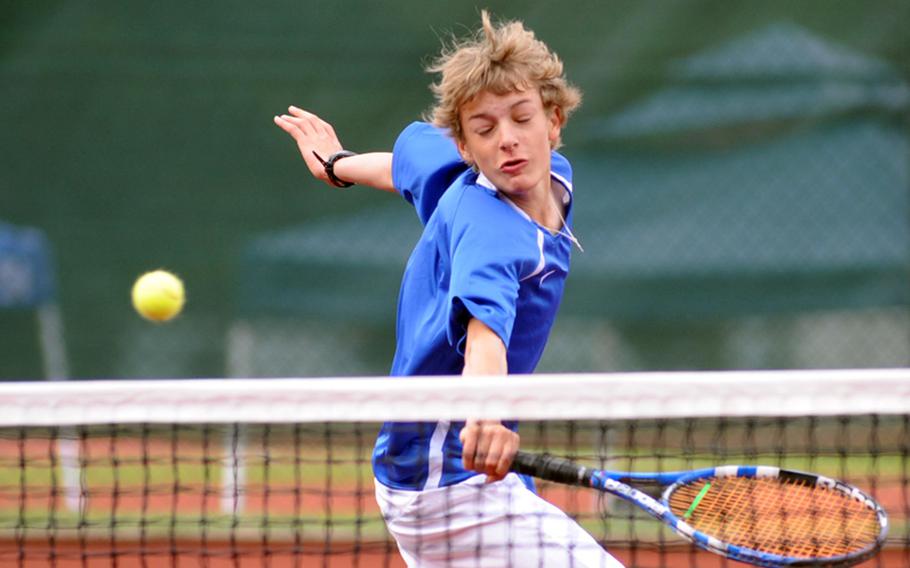 All information used to compile high school reports is provided by home-team coaches and staffs at each event.
Cross country(All races covered 5,000 meters and were run Saturday)
At NaplesBoysTeam scoresNaples 18, American Overseas School of Rome 43, Marymount International School of Rome and Sigonella were incompleteIndividual results1, Ian Eversman (Nap) 17:102,Troy Reeves (Napl) 17:403, Jason Black (Sigo) 17:544, Pietro Dinmore (AOSR) 18:205, John Fain (Nap) 18:406. Brad Bonnema (Nap) 19:477, Ryan Knapp (Nap) 19:518, Francesco Dinmore (AOSR) 19:599, Zachary Schmidt (Nap) 20:0010, Dylan Kincanon (Nap) 20:03GirlsTeam scoresNaples 19, American Overseas School of Rome 46, Marymount International School of Rome 61, Sigonella incompleteIndividual results1, Amber Sheline (Nap) 23:102, Jordan Kim (Nap) 23:263, Savannah Cuthbertson (AOSR) 23:374, Molly Ryan (Napl) 23:405, Katey Chartier (Napl) 24:246, (first name unavailable) Wiley (Mmt) 25:227, Isabella Lucy (Nap) 26:308. (first name unavailable) Trombetta (Mmt) 27:289, Madeline Carwile (AOSR) 27:3310, Amelia Bergson (AOSR) 28:25
At AvianoBoysTeam scoresAviano 28, Milan 64. International School of Florence and Vicenza were incompleteIndividual results1, Sean Wilson (Avi) 17:452, Tyler Holderby (Vicz) 18:303, Zachary Garcia (ISF) 20:054, Matthew O'Brien (Avi) 20:425, Andy Gutierrez (Avi) 20:466, Jacoby Dooley (Vicz) 20:557, Shunsuke Katayam (Mil) 21:088, Anthony Mathus (Avi) 22:119, Giacomo Grechi (Mil) 22:1410, Andy Kunis (Avi) 22:40GirlsTeam scoresAviano 15. Milan, Vicenza incomplete; International School of Florence no teamIndividual results1 Medeline O'Brien (Avi) 23:012, Shelby McHugh (Avi) 23:443, Victoria Blake (Avi) 24:554, Alexandra Ostler (Avi) 24:565, Brighton Reyes (Avi) 24:576, Raquel Stevens (Avi) 25:247, Victoria Newbill (Avi) 25:428, Ashley Ackett (Avi) 26:309, Taylor Roundtree (Avi) 27:4710, Melanie Hudson (Avi) 28:11
At RamsteinBoysTeam scoresRamstein 15, Kaiserslautern 55, St. John's International School of Belgium 95, Baumholder 96Individual results1, Carl Lewenhaupt (Rams) 16:592, Thomas Amrine (Rams) 16:593, Jack Scranton (Rams) 17: 374, Joseph Gould (Rams) 17:495, Thomas Lambert (Rams) 18:056, Skylar Clements (Baum) 18:187, Matt Finley (Kais) 18:298, Stephen Hook (Kais) 18:259, Matthew Harvey (Kais) 18:2810, Justin Sestan (Kais) 18:32GirlsTeam scoresRamstein 20, Kaiserslautern 37, St. John's International School of Belgium 72, Baumholder incompleteIndividual results1, Jessica Kafer (Rams) 19:24.67 (Course record. Old record 19:45 by Elizabeth Doe (Rams) Oct. 9, 2009)2, Laura Welch (Rams) 20:163, Meagan Rummage (Rams) 20:474, Ashley Santos (Kais) 21:085, Tallie Elbert (Rams) 21:126, Brianna Riffe (Kais) 21:397, Colleen Davis (Kais) 21:428, Emily Ciocca (Kais) 22:019, Jordan Thompson (Rams) 22:1510, Hannah McKenney (StJ) 22:18
At VilseckBoysTeam scoresPatch 20, Vilseck 43, Ansbach 85. Bamberg, Hohenfels and Munich International School incompleteIndividual results1, Zane Kennedy (Vils) 16:582, Tyler Gamble (Pat) 17:373, Brendon Lockridge (Pat) 18:064, Drew Nixon (Pat) 18:115, Nick Pugh (Pat) 18:136, Logan Sullivan (Pat) 18:147, Sebastian Blake (MIS) 18:238, Chris Brown (Pat) 18:30.079, James Martin (Pat) 18:30.9610, Thomas Trevino (Pat) 19:06GirlsTeam scoresPatch 15, Vilseck 50. Ansbach, Bamberg, Hohenfels and Munich International School were incompleteIndividual results1, Morgan Mahlock (Pat) 20:242, Kat Castro (Pat) 21:363, Amanda Elliott (Hoh) 21:564, Hannah Rose (Pat) 22:045, Christina Hamilton (Pat) 22:076, Samantha Barglof (Pat) 22:087, Alexander Taylor (MIS) 22:168, Johanna Quinn (Pat) 22:24.419, Kaileen Pritchard (Pat) 22:24.7110, Lucie McMurtry (MIS) 22:27
At WiesbadenBoysTeam scoresHeidelberg 30, Wiesbaden 44, Black Forest Academy 62, Frankfurt International School 74Individual results1, Ryan Fisico (Wies) 17:402, Kyle Swords (Heid) 17:443, Trevor Hope (BFA) 17:594, David Grano (BFA) 18:005, Brian Hannum (Heid) 18:166, Jacob Brainerd (Heid) 18:257, Chris Morton (Wies) 18:308, Jaron Henniger (Heid) 18:329, Jeremy Allen (Heid) 18:3710, John Gerber (Wies) 18:56GirlsTeam scoresHeidelberg 28, Wiesbaden 46, Frankfurt International School 46, Black Forest Academy incompleteIndividual results1, Natalie Pecoraro (FIS) 21:12 (Course record. Old record 22:07 by Amber Buckinfham (Lake) 2009)2, Olivia Darrow (Heid) 22:023, Shena Cousens (Wies) 22:274, Hannah Mayfield (Heid) 22:365, Lindsey Duckworth (Heid) 22:546, Pryia Kannan (FIS) 23:057, Celina Ponte (Wies) 23:128, Merlowe Muehlbauer (Heid) 23:409, Janelle Delgado (Heid) 24:0710, Gabriella Meier (BFA) 24:17.
At AlconburyBoysTeam scoresAlconbury 54, SHAPE 55 (19, 6th-place runner), Brussels 55 (no 6th-place runner); Lakenheath 80, AFNORTH 95, Menwith Hill incomplete.Individual results1, Archie Robertson (Lake) 17:172, Tim Barry (Brus) 18:253, Ben Bigelow (Brus) 18:264, Curtis Engel (SHP) 19:085, Jon Volcheck (Alc) 19:206, David Westlake (Brus) 19:587, Ernesta Tymnas (Alc) 20:008, Kari Kristensen (Lake) 21:119, Elias Robertson (Lake) 21:11Tom Irby (Alc) 21:13GirlsTeam scoresAFNORTH 40 (20, 6th-place runner), Lakenheath 40 (24, 6th-place runner), Brussels 63, SHAPE 73. Alconbutry and Menwith Hill were incompleteIndividual results1, Elizabeth Doe (Lake) 20:482, Ali Defazio (Brus) 22:543, Terryl Fritz (AFN) 22:554, Shantil Wilkins (Lake) 23:375, Kaley Harless (AFN) 23:386, Alexis Castellanos (Lake) 23:467, Julia Mendenhall (SHP) 24:248, Andrea Dargie (SHP) 24:279, Brittany Brubeck (AFN) 24:3110, Katelin Coogan (Lake) 25:05
Tennis(Individual forfeits not listed, but included in team scores. No. 1s play best-of-3 sets; all others single 8-game pro set. Tiebreaker third sets are first to 10 games)
At RamsteinBoysPatch 5, Ramstein 4SinglesErik von Eicken (Rams) def Jon Lightner 6-3, 6-2Forrest Kamperman (Rams) def Josh Lightner 8-6Charlie Schoonover (Pat) def Lee DuBois 8-3Dylan Rehwaldt (Pat) def Nathan Priddy 8-2Eric Stuber (Pat) def Taylor Stewart 8-5Bryan Caldwell (Rams) def James Pritchard 8-5DoublesSchoonover and Josh Lightner def Kamperman and DuBois 6-2, 6-4Jon Lightner and Rehwaldt def Priddy and Stewart 8-2Von Eicken and Caldwell def Pritchard and Stuber 8-0GirlsRamstein 8, Patch 1SinglesMichaela Corral (Rams) def Mica Aguilar 4-6, 6-4, 6-3Mehgan Augsburger (Rams) def Ellie Welton 8-6Elena Fritz Rams) def Mallory Flynn 9-8 (7-5)Olivia Rockwell (Rams) def Stephanie Shiffert 8-5Peyton Smith (Pat) def Anna Claire Cabiness 8-3Allison Adams (Rams) def Tori Gilster 8-3DoublesAugsburger and Rockwell def Welton and Flynn 6-2, 6-2Fritz and Corral def Aguilar and Shiffert 8-6Cabiness/Emily Stewart def Smith and Erin Walsworth 8-6
At WiesbadenBoysWiesbaden 9, Mannheim 0SinglesEvin Alarilla def. Samuel Nevinger 6-0, 6-0Arman Alarilla def. Andrew Sutton 8-0Jeffrey Holt def. Benjamin Little 8-0Vincent Matsayko def. Jake Dailing 8-0Stephen Corey def. Zachary Trout 8-0Alfred Johnson def. Elliott Beltran 8-0DoublesA. Alarilla and Holt def. Nevinger and Sutton 6-2, 6-1E. Alarilla and Matsayko def. Little and Dailing 8-0Corey and Johnson def. Trout and Beltran 8-0GirlsWiesbaden 9, Mannheim 0SinglesKelsey Smith def. Amber Veranen 6-3, 6-1Ashley Charles def. Alexis Pineiro 8-0Apryl Jackson def. Nicole Johnson 8-0Heather Boehme def. Estephany Picazo 8-0DoublesTaylor Dore and Charles def. Veranen and Pineiro 6-4, 6-3Smith and Jackson def. Johnson and Picazo 8-0
At LakenheathBoysLakenheath 5, Alconbury 4SinglesAndrew Cates (Lake) def. Ronnie Behr 6-0, 6-4Matt Thrasher (Alc) def. Sam Armstrong 8-6Joel Fourham (Alc) def. Greg Holmes 8-1Francis O'Connell (Alc) def. Ben Cates 8-5Keith Koehler (Lake) def. Cameron Perdomo 8-0Caleb Wilson (Lake) def. Adam Jimmo 8-2DoublesA. Carteas and Armstrong def. Thrasher and Fourham 6-2, 6-1Behr and O'Connell def. Holmes and B. Cates 8-3GirlsLakenheath 5, Alconbury 4SinglesAshley Hand (Alc) def. Rebekah Gamble 6-0, 6-0Erica Ripley (Lake) def. Taylor Malcolm 8-5Meagan Adams (Lake) def. Nichole Pisierra 8-1Kathleene Kennan (Lake) def. Leah Caverly 8-2Dominiee Roehm (Lake) Allison Cavin 8-6Caitlin Cash (Alc) def. Katelyn Willianms 8-5DoublesGamble and Ripley def. Pisierra and Caverly 6-2, 6-2Hand and Malcolm def. Britta Hedstrom and Yu-Sing Miller 8-0Cavin and Cash def. Jazmine Hayes and Ashli Griffith 8-3
At VilseckBoysVilseck 9, Ansbach 0SinglesMiguel Cordero def. Damon Adler 6-3, 6-1Sage Thorbrough def. Rumon O'Gorman 8-3DoublesThornbrough and River Shank def. Adler and O'Gorman 6-3, 7-5GirlsVilseck 8, Amsbach 1SinglesLauren Finley (Ansb) def. Thea Dunn 6-1, 6-3Sara Carriker (Vils) def. Naomi Taylor 8-2Tekeha Turner (Vils) def. Alex Essertaize 8-1Melissa Camara (Vils) def. Jordan Callahan 8-0Christy Chanin (Vils) def. Soleil Vaughn 8-0Amy Maitner (Vils) def. Valoria Mayorga 8-1DoublesCarriker and Turner def. Finley and Traylor 5-4, retiredDunn and Camara def. Essertaize 8-0Chanin and India Pinkney def. (first names unavailable) Thomas and Abella 8-1
At ISBBoysInternational School of Brussels 9, AFNORTH 0SinglesKristof Viranyi def. Westin McKinney 4-6, 6-3, 10-7Peter Viranyi def. Savario Young 8-4Shotaro Shobu def. Matt Kinnear 8-3Oliver Hacking def. Marcus Baeur 8-1Asgeiv Hallgrimson def. Zach Wodburg 8-0Javier Vega def. Tyler Beauter 8-0DoublesK. Viranyi and Shobu def. McKinney and Young 2-6, 6-4, 10-6Hacking and Mehmet Erincag def. Kinnear ns Baeur 8-0Victor Pierson and Victor Ruelle def. Woodburg and Beauter 8-0GirlsInternational Schol of Brussels 5, AFNORTH 4SinglesSayaka Goto (ISB) def. Taylor BonenClark 4-6, 6-1, 10-4Stephanie Seitz (AFN) def. Ana Torrijos 8-2Hitome Kimura (ISB) def. Emily Jensen 8-4Hop BonenClark (AFN) def. Konomi Ito 8-1Blandine Pairet (ISB) def. Grace Katzenson 8-4Juhanna Robberts (ISB) def. Sarah Seita 8-3DoublesT. BonenClark and St. Seitz def. Torrios and Pairet 6-3, 6-1Yu Murakami and Ito def. Jensen and H. BonenClark 8-1Katzenson and Sa. Seitz def. Hannah Kleiven and Alice Johnson 8-5At BaumholderBoysBrussels 7, Baumholder 0SinglesRyan Bottesini def. Cameron Kocj 6-0, 6-0Tristan Fitch def. Alexander Shadrin 8-3Danny Helbling def. Van Phillips 8-3Jeremiah High def. Justin Owens 8-0DoublesFitch and Helbling def. Phillips and Kocj 6-3, 6-2Alex Drakalski and High def. Shadrin and Owens 8-3GirlsBrussels 6, Baumholder 0Baumholder has no girls' team.
At HeidelbergBoysHeidelberg 9, Bitburg 0SinglesCameron Meeker def. Tyler Jakobs 6-2, 7-5James Chase def. John McCrea 8-0Jack Kolodziejski def. Eric Liebig 8-0Darian Ward def. Sven Livingston 8-0Ryan Gill def. Ryan Shofner 8-2Wylder Raney def. Patrick Goetz 8-4DoublesChase and Kolodziejski def. Liebig and McCrea 6-2, 6-1Ward and Meeker def. Jakobs and Liviningston 8-1Gill and Raney def. Goetz and Shofner 8-4GirlsHeidelberg 9, Bitburg 0SinglesPaige Chase def. Kaitlyn Miller 7-6 (8-6), 6-4Emily Hall def. Katelyn White 8-3Laura Jackson def. Anne Marie Clark 8-3Katie Connors def. Kelsey Downer 8-6Bunty Drewitt def. Megan Mein 8-0Rebeccah Steil def. Avelri Goetz 8-2DoublesHall and Jackson def. White and Miller 6-1, 6-3Steil and Drewitt def. Goetz and Mein 8-2
Golf(Scoring is modified Stableford awarding 1 point for double-bogey, 2 for bogey, 3 for par, 4 for birdie and 6 for eagle or ace.
At Baumholder(Friday at Rolling Hills)BoysTeam scoresKaiserslautern 138, SHAPE 137, Biburg 99, Baumholder 69, Wiesbaden 39Individual resultsCaleb Haynes (Kais) 43Mackenzie Bradley (Kais) 41Joe Broughton (SHP) 41Tyler Gillespie (Bitb) 39Zachary Price (SHP) 36James Workman (SHP) 36Brennan Dickerson (Kais) 33Chris Gonzalez (Bitb) 31Kevin Coffell (Baum) 29Jonathan Jones (Baum) 29GirlsTeam scoresWiesbaden 39, Baumholder 7, Bitburg 1, Kaiserlautern 0Individual resultsHollie Salvo (Wies) 38Katarina Adriano (Baum) 7
At Patch(Thursday at Stuttgart Golf Course)BoysTeam scoresHeidelberg 178, Ramstein 173, Vilseck 63, Patch 30, Bamberg 29Individual resultsChristian Gunia (Rams) 42Mike Baltich (Heid) 40Joseph Patrick (Heid) 39Jack Cannon (Heid) 37Frank Zacher (Vils) 35James Cho (Rams) 32Jordan Linder (Rams) 29Closest to the pin — Drew Guffey (Rams)Longest drive — PatrickGirlsTeam scoresRamstein 43, Heidelberg 33, Vilseck 33, Patch 3, Bamberg 0Individual resultsElizabeth Ward (Rams) 29Katie Cooper (Vils) 15Lauren Zacher (Vils) 15Longest drive — Cooper
---
---
---
---