Europe Scoreboard: May 15, 2011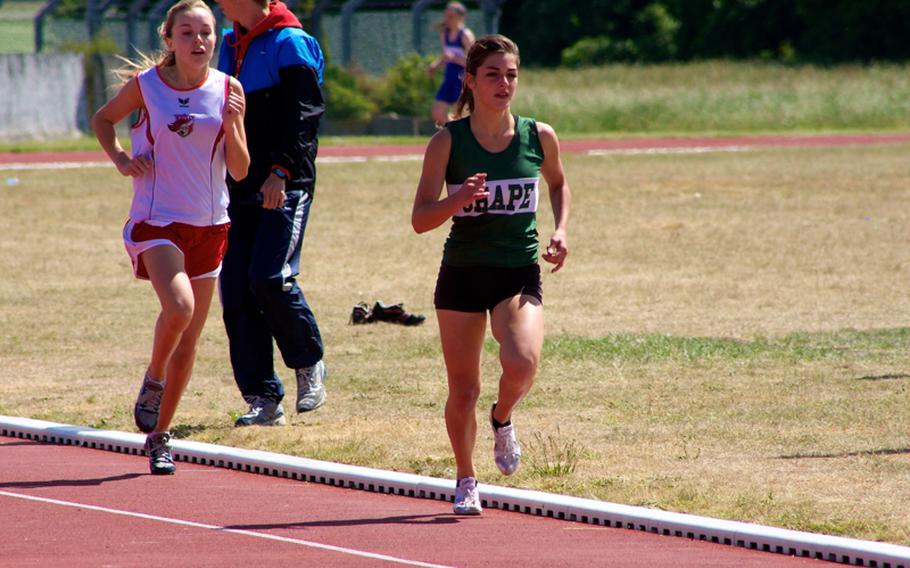 All information used to compile high school reports is provided by home-team coaches and staffs at each event.
SoccerBoysNon-regionalIncirlik 2, Ankara 0(Friday at Incirlik, Turkey)Halftime — 1-0. Goals — Skylar Mineau, Aaron Whitaker. Assist—Daniel Buffett. Saves—Ankara unavailable; Incirlik (Trevor Jenkins) 6. Noteworthy — According to coach Christopher Anderson co-ed Incirlik completed regular season 4-4-2 overall. Both teams are to play in this week's European Division III tournament Wednesday-Saturday in the Ramstein-Kaiserslautern area. JV — None.
SoftballSaturday's resultsEast RegionMannheim 13, Hohenfels 12Mannheim 18, Hohenfels 15
Track and field(All race distances in meters)Saturday at Chievres, BelgiumBoysKaiserslautern 161, SHAPE 125, St. John's 122.5, Bitburg 59, International School of Brussels 52, AFNORTH 35.5, Brussels 33, Baumholder 20100 meters— 1, Bernard Burwell (Kais) 11.22; 2, Eric Antonelli (StJ) 11.40; 3, Brent Wellekens (StJ) 11.65200— 1, Wellekens, 24.07; 2, Antonelli, 24.26; 3, Burwell, 24.38400— 1, Guillaume Campos (StJ) 53.55; 2, Richard Kayser (ISB) 54.58; 3, Jackson Smith (StJ) 57.87800— 1, Matthew Finley (Kais) 2:05.79; 2, Louis-Etienne Couture (ISB) 2:07.50; 3, Tyler Tremaine (Kais) 2:11.961,500— 1, Couture, 4:36.60; 2, Matthew Tucker (ISB) 4:47.20; 3, Sean Davis (Kais) 4:52.003,000— None reported110 high hurdles— 1, T.J. Downey (Bitb) 17.37; 2, Jaylen Jones (Kais) 17.58; 3, Ryan Howard (SHP) 17.81300 intermediate hurdles— 1, Juan Perry (Kais) 44.27; 2, Downey, 44.58; 3, Howard, 46.44High jump— None reportedLong jump— 1, Jamil Pollock (AFN) 19 feet, 8 inches; 2, Justin Davis (SHP) 18-6; 3, Alizi Dougles (SHP) 17-10Triple jump— 1, Davis, 40-1; 2, Xavier Moffitt (Kais) 36-0; 3, Aaron Campany (SHP) 29-9Shot put— 1, Darian Billups (Bitb) 42-10.5; 2, Kayser, 39-0.75; 3, Colton Engelmeier (Bitb) 34-10.75Discus— None reported4x100 relay— 1, Kaiserslautern (Moffitt, Jared Cooper, Perry, Burwell) 45.97; 2, AFNORTH, 46.69; 3, St. John's, 47.264x400 relay— None reported4x800 relay— 1, Kaiserslautern (Tremaine, Davis, Justin Sestan, Finley) 9:09.07; 2, St. Johns, 9:41.17; 3, Brussels 10:43.471,600 sprint medley relay— 1, Kaiserslautern (Copper, Burwell, Laserik Jones, Finley) 4:05.72; 2, SHAPE, 4:23.98; 3, Bitburg, 4:24.14GirlsKaiserslautern 194, St. John's 98, AFNORTH 76, SHAPE 64, Bitburg 60, International School of Brussels 55, Baumholder 18, Brussels 10100 meters— 1, Clarissa Pryce (ISB) 13.10; 2, Nadine Missouri (Kais) 14.06; 3, Emily Miller (SHP) 14.09200— 1, Pryce, 27.19; 2, Rhea Harris (Kais) 28.50; 3, Jada Perry (Kais) 28.96400— 1, Ashley Santos (Kais) 60.19; 2, Pryce, 60.19; 3, Mercedes Ash (AFN) 61.03800— 1, Mishal Cotugno (SHP) 2:24.76; 2, Maitre Smith (ISB) 2:36.13; 3, Colleen Davis (Kais) 2:36.281,500— 1, Victoria Adriano (Baum) 4: 52.20; 2, Kaitlyn Miller (Bitb) 5:18.30; 3, Emma Martensson (StJ) 5:20.603,000— None reported100 intermediate hurdles— 1, Brittina Thomas (Bitb) 18.84; 2, Ashely Hughes (AFN) 19.03; 3, Missouri, 19.19300 low hurdles— 1, Santos, 49.34; 2, Hughes 51.43; 3, Elizabeth Crowther (SHP) 53.12High jump— None reportedLong jump— 1, Sara Sawyer (AFN) 15 feet, 10 inches; 2, Crowther, 15-4; 3, Rhea Harris, 14-11Triple jump— 1, Sawyer, 33-11; 2, Keisha McClendon (Kais) 31-5; 3, NoneShot put— 1, Kaylynn Richardson (Kais) 29-9.5; 2, Tahnee Lilly (StJ) 24-1.75; 3, Lucie Wollenstein (ISB) 23-11.25Discus— 1, Melissa Menschel (Bitb) 85-0; 2, Richardson, 74-6; 3, Lilly, 68-104x100 relay— 1, AFNORTH (Ash, Cherry Carney, Valerie Morgan, Sawyer) 52.97; 2, Kaiserslautern, 53.09; 3, Kaiserslautern B, 55.974x400 relay— None reported4x800 relay— 1, Kaiserslautern (Sarah Domenichini, Megan Dunn, Holly Roth, Shannon Finley) 12:42.00; 2, None; 3, None1,600 sprint medley relay— 1, AFNORTH (Terryl Ann Fritz, Sydney Jones, Lexiann Mohay, Carnes) 4:54.46; 2, Kaiserslautern, 5:03.18; 3, SHAPE, 5:14.39Saturday at Vicenza(Some first names unavailable)BoysVicenza 82, Aviano 46, Naples 46, Sigonella 16100 meters— 1, Darnell Dothard (Napl) 11.51; 2, Darian Cornett (Avi) 11.68; 3, Johnnie Eddison (Vicz) 12.55200— 1, Daniel Bert (Avi) 23.05; 2, Gary Donald (Vicz) 23.35; 3, Dothard, 23.55400— 1, Donald, 52.55; 2, Bert, 53.44; 3, Eddison, 53.91800— 1, Tyler Holderby (Vicz) 2:01.36; 2, Jason Black (Sig) 2:10.38; 3, Tyler Williams (Napl) 2:13.031,500— 1, Black, 4:42.59; 2, Rawlynn Evans (Avi) 5:22.19; 3, Matt Collins (Napl) 5:24.023,000— 1, Black, 10:30.91; 2, Luca Melendez (Napl) 11:04.66; 3, K. Leanhart (Vicz) 12:17.15110 high hurdles— 1, Pat Robinson (Vicz) 19.55; 2, Xavier Clark (Vicz) 20.94; 3, None300 intermediate hurdles— 1, Clark, 47.76; 2, Robinson, 51.19; 3, NoneHigh jump— None reportedLong jump— 1, Donald, 19-10; 2, Cornett, 32-11.5; 3, J. Gonyea (Avi) 31-5.75Triple jump— 1, Jamal Williams (Napl) 35-4.5; 2, D. Grice (Vicz) 32-4.5; 3, T. Williams, 31-10Shot put— 1, Brennan Goodnature (Napl) 46-0.25; 2, Cornett, 32-11.5; 3, Gonyea, 31-5.75Discus— 1, Goodnature, 135-11.5; 2, B. Holliday (Avi) 94-7; 3, Evans, 85-2.54x100 relay— 1, Vicenza (D. Grice, Eddison, J. Grice, Unavailable) 47.76; 2, None; 3, None4x400 relay— 1, Vicenza (Donald, Eddison, Beau Murphy, Holderby) 3:40.14; 2, Aviano, 3:43.32; 3, Vicenza B, 3:59.454x800 relay— 1, Vicenza (Murphy, Wilkerson, Dooley, Holderby) 9:22.63; 2, Aviano, 11:49.11; 3, None1,600 sprint medley relay— None reportedGirlsVicenza 75, Aviano 73, Naples 40, Sigonella 7100 meters— 1, Terrika Kelly (Avi) 13.73; 2, Anastacia Brown (Vicz) 14.68; 3, Zora Browne (Avi) 14.96200— 1, Ja'Brea Joiner (Vicz) 27.87; 2, K. Spiller (Napl) 32.11; 3, J. Ortega (Avi) 32.54400— 1, Ashley Ackett (Avi) 69.97; 2, Victoria Blake (Avi) 71.96; 3, Sohni Shaikh (Vicz) 72.14800— 1, Shelby McHugh (Avi) 2:40.49; 2, Kelsey Lynch (Napl) 2:53.02; 3, Adriannah Dominguez (Avi) 3:07.011,500— 1, Olivia Crumpacker (Sig) 5:54.91; 2, Melanie Hudson (Avi) 6:11.98; 3, Ronnie Wilcox (Vicz) 7:28.433,000— 1, Amber Sheline (Napl) 13:32.34; 2, Wilcox, 16:37.18; 3, None100 intermediate hurdles—1, Bailey Butler (Vicz) 18.95; 2, None; 3, None300 low hurdles— 1, Butler, 54.11; 2, Ortega, 59.63; 3, NoneHigh jump— 1, Lynch, 3 feet, 10 inches; 2, None; 3, NoneLong jump— 1, Gabby Moore (Vicz) 12-4; 2, T. Sutton (Vicz) 12-1; 3, Ackett, 12-1Triple jump— 1, Sutton, 23-0; 2, None; 3, NoneShot put— 1, Maria Beard (Napl) 28-8.5; 2, Danielle Ellis (Vicz) 28-10.75; 3, Browne, 28-5Discus— 1, Browne, 94-5.5; 2, Beard, 79-8.25; 3, Ellis, 77-0.254x100 relay— 1, Vicenza (Canada, Joiner, Butler, Brown) 55.48; 2, None; 3, None4x400 relay— 1, Aviano (Kelly, Blake, Adrienne Bryant, McHugh) 4:43.81; 2, Vicenza, 4:52.64; 3, None4x800 relay— 1, Aviano (Bryant, Blake, Hudson, McHugh) 11:11.99; 2, None; 3, None1,600 sprint medley relay— 1, Aviano (Kelly, McHugh, Ackett, Bryant) 4:50.37; 2, Vicenza, 4:53.69
Saturday at Lorrach, GermanyBoysHeidelberg 165, Black Forest Academy 71, Patch 65, Frankfurt International School 37, Mannheim 9100 meters— 1, Andre Brown (Heid) 11.14; 2, Deonte McMillan (Heid) 11.15; 3, Andrew Lindberg (BFA) 11.43200— 1, McMillan, 23.02; 2, Donte Jones (Heid) 24.40; 3, Neal Daniels (Heid) 24.58400— 1, Jeremy Allen (Heid) 51.98; 2, Sharaud Gallman (Heid) 52.11; 3, Mads Beier (FIS) 52.66800— 1, Ben Kronk (BFA) 2:03.03; 2, Anthony Purpero (BFA) 2:03.85; 3, Allen, 2:05.341,500— 1, Trevor Hope (BFA) 4:20.10; 2, David Grano (BFA) 4:20.54; 3, Alex Dobbs (FIS) 4:24.603,000— 1, Logan Sullivan (Pat) 9:45.83; 2, Kronk, 9:46.36; 3, Brian Hannum (Heid) 9:47.72110 high hurdles— 1, Aaron Tribble-Knowles (Heid) 17.21; 2, Bryce Jackson (Heid) 17.59; 3, K.J. Kim (BFA) 17.63300 intermediate hurdles— 1, Dustin Morton (Heid) 45.15; 2, Jackson, 46.13; 3, Kim, 46.14High jump— 1, Jeremiah Miller (Heid) 5 feet, 10 inches; 2, Logan McKee (FIS). 5-10; 3, John Jacobson (Pat) 5-8Long jump— 1, Wayne Dawkins (Heid) 21-1; 2, Sterling Jones (Heid) 19-0; 3, McKee, 18-9.25Triple jump— 1, Dawkins, 41-6.5; 2, Christopher Hopkins (Pat) 37-2; 3, Tribble-Knowles, 37-0.5Shot put— 1, Devon Meachum (Heid) 41-5; 2, Dwight Dean (Pat) 37-6.5; 3, David Clark (FIS) 36-1Discus— 1, Dean, 123-1; 2, Meachum, 104-3; 3, Nathan Greathouse (BFA) 103-74x100 relay— 1, Heidelberg (Brown, Benjamin Burrs, D. Jones, S. Jones) 44.63; 2, BFA, 47.00; 3, FIS, 47.284x400 relay— 1, Patch (Jalan Darby, Mark Louis Ecija, Jacobson, Jarrett Wroten) 3:45.19; 2, FIS, 3:51.18; 3, Mannheim, 3:58.954x800 relay— 1, Heidelberg (Morton, Gallman, Hannum, Allen) 8:51.53; 2, Patch, 10: 10.48; 3, None1,600 sprint medley relay— 1, BFA (Ross Becker, Lindberg, Hope, Grano) 3:42.02; 2, Heidelberg, 3:50.49; 3, Mannheim, 4:26.29GirlsPatch 120, Heidelberg 102, Mannheim 63, Black Forest Academy 32, Frankfurt International School 27100 meters— 1, Grace Gonzalez (Mann) 12.81; 2, Infinity Baisden (Mann) 13.33; 3, Karissa Hilliard (Pat) 13.37200— 1, Gonzalez, 27.19; 2, Hilliard, 28.08; 3, Baisden, 28.15400— 1, Morgan Mahlock (Pat) 62.82; 2, KaDedra Lea (Mann) 63.89; 3, Janelle Delgado (Heid) 64.65800— 1, Mahlock, 2:24.99; 2, Delgado, 2:32.30; 3, Hannah Rose (Pat) 2:34.771,500— 1, Mahlock, 5:01.03; 2, Katherine Castro (Pat) 5:25.10; 3, Olivia Darrow (Heid) 5:37.403,000— 1, Christina Hamilton (Pat) 11:31.20; 2, Darrow, 11:57.51; 3, Sarah Thaden (Pat) 12:01.65100 intermediate hurdles— 1, Veronique Henry (Heid) 16.53; 2, Alayna Hubner (Pat) 18.38; 3, Ashling O'Donnell (BFA) 20.78300 low hurdles— 1, Hubner, 52.35; 2, Courtney Morgan (Heid) 52.36; 3, Madison Kuyawa (FIS) 54.51High jump— 1, Phoebe Brewster (FIS) 4 feet, 10 inches; 2, Michaella Fortune (BFA) 4-10; 3, Hubner, 4-10Long jump— 1, Gonzalez, 15-9.75; 2, Brewster, 15-6.75; 3, Lea, 14-6.25Triple jump— 1, Lea, 33-7; 2, Henry, 31-10.5; 3, Fortune, 29-3.5Shot put— 1, LaKalia Woods (Heid) 26-4; 2., Caitlin Burgess (Pat) 26-1; 3, Jordan Manley (BFA) 22-11Discus— 1, Rebeccah Steil (Heid) 84-7; 2, Woods, 75-10; 3, Manley, 71-94x100 relay— 1, Mannheim (Jackie Headley, Gonzalez, Baisden, Lea) 51.25; 2, Heidelberg, 53.62; 3, FIS, 53.644x400 relay— 1, Patch (Hubner, Mahlock, Baileigh Sessions, Amanda Singleton) 4:31.58; 2, Heidelberg, 4:32.82; 3, FIS, 4:44.164x800 relay— 1, Heidelberg (Aylia Hardison, Delgado, Prisscilla Steele, Lindsey Duckworth) 10:50.75; 2, Patch, 12:13.44; 3, None1,600 sprint medley relay— 1, Patch (Danielle Dean, Hilliard, Rose, Sessions) 4:49.41; 2, Heidelberg, 4:50.02; 3, BFA, 5:09.60