Europe H.S. football preview: Lower enrollment numbers don't reduce anticipation
by
Rusty Bryan
September 16, 2005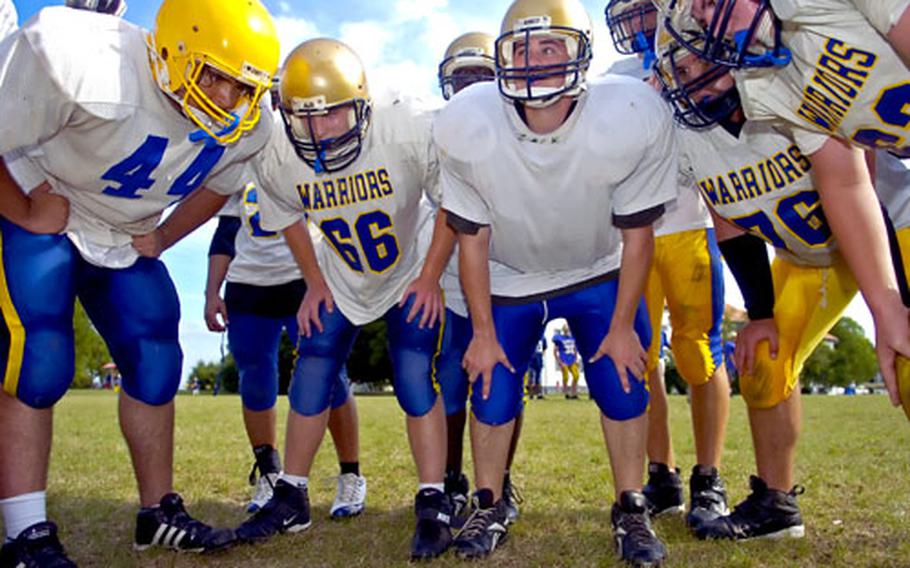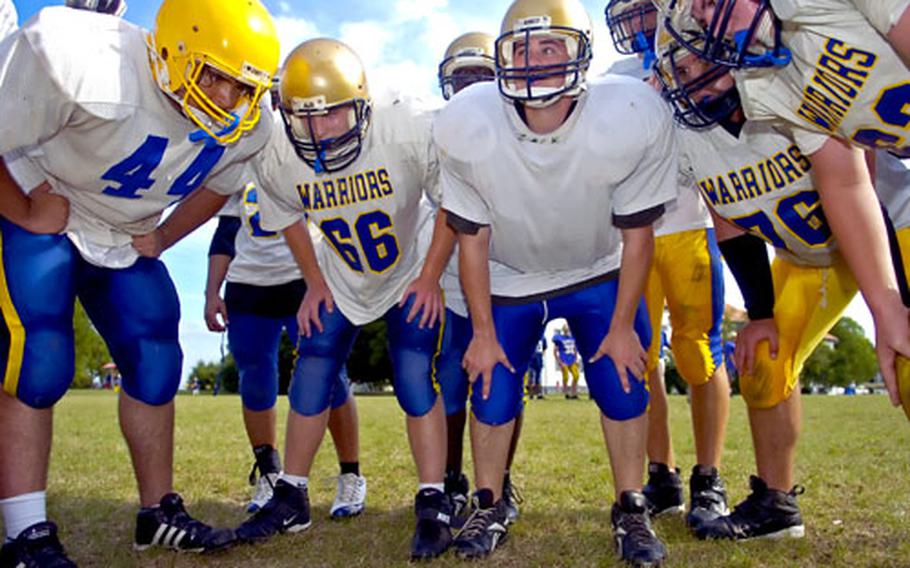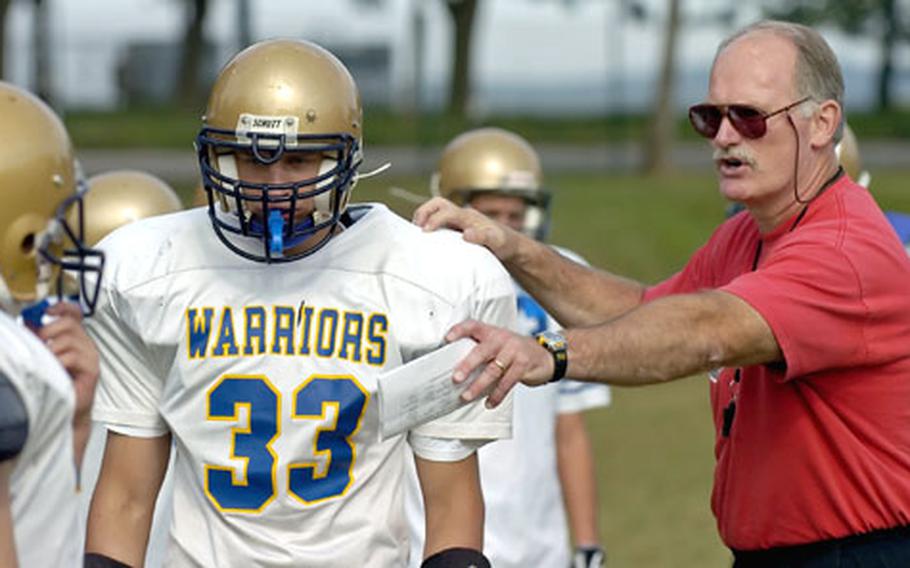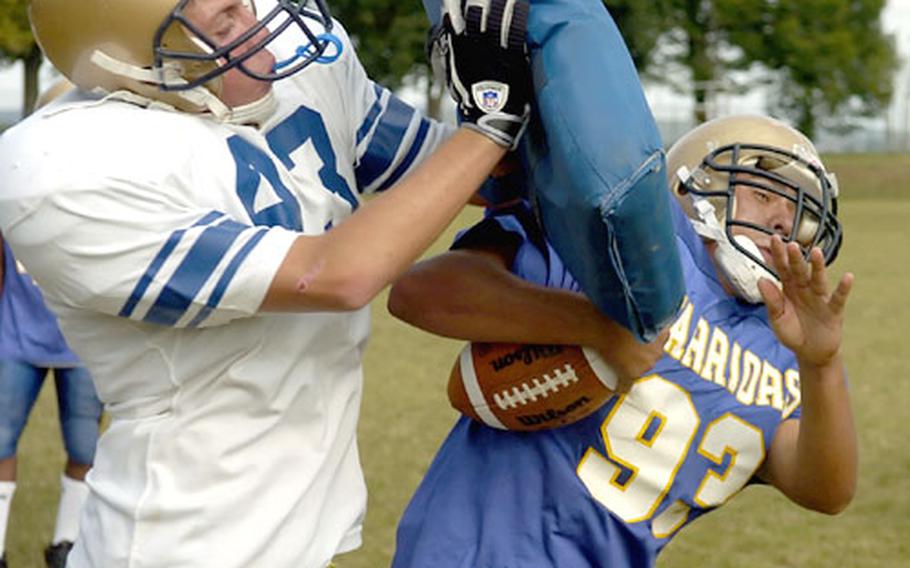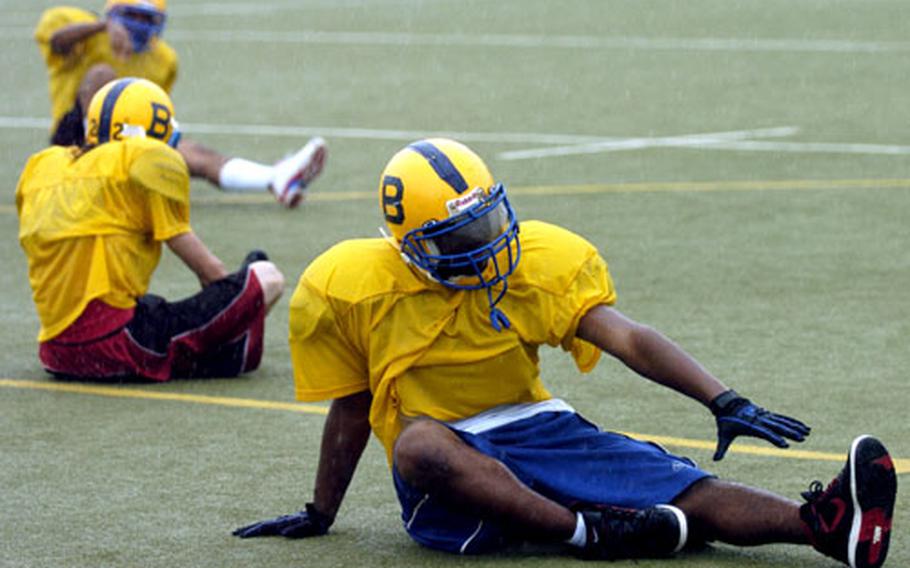 After a summer spent fretting over declining enrollments, high school football coaches in Europe kick off the 2005 season Saturday knowing that, for the present at least, they've beaten the numbers.
"I was sweating really hard," Würzburg coach Allen Archie said. "We didn't know until the first day of school how many players we'd have."
Archie, whose Wolves draw on a student population of 446, smallest in Division I, had 35 hopefuls turn out.
Turn-out jitters concerned more than just Würzburg. When practice began, Bamberg coach Jim Davis, fresh in from an eight-year assistant's gig at Kinnick High School in Japan, found himself scrambling to field 11 players.
"At Kinnick, we had to run kids off," he said. "We'd have 70-80 come out, and we only had 68 helmets."
Davis said he was expecting a change of pace at Bamberg, just not so much of one.
"I had an idea it was a smaller school," he said, "but with an enrollment of 150, you can expect 75 of them to be male. I figured 25 or so would turn out for football."
Enrollment turned out to be 125. After some recruiting by Davis, 18 turned out for football.
"We have 18 great kids who are starting to gel," he said. "We have some good athletes."
Even the system's smallest school survived. Menwith Hill, 92 high-schoolers strong, has 25 players out for football, according to coach Pete Resnick.
Davis' former boss at Kinnick, Robert Stovall, also has 25 on his first Rota team. His problem is compounded by isolation.
"With 25 players, it's hard to scrimmage," said Stovall, among the 10 new head coaches this year. "I'd have liked to scrimmage or go to a jamboree, just to see if we can run a play or not."
With enrollments at acceptable limits, the football community can concentrate on more important numbers. The biggest comes from a small-schools power.
Division IIIAnsbach, the three-time defending European Division III champion, is on a 24-game winning streak. If the Cougars can win their first two games at home, they'll play at Vicenza on Oct. 1 with a chance to set a European record of 27 straight victories.
The Cougars, who graduated seven All-Europeans among their 15 seniors, will run at the mark with an entirely new cast.
"We're replacing every starter," said head coach Marcus George, who with a fourth straight championship can set a record in that department, too. "Our new kids don't know how big a bear they've bitten."
George does.
"We have the potential to be OK," he said. "Being good will require some luck."
Among those in III-South hoping to deny the Cougars is Hohenfels, which welcomes back three-year starter Jason Parks, quarterback MVP at last month's DODDS-Europe football camp.
Also vying in III-South are Bamberg, with T'Andre Stuckey the tailback in Davis' new I formation; Vicenza, the largest D-III school in the system; Sigonella, where Mike Chisari takes over the coaching reins; and Giessen.
In Division III-North, Menwith Hill returns elusive tailback Leshawn Adams and adds burly quarterback Andrew Kaaihue from Louisiana. Ian Lange is one of seven seniors on the squad.
Stovall's Rota squad will play without All-Europe runner Joseph Casey, who's concentrating on academics.
Division IIKregg Kappenman's SHAPE Spartans launch their quest for a third straight European crown behind seven seniors, one of them fullback-linebacker Doug O'Meara. Speedy senior Anthony Marquez and sophomore A.J. Rogers are splitting time at quarterback, while senior Keith Wagner returns to anchor the offensive line.
International School of Brussels in the North and Hanau in the South each boast a 2004 All-European running back — Phillip Lipman at ISB and Malcolm Lane at Hanau. George called Lane the best athlete at his 396-player football camp
Both teams will challenge for the European title, according to Kappenman and George, as will Naples.
John Jackson's Patch Panthers, with returning All-Europe quarterback J.D. Lindsay, a 6-4, 215-pound load operating behind an intact offensive line and bolstered by running back Daniel Kennedy, is also in the mix.
Division IDepartures hit every school hard enough that in the words of Ramstein's Glenn Porter, there should be "even competition" this season.
Defending champion Wiesbaden, which graduated slashing running back Paul Fry and hammer fullback Danny Villaneuva among its 15 seniors, is in transition this year, according to coach Steve Jewell.
"We're going to throw the ball more," he said Tuesday. "[Quarterback] Aaron Orr, who got plenty of experience leading a come-from-behind victory against Ramstein with a last-minute drive, is ready to lead this team."
Evan Watson and Chase Socha will anchor the line, Jewell said, while Chad Abrahamson is the lone defensive starter back. Newcomers Isaac Horton, a linebacker, and Ricky Rivers, a tackle, join him. Sophomore Ron Peebles and freshman Julian James will split time at tailback.
Runner-up Heidelberg returns three All-Europeans: offensive and defensive line selection Brandon Simmons; tailback Lewis Allen; and fullback-linebacker Chris Jones.
Tom Burriss, an assistant the last two seasons at Kaiserslautern, takes over from Clinton Robinson. He'll have All-Europe lineman Madison Hayes and basketball star Quintin Strawder at quarterback to work with.
Porter said his Royals will lean on fullback Greg Anderson, quick quarterback Aaron Jones, receiver Ste'phan James and linebacker Daryl Smith to help plug holes left by graduation.
Newcomers Cameron Hoffman at quarterback, Lorenzo Zesati at wide receiver, Cameron Carroll on the offensive line and Joseph Haynes at linebacker and returnee Taureen Powell are expected to bolster Würzburg.
New coach Dan Achenbach faces a rebuilding job for his first task at Lakenheath. He has the materials in 375-pound lineman Kevin Mencey and near-300 pounder Jason Hacker. Wesley Klenic, a transfer from Japan, takes over at quarterback.