Europe H.S. football: Naples outguns Vilseck behind Taylor's six touchdowns
by
Seth Robson
September 17, 2006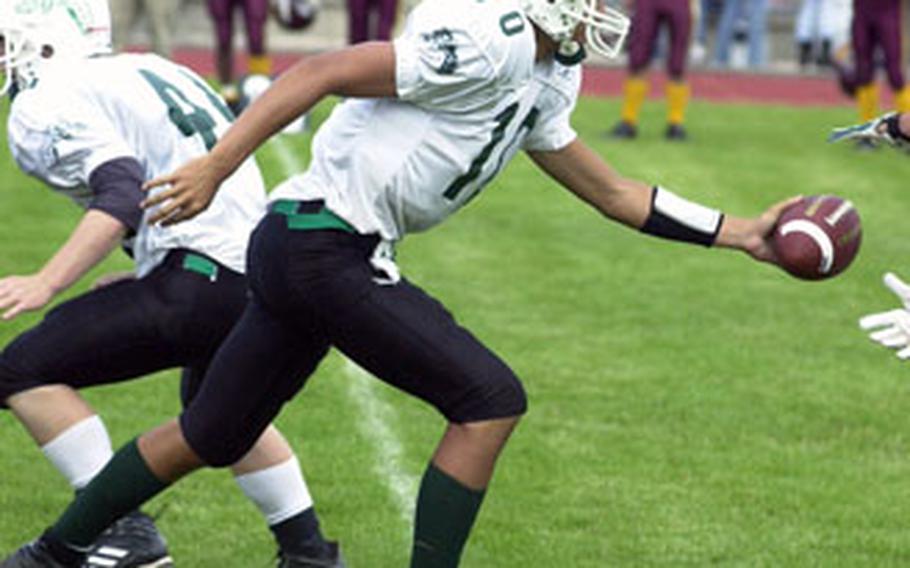 VILSECK, Germany — Naples overcame Vilseck and a 19-hour bus ride to win a Division II-South shootout 54-40 Saturday.
The Wildcats relied on senior tailback B.J. Taylor, playing in his first high school football game, and a strong offensive line.
Taylor, using skills he said he developed on the basketball court, finished with more than 300 yards rushing and six touchdowns.
"He's not big," Vilseck coach Billy Ratcliff said. "He's just hard to catch."
He had plenty of help from his line. Naples coach Jim Hall said the line earned a game ball for its performance.
Ratcliff said the linemen deserved it. "They outmuscled us and beat us in the trenches," he said. "They were like a machine."
Still, it was not a one-sided show. Vilseck tight end Robert Wright scored three touchdowns, and running back Rex Ray ran for 200 yards.
Ray, who has played football since fourth grade, said penalties were the difference.
"If we hadn't committed so many penalties we probably would have won," he said.
Vilseck scored a touchdown with 1:30 to go to pull within two scores. But Naples recovered and onside kick and ran out the clock.
Perhaps the biggest challenge for Naples was overcoming the long bus ride to get to the game.
Naples player Thaddeus (T.J.) Lumar said the team started the trip at 7 p.m. Thursday and arrived in Vilseck at 2 p.m. Friday. Players slept on the bus, he said.
Lumar bounced back nicely from the long journey. He had three catches and scored a touchdown on offense and made five tackles on defense.
His score was one of two TD passes thrown by Naples QB Tyler Terronaz. Quamaine Holliman pulled in the other.