Europe H.S. football: Heidelberg, Hohenfels defend titles; Hanau drops to D-III
by
Rusty Bryan
September 15, 2006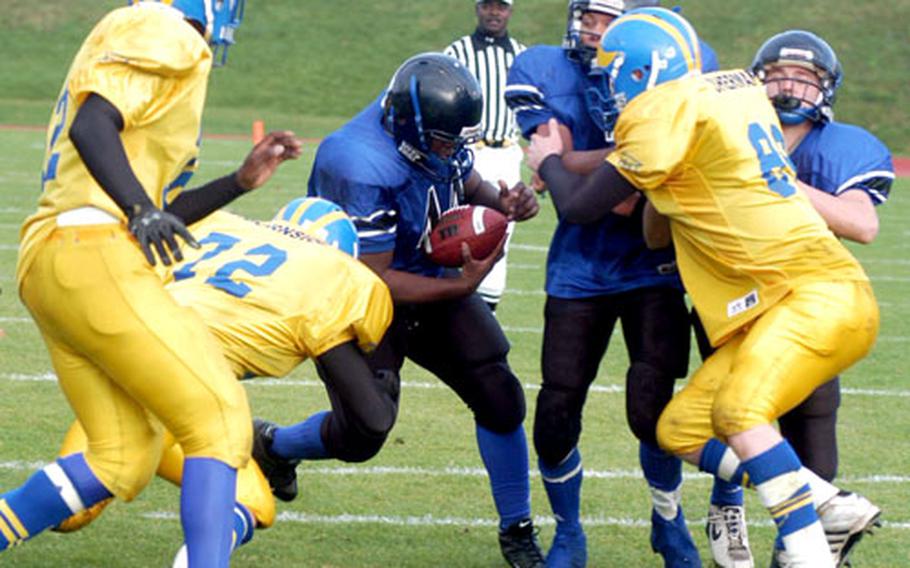 The annual quest for a spot in November's "Super Six" divisional title-game tripleheader kicks off this weekend at 14 sites across Europe.
Heidelberg and Hohenfels will be defending their European titles in Divisions I and III, but the transformation of forces so reduced the enrollment at Division II champion Hanau that the Panthers will compete in Division III this season, leaving the competition in Division II wide open.
Here's a look at the preseason expectations:
Division I"We're all chasing Ramstein," summed up Wiesbaden coach Steve Jewell.
Ramstein Royals: New head coach Carlos Antonin sees the defense, led by 2005 All-Europe linebacker Joel Smith, as his team's stronger unit. But the offense is in good hands, too, with returning All-Europe running back Cedric Borden (111 carries, 825 yards in '05) operating behind Joe York and Aaron Jones, two quarterbacks with starting experience.
Heidelberg Lions: "Our offensive line is coming along well," said coach Brad Shahan, who's replacing two two-way All-Europeans on that unit. Returning quarterback Matt Howard will be taking snaps from returnee Jordan Fackler and throwing the ball to Brad Lane and Zach Tapp-Wilson.
Wiesbaden Warriors: Returning offensive linemen E.J. Watson and Evan Duncan, whom Jewell considers among the best in Europe, will try to open holes for running backs Ron Peebles and Bryce Lee and new fullback Reginald Connor.
Lakenheath Lancers: Former assistant Joe Hacker welcomes back receiver Carl Snapp and lineman Kirk Sampson, but his Lancers are smaller than he'd like, and will be traveling to the continent every other week. His D-I foes make that long, tiring bus ride only once every other year.
Kaiserslautern Red Raiders: Coach Tom Burriss said his second edition of the Red Raiders is young, but more disciplined than last year's team. "We've got a lot of work to do," he said of a squad with only five seniors.
Patch Panthers: Todd Taylor's first team and the school's first team in Division I is counting on running back Daniel Kennedy, linebacker Brian Taylor and linemen Matt Gorey and Brad Bergfeld to lead the way.
Division II"Division II is so competitive," Bitburg coach Mike Laue said. "There are five, six or seven teams out there who could win it. Whoever's ready to play each week and stays healthy will win."
Bitburg Barons: Second-year coach Laue has a returning All-Europe lineman in 270-pound junior Randall Pelletier, who epitomizes the 2006 Barons. "We have good size," Laue said of his team, which is 50 players strong.
Baumholder Bucs: Carter Hollenbeck welcomes back 200-pound running back Rashad Taylor, receivers C.J. Roberts and True Davis and three of his five starting offensive linemen. "Talent is really dispersed this year," he said. "Everyone has two or three good players."
International School of Brussels Raiders: "There's a lot of parity," said coach Rob Stewart, who returns running back/linebacker Patrick Thigpen, quarterback Rafael Stigge and three key linemen in Robert Maguire, Kevin Hutchison and Scott Wiemeyer.
Mannheim Bison: Frank Macias added a quarterback, John Trosper, and a tailback, Tommy Spindler, both from Virginia, to his 15-senior squad. He said his defense will be anchored by linebacker Sneider Villamizar and lineman Trevor Husseini.
SHAPE Spartans: "We have a large, young team," coach Kregg Kappenman said. David Novak, a tight end last year, moves to quarterback behind third-year lineman Johnny Fitzgerald, who'll anchor the team along with Mike Clampitt, Jimmy Murtha and Michael Bremmer.
Aviano Saints: Kenneth McNeely's team, always undersized, lost two projected starters to preseason injury and didn't get much help from new arrivals. But the Saints will still march in. "We're going to be competitive," McNelly said.
Naples Wildcats: Three-year quarterback Tyler Terronez and four-year wide receiver Zack Main are among 20 returnees, according to coach Jim Hall, who also welcomes a new tailback in senior B.J. Thomas.
Vicenza Cougars: Adam Ridgley, Vicenza's fourth coach in three years, has no quarterback and fewer than 30 players as he embarks on his first Division II campaign.
Vilseck Falcons: Billy Ratcliff takes over a program on the rise. "It we stay straight with grades and stay healthy, we can take it all," the former German American Football League coach said. At quarterback is 6-foot-4, 230-pound Colin Jordan, and linebacker Chris Watson and lineman Rex Ray, both new arrivals from Tacoma, Wash., were MVPs at DODDS' football camp.
Würzburg Wolves: "We have explosive talent in the skill positions," said coach Eric Mead, who returns to the helm after a two-year break, in talking about running backs Anthony Miles, and Donald Bryant and wideout B.J. Harvey.
Division III"Their athletes are on a whole different plane," Ansbach coach Marcus George said of the large, deep and experienced defending European champion Hohenfels Tigers. "They're men."
And they're the team to beat.
Hohenfels Tigers: "I inherited a wealth of talent," said new coach Ed Lynch, who returns to the sidelines after 20 years. Leading that talent are three returning All-Europeans, 220-pound fullback Brandon Merriweather, wide receiver B.J. Denson (14 catches, 286 yds, 7 TDs) and placekicker Anthony Marshall (13-for-16 PATs; 2-for-3 FGs, 23, 31 yds). "We have a huge team," Lynch added. "Our nose guard is 320 pounds and our two defensive tackles are 240."
Ansbach Cougars: George said his team is "looking to find an identity," after losing six potential starters to moves and graduation. Much of that will be provided by junior John Willis, "one of the best quarterbacks in Europe," in George's view.
Hanau Panthers: "They'll match up well against Hohenfels," predicted Ansbach coach George. Panther coach Sam Cassou has junior Terrence Coley at quarterback and linebacker and senior center Derek Neville.
Bamberg Barons: Jim Davis will rely on wide receiver Marvin Gholston, last year's quarterback, and linebacker Adam Worrell to lead his team in the brutal D-III South.
Giessen Griffins: James Lloyd said his team will be small and inexperienced — both quarterbacks are freshmen — but enthusiastic in what figures to be the school's final year of existence.
Sigonella Jaguars: Greg Volz takes over the reins at a school whose numbers dipped during the offseason.
Rota Admirals: Numbers are no problem for new coach Robert Stovall, who had 36 players out, but experience is. Helping to mature the team will be quarterback Sterling Frost, tailback Jesse Luvert and wideout/cornerback Kevin Rios.
AFNORTH Lions: Greg Blankenship continues his run of quality tailbacks in Sasha Miller, co-MVP of DODDS' summer football camp. Miller will benefit from a line, led by center Mike West, that is "strong from tackle to tackle," Blankenship said. Quarterback Brandon Wilson and linebacker Brock Blankenship also should make an impact.
Alconbury Dragons: Coach Ron Behr has size in linemen Yul McGrath and Doug Bagnell among his eight returnees, but his team is still learning on offense.
Brussels Brigands: Mike Hebing takes over from Joe Fiedler, looking for leadership from linemen John Kilroy and Cal Deverill on a 16-player squad.
London Central Bobcats: Duke Eidt's second edition will be his last in the school's final year. He expects his team to be anchored by fullback Dee Marbury and lineman Ivan Linatock.
Menwith Hill Mustangs: New coach David Grana inherits talented running back LaShawn Adams and linemen Robbie Sexton and Pete Richmond on a team which suits up nearly 60 percent of the school's boys.