Europe H.S. boys basketball: 'Confident' Mustangs reach final
by
Rusty Bryan
February 23, 2007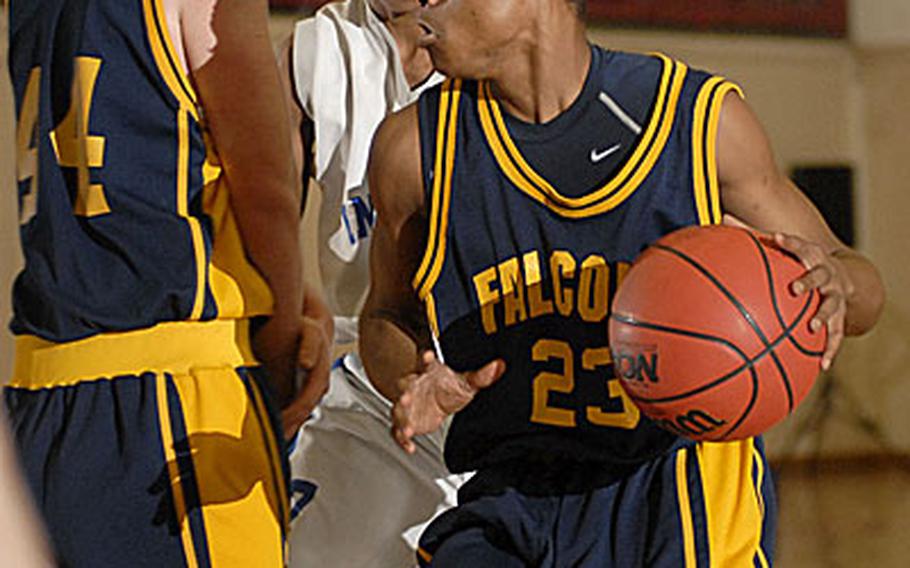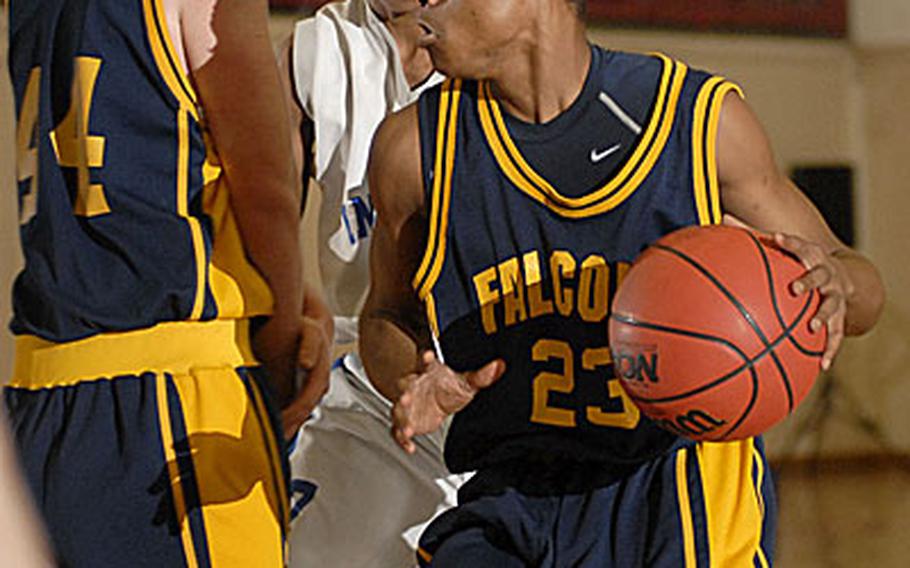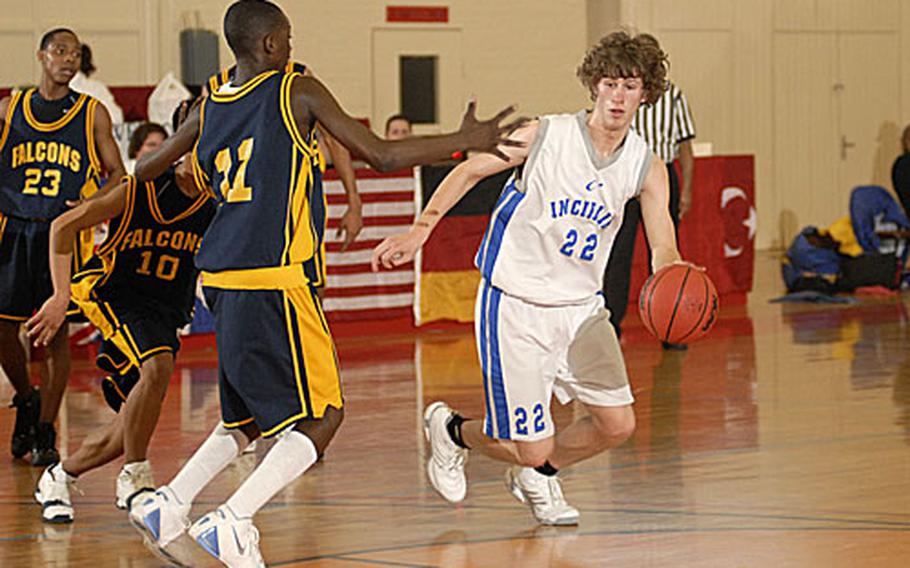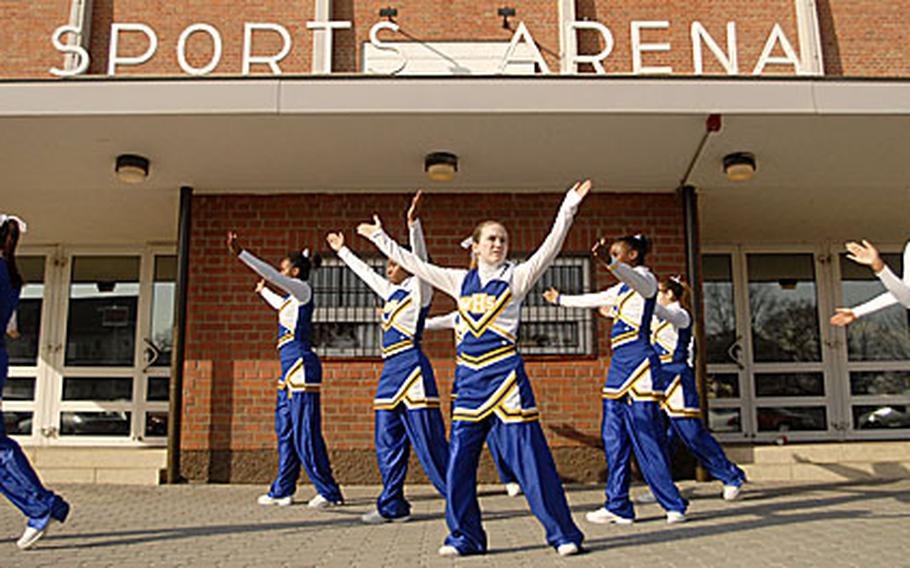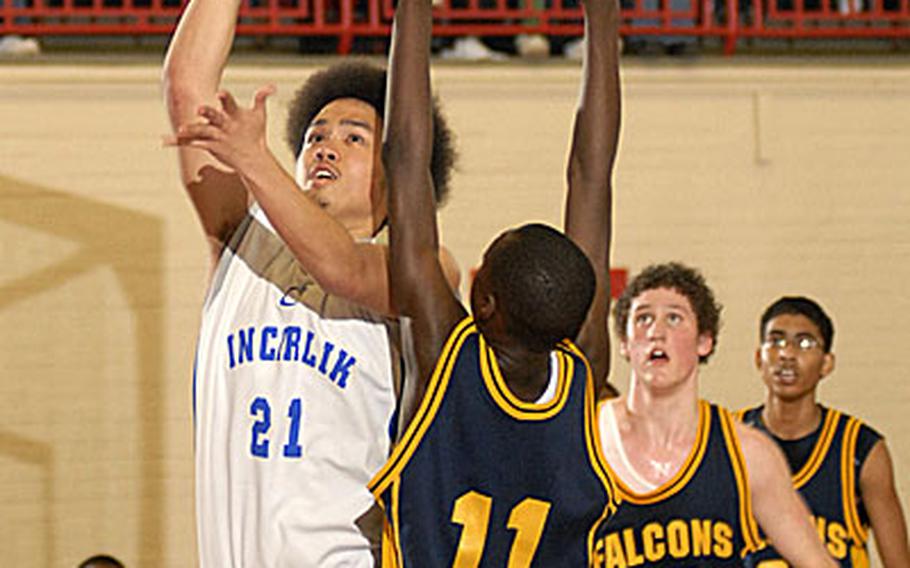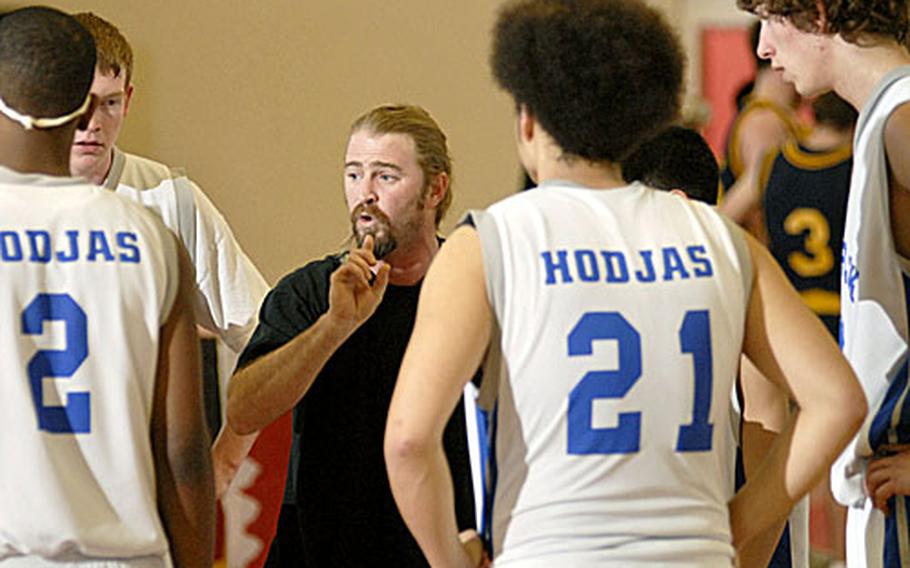 MANNHEIM, Germany — Menwith Hill advanced to the finals of the European Division IV basketball tournament with a 45-29 victory over Alconbury Thursday evening.
The win was the latest in a series of victories that have the Mustangs feeling positive about themselves.
"At the beginning of the year, we were kind of uptight, but as the season went along we got more confident," Menwith Hill forward Le'Shawn Adams said before the semifinal game.
And with good reason: The Mustangs had just crushed Ankara 45-5 to enter the game on a roll.
"We're feeling good," said center Greg Puccetti, who like Adams scored 10 first-quarter points against Ankara, the third straight opponent to fall to the Mustangs. "We're getting rest and our stamina's good."
The victory over Alconbury — the third this year over the Mustangs' fellow U.K. school — put Menwith Hill in the championship game against Bamberg.
The Barons, who won the D-III title last year and are the top seed in D-IV this year, defeated Incirlik 77-47 in the other semifinal game. Tip-off for the final is 4:15 p.m. Friday.
In other boys games of note:
Ramstein 43, Patch 31: The second-seeded Royals, already assured a berth in Thursday night's D-I semifinals against Kaiserslautern, rested their starters for three-quarters of this victory over sixth-seeded Patch, winless in three tries here.
"It was a lot of fun letting the other guys play and getting to cheer for them," said starter Scott Sublousky, who scored eight points in his seven minutes of playing time. "They hustle all the time and deserve a chance to play."
Chris Williams led Ramstein with 10 points; his fellow reserve Brent Schuck scored eight. Brandon Perry topped Patch with nine points.
The Ramstein-Kaiserslautern winner will take on the victor of Thursday evening's Heidelberg-Wiesbaden semifinal in Friday's 7:45 p.m. title game at the Benjamin Franklin Village Sports Arena.
Sublousky, however, had his eyes set on Kaiserslautern.
"It'll be fun," he said. "They're our big rivals. It doesn't get any better than that."
Wiesbaden 49, International School of Brussels 17: The Warriors coasted into Thursday evening's first D-I semifinal against top-seeded Heidelberg behind 10 points from James Troy. Esa Arten of ISB took game honors with 14 points.
Incirlik 34, Lajes 22: Kris Roeske scored 15 points and Brandon Combs added 9 for the Hodjas as Incirlik qualified for its semifinal game against Bamberg.
Division II continued its pool play, while Division III began its tournament with a full slate of games that resumes at 8 a.m. Friday. Both conclude with championship games on Saturday.
Tournament scoreboardMANNHEIM, Germany — Results from the 2007 DODDS-Europe high school boys basketball championships, which end Friday for Divisions I and IV and Saturday for Divisions II and III (Pool-play games consist of 7-minute quarters; periods in semifinals and finals are 8 minutes):
Division I
Wednesday's late pool play Heidelberg 52, Kaiserslautern 36ThursdayPool play Ramstein 43, Patch 31Wiesbaden 49, Int'l School of Brussels 17SemifinalsHeidelberg vs. Wiesbaden, lateRamstein vs. Kaiserslautern, lateFridayAt BFV Sports Arena, MannheimThird placeSemifinal losers, 10:15 a.m.ChampionshipSemifinal winners, 7:45 p.m.
Division II
Wednesday's late pool playVilseck 39, Black Forest Academy 32Würzburg 51, Bitburg 41SHAPE 54, Aviano 33Baumholder 49, Naples 34ThursdayMannheim 56, Naples 54SHAPE 38, Vilseck 26Baumholder 42, Würzburg 35Aviano 50, BFA 49Vilseck 53, AFNORTH 34Bitburg 35, Baumholder 28SHAPE vs. BFA, lateWürzburg, Naples, lateBitburg vs. Mannheim, lateAviano vs. AFNORTH, lateFridaySemifinalsAt BFV Sports Arena, MannheimPool B winner vs. Pool A runner-up, 11:30 a.m.At Sullivan Barracks, MannheimPool A winner vs. Pool B runner-up, 1 p.m.
Division III
Thursday Pool playAmerican Overseas School of Rome 58, Marymount International of Rome 18Hanau 57, London Central 47Rota 80, Sigonella 51Ansbach 58, Vicenza 35Giessen 74, Marymount 34Hohenfels 71, Sigonella 31AOSR 58, London Central 57Rota vs. Ansbach, lateGiessen vs. Hanau, lateHohenfels vs. Vicenza, lateFriday Pool playAt Coleman Barracks, MannheimVicenza vs. Sigonella, 8 a.m.Giessen vs. London Central, 9:15 a.m.Rota vs. Hohenfels, 10:30 a.m.AOSR vs. Hanau, 11:45 a.m.London Central vs. Marymount, 1 p.m.Hohenfels vs. Ansbach, 2:15 p.m.Giessen vs. AOSR, 3:30 p.m.Rota vs. Vicenza, 4:45 p.m.Ansbach vs. Sigonella, 6 p.m.Hanau vs. Marymount, 7:30 p.m.
Division IV
Wednesday's late pool playIncirlik 66, Alconbury 38Milan 42, Lajes 39Livorno 36, Ankara 10ThursdayPool playMenwith Hill 45, Ankara 5Incirlik 34, Lajes 22Bamberg 55, Milan 18Alconbury 46, Livorno 39SemifinalsMenwith Hill 45, Alconbury 29Bamberg 77, Incirlik 47Friday's gamesThird placeAt Sullivan Barracks, MannheimIncirlik vs. Alconbury, 10:15 a.m.ChampionshipAt BFV Sports Arena, MannheimBamberg vs. Menwith Hill, 4:15 p.m.
---
---
---
---