Europe H.S. basketball tournaments: Sigonella girls score landmark Division III victory
by
Charlie Coon
February 26, 2006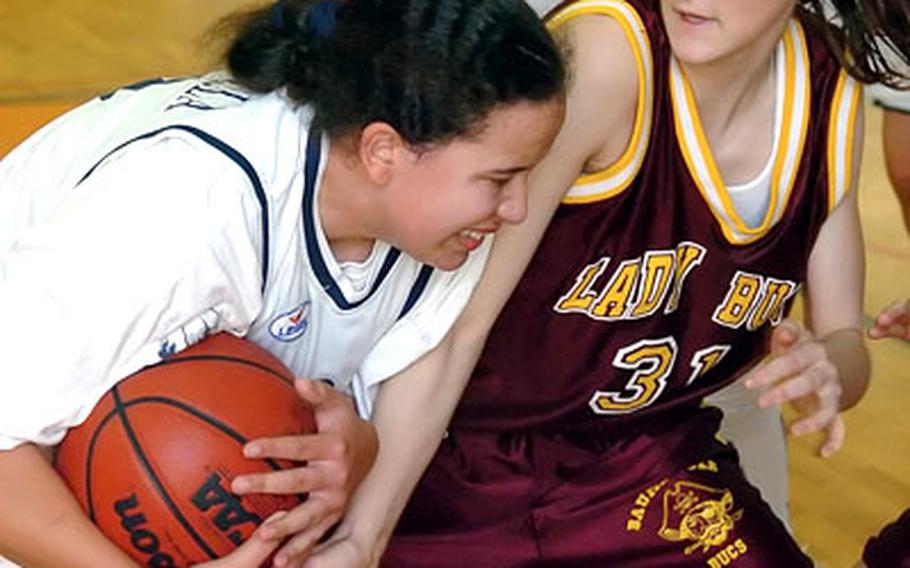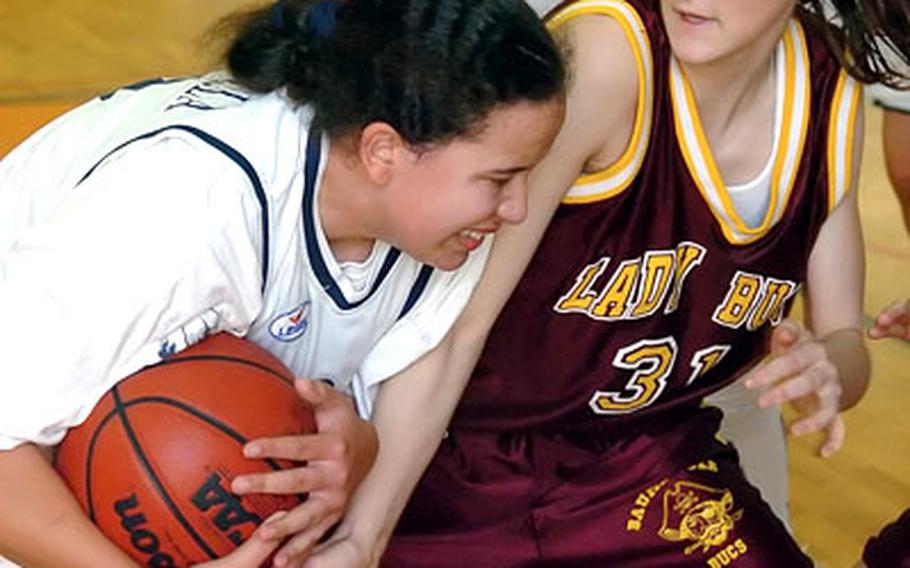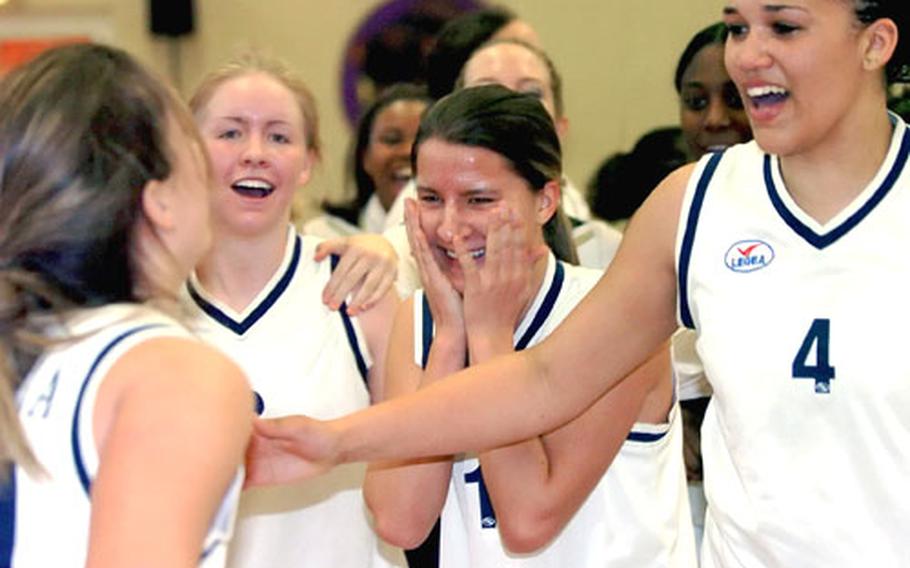 MANNHEIM, Germany — The top seed trailed by four entering the fourth quarter.
If the Sigonella Jaguars were going to defend their seeding and become champions — the first for Italy in DODDS-Europe girls basketball — they had eight minutes to get it done.
It didn't take that long. The Jaguars took off, fueled by rebounds by Dezira Manning and fast-break baskets by Whitney Lynch. Second-seeded Baumholder, which had led for most of the game, suddenly couldn't buy a basket. The result: an 18-6 run that was all the Jaguars needed.
Sigonella (16-1), used its dominant fourth quarter on Saturday to defeat Baumholder 51-39 and capture the Division III crown. It became the first Italian girls team to win in any division since the girls tournament began in 1975.
Lynch scored 13 of her 18 points in the fourth, while Manning scored seven of her 21 in the period. The two made a combined five of six free throws.
The Sigonella players had history on their minds, Lynch said. It was about time for a trophy to make its way south of the Alps.
"We wanted to win really bad," said Lynch. "We wanted to make a difference in the record book.
"When we were down we didn't lose our heads. That's what brought us up into the lead."
The Jaguars were down a lot. Except for a 6-4 lead in the opening minutes, they never led until Lynch scored on a fast-break layup for a 22-21 lead three minutes into the third quarter.
Baumholder was not about to let the lead they'd held for so much of the game slip away easily. The lead changed hands three more times in the period, and consecutive baskets by Grecia Gonzales and Tiffany Guyette at the end of the quarter sent the Bucs into the final period leading 31-27.
In addition, Sigonella's second-most important ball-handler, senior guard Diane Abcede, had fouled out.
But Manning, a 5-foot, 9-inch center, took over in the fourth. As Baumholder's shots went in-and-out or clanked off the rim, Manning went high in the air and down on the floor to collect rebounds. Then she'd turn and fire the ball to Lynch, sneaking down court in anticipation of the fast break.
Two straight fast-break layups by Lynch, followed by her three-pointer from the corner, gave the Jaguars a 45-37 lead with 2:50 remaining, and they never looked back.
"We worked hard and we had a great season," said Baumholder coach Carter Hollenbeck, whose team finished 16-3. "I'm proud of my girls. They played with a lot of class.
"There was about a three-minute stretch that went their way, not ours, and that was the outcome."
Baumholder used a balanced attack with six players scoring for a 15-8 lead at the end of the first quarter. Sigonella was working hard underneath the basket and getting fouled for its trouble, but made only two of six free throws.
DODDS-Europe girls basketball championshipsMANNHEIM, Germany — Results from the DODDS-Europe basketball championship tournaments, which ended Saturday.
Division I
Friday's late result
Championship
Kaiserslautern 45, Ramstein 20
Ramstein.....4 8 4 4-20
Kaiserslautern.....6 16 11 12-45
Scoring—Ramstein: Dallas Norman 6, Crystla Richardson 5, Kendra Lenoir 3, Kaylen Bannister 2, Lisa Domingo 2, Sierra Stayberg 2; Kaiserslautern: Lynndsey Hyter 13, Dupe Babatunde 8, Kamike Williams 7, Anisha Ingram 5, Ericka Stewart 4, Tasha Warner 4, Bianca Gerena-Perez 2, Alycia Mixon 2.
Division II
Friday's late results
Third place
SHAPE 32, AFNORTH 28
Saturday's game
Championship
Hanau vs. Bitburg, late
Division III
Friday's late results
Semifinals
Baumholder 47, Hohenfels 24
Sigonella 53, London Central 36
Saturday's results
Third place
Hohenfels 42, London Central 28
Championship
Sigonella 51, Baumholder 39
Baumholder.....15 3 13 8-39
Sigonella.....8 10 9 24-51
Scoring—Baumholder: Tiffany Guyette 9, Sharon Cabrera 6, Tish Schelhas 6, Kendall Williams 6, Katrina Alsup 4, Kandi Dyer 4, Grecia Gonzalez 2, Mandy Hoffman 2; Sigonella: Dezira Manning 21, Whitney Lynch 18, Erika Anderson 3, Keisha Williams 3, Diana Abcede 2, Jessica Bagley 2, Rachel Smith 2.