Europe H.S. basketball tournaments: In overtime, Würzburg boys keep Division I title
by
Rusty Bryan
February 26, 2006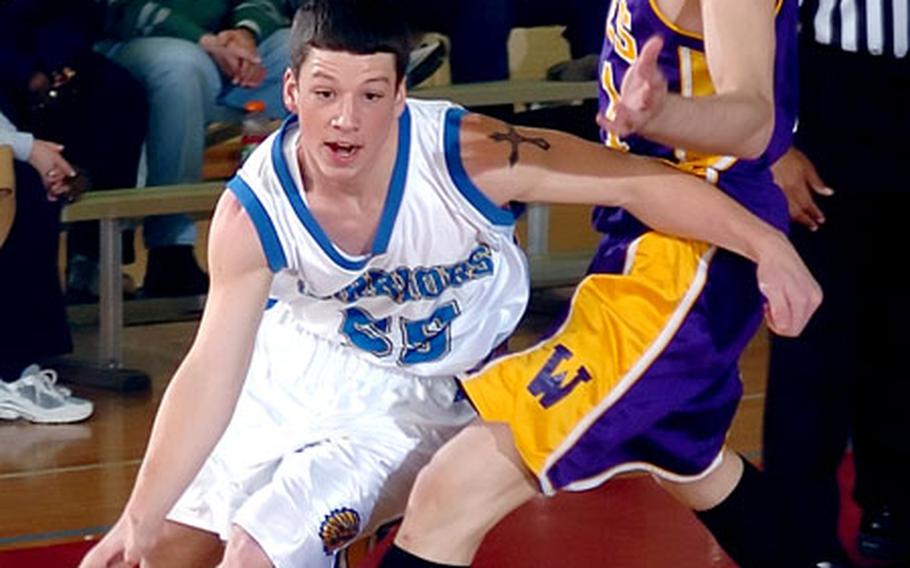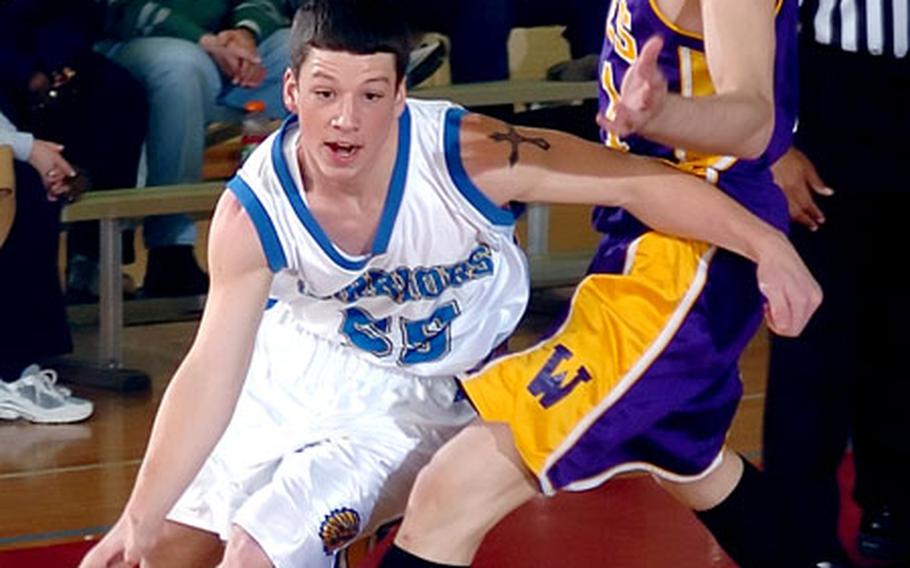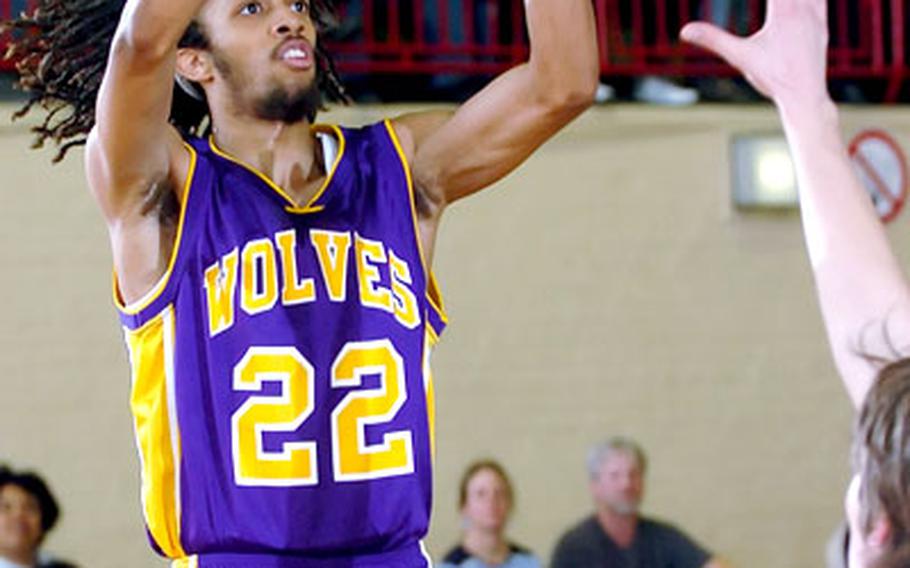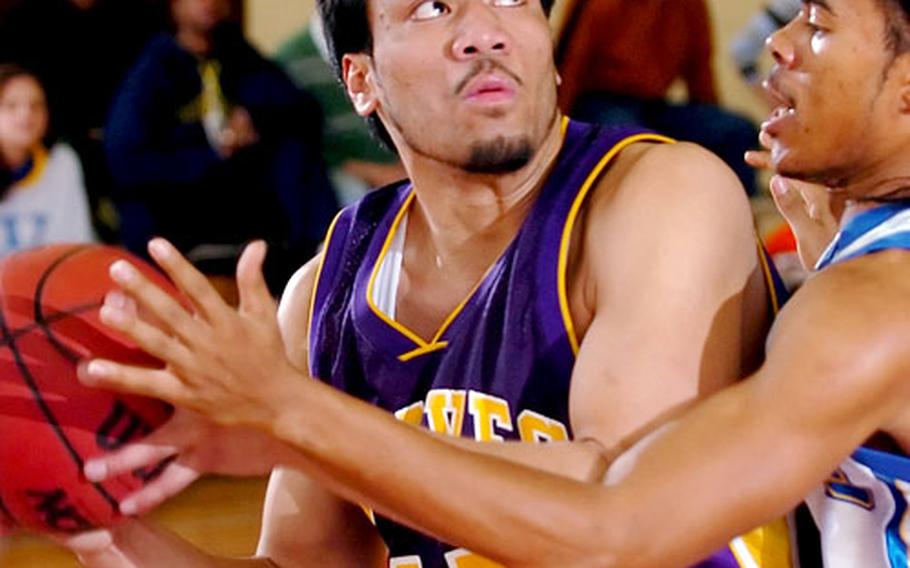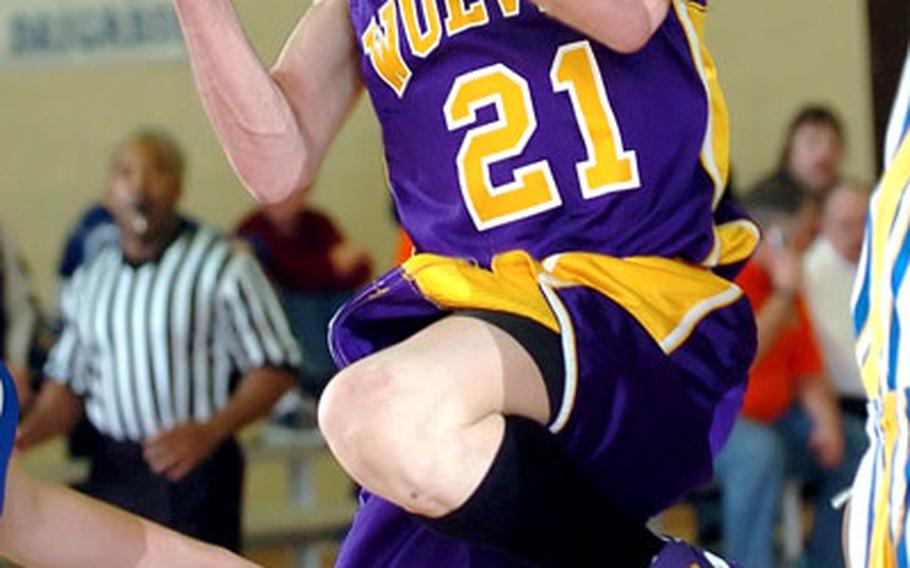 MANNHEIM, Germany — Fittingly for the hard-working Würzburg boys basketball team, it took an extra period for them to subdue Wiesbaden 62-58 and wrap up their second straight European Division I championship.
"We run hard for an hour-and-a-half every day at practice," junior center Soo Soo Taulelei said after his Wolves had scurried up and down and back and forth for 36 minutes Friday night. "There's no one who can stay with us."
Wiesbaden managed to stay with the all-pressure, all-the-time Wolves for the first four quarters, evading defeat in regulation when Würzburg's Donald Bryant missed the front end of a one-and-one with 9.2 seconds to play and his team ahead 55-53. Wiesbaden's Anthony Smith rebounded, pushed an outlet pass down the left sideline to Bryce Lee, who fed Shannon McCray for the game-tying layup as the buzzer sounded.
That free throw was the only one Bryant missed all evening. He was 7-for-7 previously, and finished with 16 points.
Free throws, which had carried the Wolves up until the end of regulation, loomed large again in overtime. Jamell Johnson converted a one-and-one and sank a field goal in the first 1:34 of OT to get the Wolves the four-point lead they kept to the end.
"I didn't want to miss," said Johnson, who scored only one point in regulation. "Free throws win the game."
They won this one. The Wolves went 21-for-29 from the line; Wiesbaden 2-for-3. Wiesbaden made so few trips to the line because Würzburg, for all of its incessant and intense pressure, never put the Warriors into the bonus. The Wolves, on the other hand, were in the bonus more than four minutes in each half.
Taulelei, despite missing four straight tries on the double bonus in overtime, was 9-for-14 from the line and scored 17 points.
Taulelei's 8-for-9 shooting from the line in regulation was critical in helping Würzburg endure a barrage of three-pointers in the first three quarters. The Warriors, led by tournament MVP David Bradford's four and all-tournament player Jay Parker's three, sank 10 of 18 from behind the arc. But they were 0-for-4 on threes in the fourth quarter and overtime.
"We had to make an adjustment," Würzburg coach Allen Archie said. "We weren't rotating back properly after the press. We had to get out on them."
Still, the three-pointers had the Wolves worried. They lost their regular-season game, and the top seed, the week before in Wiesbaden on a buzzer-beating three.
"I was thinking it was going to end like the last game," said Taurean Powell, who came off the bench to energize the Würzburg press and score eight points. He also grabbed eight rebounds. "It was a hard game."
Bradford led all scorers with 19 points. Parker finished with 13 after a 10-point opening half that ended tied at 33. The game was tied six times thereafter, and Wiesbaden led by as many as five in the second half before the Wolves scrambled back.
"We had to come back," Würzburg all-tournament player Johnathan Ortiz said. "We played the game we know how to play."
DODDS-Europe boys basketball championshipsMANNHEIM, Germany — Results from the DODDS-Europe basketball championship tournaments, which ended Saturday.
Division I
Friday's late results
Third place
Ramstein 57, Kaiserslautern 55
Championship
Würzburg 62, Wiesbaden 58 (OT)
Würzburg.....16 17 13 9 7-62
Wiesbaden.....23 10 16 6 3-58
Scoring—Würzburg: Soo Soo Taulelei 17, Donald Bryant 16, Johnathan Ortiz 9, Taurean Powell 8, Dominick Lee 7, Jamell Johnson 5; Wiesbaden: David Bradford 19, Jay Parker 13, Shannon McCray 9, Bryce Lee 8, Thomas Lawler 4, Gerald Castilloveitia 3, Anthony Smith 2.
Division II
Friday's late result
Third place
Aviano 42, Bitburg 34
Saturday's game
Championship
Hanau vs. SHAPE, late.
Division III
Friday's late results
Semifinals
Ansbach 53, Sigonella 51
Bamberg 83, Vicenza 63
Saturday's results
Third place
Vicenza 50, Sigonella 43
Championship
Bamberg 71, Ansbach 64
Ansbach.....13 9 18 24-64
Bamberg.....14 6 23 28-71
Scoring—Ansbach: Zach Harmon 18, Dominique Whaley 14, John Willis-Morris 13, Xavier Sheppard 9, Tyler Sherman 8, Lee Rodriguez 2; Bamberg: Dillon Baker 19, Carlos Zapata 16, Marvin Gholston 15, Josh Frank 13, T'Andre Stuckey 7, Barrett Simmons 1.