Europe H.S. basketball tournaments: Bamberg boys end Ansbach's inspired Division III run
by
Rusty Bryan
February 26, 2006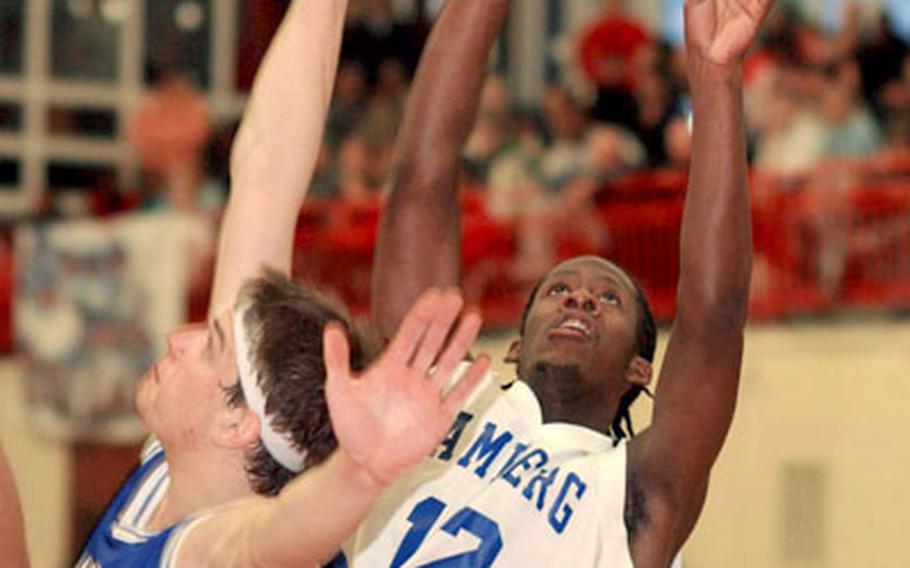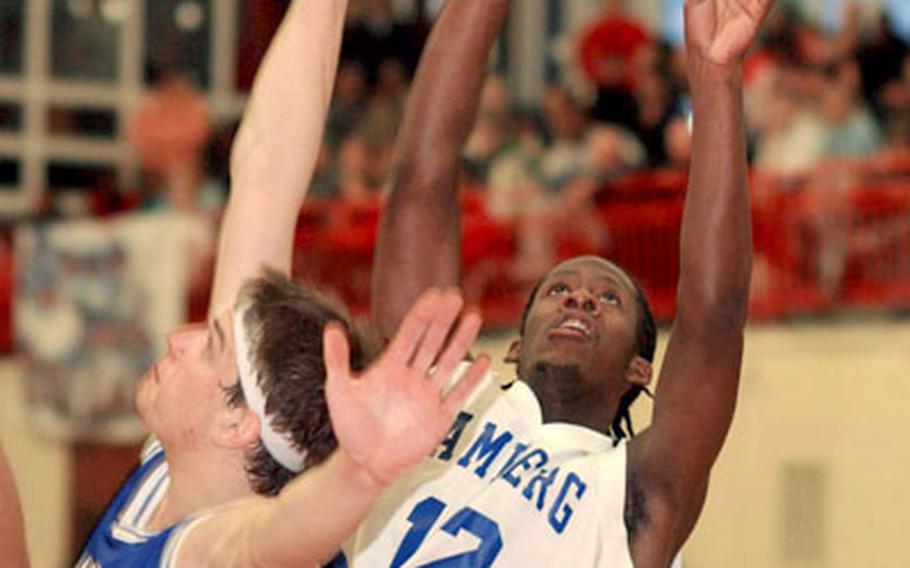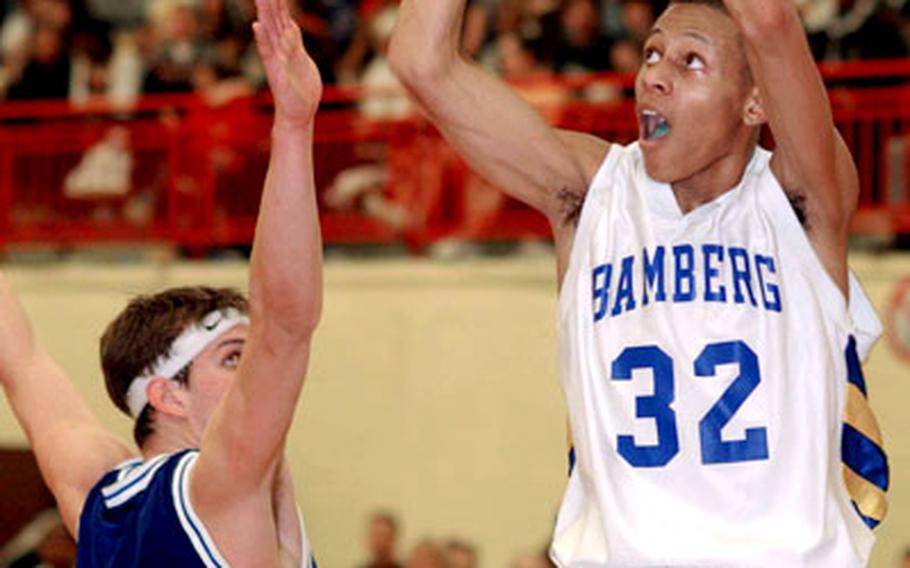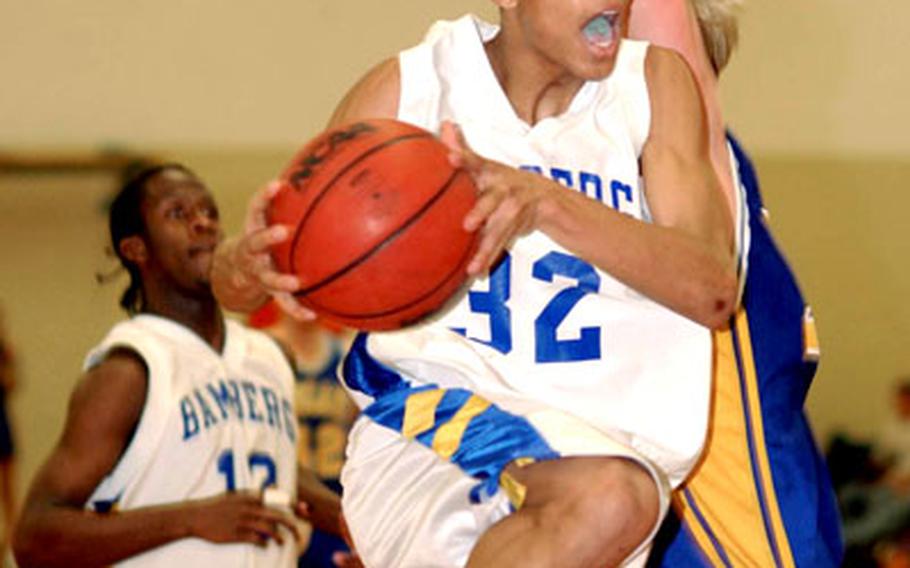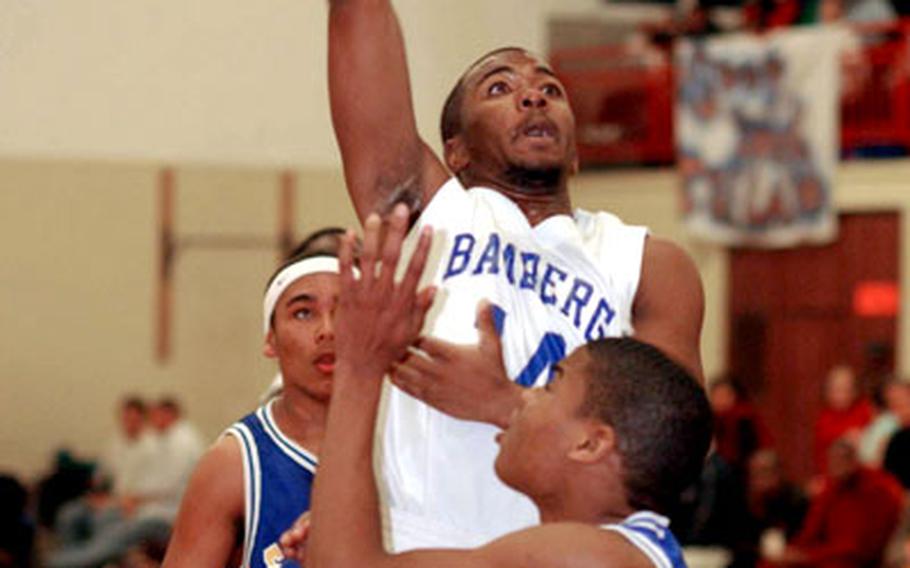 MANNHEIM, Germany — Bamberg completed its rebound from an opening-game loss in the 2006 boys European Division III basketball championship tournament by overcoming the Cinderella Ansbach Cougars and a bit of a scoring controversy to claim a 71-64 title-game victory.
"We had to win the old-fashioned way," Bamberg junior Dillon Baker said of a first-half scoring mix-up that saw the Barons lose two points from the scoreboard and Ansbach gain one.
Officials conferred for several minutes on the problem, and although he disagreed with the final math, Bamberg coach Charles Jordan graciously ended the conference by pleasantly abiding with the decision.
"We'll play a good game anyway," he said, then adding after the game: "We try to do the right thing."
The Cougars, who are perennial football powers but who haven't won a European basketball crown since 1980, matched the Barons every step of the way until their inside presence, senior Zach Harmon and junior Tyler Sherman fouled out. Sherman departed in the third quarter and Harmon with five minutes to play as Bamberg began pulling away from the 2-12 team they had beaten twice during the regular season.
"They peaked at tournament time," Jordan said in explaining Ansbach's rise from the No. 7 seed to the title game. "They got more players and they're playing well."
Jordan said that getting Harmon and Sherman out of the game was key.
"When we got the big guys out of there, we tried to step it up," he said. He said Josh Frank, with 13 points and 11 rebounds, tournament MVP T'Andre Stuckey who scored seven points Saturday, and leading-scorer Baker, with 19 points, "really stepped up."
Bamberg center Carlos Zapata, a senior who scored 16 points and made 10 rebounds, wasn't sorry to see Sherman and Harmon sit down, either.
"They were beating me up pretty good down there," he said. "Defensively, they were killing us."
The answer, Baker said, was to go at them.
"If you take it to them in the beginning, you won't see them at the end," he said after Bamberg put the game away with a 10-5 run over the game's last 2:20.
The loss was disappointing but not devastating for Ansbach's Harmon, a senior who led his team with 18 points. He also collected 10 rebounds.
"We came in 2-12," he said. "I'm proud of coming in second."
Ansbach sophomores Dominique Whaley and John Willis-Morris, who took charge when Harmon and Sherman departed, added 14 and 13 points, respectively, and earned the respect of Bamberg's Stuckey.
"They're pretty good," he said. "You can't underestimate any team."
DODDS-Europe boys basketball championshipsMANNHEIM, Germany — Results from the DODDS-Europe basketball championship tournaments, which ended Saturday.
Division I
Friday's late results
Third place
Ramstein 57, Kaiserslautern 55
Championship
Würzburg 62, Wiesbaden 58 (OT)
Würzburg.....16 17 13 9 7-62
Wiesbaden.....23 10 16 6 3-58
Scoring—Würzburg: Soo Soo Taulelei 17, Donald Bryant 16, Johnathan Ortiz 9, Taurean Powell 8, Dominick Lee 7, Jamell Johnson 5; Wiesbaden: David Bradford 19, Jay Parker 13, Shannon McCray 9, Bryce Lee 8, Thomas Lawler 4, Gerald Castilloveitia 3, Anthony Smith 2.
Division II
Friday's late result
Third place
Aviano 42, Bitburg 34
Saturday's game
Championship
Hanau vs. SHAPE, late.
Division III
Friday's late results
Semifinals
Ansbach 53, Sigonella 51
Bamberg 83, Vicenza 63
Saturday's results
Third place
Vicenza 50, Sigonella 43
Championship
Bamberg 71, Ansbach 64
Ansbach.....13 9 18 24-64
Bamberg.....14 6 23 28-71
Scoring—Ansbach: Zach Harmon 18, Dominique Whaley 14, John Willis-Morris 13, Xavier Sheppard 9, Tyler Sherman 8, Lee Rodriguez 2; Bamberg: Dillon Baker 19, Carlos Zapata 16, Marvin Gholston 15, Josh Frank 13, T'Andre Stuckey 7, Barrett Simmons 1.