Europe girls soccer: Aviano win streak ends at 17 with tie against Naples
---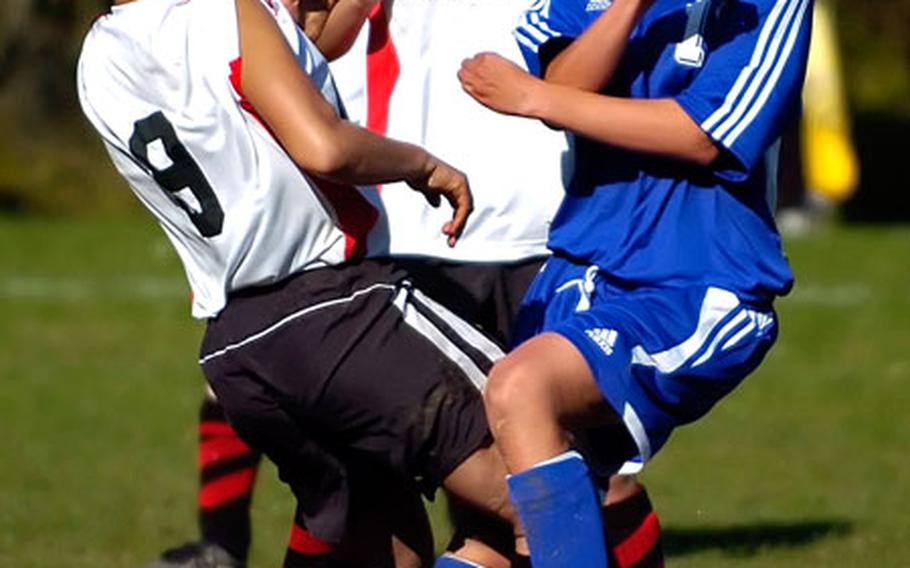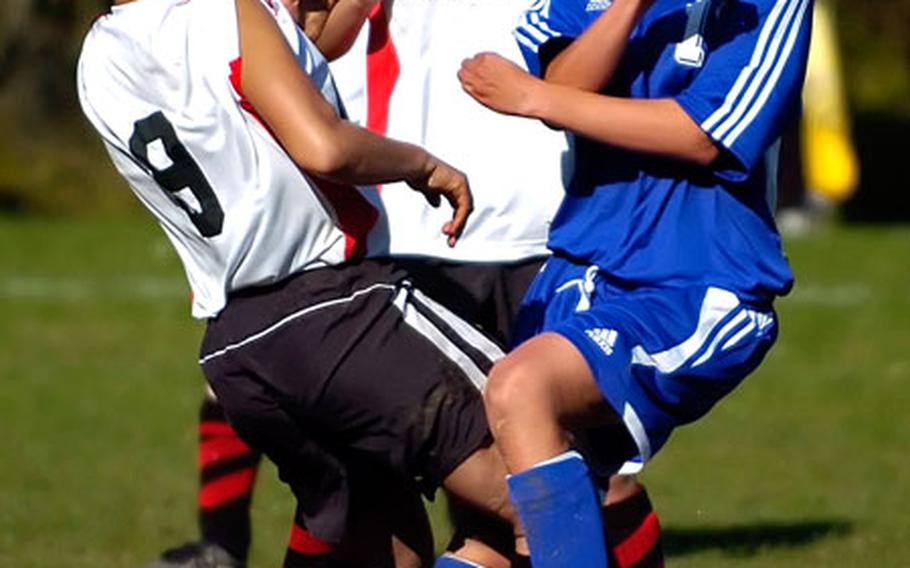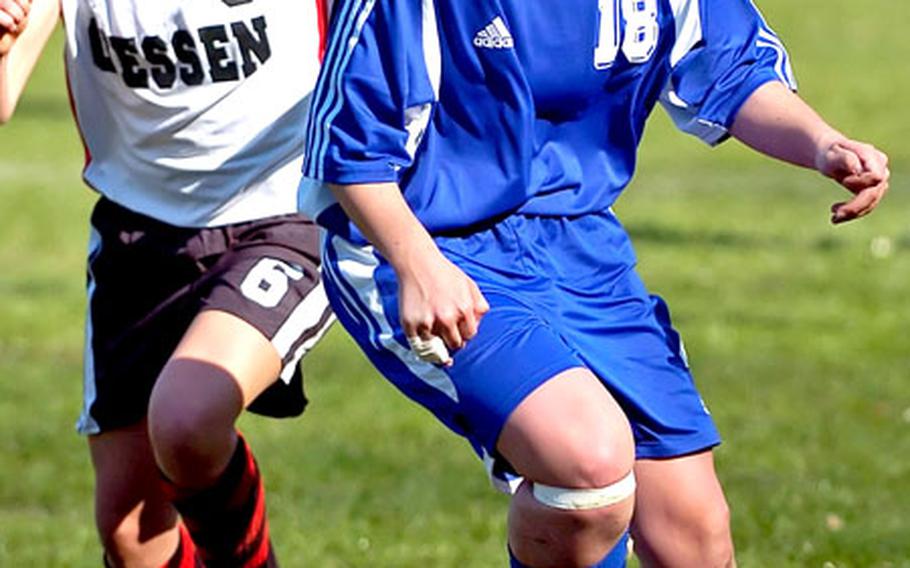 Aviano's 17-game winning streak came to an end, but its unbeaten streak reached 18 Saturday as the defending European Division III champions rallied for a 3-3 tie against host Naples.
All-Europe returnee Tracy Light scored twice for Naples in a game that was tied 2-2 at halftime. Aviano (2-0-1), which got a pair of goals from Rebecca Breedlove and a goal and an assist from freshman Anna Schrader took a 3-2 lead. But Naples (1-0-1) tied the game by converting a penalty kick with four minutes to play.
Schrader's goal was her sixth of the season — she also has two assists. Breedlove has found the net four times for Aviano.
"It was pretty good competition," said Ron Ginter, in his first season coaching Naples. "I'm happy with the outcome."
Aviano coach Pam Hillestad was impressed, as usual, with the effort of Light.
"It was strong, tough play," she said by cell phone as Aviano's bus headed home. "Tracy Light really came through when it counted."
Both teams play private schools on Thursday before departing for spring break. Aviano will host Milan, while Naples entertains the American Overseas School of Rome.
In other girls games of note:
Ramstein topples Heidelberg: At Ramstein, Germany, striker Sarah Moore scored twice, and Dorothy Stern converted a penalty kick and added an assist as Ramstein toppled the defending European D-I champion Heidelberg 4-1 on Saturday.
All-Europe returnee Mari Shakir and Julie Roberson scored the other goals for Ramstein (2-0 overall and 1-0 in D-I), which led 3-1 at halftime.
Defenders Katie Norris and Kate Fluker excelled for Ramstein defense, according to coach Ricardo Buitrago, whose team hosts Kaiserslautern on Thursday.
Heidelberg fell to 1-1 overall and 0-1 in D-1. The Lady Lions are off until April 23, when they host Würzburg.
Lakenheath, Würzburg tie: At Lakenheath, Josie Perez converted a second-half penalty kick to give the Lancers a 1-1 tie with the visiting Würzburg Lady Wolves.
After giving up a first-half goal to Würzburg's Amanda Mastrian, the Lakenheath defense, led by Brandi Baumgartner and sweeper Brittany Watkins, kept the Lancers close until Perez's kick tied the game.
Lakenheath is 0-1-1 overall and 0-0-1 in D-I. The game was the season-opener for Würzburg.
Ansbach nips Giessen: At Ansbach, Germany, Krysta Rangell's second-half goal lifted the Lady Cougars past Giessen 2-1.
Rangell, whose play in the second half was the difference in the game, according to coach Bruce Satterlund, beat Giessen goaltender Pia Coffman in the nonconference match. Coffman made 27 saves.
"Their goalkeeper was really amazing," Satterlund said.
Vilseck, Mannheim tie: At Vilseck, Germany, Mannheim's Tayeisha Jackson and Sarah Griggs matched scores with Jeannette Cortez and Jordan Hendrix as the teams battled to a 2-2 tie in a Division II game.
Both teams, according to Mannheim coach John Crockett, had scoring opportunites in the final five minutes, but both teams finished the day 0-1-1 in conference play.
Scoreless tie in Giessen: At Giessen, Germany, freshman sweeper Star Scott cleared two Brussels shots off the line to preserve a scoreless tie against visiting Brussels.
Giessen's freshman fullbacks Heather Martinez, Sascha Curry and Jasmine Salter also preformed well in front of keeper Pia Coffman, who made 10 saves.
Division I
Würzburg 1, Lakenheath 1
(Saturday at Lakenheath)
Halftime:Würzburg 1, Lakenheath 0. Goals: Wzbg: Amanda Mastrian; Lake: Josie Perez. Assists-None. Saves: Würzburg (Bianca Garcia) 10; Lakenheath (Megan Rabon) 2. Noteworthy: Coaches cited Würzburg defenders Sara Greenberg and Tory McKernan and sweeper Hali Butler and Lakenheath defender Brandi Baumgartner and sweeper Brittany Watkins for outstanding play. Lakenheath is 0-1-1 overall and 0-0-1 in D-1; Würzburg is 0-0-1 overall and in D-1. Both teams' next games are against Wiesbaden; Würzburg hosts the Warriors on Thursday; Lakenheath entertains them on April 23.
Ramstein 4, Heidelberg 1
(Saturday at Ramstein)
Halftime:Ramstein 3, Heidelberg 1. Goals: Heid: Julie Robertson; Rams: Sarah Moore 2, Mari Shakir, Dorothy Stern. Assists: Heid: Lauten Brousseau; Rams: Stern, Susie Fluker, Catherine Brennan. Saves: Heidelberg (Anamecia Torres) 10; Ramstein (Dallas Norman) 9. Noteworthy: Ramstein coach Ricardo Buitrago cited defensive efforts of Kate Fluker and Katie Norris.
Division II
Mannheim 2, Vilseck 2
(Saturday at Vilseck)
Halftime:1-1. Goals: Mann: Tayeisha Jackson, Sarah Griggs; Vils: Jeannette Cortez, Jordan Hendrix. Assists: Mann: Kelsey Chavarria; Vils: Becky Linka 2, Veronica Johnson. Saves: Mannheim (Shumila Moore) 8; Vilseck (Liz Watsek) 9. Noteworthy: Both teams are 0-1-1 overall and in league play after game in which Cathy de la Rosa and Lacey Wallen starred in defense for Vilseck.
Division III
Brussels 0, Giessen 0
(Nonconference game Friday at Giessen)
Saves:Brussels (Katie Weatherbie) 2; Giessen (Pia Coffman) 10. Noteworthy: According to Giessen coach Edwina Smith, Giessen sweeper Star Scott made two saves and teamed with fellow freshmen Heather Martinez, Sascha Curry and Jasmae Salters to preserve the shutout. Caitlynn Quinn was cited for defensive work for Brussels.
Ansbach 2, Giessen 1
(Nonconference game Saturday at Ansbach)
Halftime:Giessen Griffins 1, Ansbach Cougars 0. Goals: Gies: Amanda Gray; Ansb: Alicia Contreras, Krysta Rangell. Assists: Ansb: Rangell and Ashley Spratley. Saves: Giessen (Coffman) 27; Ansbach (Zina Ryan, Jessica Svedberg-Miller 0. Noteworthy: According to Ansbach coach Bruce Saterlund, the outstanding second-half effort by Rangell made the difference in Ansbach's first game of the season. Giessen's sweeper, Scott, and defender Melanie Seitz were lauded for strong defensive play. Giessen is 0-2-1 overall and hosts Baumholder on Thursday.
Menwith Hill 2, Hohenfels 2
(Nonconference game Friday at Hohenfels)
Halftime:Menwith Hill 2, Hohenfels 1. Goals: MH: Christine Huff, Alex Younger; Gies: Tiara Walz 2. Assists: MH: Younger; Hoh: none. Saves: Menwith Hill (unavailable) 2; Hohenfels (Vanessa Turner) 2.
Alconbury 6, Hohenfels 1
(Nonconference game Saturday at Hohenfels)
Goals:Alc: Caitlin Laingen 3, Maribeth Simmons, Megan Kelly, Christina Arredondo; Hoh: Christi Renee Welch. Assists: Alc: Andrea Starr. Saves: Alconbury (Kim Woideck) 5; Hohenfels (Turner 4, Christina Compton 2) 6. Noteworthy: Hohenfels is 0-1-1 overall and next plays at Ansbach on Thursday. Alconbury is idle until it hosts Menwith Hill on April 23.
Brussels 4, Baumholder 0
(Nonconference game Saturday at Baumholder)
Halftime:Brussels 3, Baumholder 0. Goals: Whitney Haynes 2, Briana Fitch, Amy Exner. Assists: Unavailable. Saves: Brussels unavailable; Baumholder (Jessica Jerles) 8. Noteworthy: Brussels will take 2-0-1 overall record and 1-0 III-North mark into its next game, at home April 30 against Alconbury. Baumholder got the defensive effort of the game from Tiffany Guyette, according to coach Alex Mauldin.
Italy
Aviano 3, Naples 3
(Saturday at Naples)
Halftime:2-2. Goals: Avi: Rebecca Breedlove 2, Anna Schrader; Napl: Tracy Light 2, Michelle Aguila. Assists: Avi: Ashley Lynch, Schrader; Napl: Joanna Fearing, Tori White. Saves: Aviano (Ingrid Bratteng) 7; Naples (Kara Wales) 7. Noteworthy: Aviano (2-0-1) hosts Milan on Thursday. Naples improved to 0-1-1 and is to host the American Overseas School of Rome on Thursday.
---
---
---
---