Europe girls basketball: Wiesbaden, Patch get to the front of the pack in D-I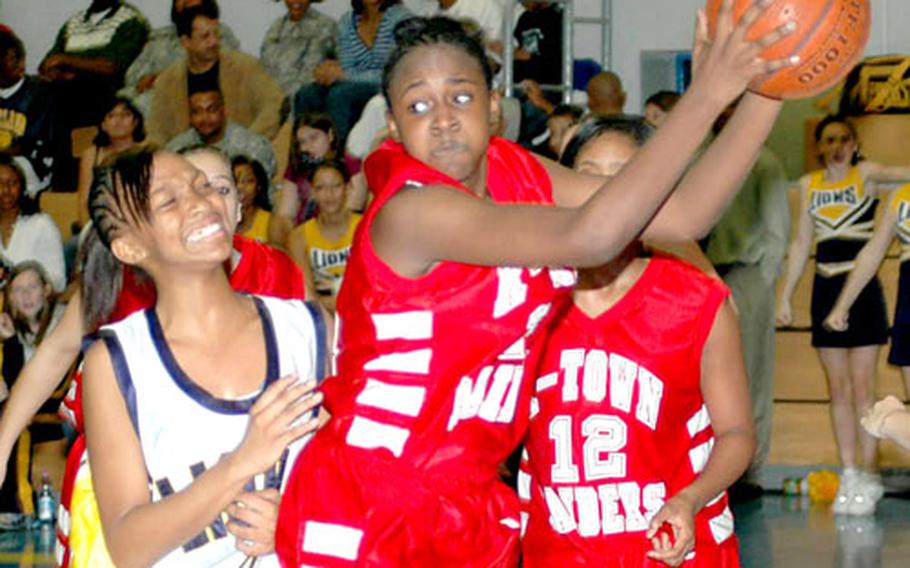 ¶ See game summaries on the scoreboard page.
Patch and Wiesbaden claimed league-opening victories Saturday and took the early lead in the Division I girls race.
Wiesbaden downed International School of Brussels 47-16 in Belgium, and Patch rebounded from a nonconference loss to visiting Lakenheath on Friday night to edge the Lancers 24-23 Saturday.
Nancy Jensen, with 14 points, and Lauren Hodge, with 10, led the way for Wiesbaden (3-1 overall, 1-0 in D-I) in the Lady Warriors' league victory.
At Patch, Kasy'e Lalau's 13 rebounds and eight points allowed the Lady Panthers to outscore Lakenheath 12-10 in the second half and go to 3-1 overall and 1-0 in the league.
In other girls games of note:
Ramstein 41, Heidelberg 33: At Ramstein, Kendra Lenoir scored 14 points and handed out five assists Saturday in a nonconference victory that kept the Lady Royals (3-0) unbeaten.
Crystal Richardson scored 10 points and added eight rebounds for Ramstein, which won by a single-digit margin for the first time this season. Its first two victories came on the road by 36 points at Bitburg and by 40 Friday at Mannheim. Lenoir scored 19 points in Friday's victory.
Kaiserslautern 27, Heidelberg 21: At Heidelberg, the Lady Raiders (3-0) stayed unbeaten with a road victory Friday.
Kaiserslautern's Brittany Smith had 14 points and 14 rebounds in a nonconference matchup between D-I schools.
Hohenfels 40, Würzburg 31: At Würzburg, Hohenfels got 20 points and eight rebounds Saturday from Vanessa Turner to move to 4-0. Brittany Merriweather made seven steals for the Lady Tigers, who don't play again until Jan. 19 and 20 in a Division III-South showdown at Hanau.
Vilseck 58, Bamberg 20: At Vilseck, Cathy Dela Rosa and Ashley Hicks each scored 15 points as the Lady Falcons (4-0) wrapped up a home-and-home weekend sweep of Bamberg.
Vilseck, behind 12 points from Stevie Hood, won 51-17 Friday in Bamberg.
BFA 38, Baumholder 27: At Kandern, Germany, on Saturday, Black Forest Academy finished a sweep of Baumholder behind the experienced play of Stephanie Zub.
Zub, who scored 11 points in BFA's 45-20 victory Friday, came back to total 13 Saturday. Anne McClary had 13 rebounds, and Alyssa Krause made four steals in Saturday's victory.
SHAPE 46, Hanau 42: At SHAPE, Belgium, the Lady Spartans' super sophs, Ebonee De Vos and Ashley Jordan, made the difference Saturday as SHAPE (2-0) swept Hanau.
De Vos and Jordan each scored 18 points in the victory, aided by 16 rebounds by Jordan, eight rebounds and three blocked shots by De Vos, and four steals by Sarah Fowler.
SHAPE, which won 45-38 in overtime Friday, held on in the face of an 19-10 fourth quarter run by Hanau on Saturday.
De Vos registered 14 points and 17 rebounds Friday; Jordan had 12 points and 12 rebounds in the OT win.
La Tanya Wilson, who scored 17 points and made 10 steals on Friday, stole the ball six more times and scored 15 points to lead the way for Hanau (0-2) on Saturday.