Europe girls basketball: Sigonella loses first, but still wraps up ASIL title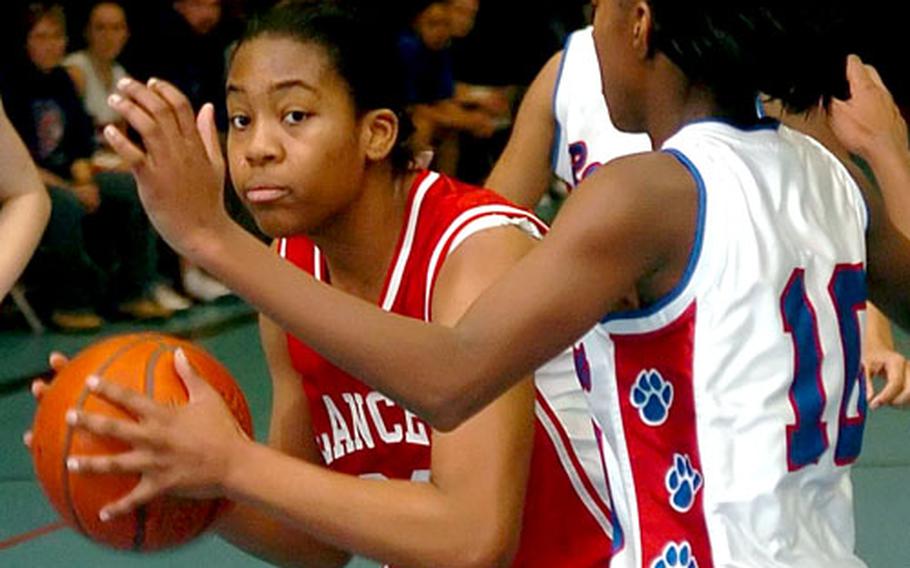 Sigonella lost its first game of the season Friday night at Aviano, but came back Saturday to wrap up the American Schools in Italy League regular season championship with a 44-41 conference victory.
On Friday, Kassie Mangosing led Aviano with 15 points, while sophomore Anna Schrader contributed 10 rebounds and Sandra Shipman eight steals in the 38-28 victory over the Lady Jaguars, who had won their first eight games.
But Dezira Manning, who scored 18 points Friday, scored 21 on Saturday to keep Sigonella perfect in conference play (5-0).
Saturday's loss left Aviano at 9-4 overall and 3-2 in the conference.
The outcome means that Sigonella could lose at winless Marymount this Saturday and still claim the ASIL crown on the head-to-head tiebreaker it owns over Naples, the only team in the ASIL with just one league loss. Naples hosts winless American Overseas School of Rome on Friday and Saturday.
It also means that only two girls' teams, Kaiserslautern and Mannheim, remain undefeated this season.
In other girls games of note:
Mannheim 44-50, Bitburg 32-41: At Mannheim, the Lady Bison stayed perfect (11-0) heading into their II-North showdown this coming Friday and Saturday at SHAPE.
Jasmine Lee scored 18 points on Saturday and 10 on Friday to fuel Mannheim, which will take a 4-0 league mark into Friday's game. SHAPE is 2-1 in league play and must win at least one of the games against Mannheim to keep their conference hopes alive.
Kaiserslautern 57, Ramstein 41: At Kaiserslautern, freshman Kamiko Williams scored 16 points to lead four Lady Raiders who scored in double-figures as K-town remained one game ahead of International School of Brussels and Lakenheath in the Division I race.
K-town is 3-0 in league play and has conference games remaining at Wiesbaden this Saturday and at Heidelberg on Feb. 17. ISB, which swept visiting Würzburg on Friday and Saturday, closes out its Division I schedule this Saturday at Lakenheath.
Lakenheath 64, Heidelberg 60; Lakenheath 42, Ramstein 39: The Lady Lancers claimed two road conference victories to stay alive in Division I.
On Friday at Heidelberg, Angela Gafford broke loose for 26 points and 12 rebounds to help the Lancers outscore their hosts 39-34 after intermission.
Saturday at Ramstein, Brittany Oswald stole the ball and scored with seven seconds to play to seal the victory.
Hanau 39-41, SHAPE 38 (OT)-39: At SHAPE, Belgium, Hanau's defending European Division II champions used an overtime basket from Alexis Padgett to pull out Friday's game, then survived a combined 27 points and 27 rebounds by SHAPE's freshman stars, Ashley Jordan and Ebonee DeVos, to sweep the two tightly played games.
Incirlik 28-34, Ankara 10-12: At Incirlik, the home-team duo of Chanelle and Charmaine Santos combined for 50 points to help the Hodjas complete a four-game sweep of their American Schools in Turkey rivals. Both teams will play in the European Division IV tournament Feb. 23-25 in Mannheim, Germany.