Europe girls basketball roundup: Freshman helps K-town kick off season with sweep
by
Rusty Bryan
December 4, 2005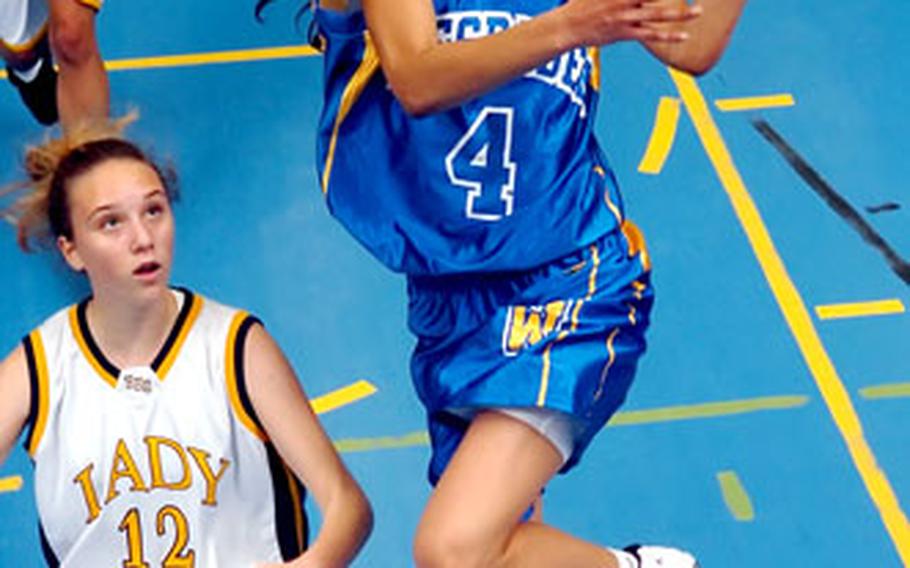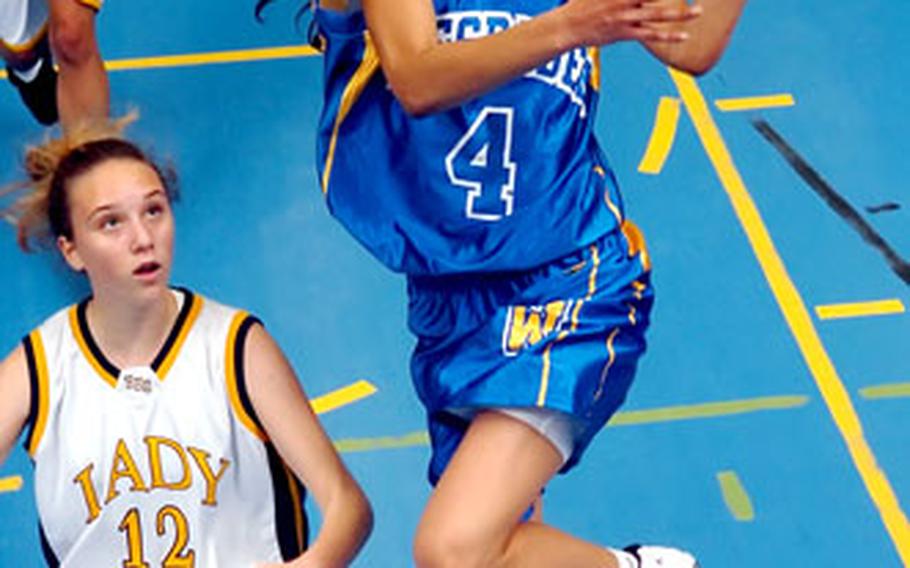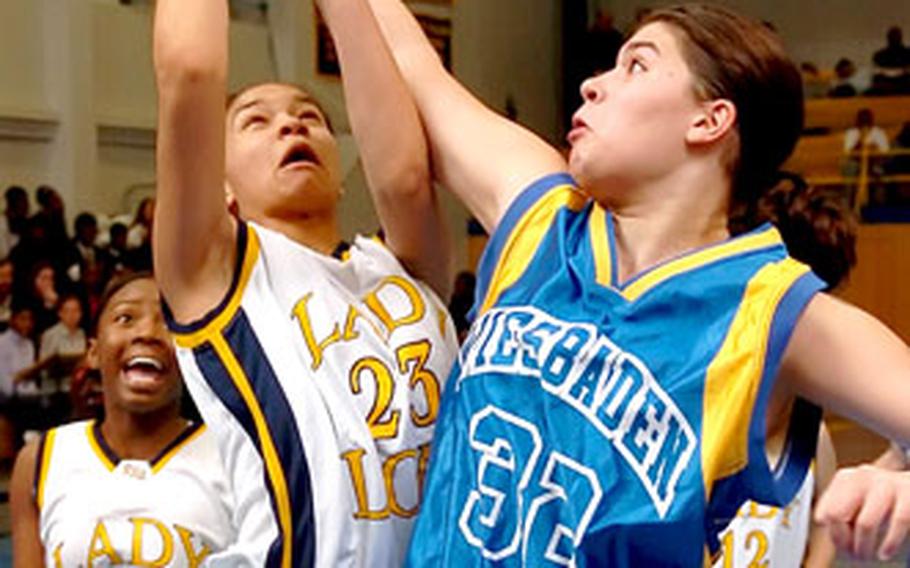 KAISERSLAUTERN, Germany — Freshman Kamiko Williams made a memorable basketball debut Friday night, coming off the bench to score 22 points and lift Kaiserslautern to a 44-38 victory over the International School of Brussels in a nonconference game between Division I teams.
Williams, daughter of longtime U.S. Army Europe men's star Vincent Williams, went 9-for-16 from the floor and 2-for-5 from three-point range. She also grabbed eight rebounds, made three steals and blocked a shot.
On Saturday, K-town defeated ISB 43-30 in the game that counted in the conference standings. Lynndsey Hyter scored 21 points and Williams added eight to help the Lady Raiders become the only Division I team with a conference victory.
Williams, who spent her middle school years leading boys teams to Youth Services titles, said the high school game is "way different." She scored nine points in the second quarter Friday to help her team take a 27-16 halftime lead.
As ISB cut into the Lady Raiders' lead in the fourth quarter, Williams responded with nine points to seal the victory.
"ISB is a good team," said K-town senior All-Europe first-teamer Bianca Gerena-Perez. "We were scared of them. They are the smartest and tallest team we play."
ISB's Megan Gibson, an All-Europe second-teamer, scored her team's first 10 points. Four field goals came off feeds from 2004 All-Europe first-teamer Caelan Crotty.
K-town held Gibson and Crotty to three total field goals over the next two periods.
In other games:
Ramstein 40, Wiesbaden 38At Wiesbaden, defending Division I champion Ramstein dominated the boards Saturday and escaped with a nonconference victory in coach Kathy Kleha's debut.
Kaylen Bannister, a 6-foot-3 center, led the way with 12 rebounds. Crystal Richardson had 11 and Kendra Lenoir added 10.
Wiesbaden 53, Heidelberg 50At Heidelberg, Wiesbaden withstood the Lions' 18-point rally Friday night to earn a nonconference victory.
Wiesbaden's Nancy Jensen had 19 points and 17 rebounds.
SHAPE 45-52, Lakenheath 25-22At SHAPE, Belgium, freshmen Ashley Jordan and Ebonee DeVos had fine debuts for the Lady Spartans in a weekend sweep.
Jordan led all scorers both days, with 10 points Friday and 20 on Saturday, when she also had 11 rebounds and nine steals.
DeVos had nine points Friday and eight points and eight rebounds Saturday.
Returning stars Ashley McGee and Devina Marquez also excelled. Marquez had six points and six assists on Friday and seven steals on Saturday. McGee had eight- and 13-point games and contributed seven assists Saturday.
Baumholder 53, Alconbury 24; AFNORTH 53, Alconbury 28At Alconbury, England, the defending Division IV champions struggled to fill the void left by Carly Bascom, Christina Arredondo and Katie Schonder, all of whom transferred.
Returning All-Europe selection Latisha Schelhas scored 23 points in Baumholder's victory on Friday.
AFNORTH's Whitney Pieterse, coming off a 14-point performance in Friday's 44-9 victory at London Central, had 16 points and 16 rebounds Saturday.
Sigonella, Naples, Aviano sweepIn American Schools in Italy League play, perennial powers Aviano, Naples and Sigonella won games Friday and Saturday.
Aviano, under new coach Terry Hoffman, had 53-13 and 49-9 courtesy-rule victories at Marymount International of Rome. Naples did the same to visiting Milan, 57-16 and 63-23, and Sigonella swamped visiting Vicenza in Saturday's conference game 49-9. That victory followed a 43-33 nonconference victory Friday.