Europe girls basketball: Naples takes two from visiting Aviano
---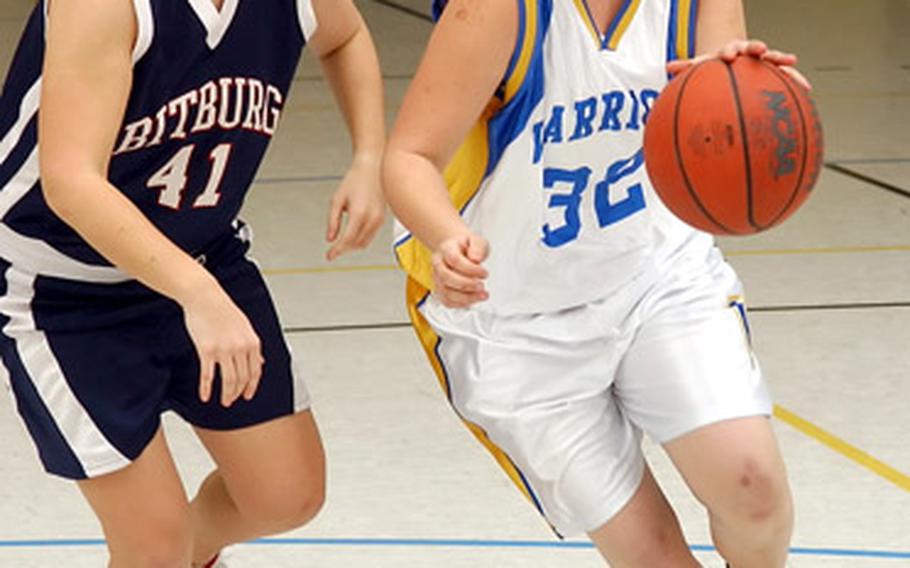 Renna Damon grabbed 10 rebounds, handed out seven assists, pulled off six steals and scored 10 points Saturday as the Naples Lady Wildcats completed a two-game sweep of previously unbeaten Aviano with a 48-44 American Schools in Italy League victory at Naples.
On Friday night, Nyrika Davis scored 26 points to fuel a 49-39 non-conference victory over Aviano.
The victories catapulted Naples back into the league race, where the Wildcats are tied for second at 3-1 with Aviano. Both trail 4-0 Sigonella, which handed Naples its lone league loss on Dec. 10.
"I'm very proud of our girls this weekend," Naples coach Craig Lord wrote in an e-mail. "They showed a lot of heart."
Next up for Naples, which also got 13 points and nine rebounds from Kelsey Anderson on Saturday, is a four-team mini-tournament Friday and Saturday at Aviano, where Vilseck and Patch of Division II await, along with host Aviano. All four teams are entered in next month's European D-2 tournament at Mannheim.
In other girls' games of note:
Mannheim 30-46, AFNORTH 21-24At Mannheim, Kelsey Chavarria scored 13 points and pulled off five steals to lead the unbeaten Lady Bison to a Division II-North conference-opening victory on Saturday.
Shnita Camps had eight steals on Friday and seven more on Saturday as Mannheim improved to 7-0 overall.
Lakenheath 28-23, Würzburg 26-20At Würzburg, Angela Gafford grabbed 15 rebounds as Lakenheath kept pace with D-1 leading Kaiserslautern at 2-0 in conference games.
On Friday night, she hauled in a rebound and drove the length of the floor with time running out to sink the game-winning layup. For the weekend, Gafford scored 26 points and snared 25 rebounds.
Baumholder 68-61, Bamberg 34-28At Baumholder on Saturday, Tish Schelhas had 22 points, and Mandy Hoffman pulled down 10 rebounds as the Lady Bucs powered past Bamberg and improved to 8-0 overall and 2-0 in Division III-South.
Schelhas struck for 16 points and Hoffman had 12 rebounds in Friday's game.
Hanau 42-28, BFA 19-12At Hanau, the defending European D-2 champion rebounded from the previous Saturday's upset loss at Bitburg to claim the II-South lead with its Saturday victory over Black Forest Academy.
Michelle Brown scored 11 points on Friday and nine on Saturday for Hanau (7-1, 1-0), whose All-European, Kyri Bye-Nagel, scored 10 points and made 10 steals on Saturday.
SHAPE 41, Brussels 33
At Mons, Belgium, SHAPE's freshman stars, Ashley Jordan and Ebonee DeVos, combined for 22 points and 16 rebounds and blocked 12 shots Friday as the Lady Spartans of Division II defeated the Lady Brigands of D-3 to improve to 4-1.
---
---
---
---