Europe girls basketball: Brussels' defense keys win over ISB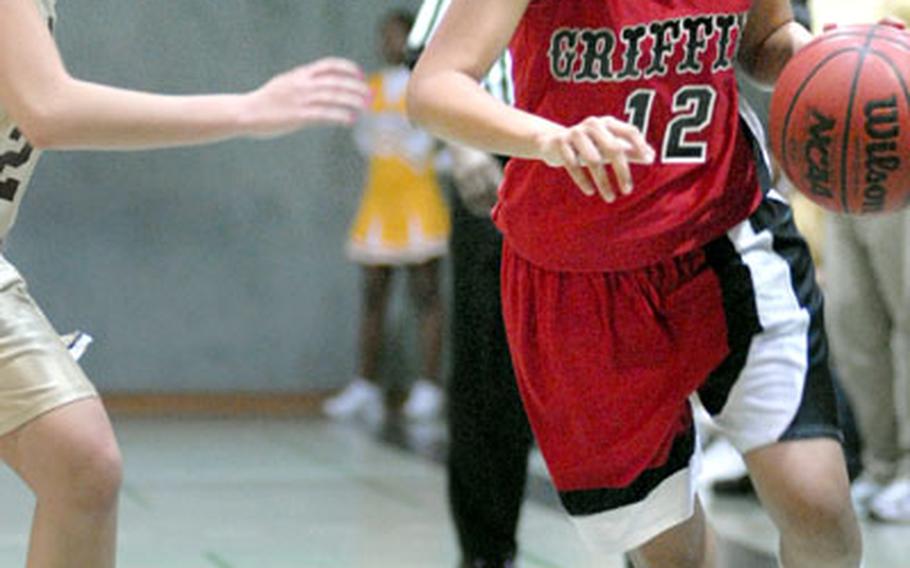 Brussels, the defending European Division IV girls champion, opened its season with a convincing 24-13 victory over its D-I neighbor, the International School of Brussels.
Reliesha Burns led the Lady Brigands with 11 points and 12 rebounds and the defense limited ISB to six points over the final three periods on Friday night.
Elizabeth McVicker and Kaitlyn Oppenheim helped Burns dominate the boards, claiming six and five rebounds, respectively, against an ISB team that lost all five starters from last season.
Caitlin Quinn dished out eight assists for Brussels.
In other girls games on opening weekend:
Naples 51, Sigonella 11: At Naples, Italy, the Lady Wildcats moved atop the American Schools in Italy League standings Saturday by posting their second double-digit victory in as many days.
Nyrika Davis, who scored 19 points in Friday's 51-23 league victory over Marymount International of Rome, poured in 23 points in Saturday's triumph that left Naples 2-0 in league play.
Darion Moon, who scored 15 points Friday, got 20 in Saturday's 40-point courtesy-rule victory over the defending European Division III champ. The Lady Jaguars fell to 0-2 in league play after a 51-31 defeat to Marymount, also on Saturday.
Vicenza 50, AOSR 23: At Rome, Chakeira Gilbert scored 41 points Saturday as the Lady Cougars rebounded from a 44-39 nonconference loss to American Overseas School of Rome on Friday.
Gilbert scored 27 points in Friday's loss.
Aviano 47, Milan 22: At Milan, Italy, Cherie McNeely scored 19 points and blocked six shots Saturday as the Lady Saints moved to 2-0 overall and 1-0 in ASIL play.
The blocks gave McNeely 13 for the weekend. She swatted away seven, and stole the ball four times, while scoring 14 points in Friday's 42-6 nonconference victory over Milan.
Hohenfels 37, Mannheim 19: At Hohenfels, the Lady Tigers of Division III completed a weekend sweep of D-II's Mannheim behind 21 points from Vanessa Turner and eight steals from Mica Nicholson.
Nicholson had 10 steals and a game-high 12 points in Friday's 40-21 victory.
"She has very quick hands," Hohenfels coach Joyce Dusenberry said of Nicholson on Saturday.
Heidelberg 29, Bitburg 28: At Bitburg, Shae Rogers sank a short jumper with four seconds to play Saturday to give the Lady Lions a victory over the defending European D-II champion.
The loss was the second to a Division I school in two days for Bitburg. Ramstein whacked the Lady Barons 60-24 on Friday night behind 22 points from All-European Kendra Lenoir.
Lakenheath 50, London Central 31: At Lakenheath, Janis Ready's Lady Lancers controlled the boards against their D-III foe. Tekeia Wallace and Anne Keenan each grabbed 11 rebounds, and Angelia Gafford added 10 rebounds and a game-high 15 points.
Patch 35, Bamberg 17: At Bamberg, Patch's Kasy'e Lalau put together a 50-rebound weekend as her Division I Panthers swept their D-III hosts.
Lalau snared 27 rebounds in Friday's 36-25 victory, and 23 on Saturday. She was also the game's top scorer both nights, getting 14 points Friday and 13 Saturday.
Giessen 49, Baumholder 38: At Baumholder, Elisha Darby poured in 20 points, Tiana Benjamin added 10 points and 14 rebounds and Amanda Gray chipped in 11 points and four steals for Giessen in the opening game for both teams on Saturday.
Jasmine Buchanan scored 18 points to lead Baumholder.