Europe Div. III football: Waters collects 353 yards as AFNORTH cruises to victory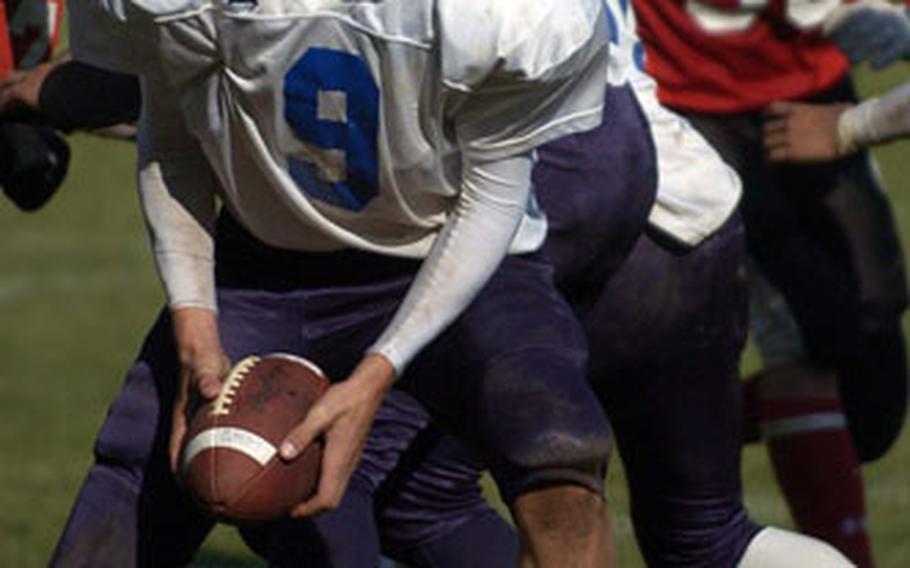 Jared Waters ran for 353 yards and five touchdowns to lead Division III-North champion AFNORTH to a 48-6 courtesy-rule victory Saturday over Menwith Hill at Brunssum, Netherlands.
Waters scored on runs of 63, 69 and 86 yards, according to AFNORTH coach Greg Blankenship.
"He broke a lot of tackles," Blankenship said. "You can't arm-tackle him."
Quarterback Brandon Wilson and receiver Romance Wade also made a big play for AFNORTH (5-0). They hooked up for an 85-yard touchdown pass.
Mike Chase, Mike West and Brandon Rousch combined to shut down the running game for Menwith Hill (2-3), Blankenship said.
Leshawn Adams broke a 65-yard scoring run for the Mustangs.
In other Division III games played Saturday:
Brussels 15, Rota 13At Brussels, Brad Hebring passed to Matt Oppenheim for one TD and ran 1 yard for the second as the Brigands (2-3) tied Rota and Menwith Hill for third place in III-North.
Matt Parker ran in the decisive two-point conversion as the Brigands staved off relentless pressure from Rota (2-3), which held the ball for 20 minutes of the 24-minute second half, according to Brussels coach Joe Fiedler.
Rota scored on a 24-yard run by Jesse Lubert and a 7-yard run by Tyrell Boddie, but a missed conversion hurt the Admirals.
Eric Popp, with 90 rushing yards and 17 tackles, led the way for Brussels. Brandon Pierce added 15 stops and Parker 14 for Brussels.
London Central 27, Alconbury 14At High Wycombe, England, Anthony Thomas rushed 24 times for 319 yards and two touchdowns as the Bobcats (4-2) secured other home seeding for Saturday's European D-III quarterfinals.
Clyde Thompson and Marvin Fitchett each rushed for touchdowns for London Central, which will host Bamberg on Saturday.
Ben Davis had a hand in both scores for Alconbury, which ended its season 1-4. Davis completed a 40-yard TD pass to Xavier Ferguson and ran 1 yard for another TD.
Sigonella 21, Giessen 6At Giessen, Mike Petty scored three touchdowns and ran for 155 yards as the Jaguars moved into Saturday's European D-III quarterfinals with their second victory of the season.
B.J. Washington had 67 receiving yards to lead Sigonella (2-3).
Giessen (1-4), playing without suspended quarterback Tim Battle and injured middle linebacker K.C. Brown, broke All-European C.J. Battle loose for 161 rushing yards on 11 carries. George Figueroa ran for 138 yards on 15 attempts in Giessen's final game of the season.
Bamberg 44, Vicenza 7At Bamberg, Marvin Gholston ran for two TDs and passed for a third as Bamberg (3-2) earned a trip to London Central for Saturday's D-III quarterfinals.
Barrett Simmons carried the ball 12 times for 201 yards and a TD for Bamberg, which got 103 rushing yards on 12 carries from T'Andre Stuckey. Daniel Herring scored twice, returning a punt 47 yards for one TD and running 8 yards for the other.
Vicenza, which scored on a 7-yard pass from Phillip Wiche to Jereil McNealy in the third quarter, ended its season 0-5.