Europe Div. III football: Ansbach sends Giessen out with a loss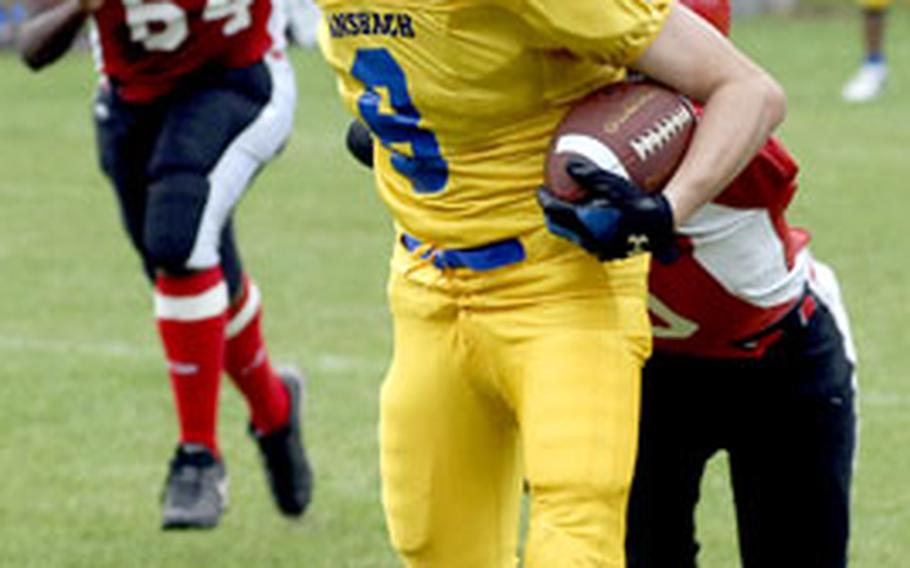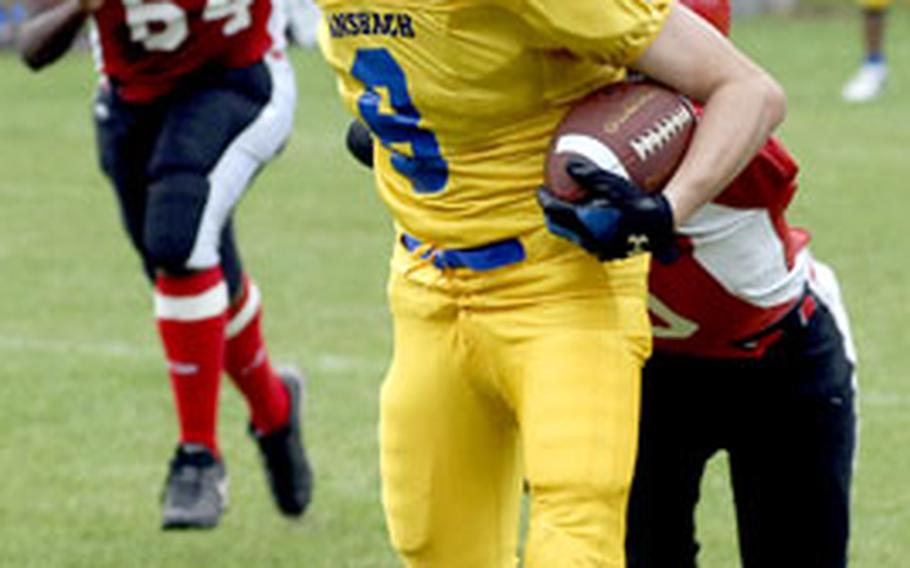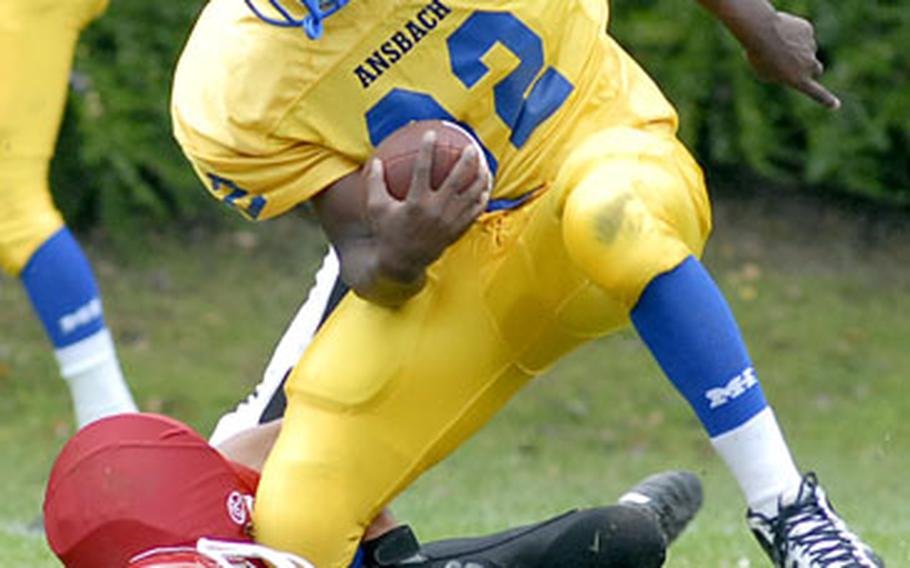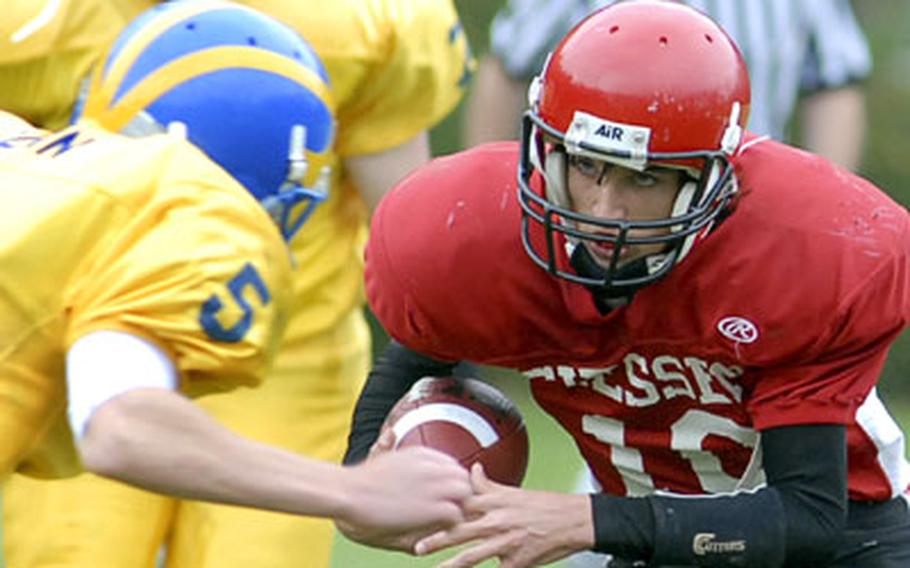 The last football game in the history of Giessen High School will go into the books as a 39-0 loss to Division III-South champion Ansbach.
Ansbach (5-0 overall and in Division III-South) got two long rushing touchdowns from quarterback John Willis and scored six times in the first half Saturday before scorekeeping ended at the 39-point DODDS-Europe courtesy-rule cutoff. Willis scored on runs of 48 and 32 yards on his only carries and completed three of five passes for 77 yards.
Also enjoying eye-popping yards-per-carry averages were Ansbach's Xavier Sheppard, who carried twice for 57 yards and a 31-yard touchdown; Thomas Graham, who carried once and picked up 43 yards and a TD; and Shane Williams, who scored on a 34-yard run. Josh Hale, with a 30-yard run, and Shane Williams, with a 34-yard burst, also scored.
Giessen (0-5 overall and in the league) saw quarterback Brett Jones complete five passes for 60 yards and get off a 65-yard punt. Timothy Fleming had 57 yards receiving and rushed once for 33 yards for Giessen, which is scheduled to close in June.
Rancel Arrocha led the defense with two interceptions and seven tackles for Ansbach, which will host the No. 4 seed from III-North on Saturday in the opening round of the European D-III playoffs.
In other Division III games:
Hanau 45, Sigonella 6At Hanau, Corey Lane rushed for two touchdowns and caught a pass for a third Saturday as the Panthers, in their first season in Division III, nailed down the No. 2 seed from the South.
Hanau quarterback Keven Faust also found Michael Lewis and T.J. Shulson with scoring strikes in this game in which scorekeeping ended in the second quarter because of the DODDS-Europe courtesy rule. Faust completed six of eight passes for 121 yards.
Lewis and Nate Espinoza returned pass interceptions for TDs for Hanau (4-1, 4-1), which will host the No. 3 seed from III-North on Saturday.
Sigonella (1-4, 1-4) got its TD in the first quarter on a 6-yard run by Nate Boneau.
AFNORTH 13, London Central 0At Brunssum, Netherlands, Brandon Wilson threw two touchdown passes Saturday, and Brock Blankenship, taking up the slack for injured Sascha Miller, rushed for 207 yards on 21 carries.
James Perea and Alex Reynolds hauled in the TD passes. Perea's play covered 44 yards and Reynolds' 54 as AFNORTH finished the regular season 5-0.
London Central (1-4, 1-4) got 16 tackles and two fumble recoveries from Alex Cook.
Dee Marbury carried 19 times for 77 yards and completed five of 16 passes for 98 yards for the Bobcats.
Rota 12, Menwith Hill 0At Menwith Hill, Tyrell Boddie and R.J. Curley posted TD runs Saturday for Rota (4-1, 4-1) as the Admirals clinched the No. 2 seed in III-North.
David Terris recorded three sacks and James Stovall had two more for the Rota defense. Admirals Ian Oayne and Greg Hymall also recorded interceptions.
Andrew Kaaihue had 13 tackles and Terry Cuddy 11 for Menwith Hill (2-3, 2-3), which will be the No. 4 seed in III-North.
Brussels 45, Alconbury 6At Brussels, quarterback Mike Hebing broke a 90-yard TD run on Saturday and eight Brigands scored in a game in which the final score was reduced to conform to the courtesy rule.
Brian Desrochers had one of the TDs among his 90 rushing yards as Brussels (3-2, 3-2) earned the No. 3 seed in III-North. Alconbury (0-5) completed its season.
Hohenfels 42, Bamberg 8At Bamberg on Friday night, Dameon Odum rushed for 291 yards and Brandon Merriweather 119 in the first half as the Tigers grabbed the III-South third seed.
All told, Hohenfels (3-2, 3-2), which will travel to Rota on Saturday to open its defense of its European D-III title, amassed 530 yards on the ground against a Bamberg team (2-3, 2-3) that could suit up just 17 players.