Europe Div. II football: Winkler field goal lifts Bitburg into semis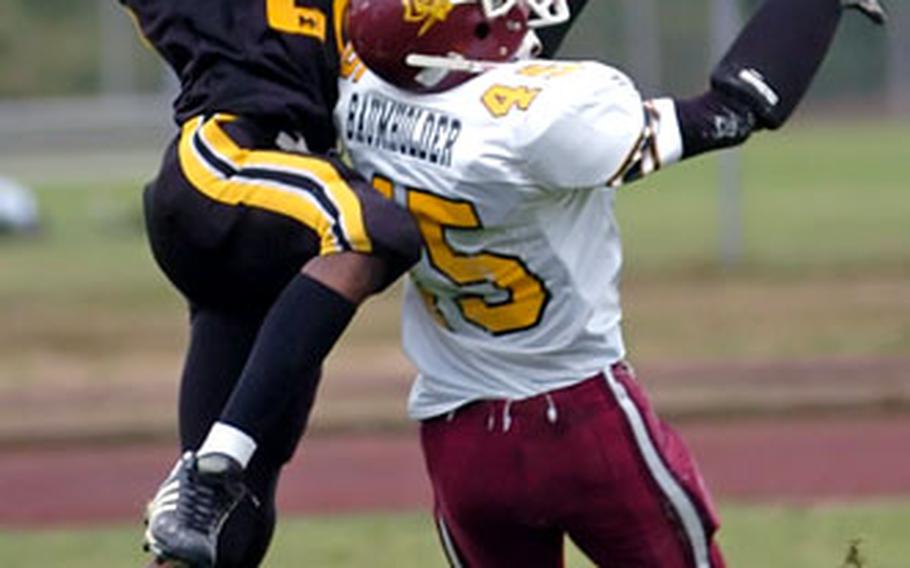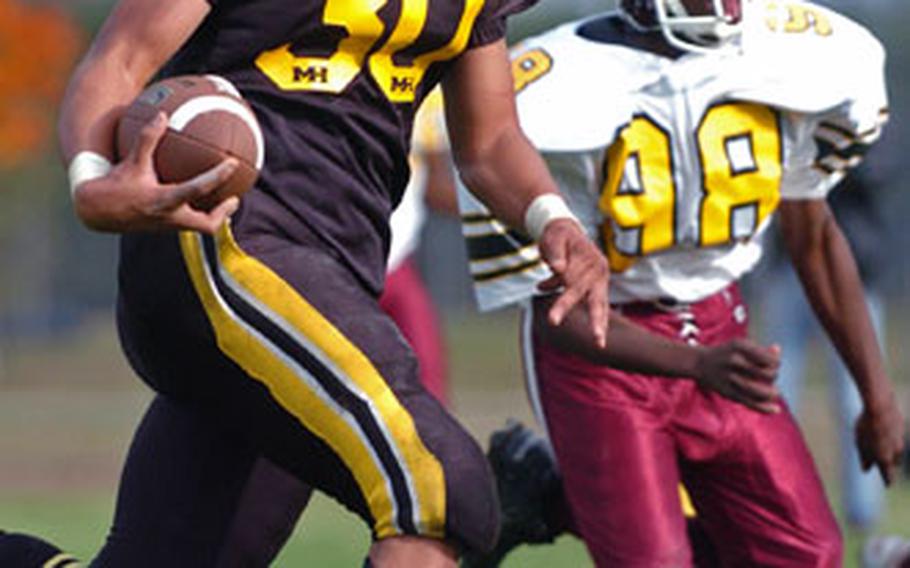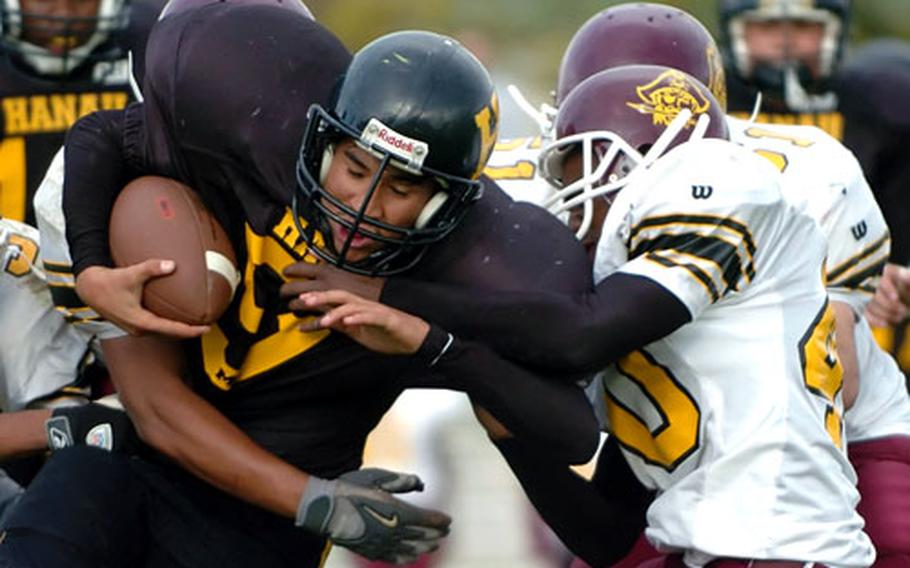 Chris Winkler kicked a 25-yard field goal Saturday to give visiting Bitburg a 24-22 European Division II quarterfinal victory over Naples.
The field goal, Winkler's second of the game, followed a 31-yard run to the Naples 8-yard line by Bitburg quarterback Alquel Hodges.
According to Naples coach Jim Hall, there was no time remaining on the clock when Hodges ran out of bounds after breaking three arm tackles. As the Naples players streamed onto the field, however, the officials conferred and put one second back on the clock.
The finish negated Naples' comeback from a 21-0 third-quarter deficit. Bitburg built that lead on a 27-yard field goal by Winkler, two touchdowns by Josh Collette — a 55-yard punt return and a 41-yard run — and a 35-yard TD run by Hodges.
But the Wildcats (4-2) rallied with third-quarter TD runs by Jason McKechnie and Austin Webb, and Webb's 61-yard run with 3:33 to play.
Naples took a 22-21 lead with 53 seconds left on a 20-yard field goal by Tyler White.
"Our kids played their hearts out," said Hall, whose team amassed 458 yards.
Webb, who also recovered a fumble and intercepted a pass, rushed 23 times for 219 yards, and Tyler Terronez was 13-for-23 passing for 186 yards. Danilo Stewart caught five passes for 101 yards.
Paul Stewart led the defense with 12 tackles; Michael Lafontaine had 11 tackles and knocked down two passes.
Bitburg (4-2) advanced to a semifinal at SHAPE on Saturday behind 115 rushing yards by Cory Legister and 95 from Collette. Chris Ramos led the defense with 12 tackles.
In Saturday's other Division II quarterfinals:
SHAPE 36, Aviano 0At Mons, Belgium, Quenton Fowler rushed for 116 yards and three touchdowns, all in the first half, as II-North champion SHAPE rolled into the semifinals.
Fowler scored on runs of 11, 62 and 29 yards as his offensive line, led by senior Keith Wagner, opened huge holes, according to SHAPE coach Kregg Kappenman.
Anthony Marquez ran 6 yards for SHAPE's other first-half score, and Doug O'Meara ran 3 yards for the final TD 1:53 into the third quarter.
Aviano passers found the going tough. Alejandro Villanueva knocked down three attempts and registered a sack; Danny Camarena intercepted two passes; and Jimmy Murtha and O'Meara each intercepted a pass for the Spartans.
Hanau 42, Baumholder 8At Hanau, Germany, Hanau scored 36 points in the first quarter and earned the right to host a semifinal against Patch.
Ivan James threw two touchdown passes, one each to T.J. Shulson and Trey Rinder; Malclom Lane returned an interception 60 yards for a TD; Aaron Ellison ran 43 yards and Rinder 29 yards for the other two first-quarter TDs.
Substitute Michael Lewis, who led the Panthers (6-0) with 86 yards on 20 carries, plunged over from the 1 in the fourth quarter for the final score.
Baumholder's (3-3) points came on a second-quarter safety on a tackle by Antonio Muzon and a 67-yard TD pass in the third period from Joe Scurlock to Michael Walker.
Patch 17, ISB 12At Brussels, Belgium, quarterback J.D. Lindsay connected with Matt Karr and Archie Barnes for scoring passes of 78 and 59 yards, kicked both extra points and added a 36-yard field goal to lead the Panthers (4-2) into a Division II semifinal at Hanau.
All of Lindsay's scoring came before halftime. So did two touchdown runs by Sebastian Steege, for 9 and 4 yards, for International School of Brussels (4-2).
Neither team could score after intermission, as drenching rains made execution difficult, according to ISB coach Rob Stewart.
ISB got 138 rushing yards from Lipman and 129 passing yards from Raphael Steege, who was 9-for-17 with one interception.
Patrick Thigpen and Alex Skelton intercepted passes from Lindsay, who went 5-for-11 for 162 yards and two TDs. Phillip Lipman, Will Kelly and Steege each had nine tackles for ISB.
Barnes led Patch with 11 tackles.