Europe Div. II football: Rodgers leads SHAPE on game-winning drive
by
Rusty Bryan
October 16, 2005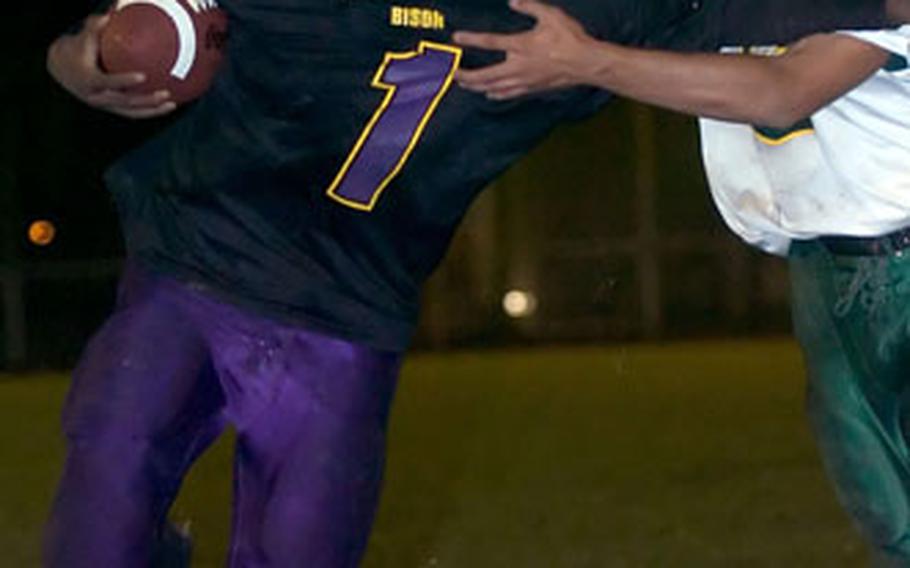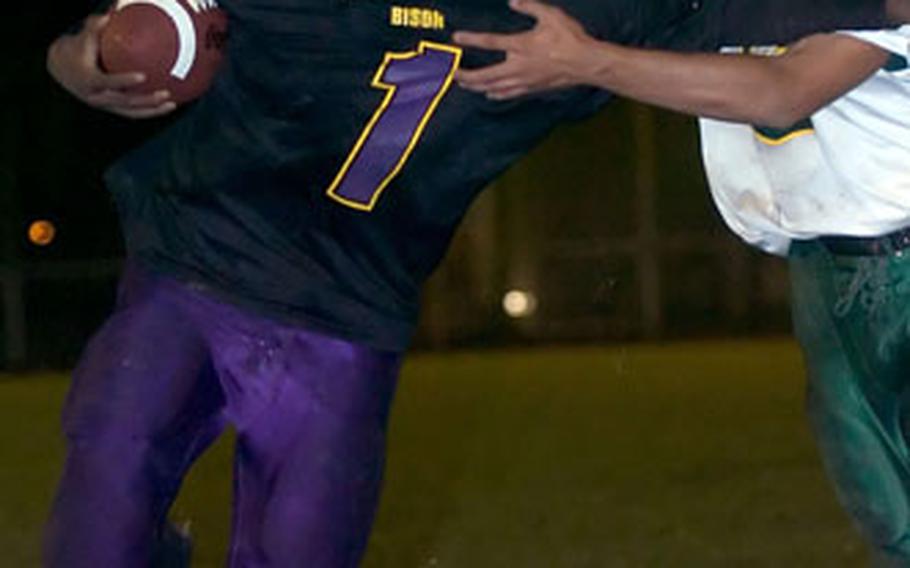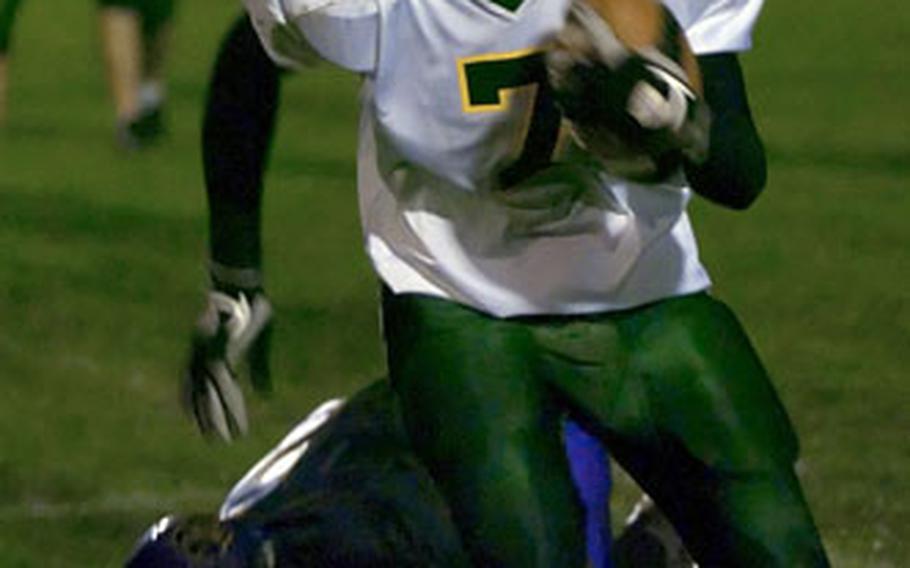 MANNHEIM, Germany — Guided by quarterback A.J. Rodgers, two-time defending Division II European champion SHAPE mounted a 15-play, 92-yard fourth-quarter drive Friday night to pull out a 22-18 victory over Mannheim.
The win, combined with Bitburg's 36-0 victory over Baumholder on Saturday, clinched the II-North conference championship for the Spartans.
"Champions find a way to overcome," said linebacker Doug O'Meara after his team finally shook off a night of fumbles and penalties which resulted in SHAPE (4-1 overall, 3-1 in II-North) trailing 18-8 at halftime. "We definitely needed this game."
Rodgers capped the winning drive by plunging over from the 1 with 3:51 left in the game. Senior Quenton Fowler, who scored SHAPE's first TD on a 28-yard first-quarter scamper and carried 20 times for 212 yards, ran in the two-point conversion that eliminated the possibility Mannheim might win on a field goal.
Asked whether he felt any pressure directing his team's winning drive that began with 8:17 to play, Rodgers answered, "Not really. We did it against ISB (a 14-13 victory on Sept. 24). We knew we just had to do it again. I know I can count on my teammates."
Particularly O'Meara, the play-everywhere senior. O'Meara who lined up at linebacker, running back and wide receiver Friday, pulled in a 12-yard completion from Rodgers on third-and-8 with 4:55 left that kept the winning drive alive.
And with Mannheim driving from its own 24 across midfield on its final push, O'Meara, who had 14 tackles and recovered a fumble, made a sure tackle on a double reverse that appeared set to break big.
"That play should have worked," said Mannheim running back Ricky Gardner. "He made a great defensive play."
Gardner scored all three Bison TDs, breaking a 65-yard run in the opening minutes, returning a fumbled lateral 60 and scoring on a 30-yard run, both in the second quarter, for the halftime lead.
But Zack Rabiego scooped up a Mannheim bobble in the third quarter and returned it 36 yards for the TD that got SHAPE back into the game and set the stage for the final drive.
The loss ended the season for Mannheim (0-5 overall and 0-4 in II-North). SHAPE will host Aviano on Saturday in the D-II European quarterfinals.
In D-II games played Saturday:
Bitburg 36, Baumholder 0At Bitburg, Cory Legister, Simon Shaw and Alquel Hodges each ran for two touchdowns as the Barons (3-2, 2-2 in II-North) passed Baumholder (3-2, 2-2) for third place in the final standings.
Legister, with 150 yards on 23 carries, and Shaw with 121 on 15, accounted for the bulk of Bitburg's 339 rushing yards. While they were breaking loose, Bitburg defensive ends Patrick Hardy and Colin Huffaker and outside linebackers Anthony Messina and Shaw were keeping Baumholder's Rashad Taylor, who was averaging nearly 200 yards per game, from running wide.
"We stressed keeping containment," said Bitburg coach Mike Laue. "He only made the corner one time."
With Taylor kept inside, Bitburg middle linebacker Chris Ramos made 13 tackles.
Both teams will travel for this Saturday's playoff games: Bitburg to II-South runner-up Naples and Baumholder to II-North champ Hanau.
Hanau 39, Vilseck 0At Vilseck, All-Europe running back Malcolm Lane ran 33 yards for one touchdown and tossed a 61-yard pass to Trey Render for another as the Panthers (5-0) nailed down the II-South crown.
The TD reception was the second of the day for Render, who hauled in a 7-yarder from QB Ivan James for Hanau's first TD. Aaron Ellison, Micah Williams and Stephen Oen all ran for TDs.
Vilseck ended its season 0-5, while Hanau will host Baumholder on Saturday in a playoff game.
Patch 54, Aviano 17At Vaihingen, All-Europe quarterback J.D. Lindsay threw three touchdown passes and ran for three TDs as the Panthers (3-2, 2-2) romped into a Saturday D-II quarterfinal game at International School of Brussels.
For the game, Lindsay rushed 13 times for 134 yards and completed 8 of 16 passes for 133 yards with one interception.
Aviano (1-4) travels to SHAPE for its playoff opener.
Naples 27, ISB 14At Naples, Austin Webb ran for three touchdowns and 163 yards as Naples (4-1, 3-1) claimed a nonconference victory.
Tyler Terronez passed for 32 yards to Jason McKenchnie for the other Naples TD. Terronez finished 10-for-15 for 125 yards.
All-European Phillip Lipmann ran for both TDs for International School of Brussels (4-1, 3-1), one of them a 90-yarder. He had 268 yards on 24 carries, while teammate Sebastian Steege had 104 on 18 attempts.
Paul Stewart had 18 tackles for Naples; Lipman led ISB with 13.