Europe Div. I football: Ramstein stays perfect with road victory vs. Heidelberg
by
Steve Mraz
October 8, 2006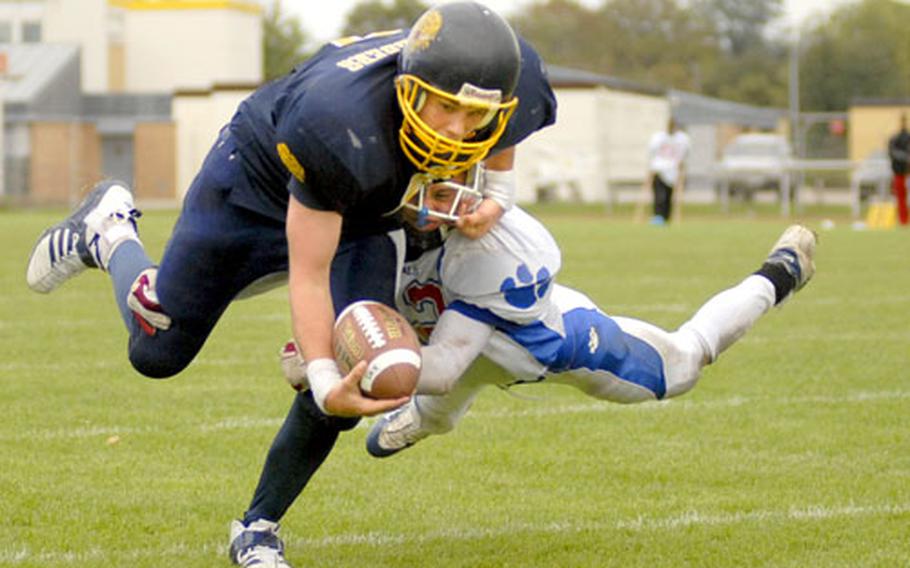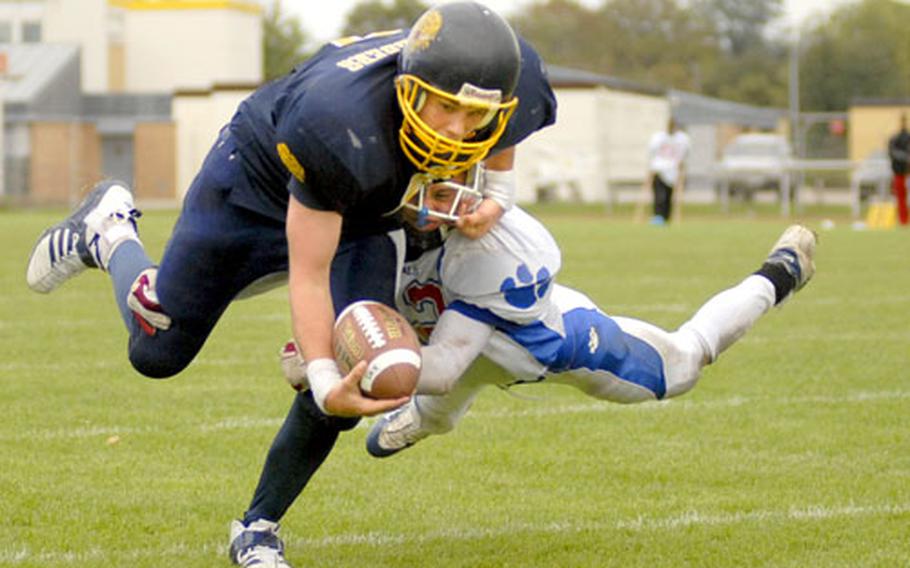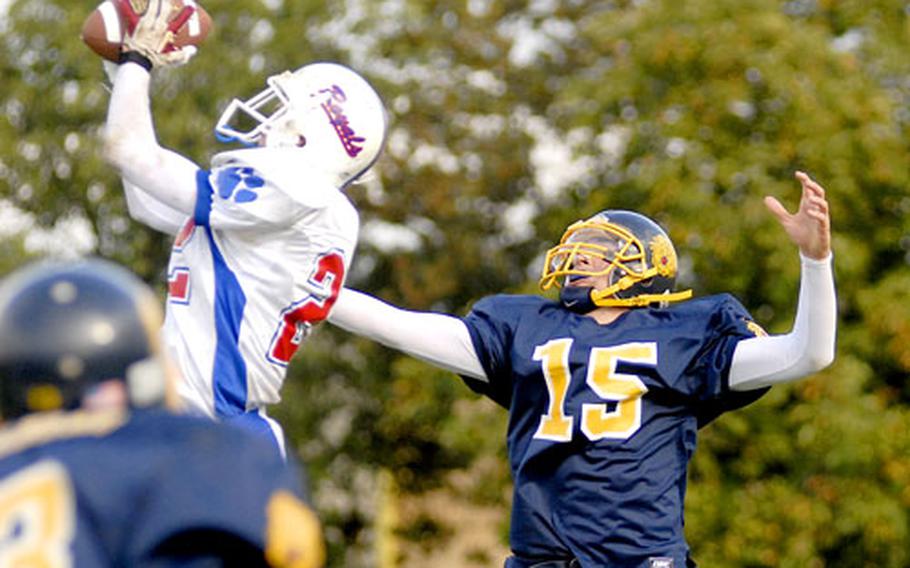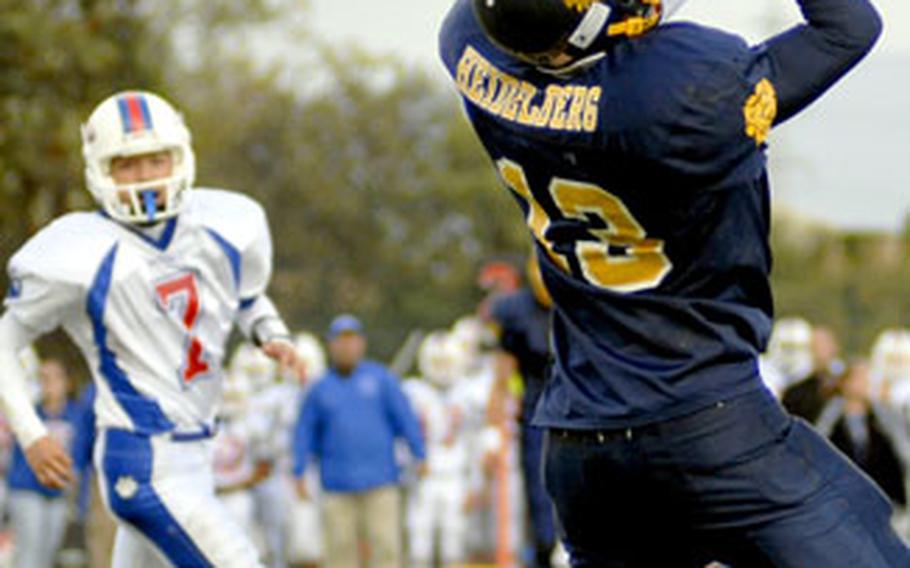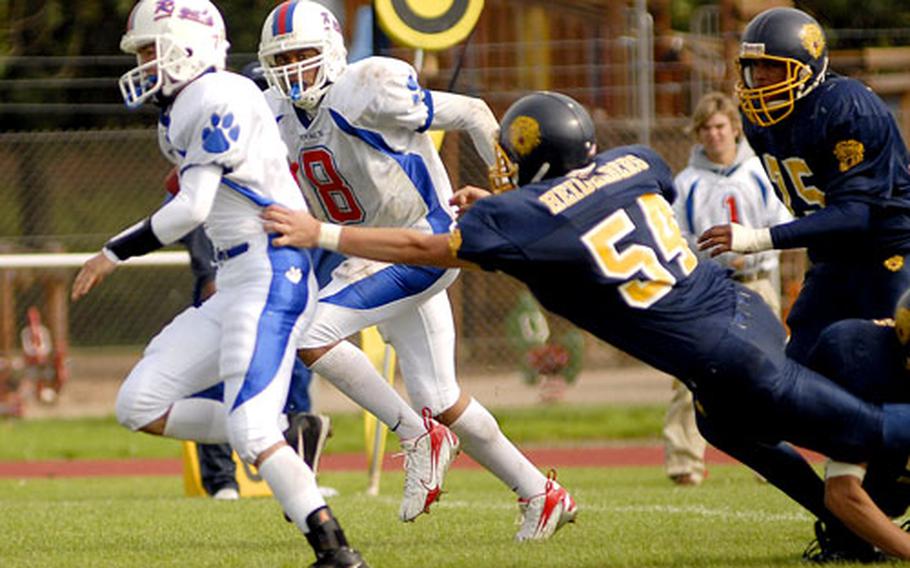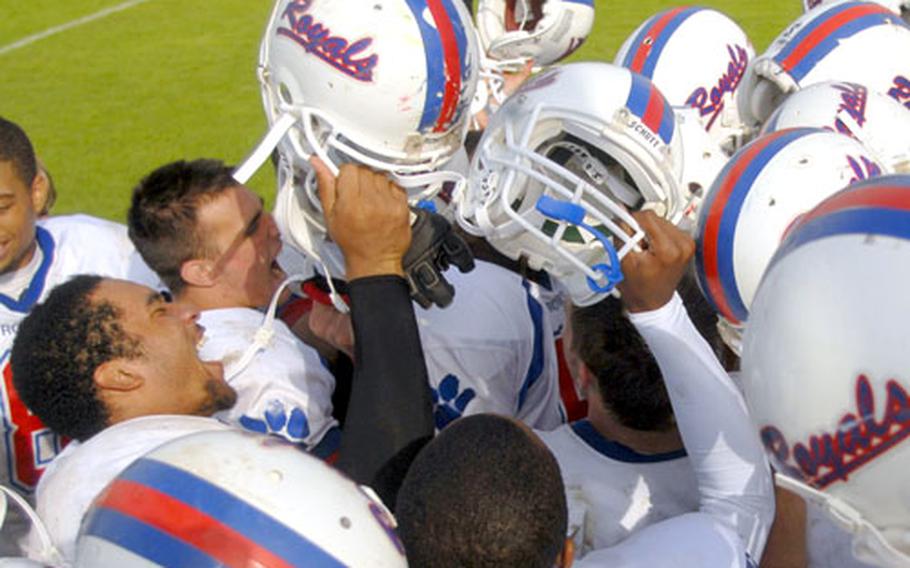 HEIDELBERG, Germany — The Ramstein Royals topped Heidelberg 14-7 in a Division I football game on Saturday, intercepting four passes and spoiling the Lions' homecoming.
Ramstein remained undefeated this season (4-0). Heidelberg's (2-2) only other loss came at the hands of Ramstein in a nonconference game on Sept. 16.
"With Ramstein and Heidelberg, it's always going to be a knock down, drag out, and it was," Ramstein coach Carlos Amponin said.
"Obviously, I am overjoyed that we were able to pull it off."
Heidelberg gained 186 yards to Ramstein's 134, and both teams had eight first downs.
Turnovers were the key, with the Royals defense recovering two fumbles in addition to the four interceptions. Ramstein junior Jake Garcia, who had two of the interceptions, returned the first for a touchdown. Junior Scott Sublousky sealed the Royals victory by hauling in an interception with 10 seconds left in the game.
For the second straight week, penalties plagued the Lions, who accumulated 11 infractions.
A Heidelberg fumble late in the first quarter led to Ramstein's first score. On the first play after the fumble recovery, Ramstein ran an option in which Aaron Jones broke loose for 37 yards. That set up Jon Keith's 4-yard touchdown on the following play.
Ramstein added another score midway through the second quarter when Garcia intercepted Matthew Howard-Darling's pass and ran 40 yards for a score. The PAT made it 14-0.
The Heidelberg defense took over in the second half, forcing Ramstein to punt on every possession in the third quarter. The Lions' Sean McIntyre recorded a team-high 13 tackles and a half-sack. The Royals didn't make a first down in the second half until midway through the fourth quarter.
Early in the second half, Heidelberg moved into scoring position on a hook-and-lateral play that was good for a 50-yard gain. The Lions made it inside Ramstein's 20-yard line before the Royals defense forced a fourth down and 3 from the 4. Heidelberg's 6-foot-3 Ryan Brlecic caught a TD on the fourth-down play to make it 14-7.
Ramstein had a time-consuming drive late in the fourth quarter, picking up a few first downs and keeping the Heidelberg offense on the sideline. The Lions got the ball back with 48 seconds left after Ramstein failed to convert on fourth down. With 10 seconds left, Ramstein's Sublousky intercepted a deep throw from Howard-Darling, securing the Royals' victory.
In other Division I games Saturday:
Patch 15, Kaiserslautern 14At Vaihingen, Germany, Sean Thomas threw two first-quarter touchdown passes and Daniel Kennedy ran in what proved to be the deciding two-point conversion as the Panthers (4-0, 3-0 D-I) set up a showdown of unbeatens next Saturday at Ramstein.
Thomas completed six of 11 passes for 106 yards with an interception. He connected with Tyler Pound for one score and Brandon Bingley for the other.
Andrez Brewster turned a quarterback sneak into a long TD run in the third quarter for Kaiserslautern (1-3, 0-3). The Red Raiders were driving late in the fourth quarter only to see Kennedy intercept a pass in his end zone and return it to midfield.
Lakenheath 16, Wiesbaden 7At Lakenheath, England, Ben Green hit Carl Snap with a 10-yard scoring pass in the first quarter and added a 25-yard field goal in the third as the Lancers (2-2, 1-2) erased a 7-0 lead by Wiesbaden (0-4, 0-3).
Snap pulled in five receptions to spark the Lakenheath offense. On defense, he registered two sacks and recovered two fumbles.
Wiesbaden took the lead on the first possession of the game when Julian Jones, who finished with 174 yards on 30 carries, went over from 15 yards out. His backfield mate, Ron Peebles, added 130 yards on 15 rushes.
Wes Kleniec broke an 8-yard TD run for the insurance margin for Lakenheath.