Europe Div. I football: Heidelberg, Ramstein, Patch stay perfect in division play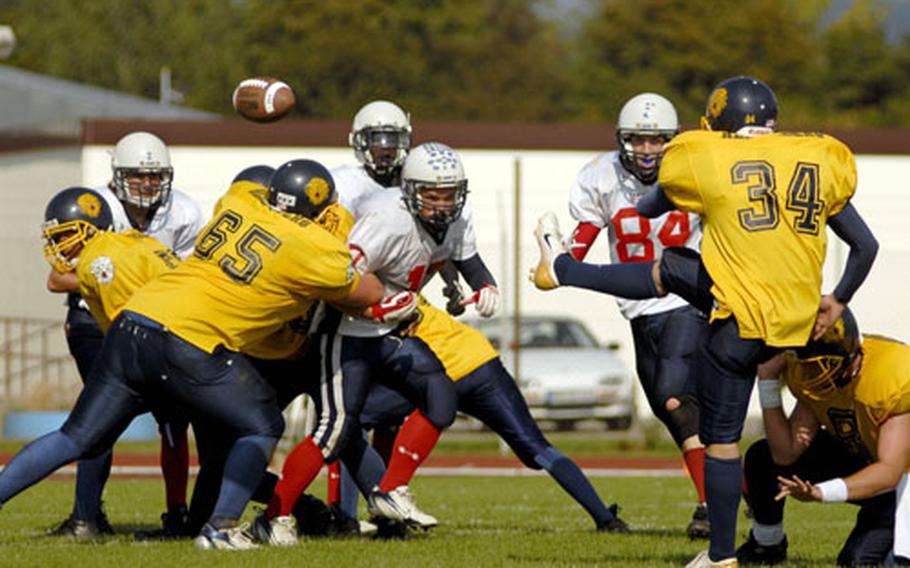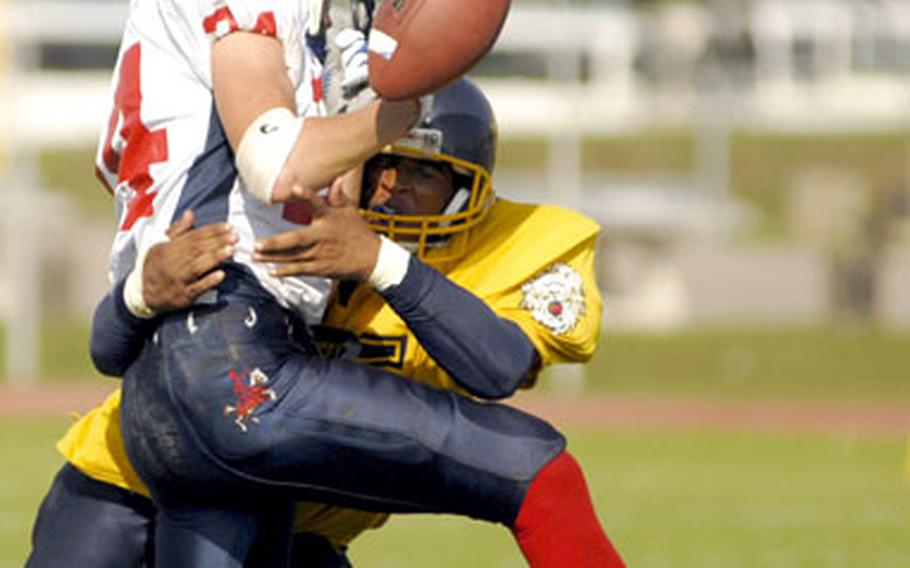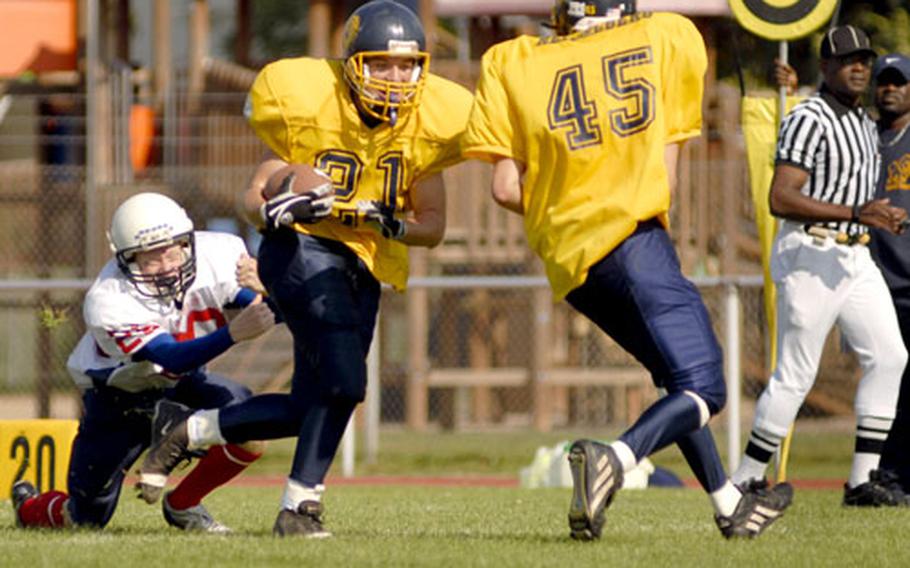 Quarterback Matt Howard-Darling rushed for 170 yards and threw a 33-yard touchdown pass to Ryan Brlecic on Saturday as Heidelberg downed visiting Lakenheath 28-13 to remain unbeaten in Division I conference play.
Cody Mallette rushed 27 times for 167 yards and a touchdown for the Lions, who won their second straight game following a season-opening 21-0 nonconference loss to Ramstein.
Shawn McIntyre and Jimmy Katz led the Heidelberg defense, which surrendered a 6-yard TD pass from Nate Allen to Wes Klenic for the Lancers' only offensive score. Lakenheath (1-2 overall, 0-2 in D-I) also had a 98-yard kick return by Eddie Alford. McIntyre and Katz each had five tackles and an interception.
Klenic was in on 11 tackles and Dom McBride 10 for Lakenheath.
In Saturday's other Division I games:
Ramstein 21, Kaiserslautern 12At Ramstein, Joe York hit Scott Sublousky with 33- and 75-yard TD passes and Marcus Cherry cashed in Joel Smith's interception with a 2-yard TD plunge to keep Ramstein unbeaten.
The scores allowed the Royals (3-0, 2-0) to overcome two opportunistic TDs by K-town. The Red Raiders set up their first TD, an 11-yard pass from Andrez Brewster to Khairi Smith, by recovering a blocked punt on the Ramstein 11.
They scored their second with three minutes left in the third quarter when defensive end Chase McCracken stripped the ball from a Ramstein runner and raced 78 yards to the end zone.
The turnover was one of five for Ramstein, which coach Carlos Amponin said forced the Royals to abandon their customary running game and throw the ball.
York responded by going 7-for-14 for 143 yards; five of those completions were to Sublousky for 140 yards.
Smith carried seven times for 76 yards for Kaiserslautern (0-3, 0-2).
Patch 21, Wiesbaden 16At Wiesbaden, Daniel Kennedy returned a kickoff 85 yards for the deciding touchdown to keep Patch (3-0, 2-0) unbeaten in its inaugural D-I season.
Kennedy's return, his second TD of the game, followed a fourth-quarter TD and two-point conversion that had given the Warriors their first lead of the afternoon.
Bryan Taylor ran in Patch's other TD from two yards out.
Kennedy finished with 108 yards on 11 rushes and Patch quarterback Shawn Thomas was 12-for-17 for 169 yards.
Wiesbaden scored on a TD run by Julian James, who carried 24 times for 95 yards, and on a pass from Terrell Harper to Thomas Giddings. Harper hit on six of eight passes for 48 yards for the Warriors (0-3, 0-2).