Europe Div. I football: Big fourth quarter keys Ramstein's romp to D-I title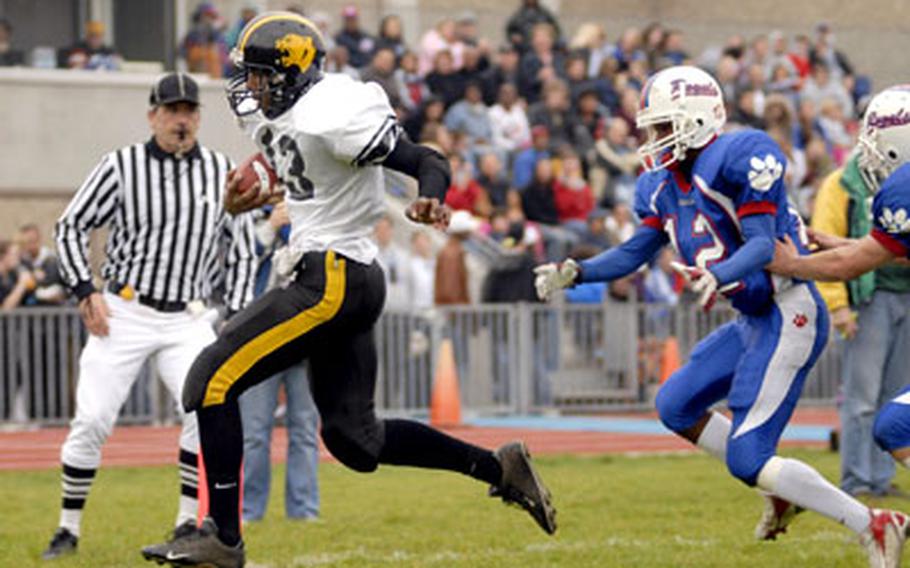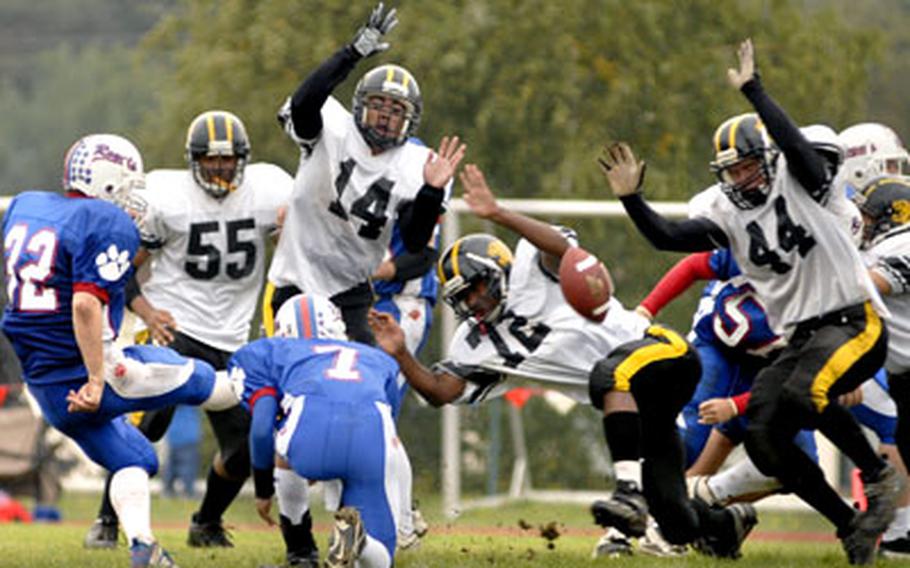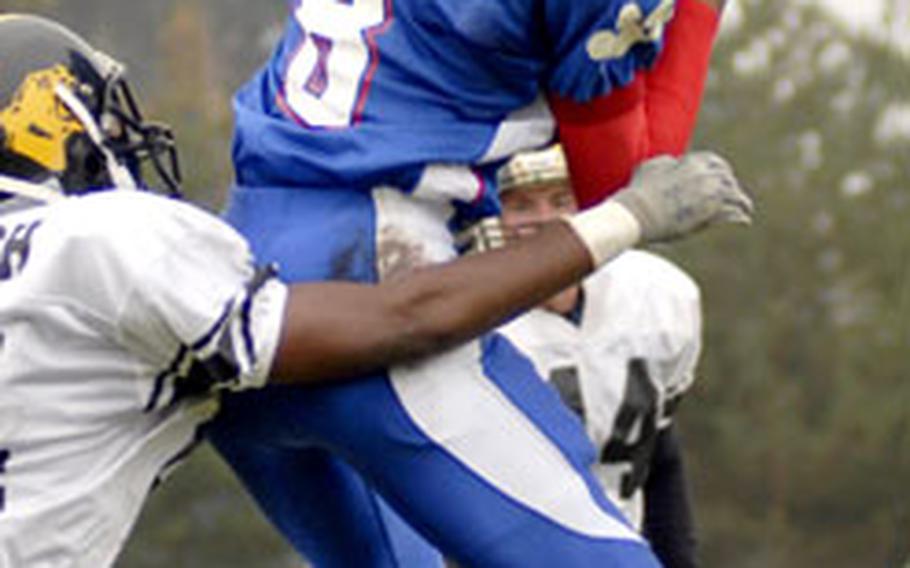 Ramstein wrapped up its second-straight Division I conference title with a 41-20 home victory Saturday over Patch.
Ramstein (5-0 overall, 4-0 in D-I) trailed 20-14 after three quarters and faced a third-and-long when senior quarterback Joe York connected on a 77-yard TD pass play over the middle to Aaron Jones to tie the game.
Three turnovers by Patch (4-1, 3-1), promoted from Division II this season, then set up the winning margin.
York, 9-for-14 for 240 yards, capitalized after a fumble recovery for a 24-yard TD pass to Ste'phan James in the left corner of the end zone. Jake Garcia forced a Patch fumble and J.H. Frasier covered the ball in the end zone for a score.
Ramstein safety Andre Murray closed the scoring with a 43-yard interception return for touchdown with 33 seconds left.
Ramstein struck for two first-period TDs, one of them a 4-yard run by Joel Smith that capped a 70-yard drive on Ramstein's first possession. The other was set up by a failed Patch fake punt play that led to John Keith's 4-yard run.
Patch cut the gap to a single TD in the second period on Brandon Perry's four-yard sweep, then dominated the third period with a 75-yard drive that was capped by Sean Thomas' 3-yard keeper and a 19-yard Thomas-to-Perry TD pass.
In Saturday's other D-I games:
Kaiserslautern 27, Lakenheath 14At Kaiserslautern, Andrez Brewster ran for two touchdowns and passed to Cornelius Jackson for another as the Red Raiders (2-3, 1-3) claimed their first conference victory.
Khairi Smith, who rushed for 186 yards, also scored a TD for Kaiserslautern, which got a big defensive effort from C.J. McKennzie, according to coach Tom Burriss.
Lakenheath (1-4, 1-3) led 14-12 after three quarters on two Wes Klenik-to-Carl Snapp TD passes. Klenik finished 8-for-15 for 171 yards.
Heidelberg 27, Wiesbaden 22At Wiesbaden, Brad Lane was 2-for-2 on field goal attempts and hit all three PAT tries, and Shawn Fisher and Matthew Howard-Darling had rushing TDs to pace the Lions (3-2, 3-1).
Fisher finished with 123 yards and Howard-Darling 105.
Wiesbaden (0-5, 0-4) scored on a Terrell Harper-to-Bradon Foster pass and TD runs by Ron Peebles, who gained 120 yards, and Julian Jones, who carried 20 times for 59 yards.
Thomas Taylor was in on 24 stops for Heidelberg; his teammate Will Battle was in on 18.
John Christianson led Wiesbaden's defense with 12 tackles. Kendal Wyatt had an interception.