Europe boys basketball: Roberson leads Bitburg to first two wins of season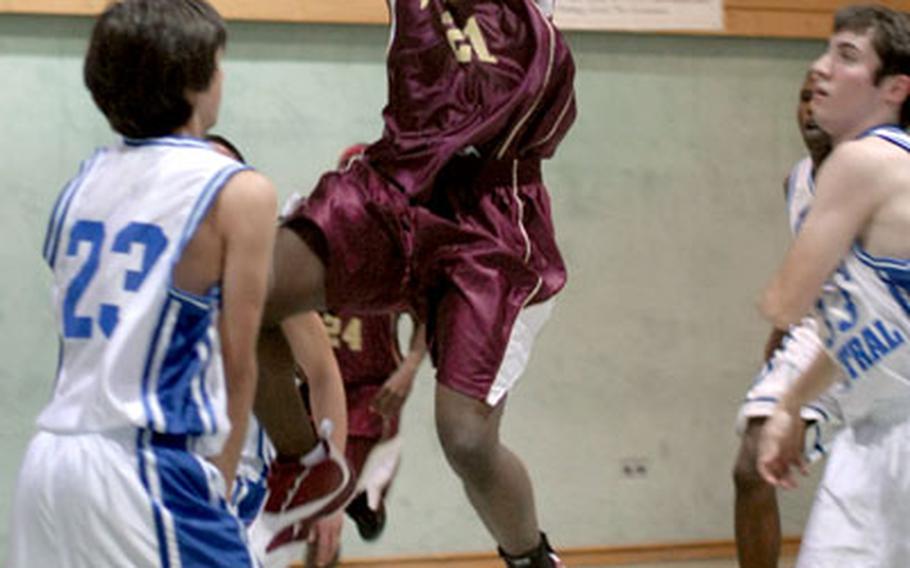 ¶ See scoreboard for game summaries and statistics.
BITBURG, Germany — Chad Roberson did the heavy lifting Friday and Saturday as the Bitburg Barons ended their four-game losing streak with victories over previously unbeaten Wiesbaden and winless Mannheim.
Roberson scored 28 points and pulled down 11 rebounds Friday as the Division II Barons handed Wiesbaden of Division I its first defeat of the season 72-60.
The teams were tied 34-34 at halftime, but Bitburg outscored the Warriors 17-7 in the final quarter.
"They weren't ready for our man-to-man defense," Bitburg coach David Turner said by telephone on Saturday.
The defense got even better on Saturday, as the Barons (2-4) shut down visiting Mannheim 56-38.
Roberson scored 24 points and snared 10 rebounds, and Bitburg limited the Bison to 15 points in the first half.
In other games:
Menwith Hill 39, Brussels 32: On Saturday at Menwith Hill, the Mustangs took a two-game lead in the Division III-North race by completing a sweep of Brussels.
Greg Puccetti scored 21 points and grabbed 11 rebounds for the Mustangs (5-1, 2-0 league), and Andrew Kaaihue added 12 points and 13 rebounds.
"Andrew really made a difference," Menwith Hill coach Pete Resnick said by telephone on Saturday. "He really came on."
Matt Oppenheim, who scored 18 points on Friday, just missed giving the Brigands a victory in the first game of the series when his three-point try at the buzzer bounced off the back of the rim.
Baumholder 60, London Central 55 (OT): On Friday at Baumholder, Sonny Clark shrugged off a sore ankle to score 15 of his 21 points in a 19-2 second-quarter run that erased an early 10-point London Central lead.
According to Baumholder coach Spencer Bean, London Central held the ball during the game's final 30 seconds, but its shot at the buzzer missed, sending the game into overtime.
Things weren't as dramatic Saturday, as Clark scored 21 points in a 51-29 victory.
London Central's Dee Marbury, who scored 22 points on Friday, was slowed by foul trouble on Saturday.
Ansbach 48, Hanau 39: On Saturday at Ansbach, Adrian Shack scored 16 points and Jiamine Kimbell and John Willis each added 10 as the Cougars took a two-game Division III-South lead into the holiday break.
Storm Freeman grabbed 10 rebounds for Ansbach, 2-0 in league play after sweeping visiting Hanau. The Cougars prevailed 55-53 on Friday.
Naples 71, Livorno 30: On Saturday at Naples, the unbeaten Wildcats stretched their league record to 4-0 by completing a weekend courtesy-rule sweep of the American Overseas School of Rome and Livorno.
Denver Arriola scored 18 points against winless Livorno to go with the 15 he put up on Friday in Naples' 76-36 conquest of AOSR.
Heidelberg 60, ISB 20: On Saturday at Heidelberg, Shon Fisher's 15 points and five assists led the way as the Lions (3-2) tied Wiesbaden at 1-0 in the D-I league race at the expense of International School of Brussels (1-5, 0-2).