Europe boys basketball: Restocked Heidelberg Lions open with a roar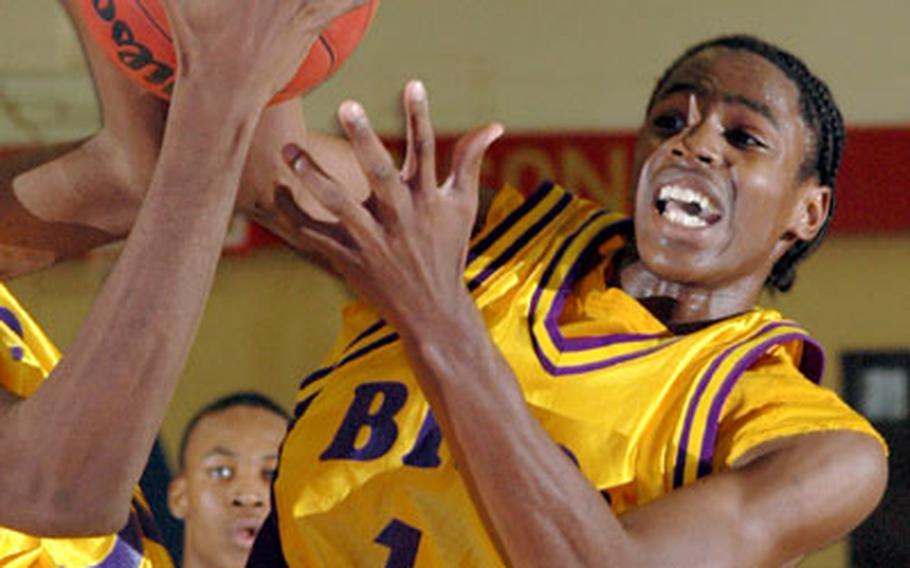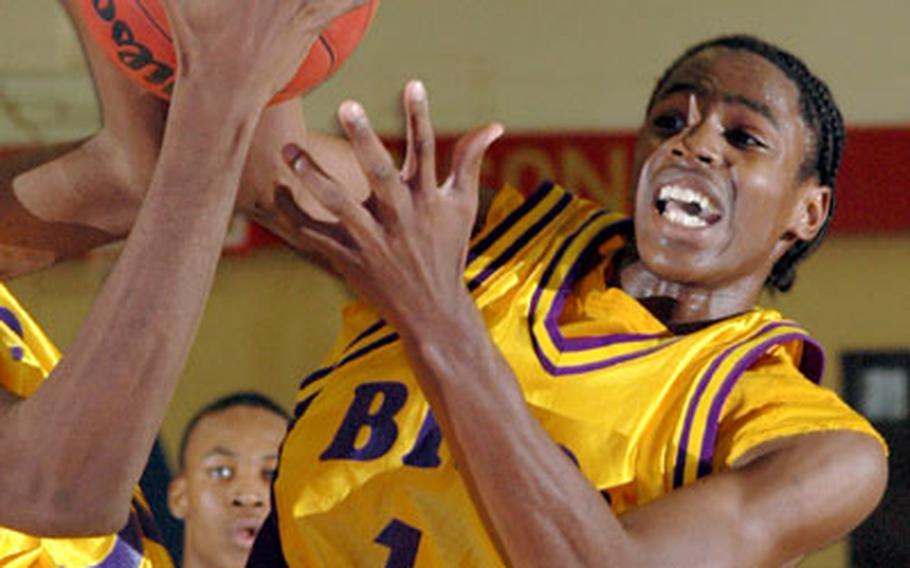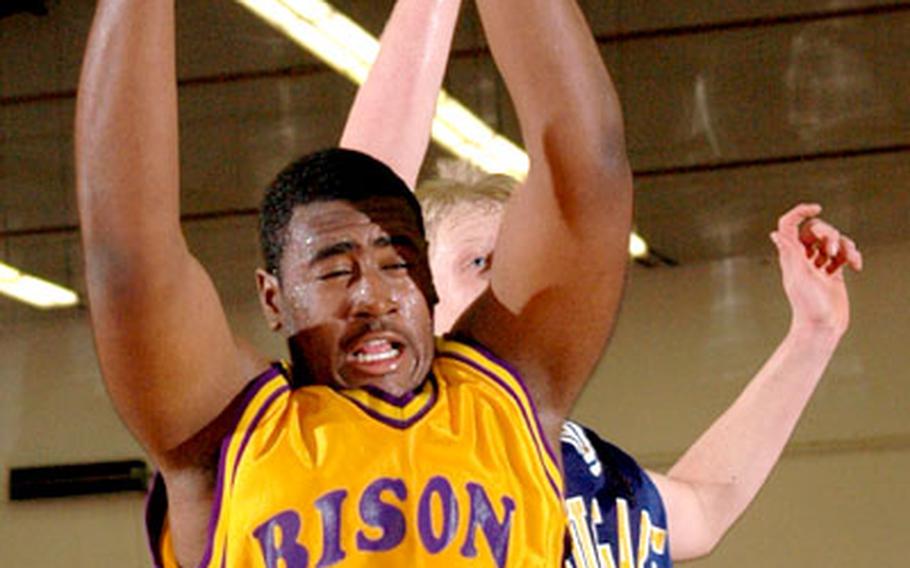 Heidelberg, the five-time defending European boys Division I champion, opened its drive for No. 6 by unveiling a new lineup Friday night in a 68-41 nonconference victory at Frankfurt International School.
The Lions lost three of their All-Europe players players as well as steady junior Nate Idlet during the offseaosn, but got 20 points and what FIS coach Ray Morgenstern called an "outstanding" defensive effort from T.C. Blanks.
Damon Fleming added 12 points, and Chris Jones had nine points and eight rebounds for the Lions, who were to host Mannheim on Saturday.
In other season openers:
Hanau stumbles
At Hanau, the defending European Division II champions fell 46-24 to Division I Kaiserslautern in a nonconference game.
Aaron Ellis, the 6-foot-9 junior who was selected to play for the U.S. Albert Schweitzer team last April, led all scorers with 17 points. Teammate Julian Smalls added 12.
Senior Marcus Fontanez led Hanau with nine points.
Bison survive Bailey
At Mannheim, the Division II Bison shrugged off 31 points, built around five three-pointers and 10 rebounds, from Ansbach's Russell Bailey to defeat the Division III Cougars 73-61 on Friday night.
Junior Edward Williams scored 20 points and handed out four assists for Mannheim, which also benefited from Earl Lee's 15 points and 11 rebounds and four three-pointers by sophomore Desmond Brown (14 points).
Young Cougars roar
At Vicenza, the youthful Cougars opened their American Schools in Italy season with a pair of double-digit victories over Livorno.
Freshmen Ka'vara Jackson and Darryl Alexander scored 20 and 17 points, respectively, in Friday night's 79-52 nonconference victory. Vicenza sophomore Anthony Gipson added 13 points.
On Saturday, Vicenza romped 70-29 in the conference game between the two schools as Daryl Gonzalez and Stanley Douglas scored 19 points each and grabbed 22 and 11 rebounds, respectively.
Gipson scored 10 points and made nine steals in the game.
DeAngelo Hall was Livorno's leading scorer both days, with 23 points Friday and 16 Saturday.
Baumholder, Alconbury split
At Baumholder, Alconbury of Division III-North rode a 22-point outing by Xavier Ferguson to a 63-59 nonconference victory Friday over the host Bucs, only to fall 56-30 on Saturday.
Ben Davis and David Schiller backed Ferguson with 13 and 12 points, respectively on Friday, but none of the Dragons cracked double-figures when Baumholder turned the tables on Saturday.
Chris Bray, with 15 points, and Tyriek Bayne, with 12, led the way for the Bucs on Saturday.
SHAPE conquers London Central
At High Wycombe, England, Vernon and Quentin Fowler's scoring fueled a nonconference sweep by the visiting Spartans.
Vernon Fowler burned the Bobcats for 19 points in Friday's 61-47 triumph and came back with 20 in Saturday's 56-44 victory. Quentin Fowler scored 14 points on Friday and 16 on Saturday.
Bitburg sticks with a winner
At Bitburg, the Barons posted a pair of 62-29 victories over two different Division III foes as Nick Brown led the team in scoring both times.
Friday, Brown scored 20 points and Trey Wilson 18 as the Barons dumped Brussels 62-29. Brown had 14 points in Saturday's victory over AFNORTH.
---
---
---
---