Europe boys basketball: Baumholder sneaks past Giessen in D-II season opener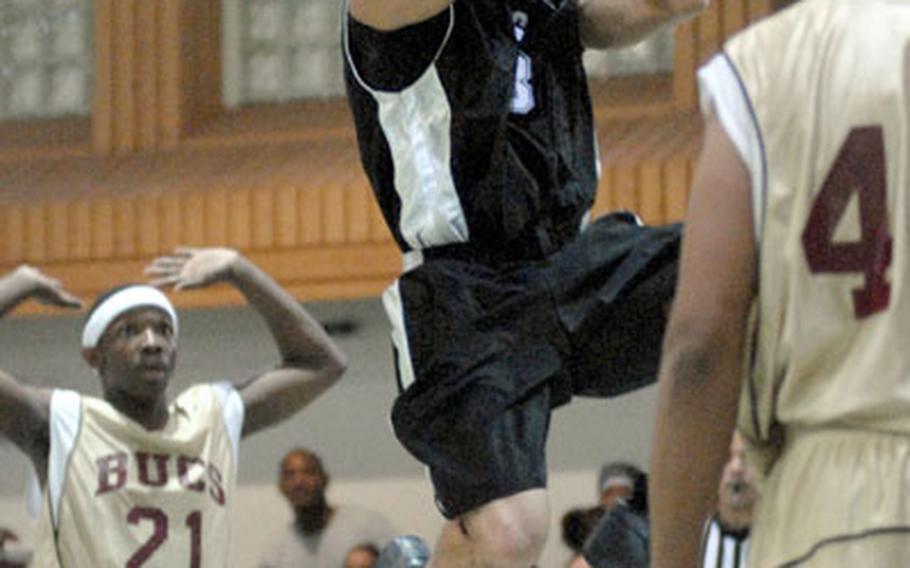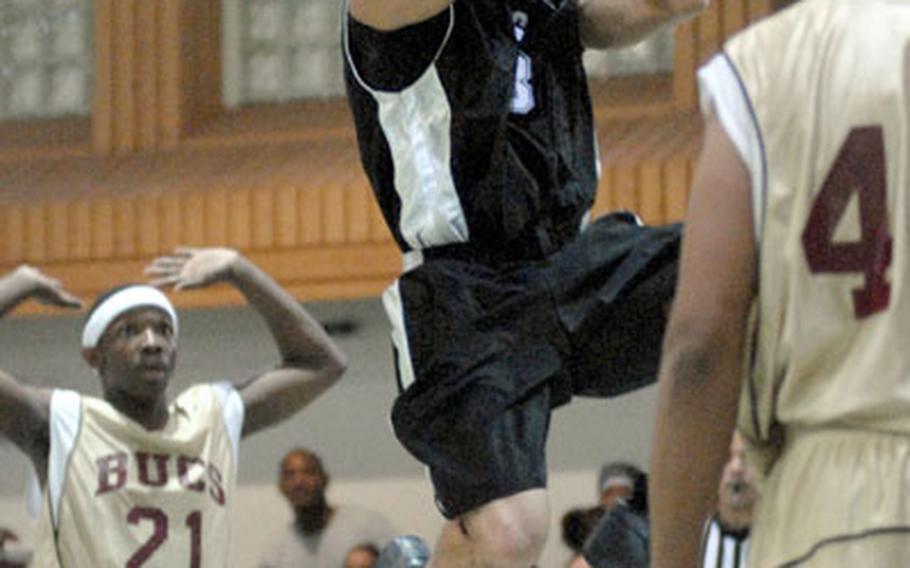 Baumholder's True Davis denied All-Europe second-teamer C.J. Battle a good look at the basket on a game-ending three-point try to preserve a 61-59 victory over Giessen on Saturday.
"Giessen was down by six points with two minutes to go, and forced a couple of turnovers to stay alive," Baumholder coach Spencer Bean wrote in an e-mail.
"With 10 seconds to go, we were up by two and they forced a backcourt violation. C.J. Battle missed a three from the corner with … Davis forcing him into a difficult shot."
D.J. George scored a game-high 22 points for Giessen, 12 of them on four first-quarter treys, Bean said.
"D.J. George was incredible, That kid can shoot a basketball," Bean wrote. George finished with six three-pointers.
Battle scored 14 points for Giessen, the defending European D-IV champion, which will play D-III this season. Lester Banks had 12 for the Griffins.
Four Baumholder players reached double figures in the team's first Division II game. Sonny Clark led the way, scoring 17, while Rashad Taylor added 11 and C.J. Roberts and Davis 10 each.
In other boys games on the opening weekend:
Wiesbaden 74, BFA 61: At Wiesbaden, Hanau transfer Terrell Harper made himself right at home Saturday, scoring 21 points in his second game in a Warriors' uniform.
Harper scored a game-high 16 in Friday's 61-53 victory, also over visiting Black Forest Academy, to lead the weekend sweep.
Hohenfels 48, Mannheim 33: At Hohenfels, the host Division III contenders beat their D-II guests behind the play of forwards B.J. Denson and Anthony Marshall.
The victory finished a weekend sweep; Hohenfels won 49-43 Friday.
Denson scored 23 points Friday and 11 Saturday, to go with nine rebounds each day. He also stole the ball six times Friday.
Marshall had nine points, along with 11 rebounds and four blocks Friday. Saturday, he scored 17, blocked three more shots, stole the ball five times and collected eight rebounds.
Newcomer Courtney Wicks scored 23 points Friday in his debut for Mannheim.
Ansbach 56, Vilseck 43: At Vilseck, the Cougars of D-III unveiled their Shack Attack in a nonconference test Friday night against the Falcons of D-II. Adrion Shack scored a game-high 15 points to lead the Cougars.
Xavier Sheppard added 11 for Ansbach, while Kollin Jordan scored 15 points and snared 10 rebounds for Vilseck in the opening game for both teams.
Vilseck avenged that loss Saturday with a 46-43 victory at Ansbach, fueled by a game-high 20 points from Ronnie Turner. Chris Lewis, who scored nine points, added 11 rebounds and 10 steals to the output; Jordan scored nine points and bagged 10 rebounds.
Shack scored 13 points to lead Ansbach.
Bamberg 52, Patch 33: At Bamberg, the defending European D-III champion employed a balanced attack to complete a sweep of its D-I guest.
"Nobody stood out," Bamberg coach Chuck Jordan said by telephone Saturday. "We stress a team concept."
Dwight Richardson scored a game-high 17 points for Bamberg, which will play in Division IV at the European tournament. Josh Frank, who scored 13 in Bamberg's 50-20 victory over the Panthers Friday night, added 11.
London Central 50, Lakenheath 33: At Lakenheath, Dee Marbury scored 23 points, grabbed 12 rebounds and blocked two shots as the Bobcats of Division III opened their final season with a victory over a D-I foe.
Frank Augusto added 11 points, four assists and two steals for London Central.