Europe boys basketball: Aviano boys hand Sigonella first loss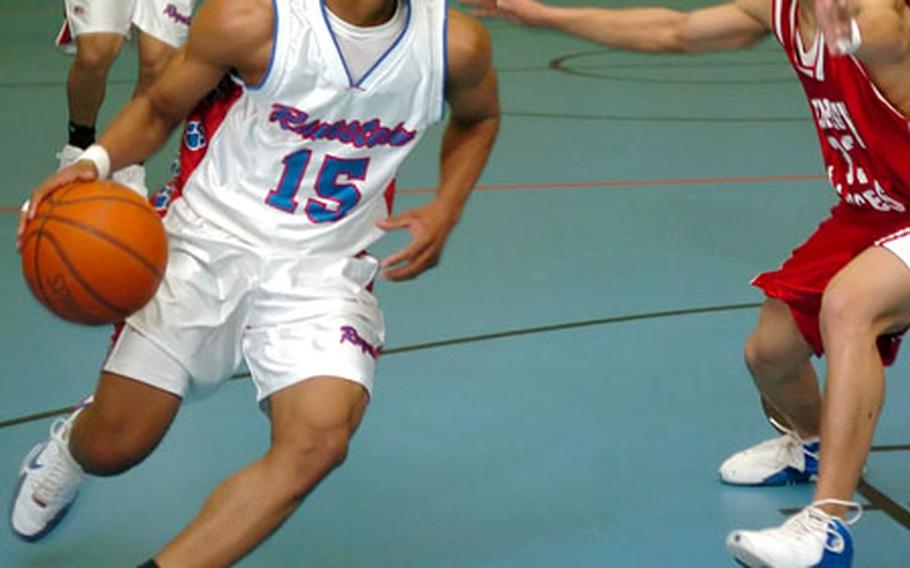 Aviano pinned 78-57 and 65-38 weekend defeats on visiting Sigonella, handing the Jags their first losses of the season.
Aviano (13-0) and Giessen (10-0), which was idle this weekend, are the only boys teams left in Europe without a loss. Sigonella dropped to 10-2.
On Friday Aviano jumped out to a 10-point lead at halftime. Forward Mike LeGree led the way with 23 points in the game.
"He carried us in that game," said Aviano coach Ken McNeely, whose team improved to 6-0 in American Schools in Italy League.
Saturday, senior pivot Edmond Johnson did the heavy lifting for Aviano, with 26 points and 10 rebounds.
"We have a team of blue-collar workers who try to achieve," McNeely said. "Everyone does different things. Friday, Mike got 23 and Spencer Templeton comes up with 16. Saturday, Edmond was 10-of-12 from the free-throw line."
Aviano's victories set up a home showdown this coming weekend against neighborhood rival Vicenza. The Cougars swept visiting Naples 80-78 and 76-67 Friday and Saturday to up their conference mark to 4-1. Vicenza lost a possible conference victory when snow canceled their home games Jan. 27-28 against winless Marymount International of Rome.
In other boys' games of note:
Wiesbaden 42, Heidelberg 36: At Wiesbaden, the Warriors held Heidelberg (6-4, 2-2) to 13 second-half points and remained unbeaten (3-0) in Division I conference games.
David Bradford led Wiesbaden with 15 points as the Warriors remained on target for a Division I conference-deciding game at home Feb. 18 against defending European D-1 champion Würzburg. At presstime Saturday, no report had been received from International School of Brussels, which was hosting Würzburg (4-0) on Saturday.
Hanau 55-55, SHAPE 34-49: At SHAPE, Belgium, a potential Division II tournament preview went to defending champion Hanau.
Malcolm Lane and Perry Cannie each scored 15 points for Hanau on Friday, while Cannie had 23 and Ivan James 16 on Saturday as the Panthers fended off a furious SHAPE rally that reduced a 22-point lead to two in the final period.
SHAPE, coming off a decisive II-North sweep the previous week at Bitburg, fell to 7-3 overall. Hanau dropped to 9-3.
Incirlik 64-54, Ankara 53-38: Incirlik wrapped up a 4-0 regular season against visiting Ankara behind the scoring of Edin Muharami, who scored 18 points on Friday and 26 on Saturday.
Hohenfels 61-48, Baumholder 60-55: At Hohenfels, the Tigers pinned a second III-South defeat on Baumholder to take some of the luster off Baumholder's upcoming game at unbeaten Giessen.
B.J. Denson sank a field goal and two free throws in overtime to ice Friday's victory for Hohenfels (3-7, 2-4 after Saturday's loss). Baumholder (9-3, 4-2) came back on Saturday behind 16 points by Sonny Clark.
Bitburg 56-67, Mannheim 55-50: At Mannheim, Bitburg rebounded from last week's losses.
Charles Whatley sank a free throw after the final buzzer had sounded to win Friday's game. On Saturday, his 17 points and eight assists and Perry Hardy's 16 points and 13 rebounds lifted the Barons (7-2 overall, 2-2 II-North).
Mannheim (8-3, 3-2) has lost three straight.