Girls golf Athlete of Year
Eidem sets herself up as her own toughest foe
by
Gregory Broome
November 7, 2013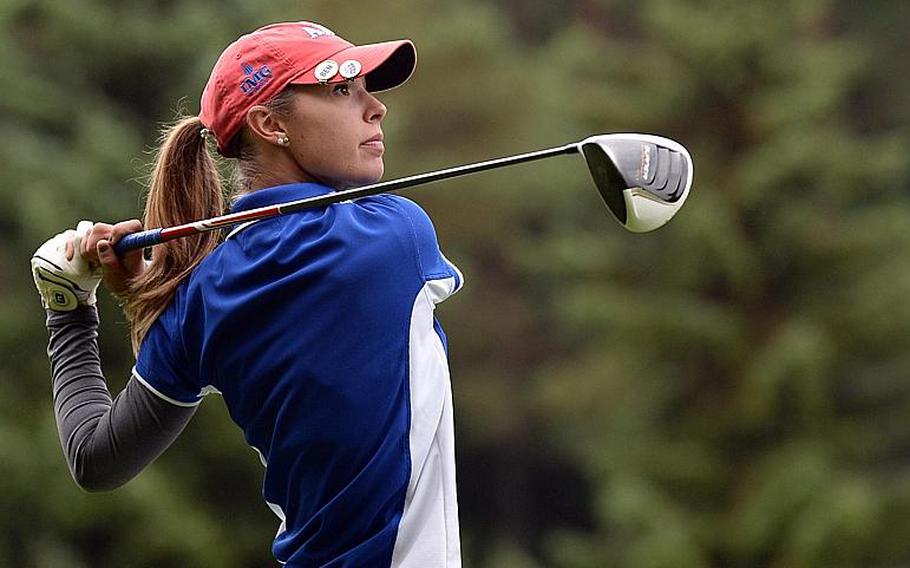 She seems like your average teenage girl, albeit one with a decidedly above-average gift for golf. But Wiesbaden junior Jenna Eidem, now the three-time DODDS-Europe girls golf champion and Stars and Stripes Girls Golf Athlete of the Year, is something far more complicated.
That dichotomy was on full display over the two days that comprised the 2013 European golf championship.
Eidem is friendly and engaging as she glides through her rounds, her game floating a level above the heads of even her best DODDS-Europe rivals. She says nice, respectful things about her opponents, offering polite compliments and gentle encouragement like a friendly teacher noting the furrowed-brow efforts of a determined student.
"She's good competition," Eidem said of this year's nearest rival, Ramstein sophomore Dametrah Lewis. "That's what I need."
Eidem built a comfortable lead over the first 18 holes of the two-round tournament, keeping Lewis removed at a respectable but harmless distance.
On the second day, things changed.
Lewis, somehow not deterred where many others had been, fought back over the first nine holes of the second and final round. In fact, the upstart actually made up ground on Eidem as their group made the turn.
Her response was swift and harsh. Eidem rebuilt her lead, ultimately winning by a decisive 17-point margin under the tournament's Stableford scoring system.
After the round, with her title safe for another year, Eidem defiantly explained her temporary lull and, more importantly, her roaring recovery. And it was then that Eidem offered the most enduring of the many memorable quotes she's uttered during her reign atop DODDS-Europe golf.
"You do not get beat," she said. "You are Jenna Eidem."
The comment neatly encapsulates its speaker's two dueling sides.
In short, Jenna Eidem combines the warm-hearted earnestness of a Disney princess with, when provoked, the vengeful malevolence of those same films' famed evil queens.
Maybe she's not that different from the average teenage girl after all.
Twitter: @broomestripes