Edgren football team ready to take next step
---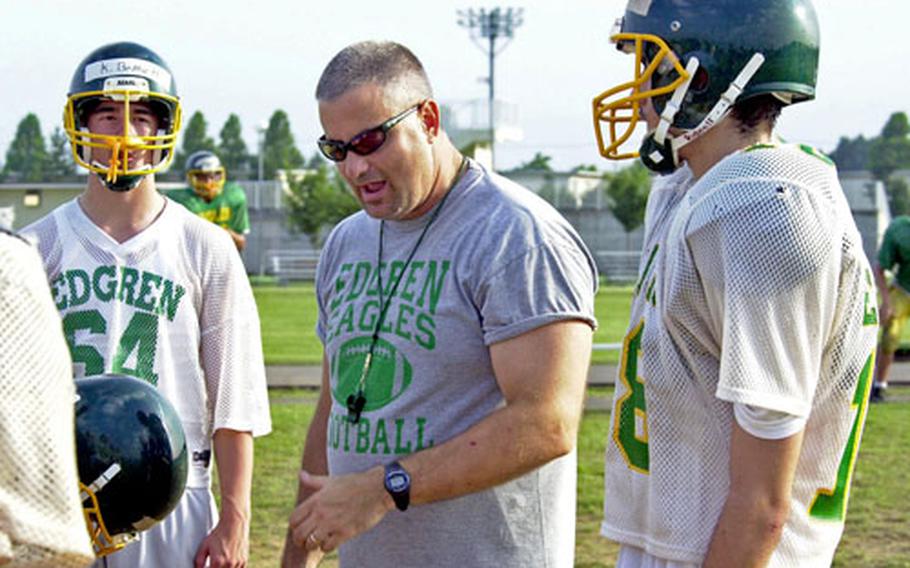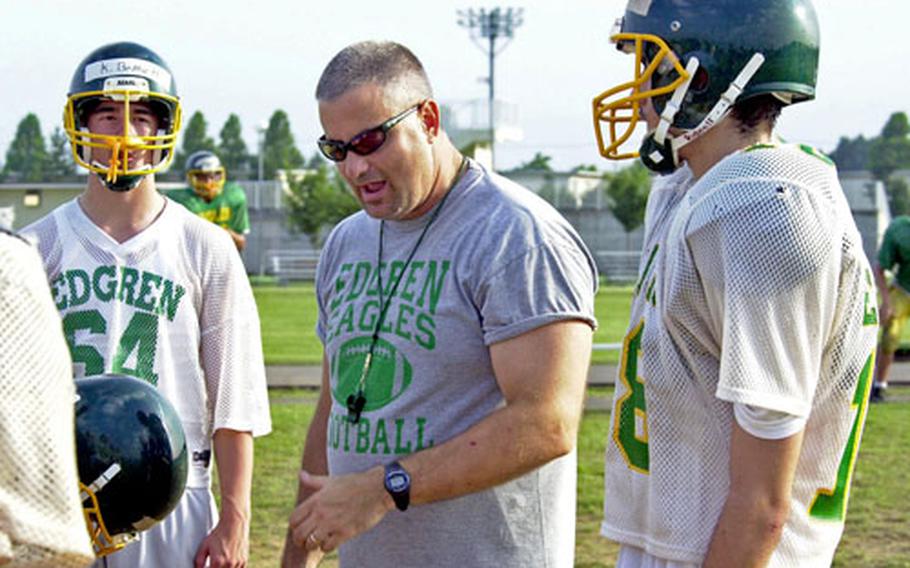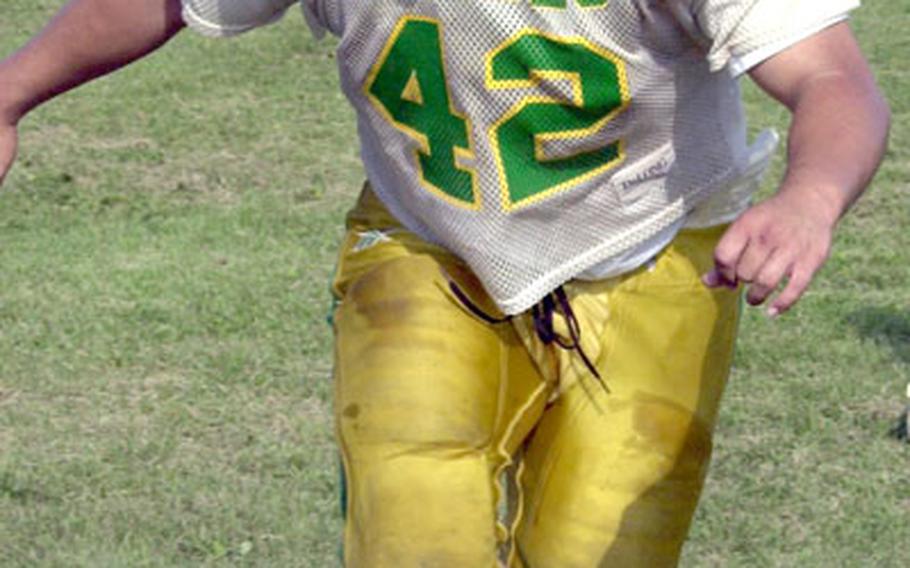 MISAWA AIR BASE, Japan — The roar of four F-16 Fighting Falcon fighter-bomber jets taking off on the runway a few hundred meters away was deafening.
It caught coach Jim Burgeson in the middle of shouting instructions to his Robert D. Edgren Eagles football team. He gave it up and waited for the jets to become airborne and clear the base.
"I've been trying to get the Air Force to do 'no-fly' restrictions during practice," Burgeson joked. "So far, they've not been receptive."
It's his hope that soon, perhaps this season, his young, 30-player cadre will rise to comparative heights.
Burgeson is in his third year at the helm of a program that competed yearly for bragging rights among American high schools in Japan in the late 1990s, but since has stumbled, suffering four losing seasons in the past five.
But Burgeson feels success is just around the corner, for a couple of reasons: Player dedication and a new Department of Defense Dependents Schools-Pacific playoff system for large and small schools.
"These kids are starting to realize there is no offseason," Burgeson said. "They're becoming infused with the desire to work out and stay in shape. It will make them better athletes across the board, in all sports they play."
Edgren, with an enrollment of 270, is classified as a small school under the cutoff of 360 devised by DODDS-Pacific.
As the only small school in Japan, Edgren gets a free pass into a Nov. 4 or 5 Far East small-schools football title game at the site of the DODDS-Korea small school squad, Osan or Taegu American, with the best record during their season.
"That gives us a level playing field for success," Burgeson said. "Kids want to be part of a winner, part of something special. I welcome it. It's really going to help us."
What doesn't help are the usual vagaries faced by a DODDS school, especially one 360 miles northeast of its Kanto Plain Association of Secondary Schools brethren, who don't have as far to travel to face each other and have many Japanese schools at hand for preseason tuneup games.
Burgeson came to Edgren from Florida, where the same kids would play from Pop Warner through high school. Here, players may stay for two years, then move on, replaced by new players having to learn Burgeson's system.
"It's tough to get used to," he said. "You can't do that here. It's start over every year."
A prime example of the school's transient nature is the loss of junior standout athlete Woody Carter.
Then there's having to deal with the blue-and-gold monster, perennial power Yokota with its 48-game winning streak, six straight Japan Football League and Kanto Plain titles and five straight Rising Sun Bowl championships.
"Yokota has continuity and tradition," Burgeson said. "They expect to win. They're the yardstick that we all measure by."
Despite having only seven players back from the team that went 2-6 last year and has gone 9-28 since 2000, Burgeson feels it's not a question of if, "but when" Edgren can turn the corner.
Burgeson welcomes to his coaching staff Chris Waite, who coached with him in Florida. Another assistant, Larry Allen, played at the University of Kansas and also spent time in the Canadian Football League.
Bolstering the player ranks are senior lineman Jacob Mullinax, in his first year of football, along with shifty junior running back Victor Lee, 2004 All-Japan sophomore Darren Hall and sophomore quarterback Josh Ray.
---
---
---
---