D-II softball
Edgren, Crown now sit atop throne
by
Dave Ornauer
May 23, 2018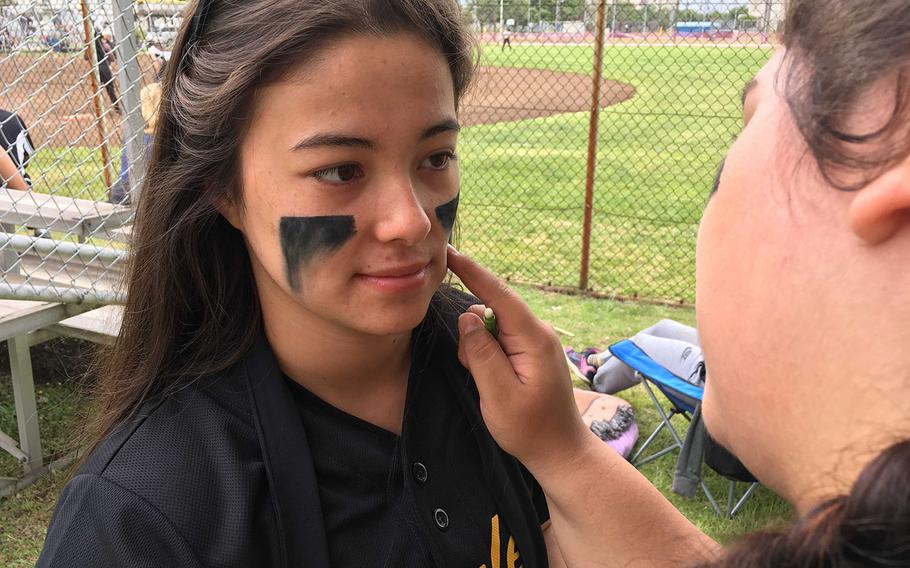 NAVAL AIR FACILITY ATSUGI, Japan – Brittany Crown said she and her Robert D. Edgren teammates had grown tired of playing Far East Division II Softball Tournament bridesmaids.
Crown, the Eagles senior right-hander, put a stop to that Wednesday, striking out 14 batters to propel the Eagles to their first D-II softball title in school history, outlasting Daegu 5-2.
Crown was named the tournament's Most Valuable Player.
"I'm so proud of my team, of how far we've come," Crown said of an Eagles team that's usually confined by snow to a gym for practice, and usually don't see a field until after a long bus ride in late February or early March.
"They really came through when we needed it. This is the best way I could have ended my senior year," Crown said.
Crown outdueled Warriors freshman Bethani Newbold, who struck out five Eagles and also hit a solo home run in the seventh inning. But by then, it was too late, as Christine Morrison and Stephanie Provencio each knocked in a run and Arriane Nonan had two RBIs for the Eagles.
The game remained scoreless until the fourth when Edgren scored. The Eagles added three fifth-inning runs which put away the contest.
Not only did the school make history: Longtime coach Sarah Richardson finally ended a title drought that saw her lose in six Far East finals appearances, four times in basketball and twice in softball, most recently in 2015, when Crown had just arrived as a sophomore.
"Finally," Richardson said. "It's so humbling. Praise these girls; everybody had to step up. For the girls to come here and do it, finally, they completed it."
For the Warriors, it was a disappointing end to a season that saw Newbold transfer in from Alabama and helped lead Daegu to the top spot in the D-II tournament coming out of Korea.
"They played their hearts out," coach Joy Sims said of her Warriors.
Twitter: @ornauer_stripes