Far East D-II baseball
Edgren blanks Osan to take tourney title
---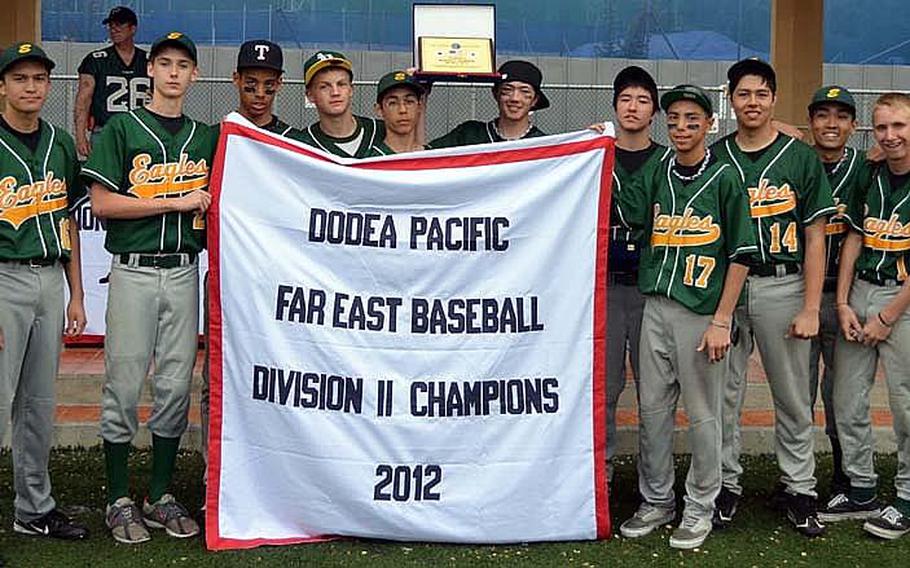 CAMP WALKER, South Korea – Semifinal defeats had been the bane of Robert D. Edgren's baseball's existence the past two years. After winning Wednesday's semifinal, the Eagles rode that momentum to the first Far East Division II Tournament title in team history.
Leo Austin pitched a complete-game shutout, allowing just three hits, and the Eagles' bats, led by Tristan Jefferson, Michael Dzoba and Christian Wolfewicz, broke it open with four runs in the fourth as Edgren blanked Osan American 7-0 in Thursday's final.
"Finally, we got past that semifinal, got ourselves a good head of steam and we had to keep it going," Eagles coach Brett Lehner said.
The genesis of the title, Lehner said, probably began last season, most of which was wiped out due to the aftereffects of the March 11, 2011, earthquake and tsunami.
Edgren had precious little preparation for Far East, yet powered its way through pool play, winning all four games, then reaching the semifinals before bowing to Nile C. Kinnick 24-1.
That gave the Eagles a taste of what they wanted, Lehner said. And with the core of the team back for a second year, they took advantage of the opportunity "and got the job done."
Austin and his brother Sayer transferred from Yokota three years ago and became part of that team core. "We're very fortunate to have [Leo] and hope to keep him for two more years. He's the driving force behind the team," Lehner said.
It was Austin's only victory of the tournament, but it "came at the right time," Lehner said.
Coach Bob Liles of Osan, reaching its first D-II baseball title game, credited Edgren for playing "well in every facet of the game. They pitched great, they hit to all fields. We didn't hit and the kids made errors at critical times."
Daegu student-reporters Luke Faivre and Josh Lear and tournament organizer Luke Spencer provided information for this report.
---
---
---
---