Boys basketball AOY
Eaves showed diversity, but remained dominant for Ramstein
---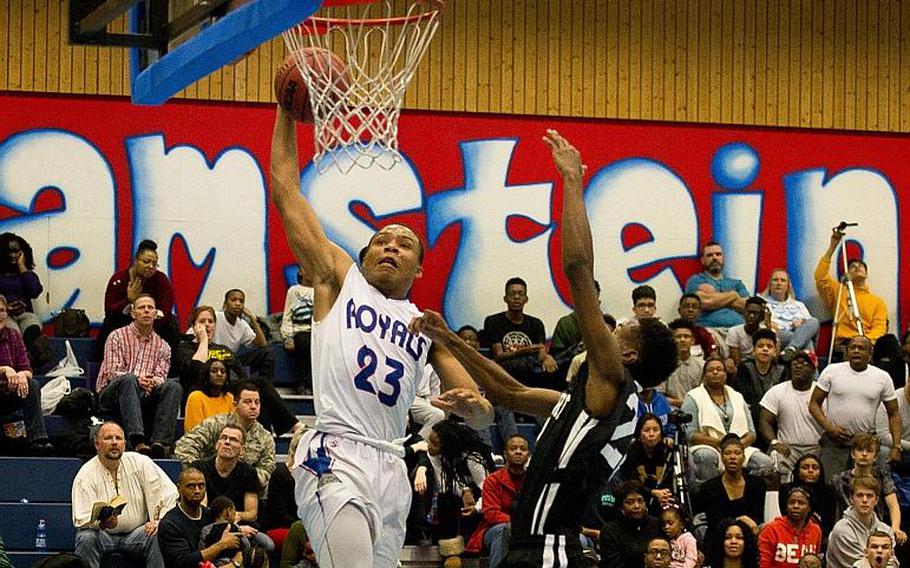 Ramstein junior Naser Eaves sits at a fascinating crossroads of achievement and potential.
Eaves, the 2017-18 Stars and Stripes boys basketball Athlete of the Year, is among DODEA-Europe's most accomplished active athletes in any sport. But with another season yet to play, Eaves has yet to reach his ceiling.
"There isn't much left for him to do," Ramstein coach Andrew O'Connor said. "But the exciting thing is that he still has a lot to work on."
The 2017-18 season saw Eaves at the current peak of his evolving powers. He averaged 18 points, nine rebounds, nearly three steals and a blocked shot per game, won his second consecutive tournament MVP award and led the Royals to a fourth straight Division I championship with a dramatic 46-45 defeat of archrival Kaiserslautern.
Such laurels are plenty comfortable to rest on. But Eaves enjoyed similar individual and team accolades as a sophomore; as he returned for his junior year, he knew he was capable of more.
"Last year he mostly played inside, but he was bothering me all offseason that he wanted to play more on the perimeter," O'Connor said.
Eaves said he's observed that standout players at every level, from high school on up, are becoming more versatile.
"All the good players can work inside and out," Eaves said. "I wanted to display that I can shoot every once in a while, just as much as I can drive and get rebounds."
Further, Eaves is plotting out a hoops career well beyond what figures to be a memorable senior season at Ramstein. His 6-foot-3 frame places him among the tallest players on most DODEA-Europe courts, but he'd project as a wing in a collegiate basketball environment. Knowing that, Eaves knew his interior-oriented game was in need of diversification.
"I wanted to work on guard skills as much as I did post skills," Eaves said.
And so Eaves mutated into a long-armed perimeter terror this winter, popping into passing lanes, raining long jumpers and sprinting downcourt for ferocious breakaway slams. All the while, his magnetic pull on opposing defenses cleared space for his capable teammates to hit shots and make plays of their own.
When it came time to secure the Royals' dynasty, however, Eaves didn't forget the big-man skills that first made him a DODEA-Europe star. His tenacity in the paint and on the glass helped the Royals launch a stunning second-half comeback in February's Division I title game to beat the archrival Raiders and extend their title reign.
"When it came time to win a championship, he was our hammer inside," O'Connor said.
Eaves, in short, has managed to capture the perfect balance for a high school sports star. He's maximizing his individual talent in the service of a championship program, and setting himself up for future success while reaping plenty of present-day rewards. His Ramstein career has been a best-case scenario - and there's still one year left.
"I didn't know I would become a part of that dynasty," Eaves said. "But I like it."
Twitter: @broomestripes
---
---
---
---