Eagles soar to title three-peat
by
Dave Ornauer
November 4, 2008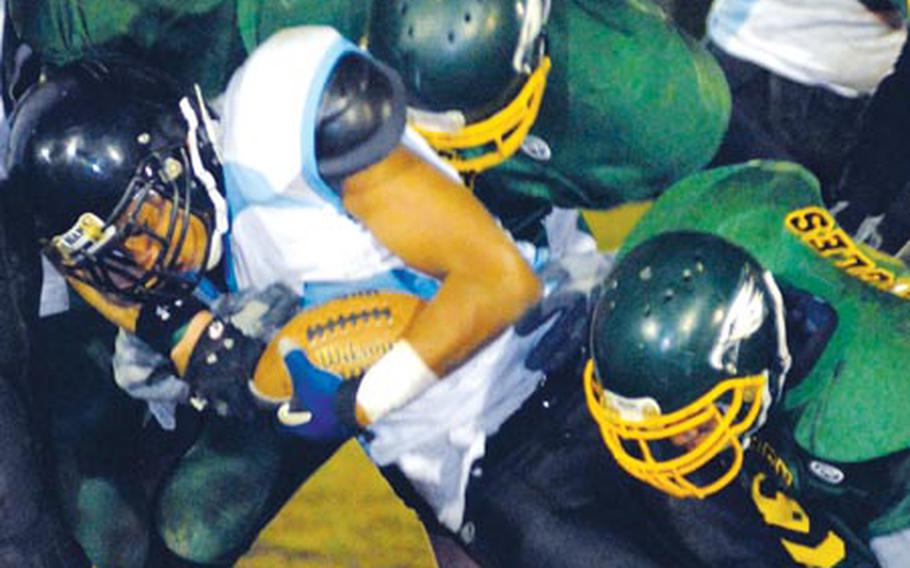 MISAWA AIR BASE, Japan — Matt Salazar had a good feeling as Saturday's Far East High School Class A football championship game approached.
"As soon as I woke up this morning, I knew we were to do this three-peat," the Robert D. Edgren receiver said after his Eagles won their third straight title.
Salazar caught two touchdown passes, including an 80-yarder in the third quarter as the Eagles scored five unanswered TDs in a 35-7 victory over Osan American of South Korea.
"I couldn't have asked for a better night," he said. "We wanted this so badly. We wanted to win."
It was a breakout performance for a senior receiver who had been used primarily as a blocker on a team that relies far more on the run than the pass.
"I'm really happy for Matt," Eagles coach Chris Waite said. "He's been a receiver for three years on a team that doesn't throw the ball, and to have two touchdown catches in the championship game, I'm happy for him."
The victory capped the finest season in Edgren history. The Eagles went 7-2, including five straight wins to close the season, one of them a landmark 20-18 victory Oct. 24 over Yokota, which had beaten the Eagles 16 straight times since 1999.
Waite said the third straight Class A title was the most special because "every year, the pressure mounts. This team had kind of an extra burden this year, had to live up to what last year's team did."
At the start, it looked as if the visiting Cougars (3-4) would battle Edgren tightly. Osan went 80 yards in 10 plays on its first drive, with Jesse Crockett bursting over from 2 yards out to make it 7-0.
From there, Osan battled injuries to Crockett and fellow big back Mike Gilliam, and its offense stalled. Salazar and senior speedster Johnell Alexander took over for the Eagles.
Alexander, who had 265 all-purpose yards, including 122 on 18 carries, scored from 3 yards out to tie it. Zach Davis then hit Salazar, who sliced through the middle between defenders for a 33-yard TD pass. It was 14-7 at halftime.
Alexander's 15-yard TD run increased the margin to 21-7 early in the third quarter. Osan's Matt Brownell returned the ensuing kick 76 yards to the Edgren 10, but Derek Becker misfired on a 33-yard field goal.
Two plays later, Davis again found Salazar down the left sideline, sending a home crowd of close to 1,000 into hysterics.
"It was an unreal experience," Salazar said of the two TDs. "I felt like I was out of body."
Davis capped the scoring with a 5-yard TD pass to Alexander, and the Eagles ran out the clock. Davis went 6-for-11 for 158 yards.
Osan's coaches said Crockett and Gilliam each may have suffered cracked ribs during the contest. "We ran out of bodies," coach Duke Allen said.
Brownell led the Cougars with 78 yards on 15 carries, 73 coming on the first drive, and totaled 211 all-purpose yards.