Eagles aiming for third straight title
---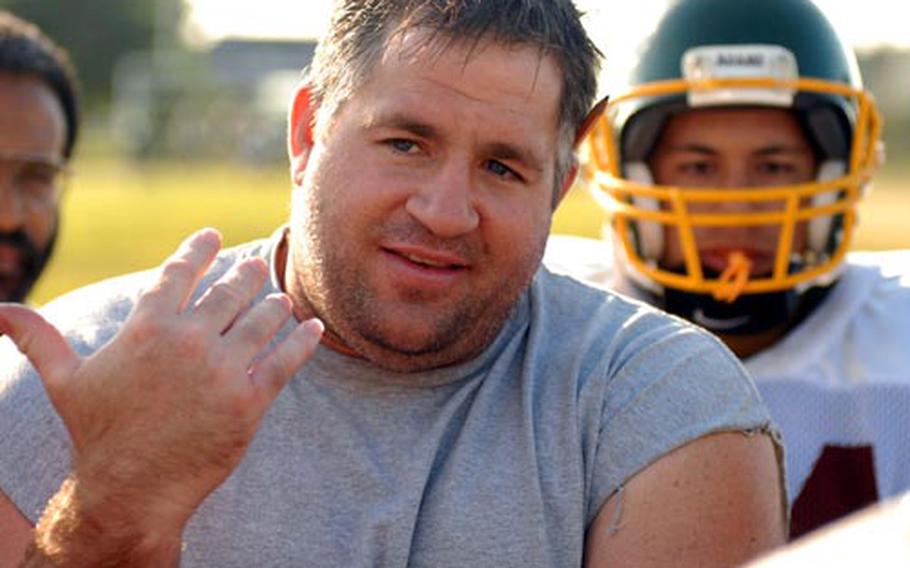 MISAWA AIR BASE, Japan — On the surface, the Robert D. Edgren Eagles appear headed for a rebuilding season, with their "Fantastic Four" skills-position stars Andrew Blankenship, Jacque Moton, Josh McDonald and the always dangerous Zach Latimore graduated or transferred.
But peek between the covers of the two-time defending Class A champion Eagles' book. One will find the support troops, the players behind the scenes and in the trenches who made the "Fantastic Four" shine.
Edgren returns 16 players, all starters, mostly offensive and defensive line grunt workers, linebackers and defensive backs.
"We're putting an emphasis on linemen. It's hard to replace the speed of Zach and Jacque, but we're trying our best," third-year Eagles coach Chris Waite said. "It's going to be tough, but I have a lot of young kids who feel they can make the same impact."
What kind of impact, the Eagles hope to find out Friday when they visit Zama American to open the DODDS-Japan Football League season. In the other opener, nine-time JFL and Kanto Plain Association of Secondary Schools champion Yokota visits Nile C. Kinnick. Kickoffs are at 7 p.m.
Waite hopes that one of those impact players might be junior Johnell Alexander, the hero of the Eagles' 27-6 victory in the Class A title game at Daegu American. He'll replace Moton at tailback. Waite will try seniors Ty Wooten and Drew Holder at quarterback to replace Latimore.
They'll operate behind a core of veterans: seniors Luke Nelson, Jamal Dennis and Ethan Blake and junior Zach Keister.
Most of them will leave after this season — and Waite says he got no help from the PCS plane this summer.
"Not a single move-in player who can help the varsity. Shocking," Waite said. "Look back over history, I can't believe it. My first year, David Leh, Vaughn Junchaya, even last year, Johnell, Keister and Nelson all moved in. It creates kind of a void" after this season, he said.
Plus, they have to deal with their JFL opponents:
Yokota owns a Pacific-record 48-game regular-season winning streak, has won nine straight JFL and Kanto Plain titles and returns a wealth of skills-position players such as DeEric Harvin, Tony Presnell and Derick Seward.
Speed is the hallmark of a Nile C. Kinnick squad seeking its first league title since 1998, and the team hopes breakaway backs Tyree Hunt and Donavan Brown can carry the mail toward that effort.
Though many of its top stars graduated, Zama American's wing-T is still a dangerous weapon with junior Emmanuel Sloan at the controls and junior Ken Schulteis plowing the road.
Waite says he's not taking anything, least of all a third straight Class A title or a school-first JFL crown, for granted.
"Hopefully, we're just playing a good brand of football and people respect us," he said. "Hopefully, we're earning respect and teams don't mark us as a 'W' on their schedule. Hopefully, when people come up here, they'd better be prepared to play ball."
---
---
---
---