Eager GIs cheer on NFL teams in Tokyo exhibition
---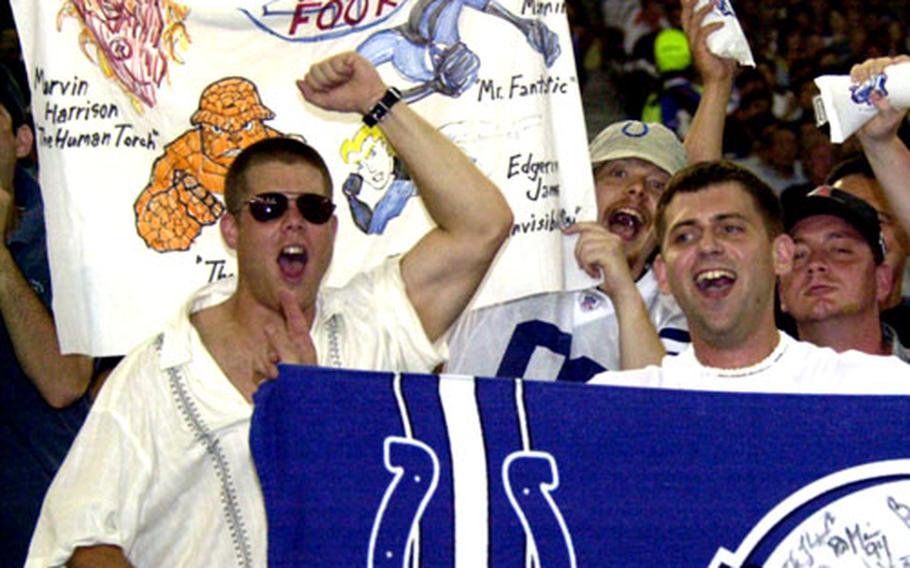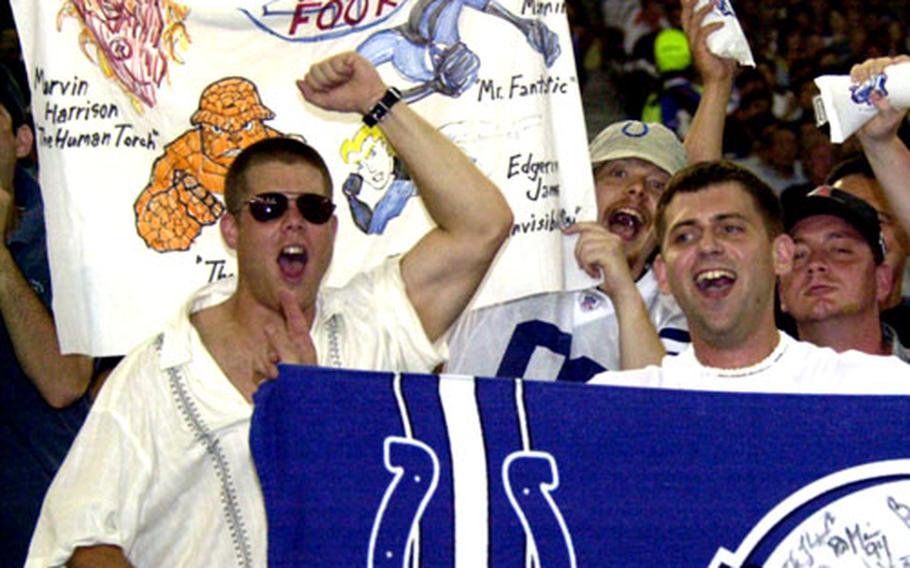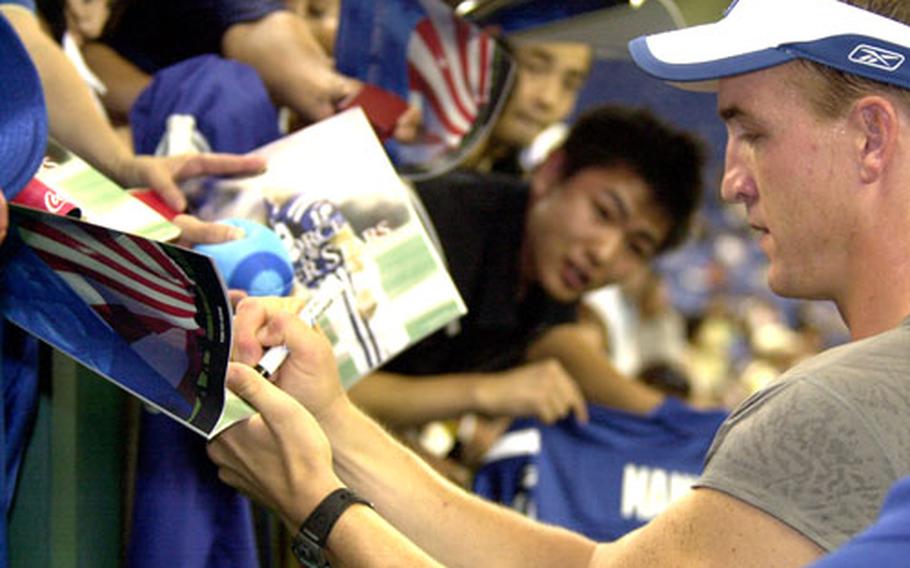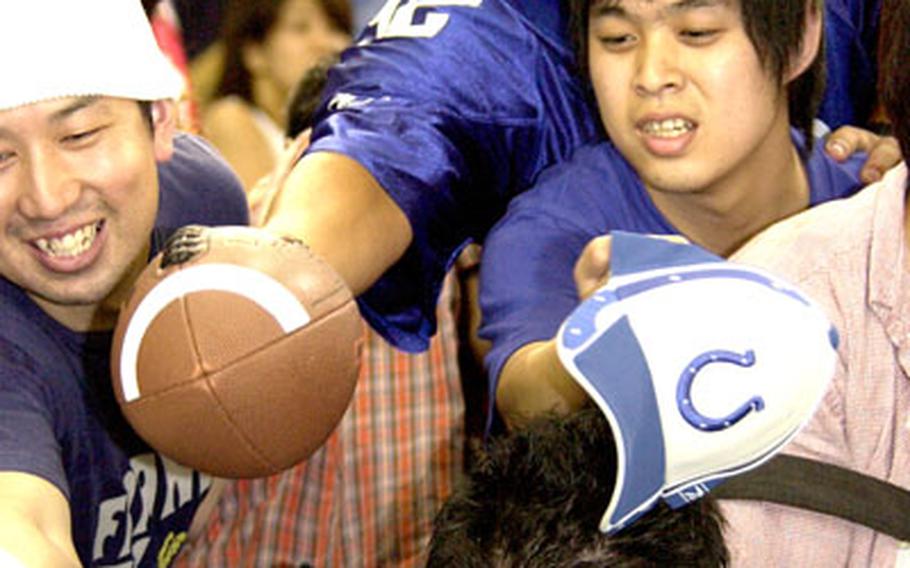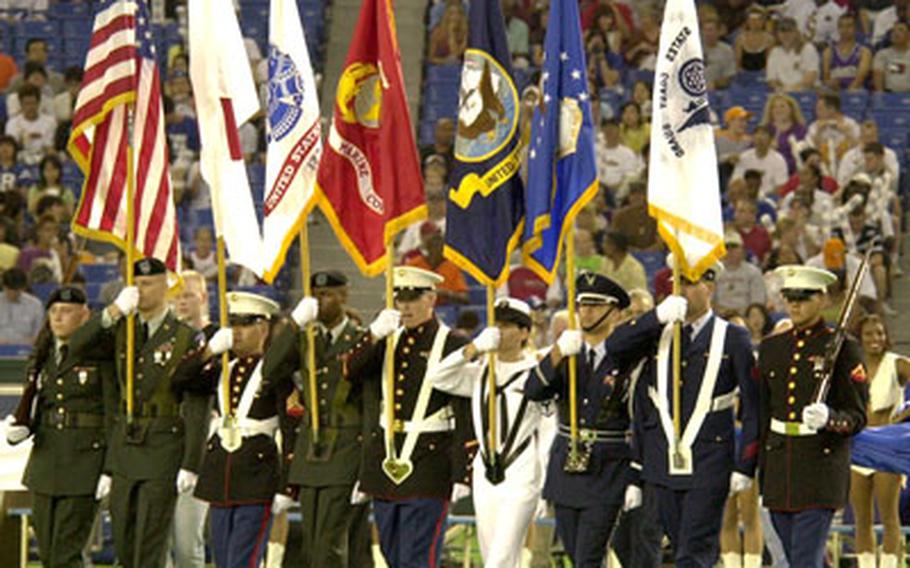 TOKYO — "Navy pilot, requesting autograph!" Chris Hubbard's voice rang loud and clear.
The Naval aviator based at Atsugi Naval Air Facility pushed and shoved his way between Japanese fans along the rail field-side at Tokyo Dome, seeking a signature from Indianapolis Colts quarterback and former NFL MVP Peyton Manning.
Fans thrust flags, pennants, caps, T-shirts, anything that could hold a signature, at Manning. "If I can't throw well in the game today, it's their fault," he joked.
"I'm from New York! I love Eli Manning!" Hubbard yelled, referring to the New York Giants quarterback and Peyton's brother. "He couldn't be here, but Peyton is the next best thing! I love the Mannings!"
"Hey," the pilot yelled to the quarterback. "I got the pen, I got the ball; I bought them today! I wanted to make it easy for you!"
Manning smiled the faintest of smiles. "I'll get to you," he said.
Finally, Manning, one of the centerpiece athletes of Saturday's NFL preseason American Bowl, scribbled his signature on the football.
"Thank you! I really appreciate you taking the time out to do this!" Hubbard said, smiling. Turning to friends, he said, "He's an awesome athlete, a real example for young kids."
"Thank you," Manning replied. "We really appreciate what you do."
"We try to say thanks whenever we can," said Pete Abitante, the NFL's senior director of international public affairs. "We wouldn't be playing football every Sunday if not for the GIs who keep us safe and who keep us free. This gives them a chance to connect back to home a little bit."
Given the number of U.S. servicemembers among the 45,203-plus fans gathered Saturday to inaugurate the 2005 NFL season, a lot of connecting was going on.
If not in the stands cheering the Colts or Falcons, who won 27-21, then U.S. servicemembers were part of the support staff. "This is sweet, unbelievable, awesome," said Chief Master Sgt. Mike Bradow of Yokota's 374th Logistical Readiness Squadron. "It seemed like a great way to see the game. But … it's a lot of hard work." They had to haul a stage to midfield within 90 seconds of the halftime gun, then get it off the field "as quickly as possible," he said.
Other volunteers included 20 "exceptional sailors" from Sasebo Naval Base who carried the Atlanta coaching staff's headphone cords. Also part of the pre-game ceremony were 10 servicemembers from all branches comprising the joint USFJ color guard that posted the colors at midfield.
Virtually from the NFL's Wednesday arrival in Japan, military presence could be felt. For instance, "From the Bench," a call-in sports talk show on AFN Eagle 810-AM and Yokosuka's base community access Channel 7, filmed a segment at Tokyo Dome, interviewing both coaches and a handful of players.
And 50 single sailors from Yokosuka and 40 from Atsugi traveled to Tokyo Dome on Friday to watch workouts. They even held a reenlistment there: Petty Officer 2nd Class Henry Parker took the oath at midfield, surrounded by Falcons. "That was exciting," he said.
At the game, Atsugi's Hubbard said he relished viewing the NFL in prime time; Saturday's kickoff was 6 p.m. "Trust me," he said, "this is a lot better than waking up at 2 a.m. when your house is 10 degrees inside to watch football."
A rowdy group of Colts fans brandished signs autographed the previous day on the Blue Ridge and shouted themselves hoarse. "I'm a huge Indianapolis fan," said Seaman Travis Lashley, 26, from Muncie, Ind., who celebrated his 26th birthday at the game. "Everything's good. They came to my ship, I'm here today, it's my birthday."
The Dome's upper reaches saw the conversion of one Dallas Cowboys fan, Sagami Depot's Capt. Dan Reichard, 37, of Sacramento. "For this game I'm with the Colts," he said, donning a Colts cap given him by his first sergeant, Kevin Moffat.
"We converted him," said Moffat's wife, Betty.
Reichard praised "the way they opened this up to us. They sold tickets at Sagami at giveaway prices."
Petty Officer 2nd Class Trey Fudge of Guam Naval Station fared even better. He won his ticket, from Navy Morale, Welfare and Recreation. "Had to come and support my Falcons," said Fudge, of Macon, Ga.
"It was amazing. Awesome,' said Sgt. Michael Blume, a Camp Zama-based soldier in Saturday's color guard. "I'm ready to do it again."
He might get his chance if he's here in 2007, when the NFL is slated to returns for its 14th American Bowl visit to Japan.
---
---
---
---