Duty calls: Prominent softball players unable to attend Marine camp
by
Dave Ornauer
July 12, 2003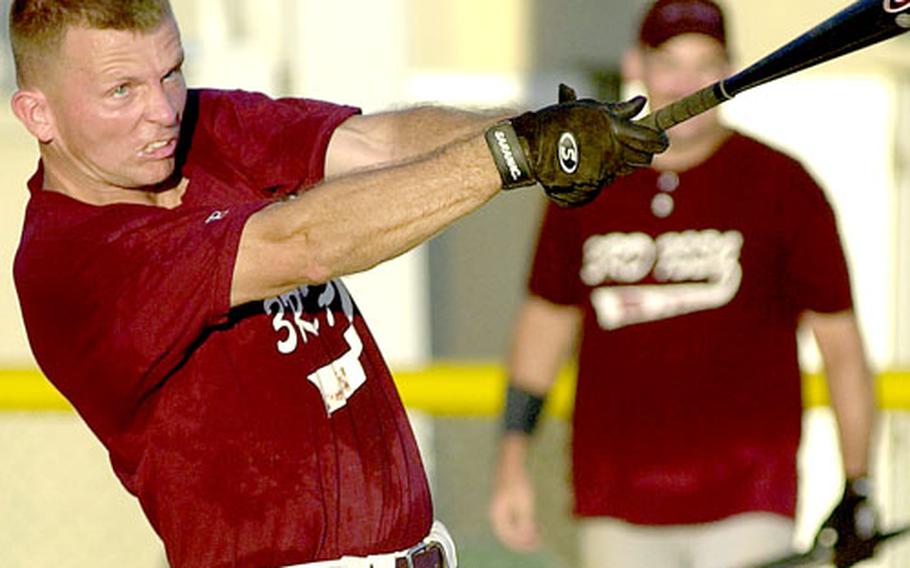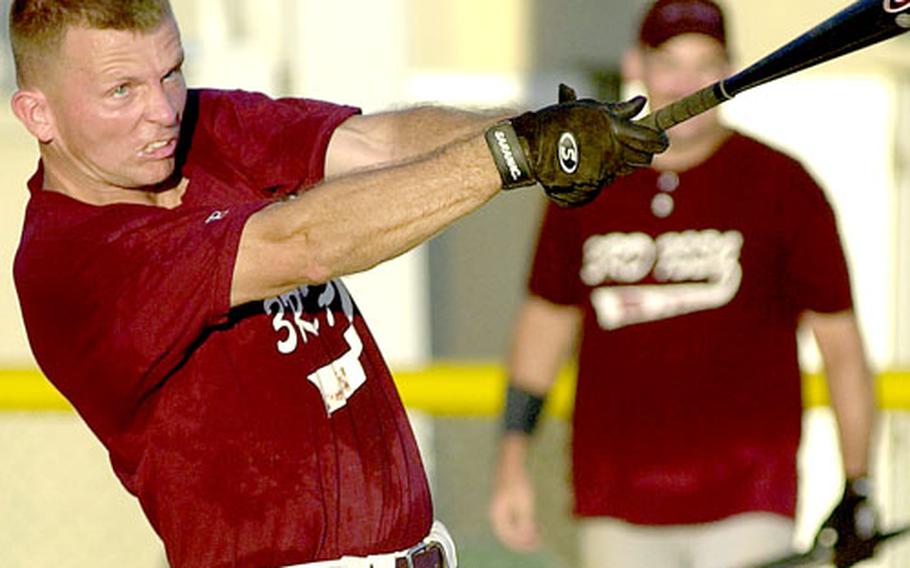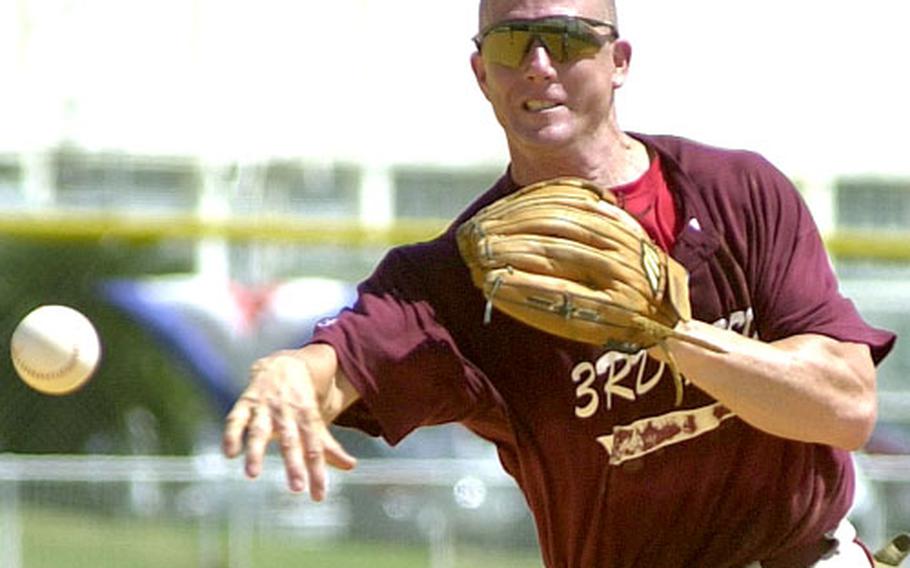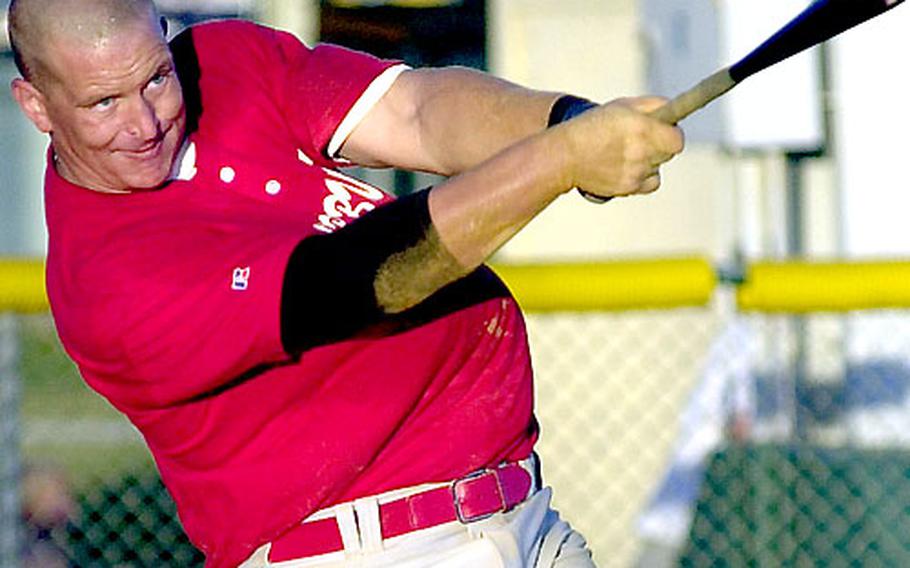 (Thursday's game summaries at end of story.)
CAMP FOSTER, Okinawa — Tim Callahan, Gary Chaney and Joe Sutter have put up impressive statistics through four days of the Marine Forces Pacific Regional Softball Tournament.
The trio, with a combined eight All-Marine tryout camps and six All-Marine team selections, went a collective 49-for-66 with 14 home runs and 46 RBIs on the first day of the playoffs Thursday.
They are likely to earn three more invitations to this summer's All-Marine camp at Cherry Point Air Station, N.C. If so, they won't be attending.
Chaney faces duty commitments on Okinawa, while Sutter and Callahan transfer to the United States later this month.
"They always say the Marines come first," said Chaney, left-center fielder for 3rd Force Service Support Group.
They're not the only ones who can't go to All-Marine camp, thanks mainly to the increased operations tempo in the wake of Sept. 11, the war on terrorism and Operation Iraqi Freedom.
The numbers vary, but coaches of the seven teams in the regionals say that anywhere from 40 percent to 65 percent of their players can't make it to camp, scheduled for July 28-Aug. 17.
The most prominent are Callahan and Chaney, who led 3rd FSSG into the winner's bracket final of the double-elimination playoffs, and Sutter, a two-time regional tournament MVP and shortstop for defending champion Marine Corps Base Camp Butler.
"It's a tough environment after 9/11," said Jamie Newberry, Sutter's coach and operations officer for Marine Corps Base Camp Butler. "Everybody is really tight with people. You never know when somebody is going to be sent somewhere."
Newberry, a retired Marine master gunnery sergeant, feels the Marine regional tournament program occasionally conflicts with the Corps' purpose.
Regionals are "good for the morale of the Marine Corps. To tie our hands and not send our best people [to camp] hurts us. It's unfortunate that some of the best players in the Marine Corps may not be able to go represent the Corps or perhaps the Armed Forces," he said.
"But they're here to do a job. We're not as healthy manpower-wise as we used to be."
Chaney, a gunnery sergeant assigned as administration and manpower operations officer for 3rd FSSG, said he didn't even ask to go to camp, putting duty ahead of his four All-Marine and two All-Armed Forces berths.
"I could still go and compete. But I'm a gunnery sergeant, I've been in for 18 years, I have a job, an obligation," he said. "You reach a certain point in your career when you decide you have to devote more time to your career instead of softball. It was easier when I was younger."
Sutter, a staff sergeant and two-time All-Marine, transfers to Hawaii on July 21.
"I wish I could go," he said. "It's a case of bad timing."
Callahan, a gunnery sergeant who will report to Parris Island, S.C., later this summer, seemed resigned to his fate.
"I've been playing ball for so long, I'm just in it for the fun," said the shortstop, who's been to All-Marine camp twice.
One veteran suggested that the lack of leadership provided by such luminaries could end up hurting the All-Marine softball team, scheduled to compete in the All-Armed Forces tournament Aug. 18-23 at Eglin Air Force Base, Fla. The Marines last won the tournament in 1999.
"If you don't bring the guys who've been there, you can't build a winning team," said 1st Marine Aircraft Wing catcher Cherylton McRae, an 11-time All-Armed Forces and two-time All-American player.
Thursday's game summaries
Division 20, Iwakuni 11
Robert Putney homered, doubled and drove in four runs, while Josh Castro tripled, hit a sacrifice fly and drove in four runs to power Division.
Hawaii 10, Wing 6
Brett Eberhardt's single in the sixth scored Jim Murray with the go-ahead run. Eberhardt finished 4-for-4, and four Hawaii players drove in two runs each. John O'Brien had two sacrifice flies and three RBIs for Wing.
Base 21, Hospital 7, 5 inn., 12-run rule
Darby Noonan went 4-for-4 with two doubles and five RBIs, Kevin Healy doubled, tripled and drove in four runs and Base scored seven runs in the fourth and fifth innings.
Hospital 18, Wing 8, 5 inn., time limit
Mel Harris was 2-for-3 with two RBIs and Adam Coleman drove in three runs for Hospital, which matched its best-ever tournament win total with two and eliminated another team from the playoffs for the first time. John O'Brien had two RBIs for Wing.
3rd Force 11, Division 3
Tim Callahan had a homer, a sacrifice fly and three RBIs and Rich Krause added a pair of sacrifice flies and three RBIs for 3rd Force, which led from the start and put it away with five runs in the seventh. Tony Pesquera was 2-for-2 with an RBI for Division.
Hawaii 10, Base 8
The Islanders scored nine straight after trailing 4-0 in the first inning. Brett Eberhardt went 4-for-4 with two RBIs, and Jerry Knight hit a two-run homer. Base's Joe Sutter was retired three times after making an out just once in the previous seven games. Shaun Sheidler had three RBIs.
Base 21, Iwakuni 10
Joe Sutter went 4-for-4 with a homer, double and four RBIs and three others drove in three runs each for Base, which took an 8-0 lead in the first inning. Isaac Elizando belted an inside-the-park grand slam, while Burton Johnson knocked in three runs for Iwakuni.
Division 18, Hospital 17, 8 inn.
Tony Pesquera's single drove in Josh Castro with the winning run, completing Division's rally from a 16-7 deficit entering the seventh inning. Robert Putney was 3-for-5 with a homer and three RBIs. Eric Shropshire, Ed Tennison and Jeff Jaczinski had three RBIs each for Hospital.